1986 Donruss Highlights
Description
1986 Donruss Highlights is a 56-card set released late in 1986. Like the previous year's set, Highlights commemorates the events of the 1986 MLB season, as well as players and pitchers of the month from each league. The set was distributed in its own red, white, blue, and gold box along with a small Hank Aaron puzzle. The design is identical to that of the 1986 Donruss set except that the borders are in gold instead of blue, and the fronts of each card has a glossy coating.
Some cards exist that have the word Highlights written in white instead of yellow. No further information about these white-letter variations is available at this time, however, they appear to be rare.
Distribution
Factory Sets: 56 cards plus one Hank Aaron mini-puzzle per set. Hobby only. 15 sets per case.
Reviews
Checklist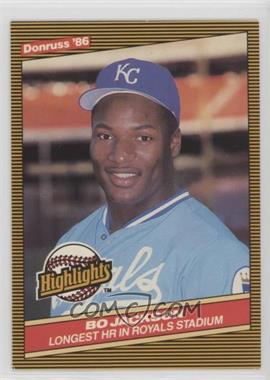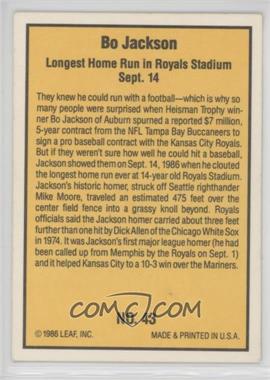 1 Will Clark XRC
2 Jose Rijo
3 George Brett
4 Mike Schmidt
5 Roger Clemens
6 Roger Clemens
7 Kirby Puckett
8 Dwight Gooden
9 Johnny Ray
10 Mickey Mantle / Reggie Jackson
11 Wade Boggs
12 Don Aase
13 Wade Boggs
14 Jeff Reardon
15 Hubie Brooks
16 Don Sutton
17 Roger Clemens
18 Roger Clemens
19 Kent Hrbek
20 Rick Rhoden
21 Kevin Bass
22 Bob Horner
23 Wally Joyner XRC
24 Darryl Strawberry
25 Fernando Valenzuela
26 Roger Clemens
27 Jack Morris
28 Scott Fletcher
29 Todd Worrell
30 Eric Davis
31 Bert Blyleven
32 Bobby Doerr
33 Ernie Lombardi
34 Willie McCovey
35 Steve Carlton
36 Mike Schmidt
37 Juan Samuel
38 Mike Witt
39 Doug DeCinces
40 Bill Gullickson
41 Dale Murphy
42 Joe Carter
43 Bo Jackson XRC
44 Joe Cowley
45 Jim Deshaies
46 Mike Scott
47 Bruce Hurst
48 Don Mattingly
49 Mike Krukow
50 Steve Sax
51 John Cangelosi
52 Dave Righetti
53 Don Mattingly
54 Todd Worrell
55 Jose Canseco XRC
56 Checklist Card
Donruss
Triopoly Era:
Junk Wax Era:
Post Junk Wax Era:
Pinnacle Brands Era:
Donruss-Playoff Era:
Panini America Era:
---
Parallel Brands:
---
All-Stars:
Highlights:
The Rookies:
Baseball's Best:
---
Other Donruss Brands: