1989 Donruss Baseball's Best
Description
1989 Donruss Baseball's Best is a 336-card set sold exclusively as a factory set through various mass market retail chains. The design is identical to that of the 1989 Donruss set, except the fronts are green and yellow and the backs feature career highlight information.
The set is notable for featuring the only Major League licensed card of Sammy Sosa issued in 1989. In addition, early cards of Ken Griffey, Jr. and Randy Johnson are featured in this set. However due to the unusual way this product was distributed, none of these are considered "true" rookie cards.
Distribution
Factory set exclusive.
Reviews
Checklist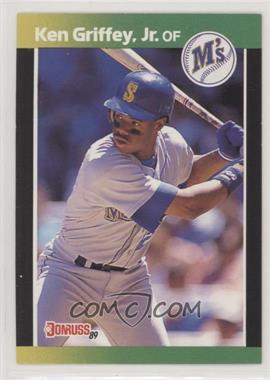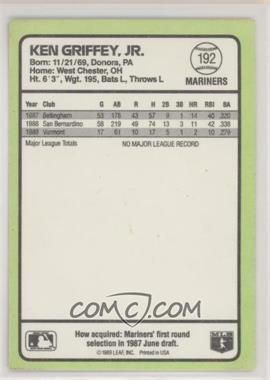 1 Don Mattingly
2 Tom Glavine
3 Bert Blyleven
4 Andre Dawson
5 Pete O'Brien
6 Eric Davis
7 George Brett
8 Glenn Davis
9 Ellis Burks
10 Kirk Gibson
11 Carlton Fisk
12 Andres Galarraga
13 Alan Trammell
14 Dwight Gooden
15 Paul Molitor
16 Roger McDowell
17 Doug Drabek
18 Kent Hrbek
19 Vince Coleman
20 Steve Sax
21 Roberto Alomar
22 Carney Lansford
23 Will Clark
24 Alvin Davis
25 Bobby Thigpen
26 Ryne Sandberg
27 Devon White
28 Mike Greenwell
29 Dale Murphy
30 Jeff Ballard
31 Kelly Gruber
32 Julio Franco
33 Bobby Bonilla
34 Tim Wallach
35 Lou Whitaker
36 Jay Howell
37 Greg Maddux
38 Bill Doran
39 Danny Tartabull
40 Darryl Strawberry
41 Ron Darling
42 Tony Gwynn
43 Mark McGwire
44 Ozzie Smith
45 Andy Van Slyke
46 Juan Berenguer
47 Von Hayes
48 Tony Fernandez
49 Eric Plunk
50 Ernest Riles
51 Harold Reynolds
52 Andy Hawkins
53 Robin Yount
54 Danny Jackson
55 Nolan Ryan
56 Joe Carter
57 Jose Canseco
58 Jody Davis
59 Lance Parrish
60 Mitch Williams
61 Brook Jacoby
62 Tom Browning
63 Kurt Stillwell
64 Rafael Ramirez
65 Roger Clemens
66 Mike Scioscia
67 Dave Gallagher
68 Mark Langston
69 Chet Lemon
70 Kevin McReynolds
71 Rob Deer
72 Tommy Herr
73 Barry Bonds
74 Frank Viola
75 Pedro Guerrero
76 Dave Righetti
77 Bruce Hurst
78 Rickey Henderson
79 Robby Thompson
80 Randy Johnson
81 Harold Baines
82 Calvin Schiraldi
83 Kirk McCaskill
84 Lee Smith
85 John Smoltz
86 Mickey Tettleton
87 Jimmy Key
88 Rafael Palmeiro
89 Sid Bream
90 Dennis Martinez
91 Frank Tanana
92 Eddie Murray
93 Shawon Dunston
94 Mike Scott
95 Bret Saberhagen
96 David Cone
97 Kevin Elster
98 Jack Clark
99 Dave Stewart
100 Jose Oquendo
101 Jose Lind
102 Gary Gaetti
103 Ricky Jordan
104 Fred McGriff
105 Don Slaught
106 Jose Uribe
107 Jeffrey Leonard
108 Lee Guetterman
109 Chris Bosio
110 Barry Larkin
111 Ruben Sierra
112 Greg Swindell
113 Gary Sheffield
114 Lonnie Smith
115 Chili Davis
116 Damon Berryhill
117 Tom Candiotti
118 Kal Daniels
119 Mark Gubicza
120 Jim Deshaies
121 Dwight Evans
122 Mike Morgan
123 Dan Pasqua
124 Bryn Smith
125 Doyle Alexander
126 Howard Johnson
127 Chuck Crim
128 Darren Daulton
129 Jeff Robinson
130 Kirby Puckett
131 Joe Magrane
132 Jesse Barfield
133 Mark Davis (Photo is Dave Leiper)
134 Dennis Eckersley
135 Mike Krukow
136 Jay Buhner
137 Ozzie Guillen
138 Rick Sutcliffe
139 Wally Joyner
140 Wade Boggs
141 Jeff Treadway
142 Cal Ripken, Jr.
143 Dave Stieb
144 Pete Incaviglia
145 Bob Walk
146 Nelson Santovenia
147 Mike Heath
148 Willie Randolph
149 Paul Kilgus
150 Billy Hatcher
151 Steve Farr
152 Gregg Jefferies
153 Randy Myers
154 Garry Templeton
155 Walt Weiss
156 Terry Pendleton
157 John Smiley
158 Greg Gagne
159 Lenny Dykstra
160 Nelson Liriano
161 Alvaro Espinoza
162 Rick Reuschel
163 Omar Vizquel
164 Clay Parker
165 Dan Plesac
166 John Franco
167 Scott Fletcher
168 Cory Snyder
169 Bo Jackson
170 Tommy Gregg
171 Jim Abbott
172 Jerome Walton
173 Doug Jones
174 Todd Benzinger
175 Frank White
176 Craig Biggio
177 John Dopson
178 Alfredo Griffin
179 Melido Perez
180 Tim Burke
181 Matt Nokes
182 Gary Carter
183 Ted Higuera
184 Ken Howell
185 Rey Quinones
186 Wally Backman
187 Tom Brunansky
188 Steve Balboni
189 Marvell Wynne
190 Dave Henderson
191 Don Robinson
192 Ken Griffey, Jr.
193 Ivan Calderon
194 Mike Bielecki
195 Johnny Ray
196 Rob Murphy
197 Andres Thomas
198 Phil Bradley
199 Junior Felix
200 Jeff Russell
201 Mike LaValliere
202 Kevin Gross
203 Keith Moreland
204 Mike Marshall
205 Dwight Smith
206 Jim Clancy
207 Kevin Seitzer
208 Keith Hernandez
209 Bob Ojeda
210 Ed Whitson
211 Tony Phillips
212 Milt Thompson
213 Randy Kramer
214 Randy Bush
215 Randy Ready
216 Duane Ward
217 Jimmy Jones
218 Scott Garrelts
219 Scott Bankhead
220 Lance McCullers
221 B.J. Surhoff
222 Chris Sabo
223 Steve Buechele
224 Joel Skinner
225 Orel Hershiser
226 Derek Lilliquist
227 Claudell Washington
228 Lloyd McClendon
229 Felix Fermin
230 Paul O'Neill
231 Charlie Leibrandt
232 Dave Smith
233 Bob Stanley
234 Tim Belcher
235 Eric King
236 Spike Owen
237 Mike Henneman
238 Juan Samuel
239 Greg Brock
240 John Kruk
241 Glenn Wilson
242 Jeff Reardon
243 Todd Worrell
244 Dave LaPoint
245 Walt Terrell
246 Mike Moore
247 Kelly Downs
248 Dave Valle
249 Ron Kittle
250 Steve Wilson
251 Dick Schofield
252 Marty Barrett
253 Dion James
254 Bob Milacki
255 Ernie Whitt
256 Kevin Brown
257 R.J. Reynolds
258 Tim Raines
259 Frank Williams
260 Jose Gonzalez
261 Mitch Webster
262 Ken Caminiti
263 Bob Boone
264 Dave Magadan
265 Rick Aguilera
266 Chris James
267 Bob Welch
268 Ken Dayley
269 Junior Ortiz
270 Allan Anderson
271 Steve Jeltz
272 George Bell
273 Roberto Kelly
274 Brett Butler
275 Mike Schooler
276 Ken Phelps
277 Glenn Braggs
278 Jose Rijo
279 Bobby Witt
280 Jerry Browne
281 Kevin Mitchell
282 Craig Worthington
283 Greg Minton
284 Nick Esasky
285 John Farrell
286 Rick Mahler
287 Tom Gordon
288 Gerald Young
289 Jody Reed
290 Jeff Hamilton
291 Gerald Perry
292 Hubie Brooks
293 Bo Diaz
294 Terry Puhl
295 Jim Gantner
296 Jeff Parrett
297 Mike Boddicker
298 Dan Gladden
299 Tony Pena
300 Checklist Card
301 Tom Henke
302 Pascual Perez
303 Steve Bedrosian
304 Ken Hill
305 Jerry Reuss
306 Jim Eisenreich
307 Jack Howell
308 Rick Cerone
309 Tim Leary
310 Joe Orsulak
311 Jim Dwyer
312 Geno Petralli
313 Rick Honeycutt
314 Tom Foley
315 Kenny Rogers
316 Mike Flanagan
317 Bryan Harvey
318 Billy Ripken
319 Jeff Montgomery
320 Erik Hanson
321 Brian Downing
322 Gregg Olson
323 Terry Steinbach
324 Sammy Sosa
325 Gene Harris
326 Mike Devereaux
327 Dennis Cook
328 David Wells
329 Checklist Card
330 Kirt Manwaring
331 Jim Presley
332 Checklist Card
333 Chuck Finley
334 Rob Dibble
335 Cecil Espy
336 Dave Parker
Donruss
Triopoly Era:
Junk Wax Era:
Post Junk Wax Era:
Pinnacle Brands Era:
Donruss-Playoff Era:
Panini America Era:
---
Parallel Brands:
---
All-Stars:
Highlights:
The Rookies:
Baseball's Best:
---
Other Donruss Brands: