1993 Flair
Description
The inaugural Flair Baseball set - "presented" by Fleer - was released exclusively to the Hobby in August of 1993. '93 Flair (originally titled "Fleer Limited") was Fleer's first foray into "super-premium" cards and was designed to compete with Topps' Finest, and Upper Deck SP. According to Fleer, production of Flair was 15% of Fleer Ultra.
The 300-card base set was printed on 24-point thick cardstock - by far the thickest cardstock ever used on a trading card - with three additional points of glossy UV-coating slathered on both sides. The cards were printed on a six-color printing press (as opposed to a four-color press) and had two player photos on the front.
Each pack of 10 cards was wrapped in a clear, fin-sealed, plastic wrap that was then placed inside a shrink-wrapped "box" that resembled a pack of cigarettes. These efforts were made to reduce tampering.
There were no notable rookies in the set and the only insert is a 20-card, prospect-themed, "Wave of the Future" insert that featured key early cards of Mike Piazza, Jim Edmonds, and Manny Ramirez.
Distribution
24 packs per box, ten cards per pack.
Reviews
http://90sboxbreaks.wordpress.com/2009/02/11/1993-flair/
Insertion Ratios
| Cards | Total Cards | Numbered To | Odds |
| --- | --- | --- | --- |
| Base | 300 | - | 10:1 |
| Wave of the Future | 20 | - | 1:4 |
Checklist
Promos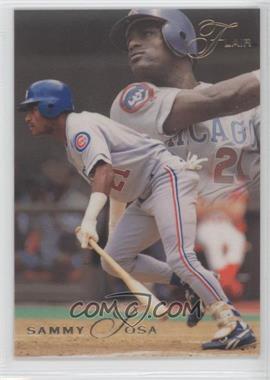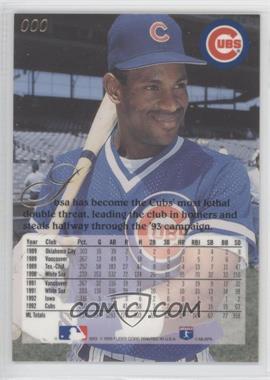 Eight promo cards were issued by Fleer to promote the debut of 1993 Flair Baseball. The cards were identical to their base set counterparts, with the exception of each card being sequentially-numbered "000" on the back. According to reports, Fleer was forced to destroy a 5000 count box of promos to avoid potential difficulties with MLB Properties and the MLBPA.
For checklisting reference, this set is listed below in alphabetical order.
Will Clark
Darren Daulton
Andres Galarraga
Bryan Harvey
Dave Justice
Jody Reed
Nolan Ryan
Sammy Sosa
Base Set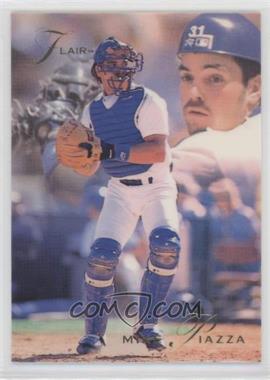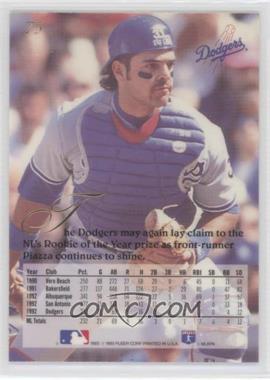 1 Steve Avery
2 Jeff Blauser
3 Ron Gant
4 Tom Glavine
5 Dave Justice
6 Mark Lemke
7 Greg Maddux
8 Fred McGriff
9 Terry Pendleton
10 Deion Sanders
11 John Smoltz
12 Mike Stanton
13 Steve Buechele
14 Mark Grace
15 Greg Hibbard
16 Derrick May
17 Chuck McElroy
18 Mike Morgan
19 Randy Myers
20 Ryne Sandberg
21 Dwight Smith
22 Sammy Sosa
23 Jose Vizcaino
24 Tim Belcher
25 Rob Dibble
26 Roberto Kelly
27 Barry Larkin
28 Kevin Mitchell
29 Hal Morris
30 Joe Oliver
31 Jose Rijo
32 Bip Roberts
33 Chris Sabo
34 Reggie Sanders
35 Dante Bichette
36 Willie Blair
37 Jerald Clark
38 Alex Cole
39 Andres Galarraga
40 Joe Girardi
41 Charlie Hayes
42 Chris Jones
43 David Nied
44 Eric Young
45 Alex Arias
46 Jack Armstrong
47 Bret Barberie
48 Chuck Carr
49 Jeff Conine
50 Orestes Destrade
51 Chris Hammond
52 Bryan Harvey
53 Benito Santiago
54 Gary Sheffield
55 Walt Weiss
56 Eric Anthony
57 Jeff Bagwell
58 Craig Biggio
59 Ken Caminiti
60 Andujar Cedeno
61 Doug Drabek
62 Steve Finley
63 Luis Gonzalez
64 Pete Harnisch
65 Doug Jones
66 Darryl Kile
67 Greg Swindell
68 Brett Butler
69 Jim Gott
70 Orel Hershiser
71 Eric Karros
72 Pedro Martinez
73 Ramon Martinez
74 Roger McDowell
75 Mike Piazza
76 Jody Reed
77 Tim Wallach
78 Moises Alou
79 Greg Colbrunn
80 Wilfredo Cordero
81 Delino DeShields
82 Jeff Fassero
83 Marquis Grissom
84 Ken Hill
85 Mike Lansing RC
86 Dennis Martinez
87 Larry Walker
88 John Wetteland
89 Bobby Bonilla
90 Vince Coleman
91 Dwight Gooden
92 Todd Hundley
93 Howard Johnson
94 Eddie Murray
95 Joe Orsulak
96 Bret Saberhagen
97 Darren Daulton
98 Mariano Duncan
99 Lenny Dykstra
100 Jim Eisenreich
101 Tommy Greene
102 Dave Hollins
103 Pete Incaviglia
104 Danny Jackson
105 John Kruk
106 Terry Mulholland
107 Curt Schilling
108 Mitch Williams
109 Stan Belinda
110 Jay Bell
111 Steve Cooke
112 Carlos Garcia
113 Jeff King
114 Al Martin
115 Orlando Merced
116 Don Slaught
117 Andy Van Slyke
118 Tim Wakefield
119 Rene Arocha RC
120 Bernard Gilkey
121 Gregg Jefferies
122 Ray Lankford
123 Donovan Osborne
124 Tom Pagnozzi
125 Erik Pappas
126 Geronimo Pena
127 Lee Smith
128 Ozzie Smith
129 Bob Tewksbury
130 Mark Whiten
131 Derek Bell
132 Andy Benes
133 Tony Gwynn
134 Gene Harris
135 Trevor Hoffman
136 Phil Plantier
137 Rod Beck
138 Barry Bonds
139 John Burkett
140 Will Clark
141 Royce Clayton
142 Mike Jackson
143 Darren Lewis
144 Kirt Manwaring
145 Willie McGee
146 Bill Swift
147 Robby Thompson
148 Matt Williams
149 Brady Anderson
150 Mike Devereaux
151 Chris Hoiles
152 Ben McDonald
153 Mark McLemore
154 Mike Mussina
155 Gregg Olson
156 Harold Reynolds
157 Cal Ripken, Jr.
158 Rick Sutcliffe
159 Fernando Valenzuela
160 Roger Clemens
161 Scott Cooper
162 Andre Dawson
163 Scott Fletcher
164 Mike Greenwell
165 Greg A. Harris
166 Billy Hatcher
167 Jeff Russell
168 Mo Vaughn
169 Frank Viola
170 Chad Curtis
171 Chili Davis
172 Gary DiSarcina
173 Damion Easley
174 Chuck Finley
175 Mark Langston
176 Luis Polonia
177 Tim Salmon
178 Scott Sanderson
179 J.T. Snow RC
180 Wilson Alvarez
181 Ellis Burks
182 Joey Cora
183 Alex Fernandez
184 Ozzie Guillen
185 Roberto Hernandez
186 Bo Jackson
187 Lance Johnson
188 Jack McDowell
189 Frank Thomas
190 Robin Ventura
191 Carlos Baerga
192 Albert Belle
193 Wayne Kirby
194 Derek Lilliquist
195 Kenny Lofton
196 Carlos Martinez
197 Jose Mesa
198 Eric Plunk
199 Paul Sorrento
200 John Doherty
201 Cecil Fielder
202 Travis Fryman
203 Kirk Gibson
204 Mike Henneman
205 Chad Kreuter
206 Scott Livingstone
207 Tony Phillips
208 Mickey Tettleton
209 Alan Trammell
210 David Wells
211 Lou Whitaker
212 Kevin Appier
213 George Brett
214 David Cone
215 Tom Gordon
216 Phil Hiatt
217 Felix Jose
218 Wally Joyner
219 Jose Lind
220 Mike Macfarlane
221 Brian McRae
222 Jeff Montgomery
223 Cal Eldred
224 Darryl Hamilton
225 John Jaha
226 Pat Listach
227 Graeme Lloyd RC
228 Kevin Reimer
229 Bill Spiers
230 B.J. Surhoff
231 Greg Vaughn
232 Robin Yount
233 Rick Aguilera
234 Jim Deshaies
235 Brian Harper
236 Kent Hrbek
237 Chuck Knoblauch
238 Shane Mack
239 David McCarty
240 Pedro Munoz
241 Mike Pagliarulo
242 Kirby Puckett
243 Dave Winfield
244 Jim Abbott
245 Wade Boggs
246 Pat Kelly
247 Jimmy Key
248 Jim Leyritz
249 Don Mattingly
250 Matt Nokes
251 Paul O'Neill
252 Mike Stanley
253 Danny Tartabull
254 Bob Wickman
255 Bernie Williams
256 Mike Bordick
257 Dennis Eckersley
258 Brent Gates
259 Rich Gossage
260 Rickey Henderson
261 Mark McGwire
262 Ruben Sierra
263 Terry Steinbach
264 Bob Welch
265 Bobby Witt
266 Rich Amaral
267 Chris Bosio
268 Jay Buhner
269 Norm Charlton
270 Ken Griffey, Jr.
271 Erik Hanson
272 Randy Johnson
273 Edgar Martinez
274 Tino Martinez
275 Dave Valle
276 Omar Vizquel
277 Kevin Brown
278 Jose Canseco
279 Julio Franco
280 Juan Gonzalez
281 Tom Henke
282 David Hulse RC
283 Rafael Palmeiro
284 Dean Palmer
285 Ivan Rodriguez
286 Nolan Ryan
287 Roberto Alomar
288 Pat Borders
289 Joe Carter
290 Juan Guzman
291 Pat Hentgen
292 Paul Molitor
293 John Olerud
294 Ed Sprague
295 Dave Stewart
296 Duane Ward
297 Devon White
298 Checklist 1-100
299 Checklist 101-200
300 Checklist 201-300
Inserts
Wave of the Future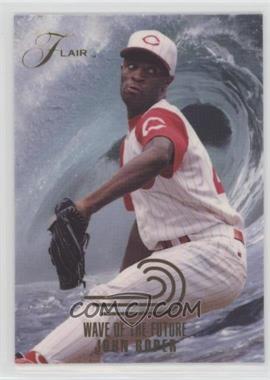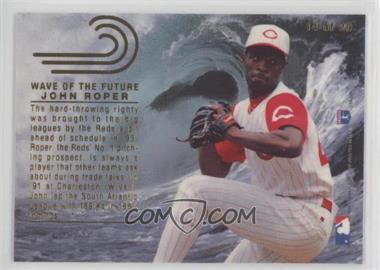 1 Jason Bere
2 Jeromy Burnitz
3 Russ Davis
4 Jim Edmonds
5 Cliff Floyd
6 Jeffrey Hammonds
7 Trevor Hoffman
8 Domingo Jean
9 David McCarty
10 Bobby Munoz
11 Brad Pennington
12 Mike Piazza
13 Manny Ramirez
14 John Roper
15 Tim Salmon
16 Aaron Sele
17 Allen Watson
18 Rondell White
19 Darrell Whitmore UER (Photo of Nigel Wilson on back)
20 Nigel Wilson UER (Photo of Darrell Whitmore on back)