1999 Topps Chrome Traded
Description
Topps debuted a Chrome edition of Topps Traded for 1999. Distributed exclusively as a factory set, 1999 Topps Chrome Traded is a 121-card base set released in November, 1999. The checklist and cards mirror the 1999 Topps Traded set, except for the chromium card finish. Unlike the Topps Traded set, Chrome sets do not include an autograph.
Key rookie cards include: Josh Hamilton, C.C. Sabathia, Carl Crawford, Adam Dunn, and Alfonso Soriano.
Distribution
Topps Chrome Traded: Factory set only. HTA stores only.
Reviews
Checklist
Base Set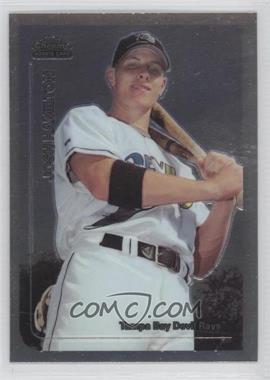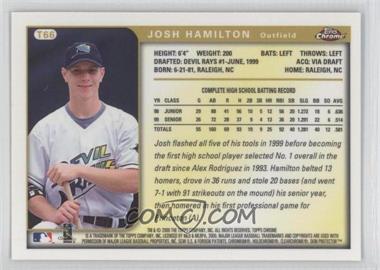 T1 Seth Etherton
T2 Mark Harriger RC*
T3 Matt Wise RC
T4 Carlos E. Hernandez RC
T5 Julio Lugo RC
T6 Mike Nannini
T7 Justin Bowles RC*
T8 Mark Mulder RC
T9 Roberto Vaz
T10 Felipe Lopez RC
T11 Matt Belisle
T12 Micah Bowie
T13 Ruben Quevedo RC
T14 Jose Garcia RC*
T15 David Kelton RC
T16 Phil Norton
T17 Corey Patterson RC
T18 Ron Walker RC*
T19 Paul Hoover RC
T20 Ryan Rupe RC
T21 J.D. Closser RC
T22 Rob Ryan RC
T23 Steve Colyer RC
T24 Bubba Crosby RC
T25 Luke Prokopec RC
T26 Matt Blank RC
T27 Josh McKinley RC*
T28 Nate Bump
T29 Giuseppe Chiaramonte RC*
T30 Arturo McDowell
T31 Tony Torcato
T32 Dave Roberts RC
T33 C.C. Sabathia RC
T34 Sean Spencer RC
T35 Chip Ambres
T36 A.J. Burnett
T37 Mo Bruce RC*
T38 Jason Tyner
T39 Mamon Tucker RC*
T40 Sean Burroughs RC
T41 Kevin Eberwein RC*
T42 Junior Herndon RC
T43 Bryan Wolff
T44 Pat Burrell
T45 Eric Valent
T46 Carlos Pena RC
T47 Mike Zywica
T48 Adam Everett
T49 Juan Pena RC
T50 Adam Dunn RC
T51 Austin Kearns
T52 Jacobo Sequea
T53 Choo Freeman
T54 Jeff Winchester
T55 Matt Burch
T56 Chris George
T57 Scott Mullen RC
T58 Kit Pellow
T59 Mark Quinn RC
T60 Nate Cornejo
T61 Ryan Mills
T62 Kevin Beirne RC
T63 Kip Wells RC
T64 Juan Rivera RC
T65 Alfonso Soriano RC
T66 Josh Hamilton RC
T67 Josh Girdley RC*
T68 Kyle Snyder RC
T69 Mike Paradis RC*
T70 Jason Jennings RC
T71 David Walling RC*
T72 Omar Ortiz RC*
T73 Jay Gehrke RC*
T74 Casey Burns RC*
T75 Carl Crawford RC
T76 Reggie Sanders
T77 Will Clark
T78 David Wells
T79 Paul Konerko
T80 Armando Benitez
T81 Brant Brown
T82 Mo Vaughn
T83 Jose Canseco
T84 Albert Belle
T85 Dean Palmer
T86 Greg Vaughn
T87 Mark Clark
T88 Pat Meares
T89 Eric Davis
T90 Brian Giles
T91 Jeff Brantley
T92 Bret Boone
T93 Ron Gant
T94 Mike Cameron
T95 Charles Johnson
T96 Denny Neagle
T97 Brian Hunter
T98 Jose Hernandez
T99 Rick Aguilera
T100 Tony Batista
T101 Roger Cedeno
T102 Creighton Gubanich
T103 Tim Belcher
T104 Bruce Aven
T105 Brian Daubach
T106 Ed Sprague
T107 Michael Tucker
T108 Homer Bush
T109 Armando Reynoso
T110 Brook Fordyce
T111 Matt Mantei
T112 Dave Mlicki
T113 Kenny Rogers
T114 Livan Hernandez
T115 Butch Huskey
T116 David Segui
T117 Darryl Hamilton
T118 Terry Mulholland
T119 Randy Velarde
T120 Bill Taylor
T121 Kevin Appier