2001 Fleer Derek Jeter Monumental Moments
Description
2001 Fleer Derek Jeter Monumental Moments is a five-card set that was randomly inserted into packs five different 2001 Fleer baseball card products as an insert. The cards are also available autographed.
The design of the cards is identical to the Mickey Mantle Monumental Moments inserts from 1998 Fleer Tradition Series Two.
Checklist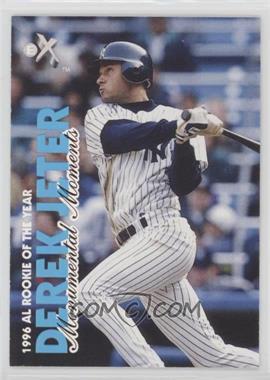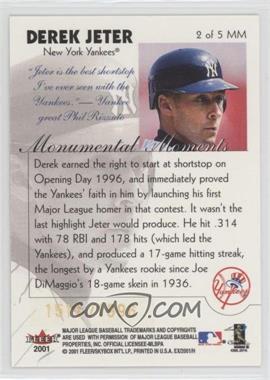 Each card is serial-numbered to the amount listed below and available in 2001 E-X (EX), 2001 Fleer Authority (AUTH), 2001 Fleer Game Time (GAME), 2001 Fleer Premium (PREM), and 2001 Fleer Showcase (SHOW).
MM1 Derek Jeter PREM 1995
MM2 Derek Jeter EX 1996
MM3 Derek Jeter GAME 2000
MM4 Derek Jeter AUTH 2000
MM5 Derek Jeter SHOW 2000
Autographs & Game-Used
Each of the four cards is also available autographed, and serial-numbered to the figures below. Only card #4 is sequentially-numbered.
NNO Derek Jeter GAME 100
NNO Derek Jeter PREM 95
NNO Derek Jeter EX 96
MM4AU Derek Jeter AUTH 100
NNO Derek Jeter SHOW 100
In addition, a fifth "Base Ink" autograph card featuring a piece of game-used base was inserted into packs of E-X.