2002-03 Donruss Big League Challenge Materials
Description
2002-03 Donruss Big League Challenge Materials is a serial of memorabilia cards distributed at the 2003 Big League Challenge -- a made-for-TV home run hitting contest organized by the MLB Players Association. Each fan who attended that 2003 edition, which took place February 8th, 2003 at Cashman Field in Las Vegas, received a Donruss-Playoff "goodie bag" containing various Donruss-Playoff cards and unopened packs.
Among the contents of those goodie bags were memorabilia cards featuring swatches taken from the uniforms worn in the previous year's Big League Challenge. Each memorabilia card was slabbed (but not graded) by SCD Authentic (which was a thing, back then).
NOTE: This set is often erroneously referred by many as a "2002" set, due to the 2002 copyright on the reverse side of each card and the 2002 on the card's slab. Despite this, be assured that these cards were not released by Donruss-Playoff until February, 2003.
Distribution
Reviews
Checklist
Base Set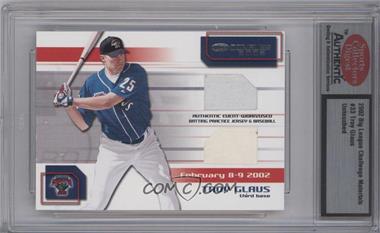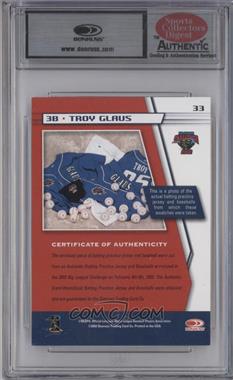 1 Todd Helton
2 Troy Glaus
3 Luis Gonzalez
4 Richie Sexson
5 Shawn Green
6 Rafael Palmeiro
7 Jim Thome
8 Barry Bonds
9 Todd Helton
10 Troy Glaus
11 Luis Gonzalez
12 Shawn Green
13 Rafael Palmeiro
14 Richie Sexson
15 Jim Thome
16 Todd Helton
17 Troy Glaus
18 Luis Gonzalez
19 Shawn Green
20 Rafael Palmeiro
21 Richie Sexson
22 Jim Thome
23 Todd Helton
24 Troy Glaus
25 Luis Gonzalez
26 Shawn Green
27 Rafael Palmeiro
28 Richie Sexson
29 Jim Thome
30 Richie Sexson
31 Jim Thome
32 Todd Helton
33 Troy Glaus
34 Luis Gonzalez
35 Shawn Green
36 Rafael Palmeiro
37 Barry Bonds / Troy Glaus
38 Jim Thome / Shawn Green
39 Todd Helton / Rafael Palmeiro
40 Luis Gonzalez / Richie Sexson
41 Jim Thome / Troy Glaus
42 Luis Gonzalez / Rafael Palmeiro
43 Troy Glaus / Luis Gonzalez
44 Troy Glaus / Rafael Palmeiro
45 Barry Bonds
46 Barry Bonds
47 Todd Helton
48 Troy Glaus
49 Luis Gonzalez
50 Shawn Green
51 Richie Sexson
52 Jim Thome
53 Barry Bonds
54 Barry Bonds
55 Todd Helton
56 Shawn Green
57 Troy Glaus
58 Jim Thome
59 Luis Gonzalez
60 Rafael Palmeiro
61 Richie Sexson
62 Richard Hidalgo
63 Gary Sheffield
64 Mike Piazza
65 Troy Glaus
66 Rafael Palmeiro
Parallels
On a limited number of cards, the Donruss logo on the front is stamped in either Red, Gold, or Holographic foil -- as opposed to Silver. It is unclear just how many of each card were made, or if parallels for each individual card exist, as they are NOT serial-numbered.
Autographs
1 Todd Helton
2 Troy Glaus
3 Luis Gonzalez
4 Richie Sexson
6 Rafael Palmeiro
9 Todd Helton
10 Troy Glaus
11 Luis Gonzalez
14 Richie Sexson
17 Troy Glaus
18 Luis Gonzalez
20 Rafael Palmeiro
21 Richie Sexson
47 Todd Helton
48 Troy Glaus
51 Richie Sexson
57 Troy Glaus
59 Luis Gonzalez
60 Rafael Palmeiro
61 Richie Sexson
62 Richard Hidalgo
63 Gary Sheffield