2002 Donruss Super Estrellas
Description
2002 Donruss Super Estrellas (Super Stars) is a 150-card set released on June 15, 2002. As the name suggests, the set was printed entirely in Spanish and was distributed primarily to Latin America and those areas in the U.S. with a large Hispanic population. This was the first all-Spanish baseball card set since Pacific withdrew their license in 2000.
The last fifty cards in the base set are short-printed and each pack contains a 5" x 7" folded poster.
Distribution
24 packs per box, six cards plus one Posters de Jugadore per pack (MSRP: $1.99). 12 boxes per case.
Reviews
Insertion Ratios
| Cards | Total Cards | Numbered To | Odds |
| --- | --- | --- | --- |
| Base | 150 | - | ? |
| short set | 100 | - | ? |
| Novato | 50 | - | 1:4 |
| Posters de Jugadores | 25 | - | one-per-pack |
| Nacion de Origen | 20 | - | 1:4 |
| Poder de Cuadrangular | 15 | - | 1:6 |
| Estrellas | 5 | - | 1:12 |
| Precision de Lanzamiento | 5 | - | 1:12 |
Checklist
Base Set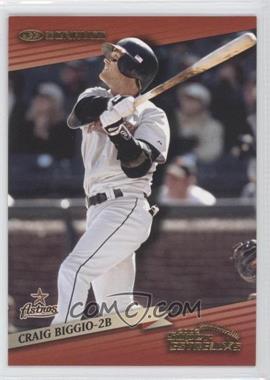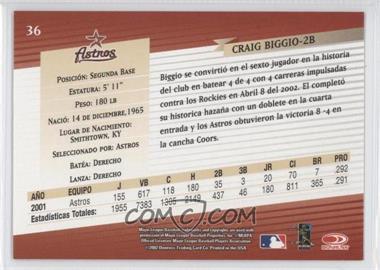 1 Darin Erstad
2 Tim Salmon
3 Troy Glaus
4 Curt Schilling
5 Luis Gonzalez
6 Mark Grace
7 Randy Johnson
8 Andruw Jones
9 Chipper Jones
10 Greg Maddux
11 Javy Lopez
12 Tom Glavine
13 Manny Ramirez
14 Nomar Garciaparra
15 Pedro Martinez
16 Trot Nixon
17 Fred McGriff
18 Sammy Sosa
19 Kerry Wood
20 Moises Alou
21 Frank Thomas
22 Magglio Ordonez
23 Adam Dunn
24 Barry Larkin
25 Juan Encarnacion
26 Ken Griffey, Jr.
27 Sean Casey
28 C.C. Sabathia
29 Jim Thome
30 Omar Vizquel
31 Larry Walker
32 Mike Hampton
33 Todd Helton
34 Bob Higginson
35 Charles Johnson
36 Craig Biggio
37 Jeff Bagwell
38 Lance Berkman
39 Carlos Beltran
40 Mike Sweeney
41 Adrian Beltre
42 Gary Sheffield
43 Hideo Nomo
44 Kevin Brown
45 Shawn Green
46 Ben Sheets
47 Richie Sexson
48 Brad Radke
49 Javier Vazquez
50 Jose Vidro
51 Vladimir Guerrero
52 Mike Piazza
53 Roberto Alomar
54 Alfonso Soriano
55 Bernie Williams
56 Derek Jeter
57 Jason Giambi
58 Jorge Posada
59 Mariano Rivera
60 Mike Mussina
61 Orlando Hernandez
62 Roger Clemens
63 Barry Zito
64 Eric Chavez
65 Jermaine Dye
66 Mark Mulder
67 Miguel Tejada
68 Tim Hudson
69 Bob Abreu
70 Pat Burrell
71 Scott Rolen
72 Brian Giles
73 Jason Kendall
74 Phil Nevin
75 Rickey Henderson
76 Ryan Klesko
77 Andres Galarraga
78 Barry Bonds
79 Tsuyoshi Shinjo
80 Jeff Kent
81 Bret Boone
82 Edgar Martinez
83 Freddy Garcia
84 Ichiro Suzuki
85 Kazuhiro Sasaki
86 John Olerud
87 Albert Pujols
88 Bud Smith
89 J.D. Drew
90 Jim Edmonds
91 Matt Morris
92 Greg Vaughn
93 Alex Rodriguez
94 Chan Ho Park
95 Ivan Rodriguez
96 Juan Gonzalez
97 Rafael Palmeiro
98 Carlos Delgado
99 Raul Mondesi
100 Shannon Stewart
Novato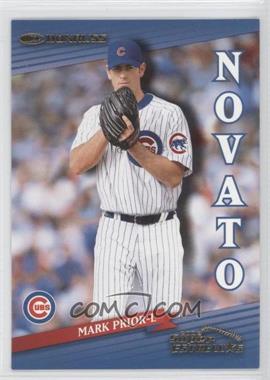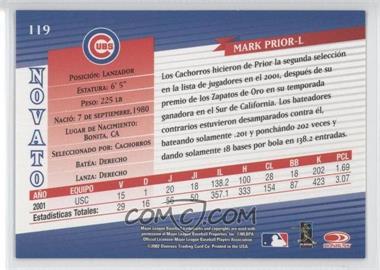 101 Marlon Byrd
102 Alex Herrera
103 Brandon Backe
104 Jorge De La Rosa RC
105 Corky Miller
106 Dennis Tankersley
107 Kyle Kane
108 Justin Duchscherer
109 Brian Mallette
110 Eric Hinske
111 Jason Lane
112 Hee Seop Choi
113 Juan Cruz
114 Rodrigo Rosario RC
115 Matt Guerrier
116 Anderson Machado
117 Geronimo Gil
118 Dewon Brazelton
119 Mark Prior
120 Bill Hall
121 Jorge Padilla
122 Josh Pearce
123 Allan Simpson
124 Doug Devore
125 Luis Garcia
126 Angel Berroa
127 Steve Bechler RC
128 Antonio Perez
129 Mark Teixeira
130 Mark Ellis
131 Michael Cuddyer
132 Mike Rivera
133 Raul Chavez RC
134 Juan Pena
135 Austin Kearns
136 Ryan Ludwick
137 Eddie Rogers
138 Wilson Betemit
139 Nick Neugebauer
140 Tom Shearn RC
141 Eric Cyr
142 Victor Martinez
143 Brandon Berger
144 Erik Bedard
145 Franklyn German RC
146 Joe Thurston
147 John Buck
148 Jeff Deardorff
149 Ryan Jamison
150 Alfredo Amezaga
Inserts
Posters de Jugadores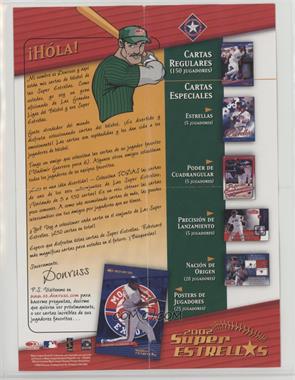 1 Roberto Alomar
2 Jeff Bagwell
3 Barry Bonds
4 Roger Clemens
5 Carlos Delgado
6 Nomar Garciaparra
7 Jason Giambi
8 Juan Gonzalez
9 Ken Griffey, Jr.
10 Vladimir Guerrero
11 Tony Gwynn
12 Derek Jeter
13 Randy Johnson
14 Chipper Jones
15 Greg Maddux
16 Pedro Martinez
17 Mike Piazza
18 Albert Pujols
19 Manny Ramirez
20 Cal Ripken, Jr.
21 Alex Rodriguez
22 Ivan Rodriguez
23 Sammy Sosa
24 Ichiro Suzuki
25 Frank Thomas
Nacion de Origen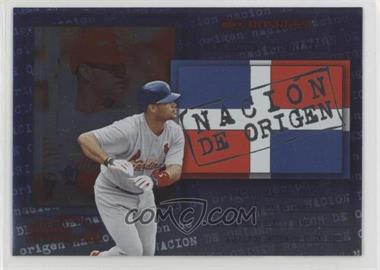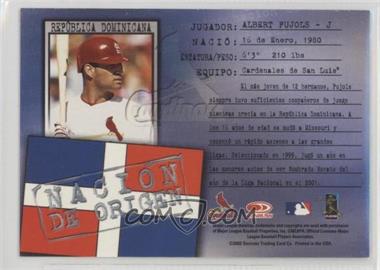 1 Livan Hernandez
2 Albert Pujols
3 Ivan Rodriguez
4 Mariano Rivera
5 Richard Hidalgo
6 Eric Chavez
7 Vinny Castilla
8 Geronimo Gil
9 Elmer Dessens
10 Ismael Valdes
11 Edgar Renteria
12 Rafael Palmeiro
13 Luis Gonzalez
14 Orlando Hernandez
15 Vladimir Guerrero
16 Manny Ramirez
17 Sammy Sosa
18 Vicente Padilla
19 Roberto Alomar
20 Bernie Williams
Poder de Cuadrangular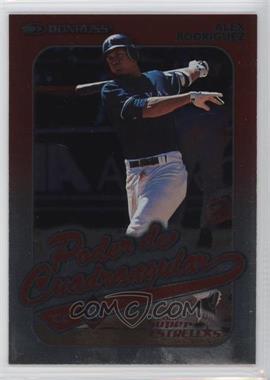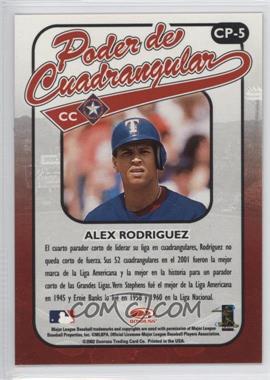 1 Sammy Sosa
2 Juan Gonzalez
3 Carlos Delgado
4 Todd Helton
5 Alex Rodriguez
6 Troy Glaus
7 Manny Ramirez
8 Vladimir Guerrero
9 Jim Thome
10 Luis Gonzalez
11 Shawn Green
12 Barry Bonds
13 Larry Walker
14 Jeff Bagwell
15 Rafael Palmeiro
Estrellas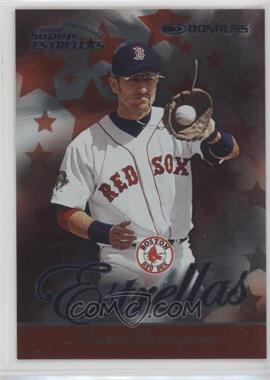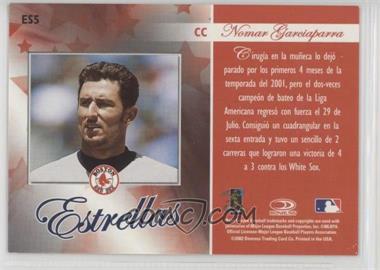 1 Alex Rodriguez
2 Ivan Rodriguez
3 Vladimir Guerrero
4 Sammy Sosa
5 Nomar Garciaparra
Precision de Lanzamiento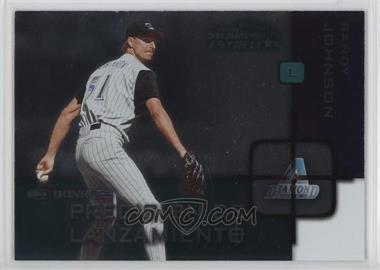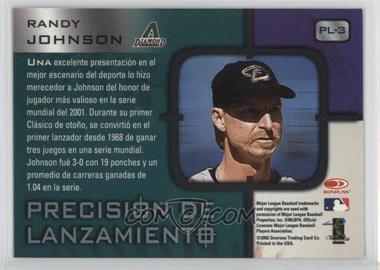 1 Pedro Martinez
2 Greg Maddux
3 Randy Johnson
4 Roger Clemens
5 Curt Schilling