1984 O-Pee-Chee
Description
1984 O-Pee-Chee is a 396-card set produced and distributed for the Canadian market. As with most OPC sets of the era, this set is an abridged version of the that year's Topps set. OPC features the same design and photos as Topps but differs by having the Topps logo replaced by an O-Pee-Chee one and backs featuring English and French text. Since OPC was printed months after its Topps counterpart, players who had changed teams in the offseason are notated.
As was standard with this brand, the Blue Jays and Expos are over represented in the checklist.
Notable Rookie Cards include Don Mattingly and Darryl Strawberry.
Distribution
Wax: 36 packs per box, 12 cards per pack, 24 boxes per case. (MSRP C$0.35)
Rack: Three 17-card individually cello wrapped packs (grocery style), header card is bilingual. (No MSRP designation)
Reviews
Checklist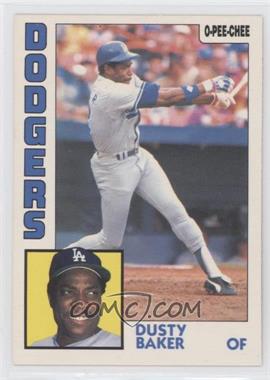 1 Pascual Perez
2 Cal Ripken, Jr.
3 Lloyd Moseby
4 Mel Hall
5 Willie Wilson
6 Mike Morgan
7 Gary Lucas
8 Don Mattingly
9 Jim Gott
10 Robin Yount
11 Joey McLaughlin
12 Billy Sample
13 Oscar Gamble
14 Bill Russell
15 Burt Hooton
16 Omar Moreno
17 Davey Lopes
18 Dale Berra
19 Rance Mulliniks
20 Greg Luzinski
21 Doug Sisk
22 Don Robinson
23 Keith Moreland
24 Rich Dotson
25 Glenn Hubbard
26 Rod Carew
27 Alan Wiggins
28 Frank Viola
29 Phil Niekro
30 Wade Boggs
31 Dave Parker
32 Bobby Ramos
33 Tom Burgmeier
34 Eddie Milner
35 Don Sutton
36 Glenn Wilson
37 Mike Krukow
38 Dave Collins
39 Garth Iorg
40 Dusty Baker
41 Tony Bernazard
42 Claudell Washington
43 Cecil Cooper
44 Dan Driessen
45 Jerry Mumphrey
46 Rick Rhoden
47 Rudy Law
48 Julio Franco
49 Mike Norris
50 Chris Chambliss
51 Pete Falcone
52 Mike Marshall
53 Amos Otis
54 Jesse Orosco
55 Dave Concepcion
56 Gary Allenson
57 Dan Schatzeder
58 Jerry Remy
59 Carney Lansford
60 Paul Molitor
61 Chris Codiroli
62 Dave Hostetler
63 Ed Vande Berg
64 Ryne Sandberg
65 Kirk Gibson
66 Nolan Ryan
67 Gary Ward
68 Luis Salazar
69 Dan Quisenberry
70 Gary Matthews
71 Pete O'Brien RC
72 John Wathan
73 Jody Davis
74 Kent Tekulve
75 Bob Forsch
76 Alfredo Griffin
77 Bryn Smith
78 Mike Torrez
79 Mike Hargrove
80 Steve Rogers
81 Bake McBride
82 Doug DeCinces
83 Richie Zisk
84 Randy Bush
85 Charlie Haag
86 Chet Lemon
87 Frank Pastore
88 Alan Trammell
89 Terry Francona
90 Pedro Guerrero
91 Dan Spillner
92 Lloyd Moseby
93 Bob Knepper
94 Ted Simmons
95 Aurelio Lopez
96 Bill Buckner
97 LaMarr Hoyt
98 Tom Brunansky
99 Ron Oester
100 Reggie Jackson
101 Ron Davis
102 Ken Oberkfell
103 Dwayne Murphy
104 Jim Slaton
105 Tony Armas
106 Ernie Whitt
107 Johnnie LeMaster
108 Randy Moffitt
109 Terry Forster
110 Ron Guidry
111 Bill Virdon
112 Doyle Alexander
113 Lonnie Smith
114 Checklist 1-132
115 Andre Thornton
116 Jeff Reardon
117 Tom Herr
118 Charlie Hough
119 Phil Garner
120 Keith Hernandez
121 Rich Gossage
122 Ted Simmons
123 Butch Wynegar
124 Damaso Garcia
125 Britt Burns
126 Bert Blyleven
127 Carlton Fisk
128 Rick Manning
129 Bill Laskey
130 Ozzie Smith
131 Bo Diaz
132 Tom Paciorek
133 Dave Rozema
134 Dave Stieb
135 Brian Downing
136 Rick Camp
137 Willie Aikens
138 Charlie Moore
139 George Frazier
140 Storm Davis
141 Glenn Hoffman
142 Charlie Lea
143 Mike Vail
144 Steve Sax
145 Gary Lavelle
146 Gorman Thomas
147 Dan Petry
148 Mark Clear
149 Dave Beard
150 Dale Murphy
151 Steve Trout
152 Tony Pena
153 Geoff Zahn
154 Dave Henderson
155 Frank White
156 Dick Ruthven
157 Gary Gaetti
158 Lance Parrish
159 Joe Price
160 Mario Soto
161 Tug McGraw
162 Bob Ojeda
163 George Hendrick
164 Scott Sanderson
165 Ken Singleton
166 Terry Kennedy
167 Gene Garber
168 Juan Bonilla
169 Larry Parrish
170 Jerry Reuss
171 John Tudor
172 Dave Kingman
173 Garry Templeton
174 Bob Boone
175 Graig Nettles
176 Lee Smith
177 LaMarr Hoyt
178 Bill Krueger
179 Buck Martinez
180 Manny Trillo
181 Lou Whitaker
182 Darryl Strawberry RC
183 Neil Allen
184 Jim Rice
185 Sixto Lezcano
186 Tom Hume
187 Garry Maddox
188 Bryan Little
189 Jose Cruz
190 Ben Oglivie
191 Cesar Cedeno
192 Nick Esasky
193 Ken Forsch
194 Jim Palmer
195 Jack Morris
196 Steve Howe
197 Harold Baines
198 Bill Doran RC
199 Willie Hernandez
200 Andre Dawson
201 Bruce Kison
202 Bobby Cox
203 Matt Keough
204 Ron Guidry
205 Greg Minton
206 Al Holland
207 Luis Leal
208 Jose Oquendo
209 Leon Durham
210 Joe Morgan
211 Lou Whitaker
212 George Brett
213 Bruce Hurst
214 Steve Carlton
215 Tippy Martinez
216 Ken Landreaux
217 Alan Ashby
218 Dennis Eckersley
219 Craig McMurtry
220 Fernando Valenzuela
221 Cliff Johnson
222 Rick Honeycutt
223 George Brett
224 Rusty Staub
225 Lee Mazzilli
226 Pat Putnam
227 Bob Welch
228 Rick Cerone
229 Lee Lacy
230 Rickey Henderson
231 Gary Redus RC
232 Tim Wallach
233 Checklist 133-264
234 Rafael Ramirez
235 Matt Young RC
236 Ellis Valentine
237 John Castino
238 Eric Show
239 Bob Horner
240 Eddie Murray
241 Billy Almon
242 Greg Brock
243 Bruce Sutter
244 Dwight Evans
245 Rick Sutcliffe
246 Terry Crowley
247 Fred Lynn
248 Bill Dawley
249 Dave Stapleton
250 Bill Madlock
251 Jim Sundberg
252 Steve Yeager
253 Jim Wohlford
254 Shane Rawley
255 Bruce Benedict
256 Dave Geisel
257 Julio Cruz
258 Luis Sanchez
259 Von Hayes
260 Scott McGregor
261 Tom Seaver
262 Doug Flynn
263 Wayne Gross
264 Larry Gura
265 John Montefusco
266 Dave Winfield
267 Tim Lollar
268 Ron Washington
269 Mickey Rivers
270 Mookie Wilson
271 Moose Haas
272 Rick Dempsey
273 Dan Quisenberry
274 Steve Henderson
275 Len Matuszek
276 Frank Tanana
277 Dave Righetti
278 Jorge Bell
279 Ivan DeJesus
280 Floyd Bannister
281 Dale Murray
282 Andre Robertson
283 Rollie Fingers
284 Tommy John
285 Darrell Porter
286 Lary Sorensen
287 Warren Cromartie
288 Jim Beattie
289 Lloyd Moseby / Dave Stieb TL
290 Dave Dravecky
291 Eddie Murray AS
292 Greg Bargar
293 Tom Underwood
294 U.L. Washington
295 Mike Flanagan
296 Rich Gedman
297 Bruce Berenyi
298 Jim Gantner
299 Bill Caudill
300 Pete Rose
301 Steve Kemp
302 Barry Bonnell
303 Joel Youngblood
304 Rick Langford
305 Roy Smalley
306 Ken Griffey, Sr.
307 Al Oliver
308 Ron Hassey
309 Len Barker
310 Willie McGee
311 Jerry Koosman
312 Jorge Orta
313 Pete Vuckovich
314 George Wright
315 Bob Grich
316 Jesse Barfield
317 Willie Upshaw
318 Bill Gullickson
319 Ray Burris
320 Bob Stanley
321 Ray Knight
322 Ken Schrom
323 Johnny Ray
324 Brian Giles
325 Darrell Evans
326 Mike Caldwell
327 Ruppert Jones
328 Chris Speier
329 Bobby Castillo
330 John Candelaria
331 Bucky Dent
332 Al Oliver / Charlie Lea TL
333 Larry Herndon
334 Chuck Rainey
335 Don Baylor
336 Bob James RC
337 Jim Clancy
338 Duane Kuiper
339 Roy Lee Jackson
340 Hal McRae
341 Larry McWilliams
342 Tim Foli
343 Fergie Jenkins
344 Dickie Thon
345 Kent Hrbek
346 Larry Bowa
347 Buddy Bell
348 Toby Harrah
349 Dan Ford
350 George Foster
351 Lou Piniella
352 Dave Stewart
353 Mike Easler
354 Jeff Burroughs
355 Jason Thompson
356 Glenn Abbott
357 Ron Cey
358 Bob Dernier
359 Jim Acker
360 Willie Randolph
361 Mike Schmidt
362 David Green
363 Cal Ripken
364 Jim Rice
365 Steve Bedrosian
366 Gary Carter
367 Chili Davis
368 Hubie Brooks
369 Steve McCatty
370 Tim Raines
371 Joaquin Andujar
372 Gary Roenicke
373 Ron Kittle
374 Rich Dauer
375 Dennis Leonard
376 Rick Burleson
377 Eric Rasmussen
378 Dave Winfield
379 Checklist #3 265-396
380 Steve Garvey
381 Jack Clark
382 Odell Jones
383 Terry Puhl
384 Joe Niekro
385 Tony Perez
386 George Hendrick AS
387 Johnny Ray AS
388 Mike Schmidt AS
389 Ozzie Smith AS
390 Tim Raines AS
391 Dale Murphy AS
392 Andre Dawson AS
393 Gary Carter AS
394 Steve Rogers AS
395 Steve Carlton AS
396 Jesse Orosco AS
O-Pee-Chee
Pre-War Era:
Topps Replication Era:
Original Era:
Upper Deck Era:
---
O-Pee-Chee Premier: