1987 Donruss Opening Day
Description
1987 Donruss Opening Day is a 272-card set that features the complete 1987 opening day starting lineups for all 26 Major League teams. The set was distributed exclusively as a factory set and came packaged in a specially designed box. Cards are identical in design to the 1987 regular Donruss issue except that the Opening Day cards have a maroon border instead of a black border.
The final 24 cards are of team checklists. Teams in the same city share a checklist card.
A 2 1/2" X 3 1/3" 15-piece puzzle of Roberto Clemente is also included with every complete set.
Barry Bonds error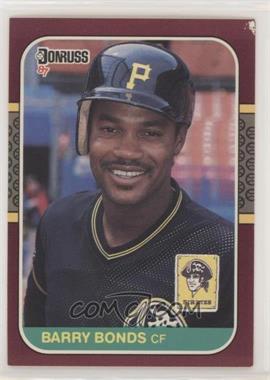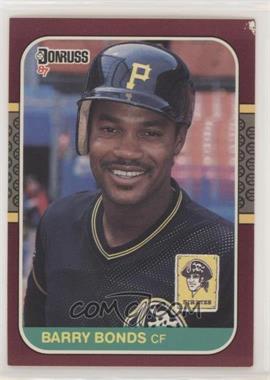 A card of Barry Bonds showing the picture of his Pirates teammate Johnny Ray was corrected very early in the press run, and supposedly less than two percent of the sets have the error.
Distribution
Factory sets: 272 cards plus one 15-piece Roberto Clemente puzzle. Hobby only.
Reviews
Checklist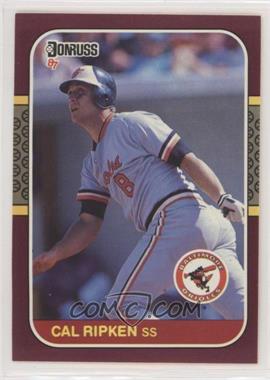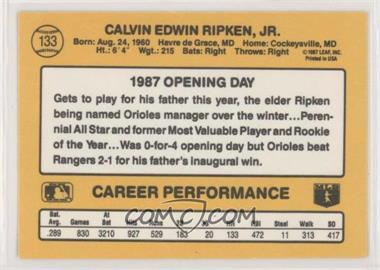 1 Doug DeCinces
2 Mike Witt
3 George Hendrick
4 Dick Schofield
5 Devon White
6 Butch Wynegar
7 Wally Joyner
8 Mark McLemore
9 Brian Downing
10 Gary Pettis
11 Bill Doran
12 Phil Garner
13 Jose Cruz
14 Kevin Bass
15 Mike Scott
16 Glenn Davis
17 Alan Ashby
18 Billy Hatcher
19 Craig Reynolds
20 Carney Lansford
21 Mike Davis
22 Reggie Jackson
23 Mickey Tettleton
24 Jose Canseco
25 Rob Nelson
26 Tony Phillips
27 Dwayne Murphy
28 Alfredo Griffin
29 Curt Young
30 Willie Upshaw
31 Mike Sharperson
32 Rance Mulliniks
33 Ernie Whitt
34 Jesse Barfield
35 Tony Fernandez
36 Lloyd Moseby
37 Jimmy Key
38 Fred McGriff
39 George Bell
40 Dale Murphy
41 Rick Mahler
42 Ken Griffey, Sr.
43 Andres Thomas
44 Dion James
45 Ozzie Virgil
46 Ken Oberkfell
47 Gary Roenicke
48 Glenn Hubbard
49 Bill Schroeder
50 Greg Brock
51 Billy Jo Robidoux
52 Glenn Braggs
53 Jim Gantner
54 Paul Molitor
55 Dale Sveum
56 Ted Higuera
57 Rob Deer
58 Robin Yount
59 Jim Lindeman
60 Vince Coleman
61 Tommy Herr
62 Terry Pendleton
63 John Tudor
64 Tony Pena
65 Ozzie Smith
66 Terry Landrum
67 Jack Clark
68 Bob Dernier
69 Rick Sutcliffe
70 Andre Dawson
71 Keith Moreland
72 Jody Davis
73 Brian Dayett
74 Leon Durham
75 Ryne Sandberg
76 Shawon Dunston
77 Mike Marshall
78 Bill Madlock
79 Orel Hershiser
80 Mike Ramsey
81 Ken Landreaux
82 Mike Scioscia
83 Franklin Stubbs
84 Mariano Duncan
85 Steve Sax
86 Mitch Webster
87 Reid Nichols
88 Tim Wallach
89 Floyd Youmans
90 Andres Galarraga
91 Hubie Brooks
92 Jeff Reed
93 Alonzo Powell
94 Vance Law
95 Bob Brenly
96 Will Clark
97 Chili Davis
98 Mike Krukow
99 Jose Uribe
100 Chris Brown
101 Robby Thompson
102 Candy Maldonado
103 Jeff Leonard
104 Tom Candiotti
105 Chris Bando
106 Cory Snyder
107 Pat Tabler
108 Andre Thornton
109 Joe Carter
110 Tony Bernazard
111 Julio Franco
112 Brook Jacoby
113 Brett Butler
114 Donell Nixon
115 Alvin Davis
116 Mark Langston
117 Harold Reynolds
118 Ken Phelps
119 Mike Kingery
120 Dave Valle
121 Rey Quinones
122 Phil Bradley
123 Jim Presley
124 Keith Hernandez
125 Kevin McReynolds
126 Rafael Santana
127 Bob Ojeda
128 Darryl Strawberry
129 Mookie Wilson
130 Gary Carter
131 Tim Teufel
132 Howard Johnson
133 Cal Ripken, Jr.
134 Rick Burleson
135 Fred Lynn
136 Eddie Murray
137 Ray Knight
138 Alan Wiggins
139 John Shelby
140 Mike Boddicker
141 Ken Gerhart
142 Terry Kennedy
143 Steve Garvey
144 Marvell Wynne
145 Kevin Mitchell
146 Tony Gwynn
147 Joey Cora
148 Benito Santiago
149 Eric Show
150 Garry Templeton
151 Carmelo Martinez
152 Von Hayes
153 Lance Parrish
154 Milt Thompson
155 Mike Easler
156 Juan Samuel
157 Steve Jeltz
158 Glenn Wilson
159 Shane Rawley
160 Mike Schmidt
161 Andy Van Slyke
162 Johnny Ray
163 Barry Bonds COR
163 Barry Bonds ERR (Photo is Johnny Ray)
164 Junior Ortiz
165 Rafael Belliard
166 Bob Patterson
167 Bobby Bonilla
168 Sid Bream
169 Jim Morrison
170 Jerry Browne
171 Scott Fletcher
172 Ruben Sierra
173 Larry Parrish
174 Pete O'Brien
175 Pete Incaviglia
176 Don Slaught
177 Oddibe McDowell
178 Charlie Hough
179 Steve Buechele
180 Bob Stanley
181 Wade Boggs
182 Jim Rice
183 Bill Buckner
184 Dwight Evans
185 Spike Owen
186 Don Baylor
187 Marc Sullivan
188 Marty Barrett
189 Dave Henderson
190 Bo Diaz
191 Barry Larkin
192 Kal Daniels
193 Terry Francona
194 Tom Browning
195 Ron Oester
196 Buddy Bell
197 Eric Davis
198 Dave Parker
199 Steve Balboni
200 Danny Tartabull
201 Ed Hearn
202 Buddy Biancalana
203 Danny Jackson
204 Frank White
205 Bo Jackson
206 George Brett
207 Kevin Seitzer
208 Willie Wilson
209 Orlando Mercado
210 Darrell Evans
211 Larry Herndon
212 Jack Morris
213 Chet Lemon
214 Mike Heath
215 Darnell Coles
216 Alan Trammell
217 Terry Harper
218 Lou Whitaker
219 Gary Gaetti
220 Tom Nieto
221 Kirby Puckett
222 Tom Brunansky
223 Greg Gagne
224 Dan Gladden
225 Mark Davidson
226 Bert Blyleven
227 Steve Lombardozzi
228 Kent Hrbek
229 Gary Redus
230 Ivan Calderon
231 Tim Hulett
232 Carlton Fisk
233 Greg Walker
234 Ron Karkovice
235 Ozzie Guillen
236 Harold Baines
237 Donnie Hill
238 Rich Dotson
239 Mike Pagliarulo
240 Joel Skinner
241 Don Mattingly
242 Gary Ward
243 Dave Winfield
244 Dan Pasqua
245 Wayne Tolleson
246 Willie Randolph
247 Dennis Rasmussen
248 Rickey Henderson
249 Angels Logo
250 Astros Logo
251 A's Logo
252 Blue Jays Logo
253 Braves Logo
254 Brewers Logo
255 Cardinals Logo
256 Dodgers Logo
257 Expos Logo
258 Giants Logo
259 Indians Logo
260 Mariners Logo
261 Orioles Logo
262 Padres Logo
263 Phillies Logo
264 Pirates Logo
265 Rangers Logo
266 Red Sox Logo
267 Reds Logo
268 Royals Logo
269 Tigers Logo
270 Twins Logo
271 Chicago Logos LOGO
272 New York Logos LOGO