1988 Donruss Team Books
Description
The 1988 Donruss Team Books are five separate 27-card "books" issued as three pages with nine cards on each page, plus a large full-page puzzle of Stan Musial. The five teams represented are: Athletics, Cubs, Mets, Red Sox, and Yankees.
The set was distributed as a four-page book and although the puzzle page was perforated, the card pages were not. Each card is a reprint of the player's 1988 Donruss regular issue card; however, Donruss was able to include players who, due to trades or rookie call-ups, were not included in the '88 Donruss set -- the most prominent being 1988 American League Rookie of the Year Walt Weiss for the Athletics' book. Those players are sequentially-numbered as "NEW."
Books are usually sold intact. When cut from the book into individual cards, these cards are distinguishable from the regular 1988 Donruss cards since these have a 1988 copyright on the back whereas the regular issue has a 1987 copyright on the back.
Distribution
Reviews
Checklist
Athletics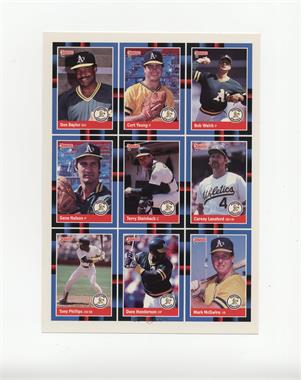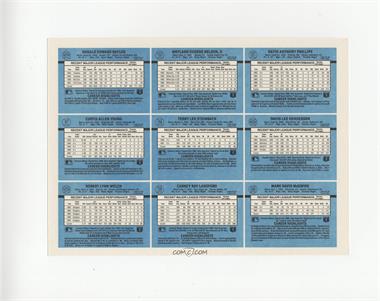 NEW Don Baylor
NEW Ron Hassey
NEW Dave Henderson
NEW Glenn Hubbard
NEW Stan Javier
NEW Doug Jennings
NEW Ed Jurak
NEW Dave Parker
NEW Matt Young
NEW Walt Weiss
NEW Bob Welch
97 Curt Young
133 Gene Nelson
158 Terry Steinbach
178 Carney Lansford
221 Tony Phillips
256 Mark McGwire
302 Jose Canseco
349 Dennis Eckersley
379 Mike Gallego
425 Luis Polonia
467 Steve Ontiveros
472 Dave Stewart
503 Eric Plunk
528 Greg Cadaret
590 Rick Honeycutt
595 Storm Davis
Cubs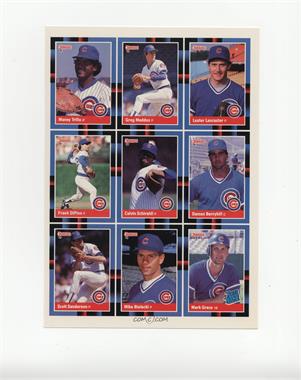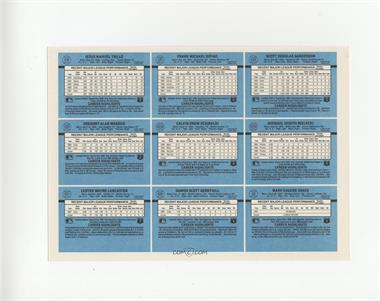 40 Mark Grace
68 Rick Sutcliffe
119 Jody Davis
146 Shawon Dunston
169 Jamie Moyer
191 Leon Durham
242 Ryne Sandberg
269 Andre Dawson
315 Paul Noce
324 Rafael Palmeiro
438 Dave Martinez
447 Jerry Mumphrey
488 Jim Sundberg
516 Manny Trillo
539 Greg Maddux
561 Les Lancaster
570 Frank DiPino
639 Damon Berryhill
646 Scott Sanderson
Mets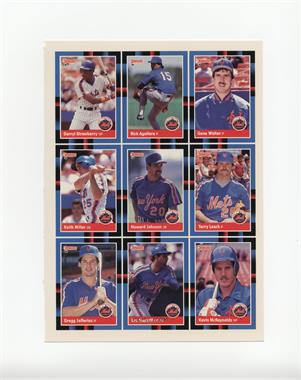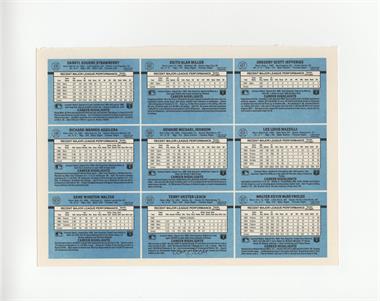 NEW Jeff Innis
NEW Mackey Sasser
NEW Gene Walter
37 Rated Rookie - Kevin Elster
69 Dwight Gooden
76 Ron Darling
118 Sid Fernandez
199 Gary Carter
241 Wally Backman
316 Keith Hernandez
323 Dave Magadan
364 Lenny Dykstra
439 Darryl Strawberry
446 Rick Aguilera
562 Keith Miller
569 Howard Johnson
603 Terry Leach
614 Lee Mazzilli
617 Kevin McReynolds
619 Barry Lyons
620 Randy Myers
632 Bob Ojeda
648 Tim Teufel
651 Roger McDowell
652 Mookie Wilson
653 David Cone
657 Gregg Jefferies
Red Sox
NEW Brady Anderson
NEW John Trautwein
NEW Mike Smithson
NEW Kevin Romine
NEW Lee Smith
NEW Dennis Lamp
NEW Rick Cerone
NEW Steve Ellsworth
41 Rated Rookie - Jody Reed
51 Roger Clemens
92 Bob Stanley
129 Rich Gedman
153 Wade Boggs
174 Ellis Burks
216 Dwight Evans
252 Bruce Hurst
276 Marty Barrett
297 Todd Benzinger
339 Mike Greenwell
399 Jim Rice
421 John Marzano
462 Dennis Boyd
498 Sam Horn
544 Spike Owen
585 Jeff Sellers
623 Ed Romero
634 Wes Gardner
Yankees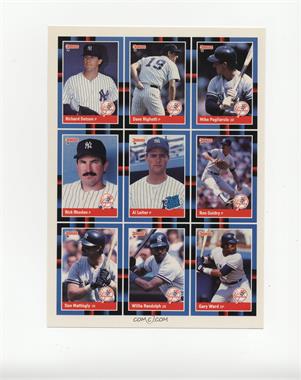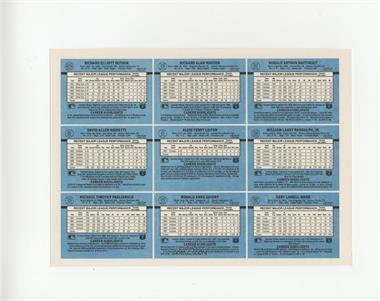 43 Rated Rookie - Al Leiter
93 Dave Righetti
105 Mike Pagliarulo
128 Rick Rhoden
175 Ron Guidry
217 Don Mattingly
228 Willie Randolph
251 Gary Ward
277 Rickey Henderson
278 Dave Winfield
340 Claudell Washington
374 Charles Hudson
401 Tommy John
474 Joel Skinner
497 Tim Stoddard
545 Jay Buhner
616 Bobby Meacham
635 Roberto Kelly
NEW Don Slaught
NEW Steve Shields
NEW Rafael Santana
NEW Cecilio Guante
NEW Lee Guetterman
NEW Rich Dotson
NEW Jose Cruz
NEW Jack Clark
NEW John Candelaria
Donruss
Triopoly Era:
Junk Wax Era:
Post Junk Wax Era:
Pinnacle Brands Era:
Donruss-Playoff Era:
Panini America Era:
---
Parallel Brands:
---
All-Stars:
Highlights:
The Rookies:
Baseball's Best:
---
Other Donruss Brands: