1990 Score McDonald's
Description
1990 Score McDonald's is a 25-card set distributed at only eleven McDonald's restaurants in rural Idaho and Oregon during a three-week period in the Spring of 1990. In addition to the 25 player cards, fifteen "Magic Motion" World Series Trivia cards were also produced. Collectors who purchased an order of french fries and a soft drink would receive a free pack of four cards. The back of the packs mention a contest to the 1990 World Series which suggests that the set might have been intended for distribution on a larger scale.
The front has color action player photos, with white and yellow borders on a royal blue card face that fades as one moves toward the middle of the card. The upper left corner of the picture is cut off to allow space for the McDonald's logo; the player's name and team logo at the bottom round out the card face. The backs have color mugshots, biography, statistics, and career summary.
Because of the extremely very limited distribution, this is one of the toughest food issues of the era. The rarity combined with the blue borders make high grade cards extremely valuable.
Distribution
Four cards with the purchase of an order of french fries and a soft drink.
Reviews
Checklist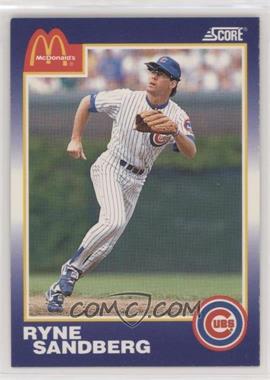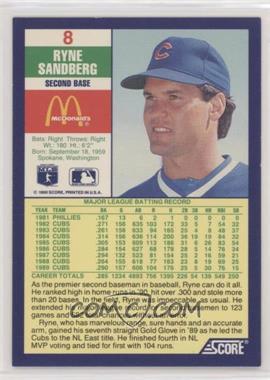 NOTE: The 15 World Series Trivia cards are not sequentially-numbered and feature no players. For this reason, we have not listed them in the checklist.
1 Will Clark
2 Sandy Alomar
3 Julio Franco
4 Carlton Fisk
5 Rickey Henderson
6 Matt Williams
7 John Franco
8 Ryne Sandberg
9 Kelly Gruber
10 Andre Dawson
11 Barry Bonds
12 Gary Sheffield
13 Ramon Martinez
14 Lenny Dykstra
15 Benito Santiago
16 Cecil Fielder
17 John Olerud
18 Roger Clemens
19 George Brett
20 George Bell
21 Ozzie Guillen
22 Steve Sax
23 Dave Stewart
24 Ozzie Smith
25 Robin Yount
Score
---
Rookie/Traded:
Hottest 100 Sets:
Young Superstars:
Other Score Sets: