1991 Classic
Description
1991 Classic is a 500-card set released in four series. The first 200 cards were issued as part of a baseball trivia board game -- the third edition of the game -- while the remaining 300 cards were released as three, 100-card update sets.
Only 100,000 board games and 175,000 of each of the three series of update sets were produced.
Distribution
Reviews
Insertion Ratios
| Cards | Total Cards | Numbered To | Odds |
| --- | --- | --- | --- |
| Base | 200 | - | 200 per factory set |
Checklist
Base Set
Game Series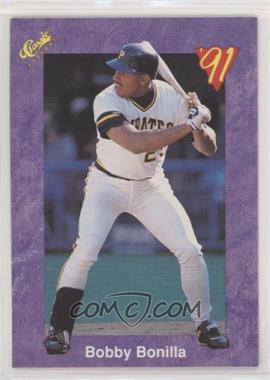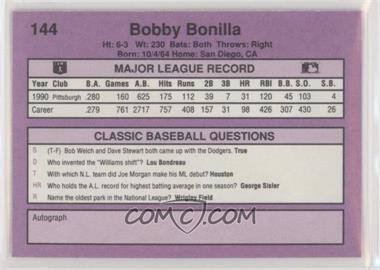 1 Frank Viola
2 Tim Wallach
3 Lou Whitaker
4 Brett Butler
5 Jim Abbott
6 Jack Armstrong
7 Craig Biggio
8 Brian Barnes
9 Dennis Boyd
10 Tom Browning
11 Tom Brunansky
12 Ellis Burks
13 Harold Baines
14 Kal Daniels
15 Mark Davis
16 Storm Davis
17 Tom Glavine
18 Mike Greenwell
19 Kelly Gruber
20 Mark Gubicza
21 Pedro Guerrero
22 Mike Harkey
23 Orel Hershiser
24 Ted Higuera
25 Von Hayes
26 Andre Dawson
27 Shawon Dunston
28 Roberto Kelly
29 Joe Magrane
30 Dennis Martinez
31 Kevin McReynolds
32 Matt Nokes
33 Dan Plesac
34 Dave Parker
35 Randy Johnson
36 Bret Saberhagen
37 Mackey Sasser
38 Mike Scott
39 Ozzie Smith
40 Kevin Seitzer
41 Ruben Sierra
42 Kevin Tapani
43 Danny Tartabull
44 Robby Thompson
45 Andy Van Slyke
46 Greg Vaughn
47 Harold Reynolds
48 Will Clark
49 Gary Gaetti
50 Joe Grahe
51 Carlton Fisk
52 Robin Ventura
53 Ozzie Guillen
54 Tom Candiotti
55 Doug Jones
56 Eric King
57 Kirk Gibson
58 Tim Costo
59 Robin Yount
60 Sammy Sosa
61 Jesse Barfield
62 Marc Newfield
63 Jimmy Key
64 Felix Jose
65 Mark Whiten
66 Tommy Greene
67 Kent Mercker
68 Greg Maddux
69 Danny Jackson
70 Reggie Sanders
71 Eric Yelding
72 Karl Rhodes
73 Fernando Valenzuela
74 Chris Nabholz
75 Andres Galarraga
76 Howard Johnson
77 Hubie Brooks
78 Terry Mulholland
79 Paul Molitor
80 Roger McDowell
81 Darren Daulton
82 Zane Smith
83
84 Bruce Hurst
85 Andy Benes
86 John Burkett
87 Dave Righetti
88 Steve Karsay
89 D.J. Dozier
90 Jeff Bagwell
91 Joe Carter
92 Wes Chamberlain
93 Vince Coleman
94 Pat Combs
95 Jerome Walton
96 Jeff Conine
97 Alan Trammell
98 Don Mattingly
99 Ramon Martinez
100 Dave Magadan
101 Greg Swindell
102 Dave Stewart
103 Gary Sheffield
104 George Bell
105 Mark Grace
106 Steve Sax
107 Ryne Sandberg
108 Chris Sabo
109 Jose Rijo
110 Cal Ripken, Jr.
111 Kirby Puckett
112 Eddie Murray
113 Roberto Alomar
114 Randy Myers
115 Rafael Palmeiro
116 John Olerud
117 Gregg Jefferies
118 Kent Hrbek
119 Marquis Grissom
120 Ken Griffey, Jr.
121 Dwight Gooden
122 Juan Gonzalez
123 Ron Gant
124 Travis Fryman
125 John Franco
126 Dennis Eckersley
127 Cecil Fielder
128 Phil Plantier
129 Kevin Mitchell
130 Kevin Maas
131 Mark McGwire
132 Ben McDonald
133 Lenny Dykstra
134 Delino DeShields
135 Jose Canseco
136 Eric Davis
137 George Brett
138 Steve Avery
139 Eric Anthony
140 Bobby Thigpen
141 Ken Griffey, Sr.
142 Barry Larkin
143 Jeff Brantley
144 Bobby Bonilla
145 Jose Offerman
146 Mike Mussina
147 Erik Hanson
148 Dale Murphy
149 Roger Clemens
150 Tino Martinez
151 Todd Van Poppel
152 Mo Vaughn
153 Derrick May
154 Jack Clark
155 Dave Hansen
156 Tony Gwynn
157 Brian McRae
158 Matt Williams
159 Kirk Dressendorfer
160 Scott Erickson
161 Tony Fernandez
162 Willie McGee
163 Fred McGriff
164 Leo Gomez
165 Bernard Gilkey
166 Bobby Witt
167 Doug Drabek
168 Rob Dibble
169 Glenn Davis
170 Danny Darwin
171 Eric Karros
172 Eddie Zosky
173 Todd Zeile
174 Tim Raines
175 Benito Santiago
176 Dan Peltier
177 Darryl Strawberry
178 Hal Morris
179 Hensley Meulens
180 John Smoltz
181 Frank Thomas
182 Dave Staton
183 Scott Chiamparino
184 Alex Fernandez
185 Mark Lewis
186 Bo Jackson
187 Mickey Morandini ERR (Photo is Darren Daulton)
188 Cory Snyder
189 Rickey Henderson
190 Junior Felix
191 Milt Cuyler
192 Wade Boggs
193 Dave Justice (Justice Prevails)
194 Sandy Alomar
195 Barry Bonds
196 Nolan Ryan
197 Rico Brogna
198 Steve Decker
199 Bob Welch
200 Andujar Cedeno
Update Series I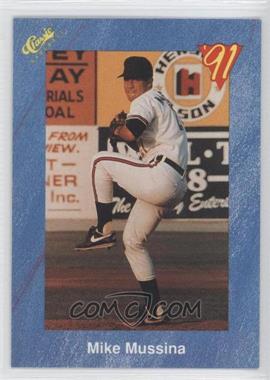 Update Series I is also known as the "Blue" edition.
NNO Todd Van Poppel / Dave Justice / Ryne Sandberg
T1 John Olerud
T2 Tino Martinez
T3 Ken Griffey, Jr.
T4 Jeromy Burnitz
T5 Ron Gant
T6 Mike Benjamin
T7 Steve Decker
T8 Matt Williams
T9 Rafael Novoa
T10 Kevin Mitchell
T11 Dave Justice
T12 Leo Gomez
T13 Chris Hoiles
T14 Ben McDonald
T15 David Segui
T16 Anthony Telford
T17 Mike Mussina
T18 Roger Clemens
T19 Wade Boggs
T20 Tim Naehring
T21 Joe Carter
T22 Phil Plantier
T23 Rob Dibble
T24 Maurice Vaughn
T25 Lee Stevens
T26 Chris Sabo
T27 Mark Grace
T28 Derrick May
T29 Ryne Sandberg
T30 Matt Stark
T31 Bobby Thigpen
T32 Frank Thomas
T33 Don Mattingly
T34 Eric Davis
T35 Reggie Jefferson
T36 Alex Cole
T37 Mark Lewis
T38 Tim Costo
T39 Sandy Alomar, Jr.
T40 Travis Fryman
T41 Cecil Fielder
T42 Milt Cuyler
T43 Andujar Cedeno
T44 Danny Darwin
T45 Randy Hennis
T46 George Brett
T47 Jeff Conine
T48 Bo Jackson
T49 Brian McRae
T50 Brent Mayne
T51 Eddie Murray
T52 Ramon Martinez
T53 Jim Neidlinger
T54 Jim Poole
T55 Tim McIntosh
T56 Randy Veres
T57 Kirby Puckett
T58 Todd Ritchie
T59 Rich Garces
T60 Moises Alou
T61 Delino DeShields
T62 Oscar Azocar
T63 Kevin Maas
T64 Alan Mills
T65 John Franco
T66 Chris Jelic
T67 Dave Magadan
T68 Darryl Strawberry
T69 Hensley Meulens
T70 Juan Gonzalez
T71 Reggie Harris
T72 Rickey Henderson
T73 Mark McGwire
T74 Willie McGee
T75 Todd Van Poppel
T76 Bob Welch
T77 Todd Van Poppel / Don Peters / Dave Zancanaro / Kirk Dressendorfer "Future Aces"
T78 Lenny Dykstra
T79 Mickey Morandini
T80 Wes Chamberlain
T81 Barry Bonds
T82 Doug Drabek
T83 Randy Tomlin
T84 Scott Chiamparino
T85 Rafael Palmeiro
T86 Nolan Ryan
T87 Bobby Witt
T88 Fred McGriff
T89 Dave Stieb
T90 Ed Sprague
T91 Vince Coleman UER (Born 1960, should be 1961)
T92 Rod Brewer
T93 Bernard Gilkey
T94 Roberto Alomar
T95 Chuck Finley
T96 Dale Murphy
T97 Jose Rijo
T98 Hal Morris
T99 Friendly Foes - Darryl Strawberry / Dwight Gooden
Update Series II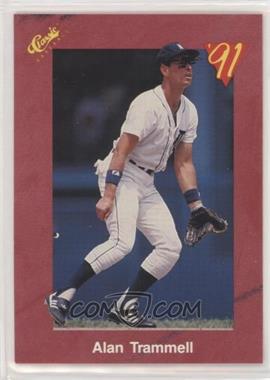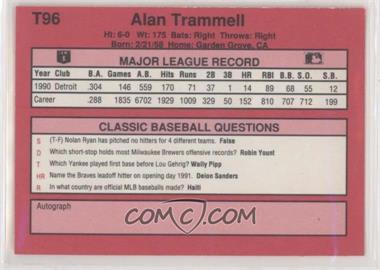 Update Series II is also known as the "Red" edition.
NNO John Olerud / Dwight Gooden / Jose Canseco / Darryl Strawberry
T1 Ken Griffey, Jr.
T2 Wilfredo Cordero
T3 Cal Ripken, Jr.
T4 D.J. Dozier
T5 Darrin Fletcher
T6 Glenn Davis
T7 Alex Fernandez
T8 Cory Snyder
T9 Tim Raines
T10 Greg Swindell
T11 Mark Lewis
T12 Rico Brogna
T13 Gary Sheffield
T14 Paul Molitor
T15 Kent Hrbek
T16 Scott Erickson
T17 Steve Sax
T18 Dennis Eckersley
T19 Jose Canseco
T20 Kirk Dressendorfer
T21 Ken Griffey, Sr.
T22 Erik Hanson
T23 Dan Peltier
T24 John Olerud
T25 Eddie Zosky
T26 Steve Avery
T27 John Smoltz
T28 Frank Thomas
T29 Jerome Walton
T30 George Bell
T31 Jose Rijo
T32 Randy Myers
T33 Barry Larkin
T34 Eric Anthony
T35 Dave Hansen
T36 Eric Karros
T37 Jose Offerman
T38 Marquis Grissom
T39 Dwight Gooden
T40 Gregg Jefferies
T41 Pat Combs
T42 Todd Zeile
T43 Benito Santiago
T44 Dave Staton
T45 Tony Fernandez
T46 Fred McGriff
T47 Jeff Brantley
T48 Junior Felix
T49 Jack Morris
T50 Chris George
T51 Henry Rodriguez
T52 Paul Marak
T53 Ryan Klesko
T54 Darren Lewis
T55 Lance Dickson
T56 Anthony Young
T57 Willie Banks
T58 Mike Bordick
T59 Roger Salkeld
T60 Steve Karsay
T61 Bernie Williams
T62 Mickey Tettleton
T63 Dave Justice
T64 Steve Decker
T65 Roger Clemens
T66 Phil Plantier
T67 Ryne Sandberg
T68 Sandy Alomar
T69 Cecil Fielder
T70 George Brett
T71 Delino DeShields
T72 Dave Magadan
T73 Darryl Strawberry
T74 Juan Gonzalez
T75 Rickey Henderson
T76 Willie McGee
T77 Todd Van Poppel
T78 Barry Bonds
T79 Doug Drabek
T80 Nolan Ryan (300 Game Winner)
T81 Roberto Alomar
T82 Ivan Rodriguez
T83 Dan Opperman
T84 Jeff Bagwell
T85 Braulio Castillo
T86 Doug Simons
T87 Wade Taylor
T88 Gary Scott
T89 Dave Stewart
T90 Mike Simms
T91 Luis Gonzalez
T92 Bobby Bonilla
T93 Tony Gwynn
T94 Will Clark
T95 Rich Rowland
T96 Alan Trammell
T97 Nolan Ryan / Roger Clemens "Strikeout Kings"
T98 Joe Carter
T99 Jack Clark
Update Series III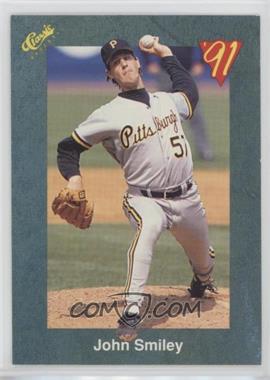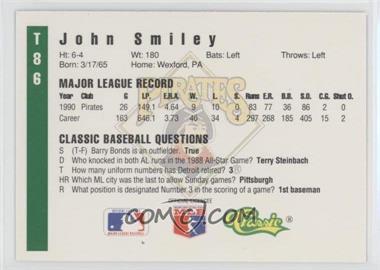 Update Series III is also known as the "Green" edition.
NNO
NNO Bobby Bonilla / Will Clark / Cal Ripken, Jr. / Scott Erickson
T1 Jim Abbott
T2 Craig Biggio
T3 Wade Boggs
T4 Bobby Bonilla
T5 Ivan Calderon
T6 Jose Canseco
T7 Andy Benes
T8 Wes Chamberlain
T9 Will Clark
T10 Royce Clayton
T11 Gerald Alexander
T12 Chili Davis
T13 Eric Davis
T14 Andre Dawson
T15 Rob Dibble
T16 Chris Donnels
T17 Scott Erickson
T18 Monty Fariss
T19 Ruben Amaro
T20 Chuck Finley
T21 Carlton Fisk
T22 Carlos Baerga
T23 Ron Gant
T24 Dave Justice / Ron Gant
T25 Mike Gardiner
T26 Tom Glavine
T27 Joe Grahe
T28 Derek Bell
T29 Mike Greenwell
T30 Ken Griffey, Jr.
T31 Leo Gomez
T32 Tom Goodwin
T33 Tony Gwynn
T34 Mel Hall
T35 Brian Harper
T36 Dave Henderson
T37 Albert Belle
T38 Orel Hershiser
T39 Brian Hunter
T40 Howard Johnson
T41 Felix Jose
T42 Wally Joyner
T43 Jeff Juden
T44 Pat Kelly
T45 Jimmy Key
T46 Chuck Knoblauch
T47 John Kruk
T48
T49 Ced Landrum
T50 Scott Livingstone
T51 Kevin Maas
T52 Greg Maddux
T53 Dennis Martinez
T54 Edgar Martinez
T55 Pedro Martinez
T56 Don Mattingly
T57 Orlando Merced
T58 Keith Mitchell
T59 Kevin Mitchell
T60 Paul Molitor
T61 Jack Morris
T62 Hal Morris
T63 Kevin Morton
T64 Pedro Munoz
T65 Eddie Murray
T66 Jack McDowell
T67 Jeff McNeely
T68 Brian McRae
T69 Kevin McReynolds
T70 Gregg Olson
T71 Rafael Palmeiro
T72 Dean Palmer
T73 Tony Phillips
T74 Kirby Puckett
T75 Carlos Quintana
T76 Pat Rice
T77 Cal Ripken, Jr.
T78 Ivan Rodriguez
T79 Nolan Ryan
T80 Bret Saberhagen
T81 Tim Salmon
T82 Juan Samuel
T83 Ruben Sierra
T84 Heathcliff Slocumb
T85 Joe Slusarski
T86 John Smiley
T87 Dave Smith
T88 Ed Sprague
T89 Todd Stottlemyre
T90 Mike Timlin
T91 Greg Vaughn
T92 Frank Viola
T93 Chico Walker
T94 Devon White
T95 Matt Williams
T96 Rick Wilkins
T97 Bernie Williams
T98 Nolan Ryan / G. Gossage
T99 Gerald Williams