1992 O-Pee-Chee Premier
Description
1992 O-Pee-Chee Premier is a 198-card set produced and distributed for the Canadian market. As with the previous year's set, the design is original and not a reprint of the year's Topps set.
The base set -- which is 50% larger than the '91 edition -- is heavily skewed towards players from the two Canadian teams. As with all OPC sets, all cards feature English and French text.
Distribution
36 packs per box, eight cards per pack.
Reviews
Checklist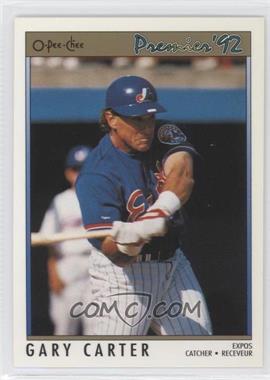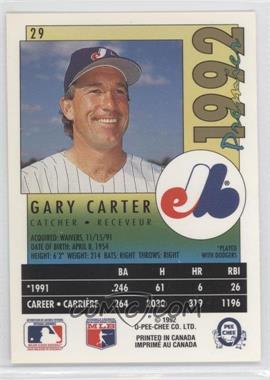 1 Wade Boggs
2 John Smiley
3 Checklist CL 1-99
4 Ron Gant
5 Mike Bordick
6 Charlie Hayes
7 Kevin Morton
8 Checklist CL 100-198
9 Chris Gwynn
10 Melido Perez
11 Dan Gladden
12 Brian McRae
13 Dennis Martinez
14 Bob Scanlan
15 Julio Franco
16 Ruben Amaro
17 Mo Sanford
18 Scott Bankhead
19 Dickie Thon
20 Chris James
21 Mike Huff
22 Orlando Merced
23 Chris Sabo
24 Jose Canseco
25 Reggie Sanders
26 Chris Nabholz
27 Kevin Seitzer
28 Ryan Bowen
29 Gary Carter
30 Wayne Rosenthal
31 Alan Trammell
32 Doug Drabek
33 Craig Shipley
34 Ryne Sandberg
35 Chuck Knoblauch
36 Bret Barberie
37 Tim Naehring
38 Omar Olivares
39 Royce Clayton
40 Brent Mayne
41 Darrin Fletcher
42 Howard Johnson
43 Steve Sax
44 Greg Swindell
45 Andre Dawson
46 Kent Hrbek
47 Dwight Gooden
48 Mark Leiter
49 Tom Glavine
50 Mo Vaughn
51 Doug Jones
52 Brian Barnes
53 Rob Dibble
54 Kevin McReynolds
55 Ivan Rodriguez
56 Scott Livingstone ERR (Photo is Travis Fry)
57 Mike Magnante RC
58 Pete Schourek
59 Frank Thomas
60 Kirk McCaskill
61 Wally Joyner
62 Rick Aguilera
63 Eric Karros
64 Tino Martinez
65 Bryan Hickerson RC
66 Ruben Sierra
67 Willie Randolph
68 Bill Landrum
69 Bip Roberts
70 Cecil Fielder
71 Pat Kelly
72 Kenny Lofton
73 John Franco
74 Phil Plantier
75 Dave Martinez
76 Warren Newson
77 Chito Martinez
78 Brian Hunter
79 Jack Morris
80 Eric King
81 Nolan Ryan
82 Bret Saberhagen
83 Roberto Kelly
84 Ozzie Smith
85 Chuck McElroy
86 Carlton Fisk
87 Mike Mussina
88 Mark Carreon
89 Ken Hill
90 Rick Cerone
91 Deion Sanders
92 Don Mattingly
93 Danny Tartabull
94 Keith Miller
95 Gregg Jefferies
96 Barry Larkin
97 Kevin Mitchell
98 Rick Sutcliffe
99 Mark McGwire
100 Albert Belle
101 Gregg Olson
102 Kirby Puckett
103 Luis Gonzalez
104 Randy Myers
105 Roger Clemens
106 Tony Gwynn
107 Jeff Bagwell
108 John Wetteland
109 Bernie Williams
110 Scott Kamieniecki
111 Robin Yount
112 Dean Palmer
113 Tim Belcher
114 George Brett
115 Frank Viola
116 Kelly Gruber
117 Dave Justice
118 Scott Leius
119 Jeff Fassero
120 Sammy Sosa
121 Al Osuna
122 Wilson Alvarez
123 Jose Offerman
124 Mel Rojas
125 Shawon Dunston
126 Pete Incaviglia
127 Von Hayes
128 Dave Gallagher
129 Eric Davis
130 Roberto Alomar
131 Mike Gallego
132 Robin Ventura
133 Bill Swift
134 John Kruk
135 Craig Biggio
136 Eddie Taubensee RC
137 Cal Ripken, Jr.
138 Charles Nagy
139 Jose Melendez
140 Jim Abbott
141 Paul Molitor
142 Tom Candiotti
143 Bobby Bonilla
144 Matt Williams
145 Brett Butler
146 Will Clark
147 Rickey Henderson
148
149 Bill Pecota
150 Dave Winfield
151 Darren Lewis
152 Bob MacDonald
153 David Segui
154 Benito Santiago
155 Chuck Finley
156 Andujar Cedeno
157 Barry Bonds
158 Joe Grahe
159 Frank Castillo
160 Dave Burba
161 Leo Gomez
162 Orel Hershiser
163 Delino DeShields
164 Sandy Alomar
165 Denny Neagle
166 Fred McGriff
167 Ken Griffey, Jr.
168 Juan Guzman
169 Bobby Rose
170 Steve Avery
171 Rich DeLucia
172 Mike Timlin
173 Randy Johnson
174 Paul Gibson
175 David Cone
176 Marquis Grissom
177 Kurt Stillwell
178 Mark Whiten
179 Darryl Strawberry
180 Mike Morgan
181 Scott Scudder
182 George Bell
183 Alvin Davis
184 Lenny Dykstra
185 Kyle Abbott
186 Chris Haney
187 Junior Noboa
188 Dennis Eckersley
189 Derek Bell
190 Lee Smith
191 Andres Galarraga
192 Jack Armstrong
193 Eddie Murray
194 Joe Carter
195 Terry Pendleton
196 Darryl Kile
197 Rod Beck RC
198 Hubie Brooks
O-Pee-Chee
Pre-War Era:
Topps Replication Era:
Original Era:
Upper Deck Era:
---
O-Pee-Chee Premier: