1992 Stadium Club Dome
Description
The 1992 Stadium Club Dome set (officially referred to by Topps as the "1991 Special Stadium Set") is a 200-card, Hobby-exclusive set. The set features 100 1991 MLB Draft Picks, 56 1991 All-Stars, all 25 members of the 1991 USA Baseball team, and 19 1991 post-season highlight cards. The set was packaged in a molded-plastic box designed to resemble the Toronto SkyDome, the site of the 1991 MLB All-Star Game.
Although the design mimics the 1991 Stadium Club set and both the printing on the outside of the box and the copyright date on the cards say "1991," the Dome set was released in March of 1992, a full month after the release of 1992 Stadium Club Series One. Therefore, it is considered, for rookie card purposes, a 1992 product.
Reportedly, 12,000 cases were produced with 30 sets per case for a total of 360,000 sets.
Rookie Cards in this set include Shawn Green, Cliff Floyd, and Manny Ramirez. Because 100 draft picks were included, Topps was forced to reach down into the lower rounds (3rd and 4th rounds and below) to fill out the checklist. As a result, there are dozens of jabronies in this set that have a true "rookie card," but didn't come close to a sniff of the Major Leagues. (These players have the "RC*" tag in the checklist below)
Distribution
Factory Sets; Hobby-exclusive
Reviews
Insertion Ratios
| Cards | Total Cards | Numbered To | Odds |
| --- | --- | --- | --- |
| Base | 200 | - | ? |
Checklist
Base Set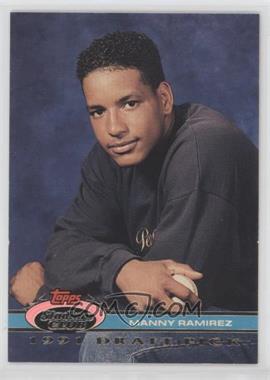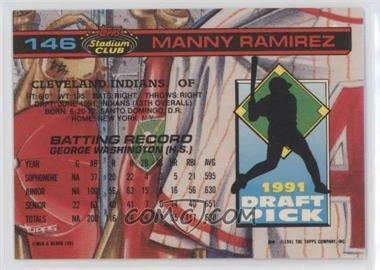 1 Terry Adams RC
2 Tommy Adams RC*
3 Rick Aguilera AS
4 Ron Allen RC*
5 Roberto Alomar AS
6 Sandy Alomar, Jr. AS
7 Greg Anthony RC*
8 James Austin RC*
9 Steve Avery NLCS
10 Harold Baines AS
11 Brian Barber RC
12 Jon Barnes RC*
13 George Bell AS
14 Doug Bennett RC*
15 Sean Bergman RC
16 Craig Biggio AS
17 Bill Bliss RC*
18 Wade Boggs AS
19 Bobby Bonilla AS
20 Russell Brock RC*
21 Tarrik Brock RC
22 Tom Browning AS
23 Brett Butler AS
24 Ivan Calderon AS
25 Joe Carter AS
26 Joe Caruso RC*
27 Dan Cholowsky RC
28 Will Clark AS
29 Roger Clemens AS
30 Shawn Curran RC*
31 Chris Curtis RC*
32 Chili Davis ALCS
33 Andre Dawson AS
34 Joe De Berry RC*
35 John Dettmer USA
36 Rob Dibble AS
37 John Donati RC*
38 Dave Doorneweerd RC*
39 Darren Dreifort USA
40 Mike Durant RC
41 Chris Durkin RC*
42 Dennis Eckersley AS
43 Brian Edmondson RC
44 Vaughn Eshelman RC
45 Shawn Estes RC
46 Jorge Fabregas RC
47 Jon Farrell RC*
48 Cecil Fielder AS
49 Carlton Fisk AS
50 Tim Flannelly RC*
51 Cliff Floyd RC
52 Julio Franco AS
53 Greg Gagne WS
54 Chris Gambs RC*
55 Ron Gant NLCS
56 Brent Gates RC
57 Dwayne Gerald RC*
58 Jason Giambi USA
59 Benji Gil RC
60 Mark Gipner RC*
61 Danny Gladden ALCS
62 Tom Glavine AS
63 Jimmy Gonzalez RC*
64 Jeff Granger USA
65 Dan Grapenthien RC*
66 Dennis Gray RC*
67 Shawn Green RC
68 Tyler Green RC
69 Todd Greene USA
70 Ken Griffey, Jr. AS
71 Kelly Gruber ALCS
72 Ozzie Guillen AS
73 Tony Gwynn AS
74 Shane Halter RC
75 Jeffrey Hammonds USA
76 Larry Hanlon RC*
77 Pete Harnisch AS
78 Mike Harrison RC*
79 Bryan Harvey AS
80 Scott Hatteberg RC
81 Rick Helling USA
82 Dave Henderson AS
83 Rickey Henderson AS
84 Tyrone Hill RC*
85 Todd Hollandsworth RC
86 Brian Holliday RC*
87 Terry Horn RC*
88 Jeff Hostetler RC*
89 Kent Hrbek ALCS
90 Mark Hubbard RC*
91 Charles Johnson USA
92 Howard Johnson AS
93 Todd Johnson USA
94 Bobby Jones RC
95 Dan Jones RC*
96 Felix Jose AS
97 David Justice WS
98 Jimmy Key AS
99 Marc Kroon RC
100 John Kruk AS
101 Mark Langston AS
102 Barry Larkin AS
103 Mike LaValliere NLCS
104 Scott Leius WS
105 Mark Lemke WS
106 Donnie Leshnock USA
107 Jimmy Lewis RC*
108 Shawn Livesey UER RC* (name mispelled "Livsey")
109 Ryan Long RC
110 Trevor Mallory RC*
111 Dennis Martinez AS
112 Justin Mashore RC*
113 Jason McDonald USA
114 Jack McDowell AS
115 Tom McKinnon RC*
116 Billy McMillon USA
117 Buck McNabb RC*
118 Jim Mecir RC
119 Dan Melendez USA
120 Shawn Miller RC*
121 Trever Miller RC
122 Paul Molitor AS
123 Vincent Moore RC*
124 Mike Morgan AS
125 Jack Morris WS
126 Jack Morris AS
127 Sean Mulligan RC
128 Eddie Murray AS
129 Mike Neill RC
130 Phil Nevin USA
131 Mark O'Brien RC*
132 Alex Ochoa RC
133 Chad Ogea RC
134 Greg Olson NLCS
135 Paul O'Neill AS
136 Jared Osentowski RC*
137 Mike Pagliarulo ALCS
138 Rafael Palmeiro AS
139 Rodney Pedraza RC*
140 Tony Phillips USA
141 Scott Pisciotta RC*
142 Chris Pritchett RC
143 Jason Pruitt RC*
144 Kirby Puckett WS UER (ABs and BA is wrong)
145 Kirby Puckett AS
146 Manny Ramirez RC
147 Eddie Ramos RC*
148 Mark Ratekin RC*
149 Jeff Reardon AS
150 Sean Rees RC*
151 Pokey Reese RC
152 Desi Relaford RC
153 Eric Richardson RC*
154 Cal Ripken, Jr. AS
155 Chris Roberts USA
156 Mike Robertson RC
157 Steve Rodriguez USA
158 Mike Rossiter RC*
159 Scott Ruffcorn RC
160 Chris Sabo AS
161 Juan Samuel AS
162 Ryne Sandberg AS UER (prior misspelled "prilor")
163 Scott Sanderson AS
164 Benito Santiago AS
165 Gene Schall RC
166 Chad Schoenvogel RC*
167 Chris Seelbach RC
168 Aaron Sele RC
169 Basil Shabazz RC*
170 Al Shirley RC*
171 Paul Shuey USA
172 Ruben Sierra AS
173 John Smiley AS
174 Lee Smith AS
175 Ozzie Smith AS
176 Tim Smith RC*
177 Zane Smith NLCS
178 John Smoltz NLCS
179 Scott Stahoviak RC
180 Kennie Steenstra USA
181 Kevin Stocker RC
182 Chris Stynes RC
183 Danny Tartabull AS
184 Brien Taylor RC*
185 Todd Taylor USA
186 Larry Thomas RC
187 Ozzie Timmons RC
188 David Tuttle USA UER (numbered 187)
189 Andy Van Slyke NLCS
190 Frank Viola AS
191 Michael Walkden RC*
192 Jeff Ware USA
193 Allen Watson RC
194 Steve Whitaker RC
195 Jerry Willard WS
196 Craig Wilson USA
197 Chris Wimmer USA
198 Steve Wojciechowski RC
199 Joel Wolfe RC*
200 Ivan Zweig USA
Stadium Club
---
Chrome:
Members Only Sets:
Other Stadium Club Related Products: