1992 Stadium Club Members Only
Description
1992 Stadium Club Members Only is a 50-card multi-sport set sent to 1992 Stadium Club members in four installments. The first two installments featured baseball players exclusively, but the third and fourth installments included hockey and football players in addition to baseball players.
The design is identical to that of the 1992 Stadium Club set, but with the words "Members Only" printed in gold foil at the bottom.
In addition to the Stadium Club cards, the first installment included one "Top Draft Picks of the '90s" insert and a randomly chosen "Master Photo" printed on 5" X 7" white card stock.
Distribution
Factory set, sent in four installments to members of Topps' Stadium Club.
Checklist
Installment One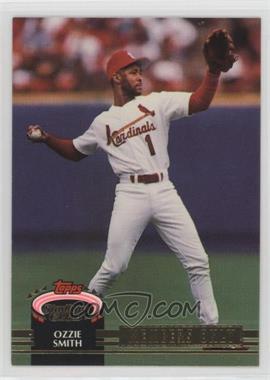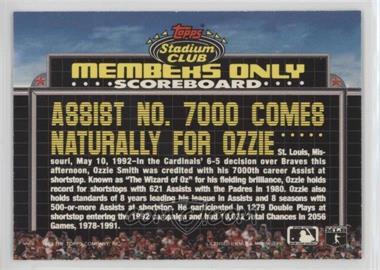 Dave Eiland
Dennis Eckersley 26 straight saves
Eddie Murray "Both Sides of the Plate"
Eddie Murray 400 HRs
Gary Carter
Gary Sheffield / Dwight Gooden
George Brett 600 doubles
Jack Morris
Ozzie Smith 2000 Hits
Ozzie Smith 7000 Assists
Ozzie Smith "Wizard on the Basepaths"
Roger Clemens / Matt Young
Wade Boggs
Installment Two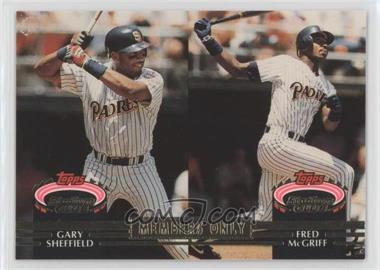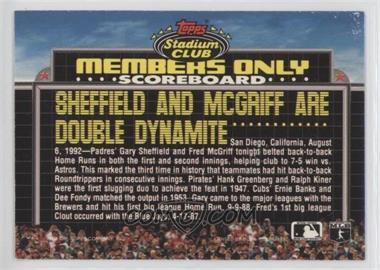 Andujar Cedeno
Bip Roberts
Bobby Thigpen
Bret Boone
Dave Winfield
Gary Sheffield / Fred McGriff
George Brett "Brett Family Witnesses History"
Jim Bullinger
Ken Griffey, Jr.
Kevin Gross
Mickey Morandini
Robin Yount
Installment Three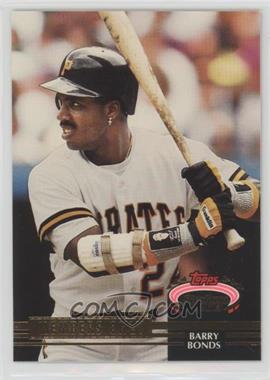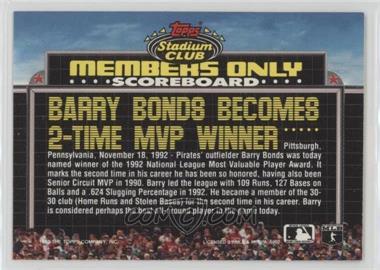 Art Monk FB
Barry Bonds
Chris Kontos HK
Eric Karros
Eric Lindros HK
Greg Maddux
Jari Kurri HK
Lee Smith
Neil Brady HK
Nolan Ryan 27 Seasons
Pat Borders
Pat Listach
Reggie Savage HK
Installment Four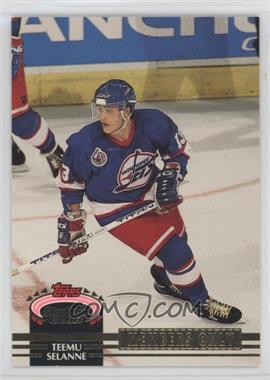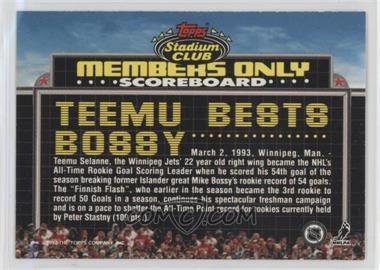 Bo Jackson
Carlos Baerga
Dale Carter FB
Dennis Eckersley CY / MVP
Emmitt Smith FB
Frank Reich FB
Mike Gartner HK
Nolan Ryan 1993 Finale
Steve Young FB
Teemu Selanne HK "Selane Rewrites Record Books"
Teemu Selanne HK "Teemu Bests Bossy"
Troy Aikman FB
Stadium Club
---
Parallel Brands:
Members Only Sets:
Other Stadium Club Related Products: