1994 Topps Traded
Description
The 1994 Topps Traded is a 132-card set. For the fourteenth, and final, year Topps Traded was available only as a factory set. The following year, Topps Traded was produced exclusively in pack form. New for '94 are cards of 1994 MLB Draft Picks and inserts -- each set contained an eight-card Finest-style set. The set concludes with a two-card tribute to Ryne Sandberg who retired in the middle of the 1994 season -- only to return in 1996. Card #130T is one of the few Sandberg cards depicting him as a Philadelphia Phillie.
As with most late-season 1994 sets, the strike affected sales of '94TT. Although Topps did cut production of '94TT (including making it Hobby exclusive), interest in this set was next to non-existent when it was released.
The only rookie cards of note are of Paul Konerko, Jason Schmidt and Chan Ho Park.
Distribution
Factory Set only.
Checklist
Base Set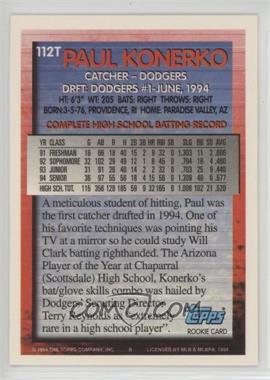 1T Paul Wilson DP
2T Bill Taylor RC
3T Dan Wilson
4T Mark Smith
5T Toby Borland RC
6T Dave Clark
7T Dennis Martinez
8T Dave Gallagher
9T Josias Manzanillo
10T Brian Anderson RC
11T Damon Berryhill
12T Alex Cole
13T Jacob Shumate DP RC*
14T Oddibe McDowell
15T Willie Banks
16T Jerry Browne
17T Donnie Elliott
18T Ellis Burks
19T Chuck McElroy
20T Luis Polonia
21T Brian Harper
22T Mark Portugal
23T Dave Henderson
24T Mark Acre RC
25T Julio Franco
26T Darren Hall RC
27T Eric Anthony
28T Sid Fernandez
29T Rusty Greer RC
30T Riccardo Ingram RC
31T Gabriel White
32T Tim Belcher
33T Terrence Long DP RC
34T Mark Dalesandro RC
35T Mike Kelly
36T Jack Morris
37T Jeff Brantley
38T Larry Barnes DP RC*
39T Brian R. Hunter
40T Otis Nixon
41T Bret Wagner DP
42T Pedro Martinez / Delino DeShields TR
43T Heathcliff Slocumb
44T Ben Grieve DP RC
45T John Hudek RC
46T Shawon Dunston
47T Greg Colbrunn
48T Joey Hamilton
49T Marvin Freeman
50T Terry Mulholland
51T Keith Mitchell
52T Dwight Smith
53T Shawn Boskie
54T Kevin Witt DP RC
55T Ron Gant
56T Trenidad Hubbard / Jason Schmidt / Larry Sutton / Stephen Larkin PROS RC
57T Jody Reed
58T Rick Helling
59T John Powell DP
60T Eddie Murray
61T Joe Hall RC
62T Jorge Fabregas
63T Mike Mordecai RC
64T Ed Vosberg
65T Rickey Henderson
66T Tim Grieve DP RC*
67T Jon Lieber
68T Chris Howard
69T Matt Walbeck
70T Chan Ho Park RC
71T Bryan Eversgerd RC
72T John Dettmer
73T Erik Hanson
74T Mike Thurman DP RC
75T Bobby Ayala
76T Rafael Palmeiro
77T Bret Boone
78T Paul Shuey FS
79T Kevin Foster
80T Dave Magadan
81T Bip Roberts
82T Howard Johnson
83T Xavier Hernandez
84T Ross Powell RC
85T Doug Million DP RC*
86T Geronimo Berroa
87T Mark Farris DP RC*
88T Butch Henry
89T Junior Felix
90T Bo Jackson
91T Hector Carrasco
92T Charlie O'Brien
93T Omar Vizquel
94T David Segui
95T Dustin Hermanson DP
96T Gar Finnvold RC
97T Dave Stevens
98T Corey Pointer DP RC*
99T Felix Fermin
100T Lee Smith
101T Reid Ryan DP RC*
102T Bobby Munoz
103T Deion Sanders / Roberto Kelly TR
104T Turner Ward
105T William VanLandingham RC
106T Vince Coleman
107T Stan Javier
108T Darrin Jackson
109T C.J. Nitkowski DP RC
110T Anthony Young
111T Kurt Miller
112T Paul Konerko DP RC
113T Walt Weiss
114T Daryl Boston
115T Will Clark
116T Matt Smith DP RC*
117T Mark Leiter
118T Gregg Olson
119T Tony Pena
120T Jose Vizcaino
121T Rick White RC
122T Rich Rowland
123T Jeff Reboulet
124T Greg Hibbard
125T Chris Sabo
126T Doug Jones
127T Tony Fernandez
128T Carlos Reyes RC
129T Kevin L. Brown DP RC
130T Ryne Sandberg PHL
131T Ryne Sandberg CHC
132T Checklist 1-132
Insert Cards
Finest MVPs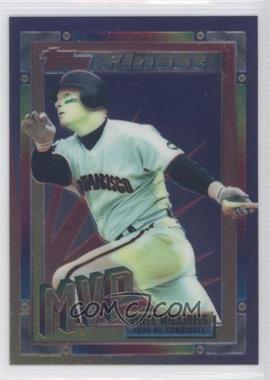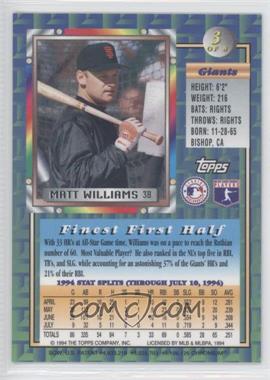 Each Topps Traded factory set contained a complete set of these eight cards.
1 Greg Maddux
2 Mike Piazza
3 Matt Williams
4 Raul Mondesi
5 Ken Griffey, Jr.
6 Kenny Lofton
7 Frank Thomas
8 Manny Ramirez