1999 Fleer Tradition Update
Description
1999 Fleer Tradition Update was a 150-card set distributed exclusively as a factory set. Over 100 rookie cards were featured in this set and included notable cards for Rick Ankiel, Josh Beckett, Pat Burrell, Tim Hudson, Alfonso Soriano and the only rookie card of Cy Young Award winner Eric Gagne. The set also featured a Season Highlights subset (U141-U150).
The first and last ten cards in this set were also included in the 1999 Fleer Tradition Millennium Edition factory set.
Distribution
Factory sets only.
Insertion Ratios
| Cards | Total Cards | Numbered To | Odds |
| --- | --- | --- | --- |
| Base | 150 | - | 150:1 |
Checklist
Base Set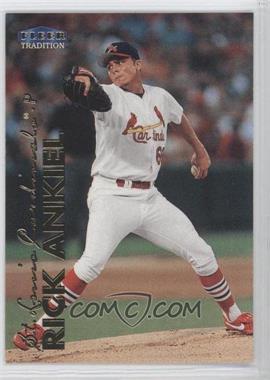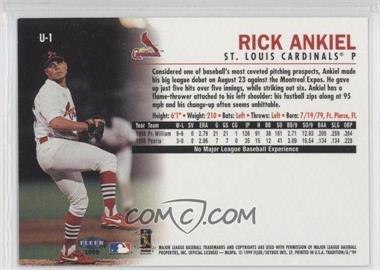 U1 Rick Ankiel RC
U2 Peter Bergeron RC
U3 Pat Burrell RC
U4 Eric Munson RC
U5 Alfonso Soriano RC
U6 Tim Hudson RC
U7 Erubiel Durazo RC
U8 Chad Hermansen
U9 Jeff Zimmerman RC
U10 Jesus Pena RC
U11 Ramon Hernandez
U12 Trent Durrington RC
U13 Tony Armas, Jr.
U14 Mike Fyhrie RC
U15 Danny Kolb RC
U16 Mike Porzio RC
U17 Will Brunson RC
U18 Mike Duvall RC
U19 Doug Mientkiewicz RC
U20 Gabe Molina RC
U21 Luis Vizcaino RC
U22 Robinson Cancel RC
U23 Brett Laxton RC
U24 Joe McEwing RC
U25 Justin Speier RC
U26 Kip Wells RC
U27 Armando Almanza RC
U28 Joe Davenport RC
U29 Yamid Haad RC
U30 John Halama
U31 Adam Kennedy
U32 Micah Bowie RC
U33 Gookie Dawkins RC
U34 Ryan Rupe RC
U35 B.J. Ryan RC
U36 Chance Sanford RC
U37 Anthony Shumaker RC
U38 Ryan Glynn RC
U39 Roosevelt Brown RC
U40 Ben Molina RC
U41 Scott Williamson
U42 Eric Gagne RC
U43 John McDonald RC
U44 Scott Sauerbeck RC
U45 Mike Venafro RC
U46 Edwards Guzman RC
U47 Richard Barker RC
U48 Braden Looper
U49 Chad Meyers RC
U50 Scott Strickland RC
U51 Billy Koch
U52 David Newhan RC
U53 David Riske RC
U54 Jose Santiago RC
U55 Miguel Del Toro RC
U56 Orber Moreno RC
U57 Dave Roberts RC
U58 Tim Byrdak RC
U59 David Lee RC
U60 Guillermo Mota RC
U61 Wilton Veras RC
U62 Joe Mays RC
U63 Jose Fernandez RC
U64 Ray King RC
U65 Chris Petersen RC
U66 Vernon Wells
U67 Ruben Mateo
U68 Ben Petrick
U69 Chris Tremie RC
U70 Lance Berkman
U71 Dan Smith RC
U72 Carlos E. Hernandez RC
U73 Chad Harville RC
U74 Damaso Marte RC
U75 Aaron Myette RC
U76 Willis Roberts RC
U77 Erik Sabel RC
U78 Hector Almonte RC
U79 Kris Benson
U80 Pat Daneker RC
U81 Freddy Garcia RC
U82 Byung-Hyun Kim RC
U83 Wily Mo Pena RC
U84 Dan Wheeler RC
U85 Tim Harikkala RC
U86 Derrin Ebert RC
U87 Horacio Estrada RC
U88 Liu Rodriguez RC
U89 Jordan Zimmerman RC
U90 A.J. Burnett RC
U91 Doug Davis RC
U92 Rob Ramsay RC
U93 Clay Bellinger RC
U94 Charlie Greene RC
U95 Bo Porter RC
U96 Jorge Toca RC
U97 Casey Blake RC
U98 Amaury Garcia RC
U99 Jose Molina RC
U100 Melvin Mora RC
U101 Joe Nathan RC
U102 Juan Pena RC
U103 Dave Borkowski RC
U104 Eddie Gaillard RC
U105 Glen Barker RC
U106 Brett Hinchliffe RC
U107 Carlos Lee
U108 Rob Ryan RC
U109 Jeff Weaver RC
U110 Ed Yarnall
U111 Nelson Cruz RC
U112 Cleatus Davidson RC
U113 Tim Kubinski RC
U114 Sean Spencer RC
U115 Joe Winkelsas RC
U116 Mike Colangelo RC
U117 Tom Davey RC
U118 Warren Morris
U119 Dan Murray RC
U120 Jose Nieves RC
U121 Mark Quinn RC
U122 Josh Beckett RC
U123 Chad Allen RC
U124 Mike Figga
U125 Beiker Graterol RC
U126 Aaron Scheffer RC
U127 Wiki Gonzalez RC
U128 Ramon E. Martinez RC
U129 Matt Riley RC
U130 Chris Woodward RC
U131 Albert Belle
U132 Roger Cedeno
U133 Roger Clemens
U134 Brian Giles
U135 Rickey Henderson
U136 Randy Johnson
U137 Brian Jordan
U138 Paul Konerko
U139 Hideo Nomo
U140 Kenny Rogers
Season Highlights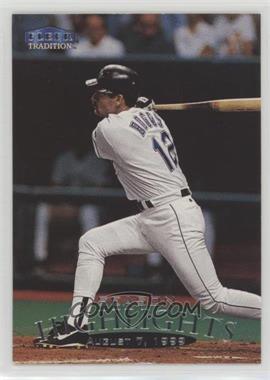 U141 Wade Boggs
U142 Jose Canseco
U143 Roger Clemens
U144 David Cone
U145 Tony Gwynn
U146 Mark McGwire
U147 Cal Ripken, Jr.
U148 Alex Rodriguez
U149 Fernando Tatis
U150 Robin Ventura
Fleer/Fleer Tradition
Pre-License Era:
Triopoly Era:
Junk Wax Era:
Marvel Entertainment Era:
Fleer Tradition Era:
Upper Deck Era:
---
Update Sets:
---
Other Fleer/Fleer Tradition Brands: