2002 Select Rookies & Prospects
Description
2002 Select Rookies & Prospects is a 99-card all-autographed set. The set (which as the name suggests, features all 2002 rookies and prospects) was distributed exclusively in made-for-retail repacks. It is unclear if Donruss-Playoff had intended to bring back the Select brand name as a stand-alone product, or or if the intent of this set was to provide a premium for retail distributors.
All cards are signed on holographic stickers.
Distribution
Randomly inserted into retail repacks.
Reviews
Checklist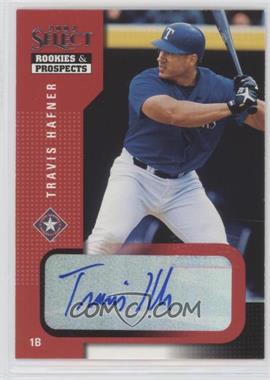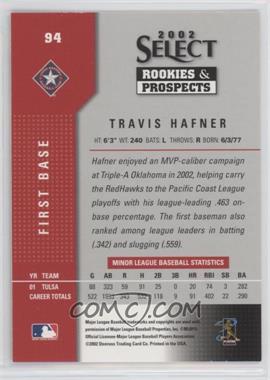 NOTE: Card #59 does not exist.
1 Abraham Nunez
2 Adam Bernero
3 Adam Pettyjohn
4 Alex Escobar
5 Allan Simpson
6 Andres Torres
7 Andy Pratt
8 Bert Snow (Black Autograph)
8 Bert Snow (Blue Autograph)
9 Bill Ortega
10 Billy Sylvester
11 Brad Voyles
12 Brandon Backe
13 Brent Abernathy
14 Brian Mallette
15 Brian Rogers
16 Cam Esslinger
17 Carlos Garcia
18 Carlos Valderrama
19 Cesar Izturis
20 Chad Durbin
21 Chris Baker
22 Claudio Vargas
23 Cory Aldridge
24 Craig Monroe
25 David Elder
26 David Brous
27 David Espinosa
28 Derrick Lewis
29 Elio Serrano
30 Elpidio Guzman
31 Eric Cyr
32 Eric Valent
33 Erik Bedard
34 Esix Snead
35 Francis Beltran
36 George Perez
37 Gene Altman
38 Greg Miller
39 Horacio Ramirez
40 Jason Hart
41 Jason Karnuth
42 Jason Romano
43 Jeff Deardorff
44 Jeremy Affeldt
45 Jeremy Lambert
46 John Ennis
47 John Grabow
48 Jose Cueto
49 Jose Mieses
50 Jose Ortiz
51 Josh Pearce
52 Josue Perez
53 Juan Diaz
54 Juan Pena
55 Keith Ginter
56 Kevin Frederick
57 Kevin Joseph
58 Kevin Olsen
60 Kris Keller
61 Larry Bigbie
62 Les Walrond
63 Luis Pineda
64 Luis Rivas
65 Luis Rivera
66 Luke Hudson
67 Marcus Giles
68 Mark Ellis
69 Martin Vargas
70 Matt Childers
71 Matt Guerrier
72 Matt Thornton
73 Matt White
74 Mike Penney
75 Nate Teut
76 Nick Maness
77 Orlando Woodards
78 Paul Phillips
79 Pedro Feliz
80 Ramon Vazquez
81 Raul Chavez
82 Reed Johnson
83 Ryan Freel
84 Ryan Jamison
85 Ryan Ludwick
86 Saul Rivera
87 Steve Bechler
88 Steve Green
89 Steve Smyth
90 Tike Redman
91 Tom Shearn
92 Tomas De La Rosa
93 Tony Cogan
94 Travis Hafner
95 Travis Hughes
96 Wilkin Ruan
97 Will Ohman
98 Wilmy Caceras
99 Wilson Guzman
100 Winston Abreu
Select
Pinnacle Brands Era:
Panini America Era:
---
Rookie/Traded:
Other Select Brands