2005 Topps Updates & Highlights
Description
2005 Topps Updates & Highlights is a 330-card set released in November, 2005. Updates & Highlights is the new name for the revamped Traded & Rookies brand.
As late as July, it appeared that Topps would release another Traded & Rookies set in October, based on the formula of the previous four years. But in late Summer, Topps announced that Traded would be expanded to 330 cards, pushed back to a November release, and rebranded as "Series Three." Collectors, who had considered the 2005 Topps flagship complete at 733 cards, complained -- most notably, the fact that a box to properly store a 1063-card base set (733 + 330) did not yet exist. Eventually, Topps settled on the "Updates & Highlights" branding and announced that "U&H", like Traded, would be sequentially-numbered as its own distinct set, and not an extension of the flagship.
Like Traded & Rookies, the base set still had players who were traded or signed as free agents after the original 2005 Topps set was released; managers with their new teams; and the usual batch of rookies, prospects, and 2005 MLB Draft Picks. New for 2005 were season highlights, record breakers, league leaders, award winners, and participants in the 2005 MLB All-Star Game.
It should also be noted that, after four years of Topps Chrome Traded being "bundled" together with Topps Traded, 2005 Topps Chrome Updates & Highlights was given its own separate release.
The 2005 MLB Draft was one of the deepest drafts in recent memory, and the rookie card class in Topps/Topps Chrome Updates & Highlights is considered legendary: Andrew McCutchen, Jay Bruce, Russell Martin, Matt Kemp, Ryan Zimmerman, Ryan Braun, and Jacoby Ellsbury.
Distribution
Hobby/retail: 36 packs per box, ten cards per pack (MSRP: $1.50). Eight boxes per case.
HTA Jumbo: 12 packs per box, 35 cards per pack.
Factory sets.
Reviews
Insertion Ratios
| Cards | Total Cards | Numbered To | Hobby Odds | Retail Odds | HTA Odds |
| --- | --- | --- | --- | --- | --- |
| Base | 330 | - | 10:1 | 10:1 | 33:1 |
| Gold | 330 | 2005 | 1:4 | 1:4 | one-per-pack |
| Blue | 330 | one-of-one | 1:8035 | 1:8035 | 1:2341 |
| Printing Plates | 330 | four for each | 1:2009 | N/A | 1:582 |
| Washington Nationals Inaugural Lineup | 10 | - | 1:10 | 1:10 | 1:4 |
| Barry Bonds Home Run History | 26 | - | 1:4 | 1:4 | one-per-pack |
| All-Star Stitches | 50 | - | varies | varies | varies |
| All-Star Patches | 50 | varies | 1:910 | 1:910 | 1:268 |
| Touch 'Em All Base Relic | 10 | 1000 | 1:238 | 1:238 | 1:77 |
| Legendary Sacks Relics | 9 | 300 | 1:965 | 1:965 | 1:281 |
| Midsummer Covers Ball Relic | 10 | 150 | 1:524 | N/A | 1:512 |
| Derby Digs Relics | 7 | 100 | 1:3320 | 1:3320 | 1:637 |
| Hall of Fame Bat Relics | 2 | - | varies | varies | varies |
| Hall of Fame Dual Bat Relics | 1 | 200 | 1:13,392 | 1:13,392 | 1:3815 |
| Washington Nationals Inaugural Lineup Relics | 10 | 5 | 1:49,104 | 1:49,104 | 1:14,715 |
| Signature Moves | 18 | varies | varies | varies | varies |
| Signature Moves Red Foil | 18 | 25 | 1:6676 | 1:6676 | 1:1908 |
| Team Topps Blue Chips | ? | ? | 1:1,537 | ? | ? |
Checklist
Base Set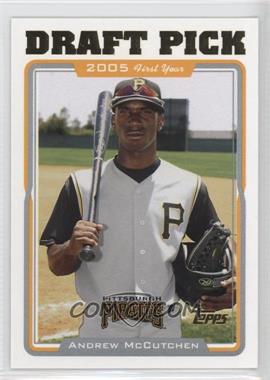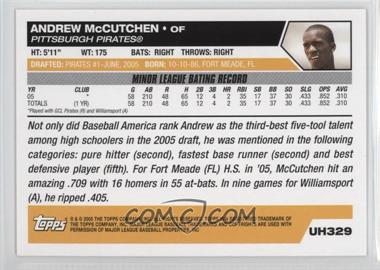 UH1 Sammy Sosa
UH2 Jeff Francoeur
UH3 Tony Clark
UH4 Michael Tucker
UH5 Mike Matheny
UH6 Eric Young
UH7 Jose Valentin
UH8 Matt Lawton
UH9 Juan Rivera
UH10 Shawn Green
UH11 Aaron Boone
UH12 Woody Williams
UH13 Brad Wilkerson
UH14 Anthony Reyes RC
UH15 Russ Adams
UH16 Gustavo Chacin
UH17 Michael Restovich
UH18 Humberto Quintero
UH19 Matt Ginter
UH20 Scott Podsednik
UH21 Byung-Hyun Kim
UH22 Orlando Hernandez
UH23 Mark Grudzielanek
UH24 Jody Gerut
UH25 Adrian Beltre
UH26 Scott Schoeneweis
UH27 Marlon Anderson
UH28 Jason Vargas
UH29 Claudio Vargas
UH30 Jason Kendall
UH31 Aaron Small
UH32 Juan Cruz
UH33 Placido Polanco
UH34 Jorge Sosa
UH35 John Olerud
UH36 Ryan Langerhans
UH37 Randy Winn
UH38 Zach Duke UER ("Zack" on front)
UH39 Garrett Atkins
UH40 Al Leiter
UH41 Shawn Chacon
UH42 Mark DeRosa
UH43 Miguel Ojeda
UH44 A.J. Pierzynski
UH45 Carlos Lee
UH46 LaTroy Hawkins
UH47 Nick Green
UH48 Shawn Estes
UH49 Eli Marrero
UH50 Jeff Kent
UH51 Joe Randa
UH52 Jose Hernandez
UH53 Joe Blanton
UH54 Huston Street
UH55 Marlon Byrd
UH56 Alex Sanchez
UH57 Livan Hernandez
UH58 Chris Young
UH59 Brad Eldred
UH60 Terrence Long
UH61 Phil Nevin
UH62 Kyle Farnsworth
UH63 Jon Lieber
UH64 Antonio Alfonseca
UH65 Tony Graffanino
UH66 Tadahito Iguchi RC
UH67 Brad Thompson
UH68 Jose Vidro
UH69 Jason Phillips
UH70 Carl Pavano
UH71 Pokey Reese
UH72 Jerome Williams
UH73 Kazuhisa Ishii
UH74 Zach Day
UH75 Edgar Renteria
UH76 Mike Myers
UH77 Jeff Cirillo
UH78 Endy Chavez
UH79 Jose Guillen
UH80 Ugueth Urbina
UH81 Vinny Castilla
UH82 Javier Vazquez
UH83 Willy Taveras
UH84 Mark Mulder
UH85 Mike Hargrove MGR
UH86 Buddy Bell MGR
UH87 Charlie Manuel MGR
UH88 Willie Randolph MGR
UH89 Bob Melvin MGR
UH90 Chris Lambert PROS
UH91 Homer Bailey PROS
UH92 Ervin Santana PROS
UH93 Bill Bray PROS
UH94 Thomas Diamond PROS
UH95 Trevor Plouffe PROS
UH96 James Houser PROS
UH97 Jake Stevens PROS
UH98 Anthony Whittington PROS
UH99 Philip Hughes PROS
UH100 Greg Golson PROS
UH101 Paul Maholm PROS
UH102 Carlos Quentin PROS
UH103 Dan Johnson PROS
UH104 Mark Rogers PROS
UH105 Neil Walker PROS
UH106 Omar Quintanilla PROS
UH107 Blake DeWitt PROS
UH108 Taylor Tankersley PROS
UH109 David Murphy PROS
UH110 Felix Hernandez PROS
UH111 Craig Biggio HL
UH112 Greg Maddux HL
UH113 Bobby Abreu HL
UH114 Alex Rodriguez HL
UH115 Trevor Hoffman HL
UH116 A.J. Pierzynski / Tadahito Iguchi ALDS
UH117 Reggie Sanders NLDS
UH118 Bengie Molina / Ervin Santana ALDS
UH119 Chris Burke / Lance Berkman / Adam LaRoche NLDS
UH120 Garret Anderson ALCS
UH121 A.J. Pierzynski ALCS
UH122 Paul Konerko ALCS
UH123 Joe Crede ALCS
UH124 Mark Buehrle / Jon Garland ALCS
UH125 Freddy Garcia / Jose Contreras ALCS
UH126 Reggie Sanders NLCS
UH127 Roy Oswalt NLCS
UH128 Roger Clemens NLCS
UH129 Albert Pujols NLCS
UH130 Roy Oswalt NLCS
UH131 Joe Crede / Bobby Jenks WS
UH132 Paul Konerko / Scott Podsednik WS
UH133 Geoff Blum WS
UH134 Chicago White Sox WS
UH135 Alex Rodriguez / David Ortiz / Manny Ramirez LL
UH136 Michael Young / Alex Rodriguez / Vladimir Guerrero LL
UH137 David Ortiz / Mark Teixeira / Manny Ramirez LL
UH138 Bartolo Colon / Jon Garland / Cliff Lee LL
UH139 Kevin Millwood / Johan Santana / Mark Buehrle LL
UH140 Johan Santana / Randy Johnson / John Lackey LL
UH141 Andruw Jones / Derrek Lee / Albert Pujols LL
UH142 Derrek Lee / Albert Pujols / Miguel Cabrera LL
UH143 Andruw Jones / Albert Pujols / Pat Burrell LL
UH144 Dontrelle Willis / Chris Carpenter / Roy Oswalt LL
UH145 Roger Clemens / Andy Pettitte / Dontrelle Willis LL
UH146 Jake Peavy / Chris Carpenter / Pedro Martinez LL
UH147 Mark Teixeira AS
UH148 Brian Roberts AS
UH149 Michael Young AS
UH150 Alex Rodriguez AS
UH151 Johnny Damon AS
UH152 Vladimir Guerrero AS
UH153 Manny Ramirez AS
UH154 David Ortiz AS
UH155 Mariano Rivera AS
UH156 Joe Nathan AS
UH157 Albert Pujols AS
UH158 Jeff Kent AS
UH159 Felipe Lopez AS
UH160 Morgan Ensberg AS
UH161 Miguel Cabrera AS
UH162 Ken Griffey, Jr. AS
UH163 Andruw Jones AS
UH164 Paul Lo Duca AS
UH165 Chad Cordero AS
UH166 Ken Griffey, Jr. CB
UH167 Jason Giambi CB
UH168 Willy Taveras ROY
UH169 Huston Street ROY
UH170 Chris Carpenter AS
UH171 Bartolo Colon AS
UH172 Bobby Cox AS MGR
UH173 Ozzie Guillen AS MGR
UH174 Andruw Jones POY
UH175 Johnny Damon AS
UH176 Alex Rodriguez AS
UH177 David Ortiz AS
UH178 Manny Ramirez AS
UH179 Miguel Tejada AS
UH180 Vladimir Guerrero AS
UH181 Mark Teixeira AS
UH182 Ivan Rodriguez AS
UH183 Brian Roberts AS
UH184 Mark Buehrle AS UER (Name misspelled "Buerhle")
UH185 Bobby Abreu AS
UH186 Carlos Beltran AS
UH187 Albert Pujols AS
UH188 Derrek Lee AS
UH189 Jim Edmonds AS
UH190 Aramis Ramirez AS
UH191 Mike Piazza AS
UH192 Jeff Kent AS
UH193 David Eckstein AS
UH194 Chris Carpenter AS
UH195 Bobby Abreu HRD
UH196 Ivan Rodriguez HRD
UH197 Carlos Lee HRD
UH198 David Ortiz HRD
UH199 Hee Seop Choi HRD
UH200 Andruw Jones HRD
UH201 Mark Teixeira HRD
UH202 Jason Bay HRD
UH203 Hanley Ramirez FUT
UH204 Shin-Soo Choo FUT
UH205 Justin Huber FUT
UH206 Nelson Cruz RC FUT RC
UH207 Edwin Encarnacion FUT
UH208 Miguel Montero RC FUT RC
UH209 William Bergolla FUT
UH210 Lou Montanez FUT
UH211 Francisco Liriano FUT
UH212 Kevin Thompson FUT
UH213 B.J. Upton FUT
UH214 Conor Jackson FUT
UH215 Delmon Young FUT
UH216 Andy LaRoche FUT
UH217 Ryan Garko FUT
UH218 Josh Barfield FUT
UH219 Chris B. Young FUT
UH220 Justin Verlander FUT
UH221 Drew Anderson RC*
UH222 Luis Hernandez RC
UH223 Jim Burt RC*
UH224 Mike Morse RC
UH225 Elliot Johnson RC
UH226 C.J. Smith RC*
UH227 Casey McGehee RC
UH228 Brian Miller RC*
UH229 Chris Vines RC*
UH230 D.J. Houlton RC
UH231 Chuck Tiffany RC*
UH232 Humberto Sanchez RC
UH233 Baltazar Lopez RC*
UH234 Russell Martin RC
UH235 Dana Eveland RC
UH236 Johan Silva RC*
UH237 Adam Harben RC*
UH238 Brian Bannister RC
UH239 Adam Boeve RC*
UH240 Thomas Oldham RC*
UH241 Cody Haerther RC*
UH242 Dan Santin RC*
UH243 Daniel Haigwood RC*
UH244 Craig Tatum RC
UH245 Martin Prado RC
UH246 Errol Simonitsch RC*
UH247 Lorenzo Scott RC*
UH248 Hayden Penn RC
UH249 Heath Totten RC*
UH250 Nick Masset RC
UH251 Pedro Lopez RC
UH252 Ben Harrison
UH253 Mike Spidale RC*
UH254 Jeremy Harts RC*
UH255 Danny Zell RC*
UH256 Kevin Collins RC*
UH257 Tony Arnerich RC*
UH258 Matt Albers RC
UH259 Ricky Barrett RC*
UH260 Hernan Iribarren RC
UH261 Sean Tracey RC
UH262 Jerry Owens RC
UH263 Steve Nelson RC*
UH264 Brandon McCarthy RC
UH265 David Shepard RC*
UH266 Steven Bondurant RC*
UH267 Billy Sadler RC
UH268 Ryan Feierabend RC
UH269 Stuart Pomeranz RC
UH270 Shaun Marcum RC
UH271 Erik Schindewolf RC*
UH272 Stefan Bailie RC*
UH273 Mike Esposito RC UER (photo on front is Darwinson Salazar)
UH274 Buck Coats RC
UH275 Andy Sides RC*
UH276 Micah Schnurstein RC*
UH277 Jesse Gutierrez RC*
UH278 Jake Postlewait RC*
UH279 Willy Mota RC*
UH280 Ryan Speier RC
UH281 Frank Mata RC
UH282 Jair Jurrjens RC
UH283 Nick Touchstone RC*
UH284 Matt Kemp RC
UH285 Vinny Rottino RC
UH286 J.B. Thurmond RC*
UH287 Kelvin Pichardo RC*
UH288 Scott Mitchinson RC*
UH289 Darwinson Salazar RC*
UH290 George Kottaras RC
UH291 Kenny Durost RC*
UH292 Jonathan Sanchez RC
UH293 Brandon Moorhead RC
UH294 Kennard Bibbs RC*
UH295 Dave Gassner RC
UH296 Micah Furtado RC*
UH297 Ismael Ramirez RC*
UH298 Carlos Gonzalez RC
UH299 Brandon Sing RC*
UH300 Jason Motte RC
UH301 Chuck James RC
UH302 Andy Santana RC*
UH303 Manny Parra RC
UH304 Chris B. Young RC
UH305 Juan Senreiso RC*
UH306 Franklin Morales RC
UH307 Jared Gothreaux RC*
UH308 Jayce Tingler RC*
UH309 Matt Brown RC
UH310 Frank Diaz RC*
UH311 Stephen Drew DP RC
UH312 Jered Weaver DP RC
UH313 Ryan Braun DP RC
UH314 John Mayberry, Jr. DP RC
UH315 Aaron Thompson DP RC
UH316 Cesar Carrillo DP RC
UH317 Jacoby Ellsbury DP RC
UH318 Matt Garza DP RC
UH319 Cliff Pennington DP RC
UH320 Colby Rasmus DP RC
UH321 Chris Volstad DP RC
UH322 Ricky Romero DP RC
UH323 Ryan Zimmerman DP RC
UH324 C.J. Henry DP RC*
UH325 Jay Bruce DP RC
UH326 Beau Jones DP RC*
UH327 Mark McCormick DP RC*
UH328 Eli Iorg DP RC*
UH329 Andrew McCutchen DP RC
UH330 Mike Costanzo DP RC
Parallels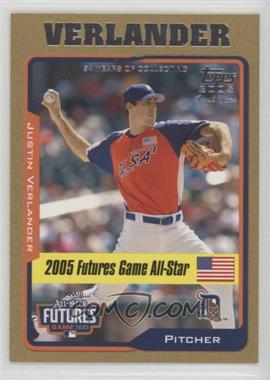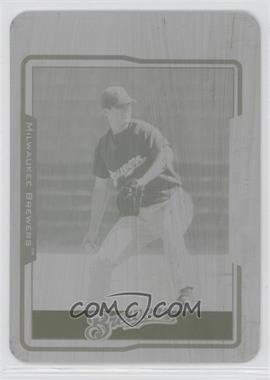 All 330 base cards are available in the following parallels.
Gold (serial-numbered to 2005 copies)
Blue (one-of-one)
Printing Plates (set of four for each card; Hobby and HTA packs only)
Inserts
Barry Bonds Home Run History
See 2005 Topps Barry Bonds Home Run History.
Washington Nationals Inaugural Lineup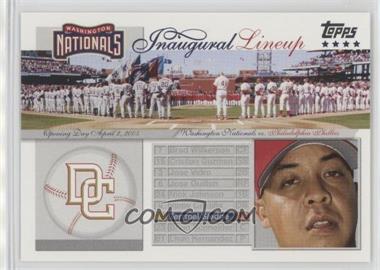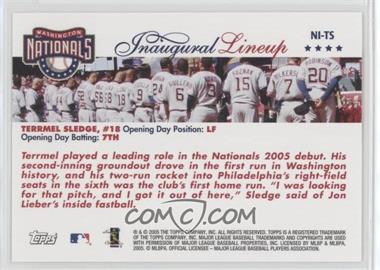 NI-BS Brian Schneider
NI-BW Brad Wilkerson
NI-CG Cristian Guzman
NI-JG Jose Guillen
NI-JV Jose Vidro
NI-LH Livan Hernandez
NI-NJ Nick Johnson
NI-TS Terrmel Sledge
NI-VC Vinny Castilla
NI-TEAM Team Photo
Box Bottoms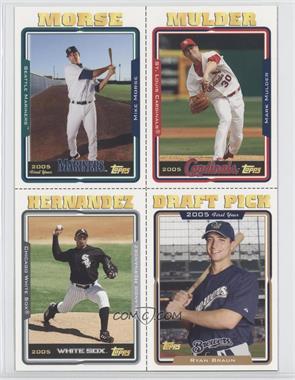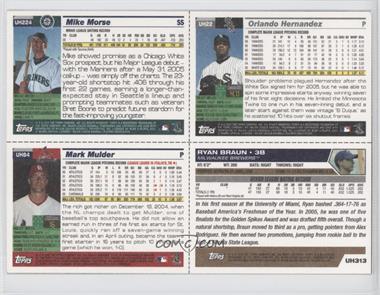 A four-"card" panel was printed on the bottom of each HTA Jumbo box.
1 Sammy Sosa
10 Shawn Green
20 Scott Podsednik
22 Orlando Hernandez
25 Adrian Beltre
45 Carlos Lee
50 Jeff Kent
57 Livan Hernandez
70 Carl Pavano
84 Mark Mulder
110 Felix Hernandez
224 Mike Morse
UH264 Brandon McCarthy
311 Stephen Drew
UH312 Jered Weaver
UH313 Ryan Braun
Autographs & Game-Used
All-Star Stitches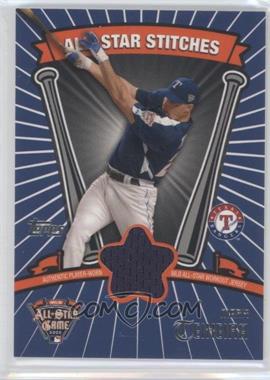 All-Star Stitches features swatches of workout jerseys worn during the 2005 All-Star Game -- not the actual game itself.
ASR-AJ Andruw Jones C
ASR-AP Albert Pujols E
ASR-AR Alex Rodriguez D
ASR-ARA Aramis Ramirez E
ASR-BA Bobby Abreu B
ASR-BC Bartolo Colon D
ASR-BL Brad Lidge D
ASR-BR Brian Roberts C
ASR-BW Billy Wagner C
ASR-CB Carlos Beltran D
ASR-CC Chris Carpenter E
ASR-CCO Chad Cordero D
ASR-CL Carlos Lee E
ASR-DE David Eckstein B
ASR-DL Derrek Lee F
ASR-DO David Ortiz E
ASR-DW Dontrelle Willis F
ASR-FL Felipe Lopez B
ASR-GS Gary Sheffield D
ASR-IR Ivan Rodriguez A
ASR-IS Ichiro A
ASR-JB Jason Bay C
ASR-JD Johnny Damon B
ASR-JE Jim Edmonds A
ASR-JG Jon Garland E
ASR-JI Jason Isringhausen E
ASR-JK Jeff Kent C
ASR-JN Joe Nathan D
ASR-JP Jake Peavy D
ASR-JS Johan Santana C
ASR-JSM John Smoltz D
ASR-KR Kenny Rogers A
ASR-LC Luis Castillo B
ASR-LG Luis Gonzalez C
ASR-LH Livan Hernandez F
ASR-MA Moises Alou C
ASR-MB Mark Buehrle B
ASR-MC Miguel Cabrera E
ASR-MCL Matt Clement B
ASR-ME Morgan Ensberg B
ASR-MM Melvin Mora B
ASR-MP Mike Piazza E
ASR-MR Manny Ramirez E
ASR-MRI Mariano Rivera B
ASR-MT Miguel Tejada B
ASR-MTE Mark Teixeira C
ASR-MY Michael Young A
ASR-PK Paul Konerko A
ASR-RO Roy Oswalt A
ASR-SP Scott Podsednik A
Patches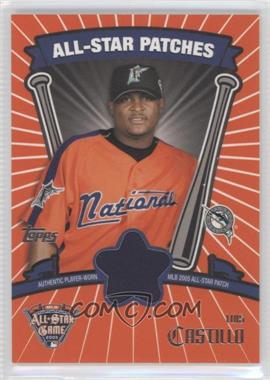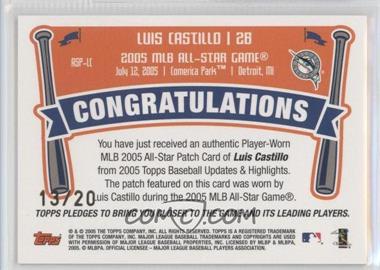 Each All-Star Patch is serial-numbered to the production figures below.
ASP-AJ Andruw Jones 70
ASP-AP Albert Pujols 35
ASP-AR Alex Rodriguez 50
ASP-ARA Aramis Ramirez 60
ASP-BA Bobby Abreu 65
ASP-BC Bartolo Colon 60
ASP-BL Brad Lidge 65
ASP-BR Brian Roberts 25
ASP-BW Billy Wagner 50
ASP-CB Carlos Beltran 60
ASP-CC Chris Carpenter 70
ASP-CCO Chad Cordero 65
ASP-CL Carlos Lee 65
ASP-DE David Eckstein 65
ASP-DL Derrek Lee 65
ASP-DO David Ortiz 70
ASP-DW Dontrelle Willis 60
ASP-FL Felipe Lopez 35
ASP-GS Gary Sheffield 50
ASP-IR Ivan Rodriguez 25
ASP-IS Ichiro 50
ASP-JB Jason Bay 50
ASP-JD Johnny Damon 60
ASP-JE Jim Edmonds 50
ASP-JG Jon Garland 70
ASP-JI Jason Isringhausen 65
ASP-JK Jeff Kent 65
ASP-JN Joe Nathan 65
ASP-JP Jake Peavy 60
ASP-JS Johan Santana 60
ASP-JSM John Smoltz 65
ASP-KR Kenny Rogers 50
ASP-LC Luis Castillo 20
ASP-LG Luis Gonzalez 70
ASP-LH Livan Hernandez 50
ASP-MA Moises Alou 65
ASP-MB Mark Buehrle 60
ASP-MC Miguel Cabrera 70
ASP-MCL Matt Clement 70
ASP-ME Morgan Ensberg 60
ASP-MM Melvin Mora 30
ASP-MP Mike Piazza 50
ASP-MR Manny Ramirez 65
ASP-MRI Mariano Rivera 65
ASP-MT Miguel Tejada 60
ASP-MTE Mark Teixeira 60
ASP-MY Michael Young 50
ASP-PK Paul Konerko 70
ASP-RO Roy Oswalt 60
ASP-SP Scott Podsednik 65
Touch Em All Base Relics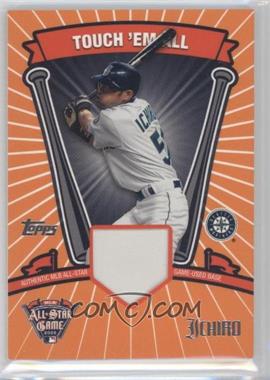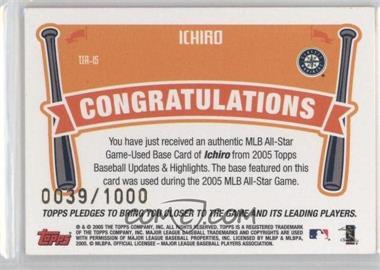 Each Touch Em All Base Relic is serial-numbered to 1000 copies and features pieces of the bases used in the 2005 All-Star Game.
TEA-AP Albert Pujols
TEA-AR Alex Rodriguez
TEA-DL Derrek Lee
TEA-DO David Ortiz
TEA-GS Gary Sheffield
TEA-IR Ivan Rodriguez
TEA-IS Ichiro
TEA-MR Manny Ramirez
TEA-MT Miguel Tejada
TEA-VG Vladimir Guerrero
Legendary Sacks Relics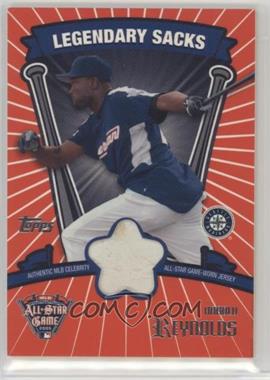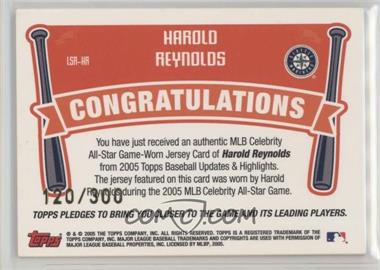 Each Legendary Sacks Relic is serial-numbered to 300 copies and features bases used during the 2005 All-Star Game Celebrity game; although it should be noted, that cards incorrectly mention that these are jersey cards.
LSR-AD Andre Dawson
LSR-BJ Bo Jackson
LSR-DW Dave Winfield
LSR-HR Harold Reynolds
LSR-JA Jim Abbott
LSR-LW Lou Whitaker
LSR-MF Mark Fidrych
LSR-OS Ozzie Smith
LSR-RF Rollie Fingers
Midsummer Covers Ball Relics
Each Midsummer Covers Ball Relic is serial-numbered to 150 copies.
MCR-AP Albert Pujols 150
MCR-AR Alex Rodriguez 150
MCR-BR Brian Roberts 150
MCR-CB Carlos Beltran 150
MCR-CL Derrek Lee 150
MCR-DW Dontrelle Willis 150
MCR-IS Ichiro 150
MCR-MT Miguel Tejada 150
MCR-RC Roger Clemens 150
MCR-VG Vladimir Guerrero 150
Derby Digs Jersey Relics
Each Derby Digs Relic is serial-numbered to 100 copies and features swatches of the jerseys worn by the participants in the 2005 MLB All-Star Home Run Derby.
DDR-AJ Andruw Jones 100
DDR-BA Bobby Abreu 100
DDR-CL Carlos Lee 100
DDR-DO David Ortiz 100
DDR-IR Ivan Rodriguez 100
DDR-JB Jason Bay 100
DDR-MT Mark Teixeira 100
Hall of Fame Bat Relics
HF-RS Ryne Sandberg
HF-WB Wade Boggs
Dual
The Hall of Fame Dual Bat Relic card is serial-numbered to 200 copies.
HFD-BS Wade Boggs / Ryne Sandberg
Washington Nationals Inaugural Lineup Ball Relics
Each Washington Nationals Inaugural Lineup Ball Relic is serial-numbered to five copies and features pieces of balls used in the first Washington Nationals regular season game. The set is a de facto parallel of the insert (see above).
NIR-BS Brian Schneider 5
NIR-BW Brad Wilkerson 5
NIR-CG Cristian Guzman 5
NIR-JG Jose Guillen 5
NIR-JV Jose Vidro 5
NIR-LH Livan Hernandez 5
NIR-NJ Nick Johnson 5
NIR-TS Terrmel Sledge 5
NIR-VC Vinny Castilla 5
NIR-TEAM Team Photo 5
Signature Moves Auto
Each Signature Moves card EXCEPT #SM-BB and #SM-PM is also available in a Red Foil parallel, which is serial-numbered to 25 copies.
SM-BB Barry Bonds 15
SM-BL Bobby Livingston 475
SM-BS Benito Santiago
SM-CJS C.J. Smith 475
SM-GK George Kottaras 475
SM-GP Glen Perkins 275
SM-HS Humberto Sanchez
SM-JP Jake Postlewait 275
SM-JV Justin Verlander 275
SM-KI Kazuhisa Ishii 275
SM-MA Matt Albers 475
SM-MM Mark Mulder 275
SM-PM Pedro Martinez 25
SM-RS Richie Sexson 275
SM-TC Travis Chick 475
SM-TG Troy Glaus 275
SM-TH Tim Hudson 275
SM-TW Tony Womack