2006 Upper Deck Special F/X
Description
2006 Upper Deck Special F/X is a 1025-card parallel brand released in January, 2007. The first 1000 card parallel the first two series of 2006 Upper Deck with the final 25 cards featuring selected rookies from 2006 Upper Deck Update. The design is identical to 2006 Upper Deck, except it is printed on chromium stock -- not unlike Topps Chrome.
It appears that cards 1006-1025 weren't printed in the same quantity as cards 1-1005.
Distribution
16 packs per box, four cards per pack.
Reviews
Insertion Ratios
| Cards | Total Cards | Numbered To | Hobby Odds |
| --- | --- | --- | --- |
| Base | 1025 | - | ? |
| Blue | 1025 | - | 1:4 |
| Purple | 1025 | 150 | ? |
| Green | 1025 | 99 | ? |
| Red | 1025 | 50 | ? |
| Run Producers | 20 | - | 1:3 |
| Player Highlights | 35 | - | 1:3 |
| WBC Counterparts | 15 | - | 1:6 |
| Star Attractions | 30 | - | 1:8 |
| Materials | 49 | - | 1:8 |
| Special Endorsements | 81 | - | 1:16 |
Checklist
Base Set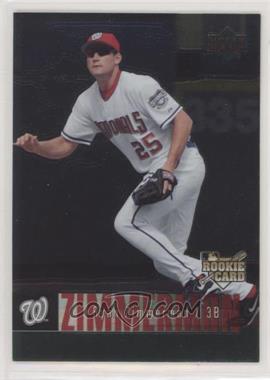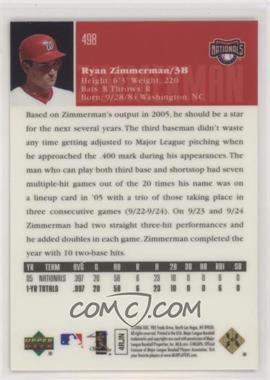 The checklist for the first 1000 cards is identical to that of the 2006 Upper Deck base set.
1001 Jeremy Sowers (RC)
1002 Chad Billingsley (RC)
1003 Stephen Drew (RC)
1004 Tony Gwynn, Jr. (RC)
1005 Melky Cabrera (RC)
1006 Eliezer Alfonzo RC
1007 Dana Eveland (RC)
1008 Luis Figueroa RC
1009 Emiliano Fruto RC
1010 Clay Hensley (RC)
1011 Zach Johnson (RC)
1012 Bob Keppel (RC)
1013 Carlos Marmol RC
1014 Russell Martin (RC)
1015 Leo Nunez (RC)
1016 Ken Ray (RC)
1017 Mike Rouse (RC)
1018 Kevin Thompson (RC)
1019 C.J. Wilson (RC)
1020 Stephen Andrade (RC)
1021 Ed Rogers (RC)
1022 Joe Nelson (RC)
1023 Omar Quintanilla (RC)
1024 Chris Bootcheck (RC)
1025 Jason Childers RC
Parallels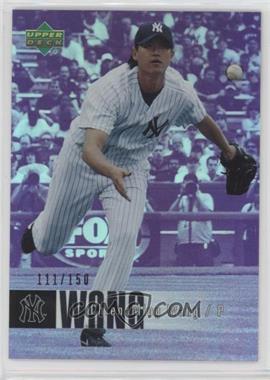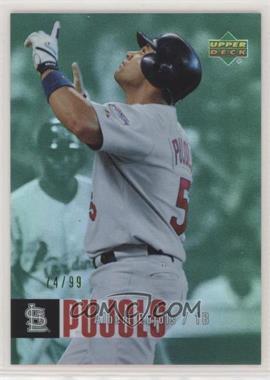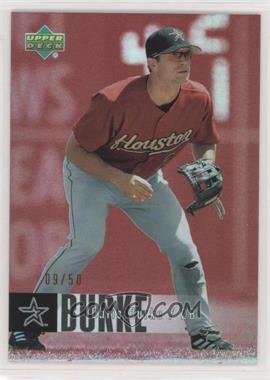 All 1025 base cards are available in the following parallels.
Blue
Purple (serial-numbered to 150 copies)
Green (serial-numbered to 99 copies)
Red (serial-numbered to 50 copies)
Inserts
Run Producers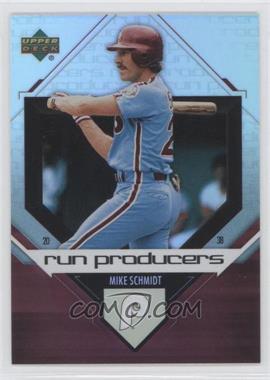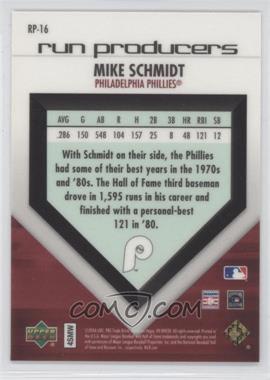 RP-1 Ty Cobb
RP-2 Derrek Lee
RP-3 Andruw Jones
RP-4 David Ortiz
RP-5 Lou Gehrig
RP-6 Ken Griffey, Jr.
RP-7 Albert Pujols
RP-8 Derek Jeter
RP-9 Manny Ramirez
RP-10 Alex Rodriguez
RP-11 Gary Sheffield
RP-12 Miguel Cabrera
RP-13 Hideki Matsui
RP-14 Vladimir Guerrero
RP-15 David Wright
RP-16 Mike Schmidt
RP-17 Mark Teixeira
RP-18 Babe Ruth
RP-19 Jimmie Foxx
RP-20 Honus Wagner
Player Highlights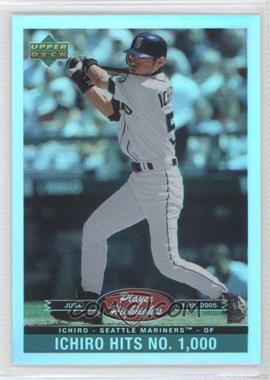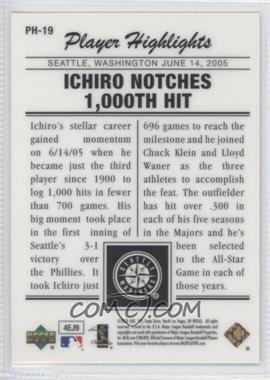 PH-1 Andruw Jones
PH-2 Manny Ramirez
PH-3 Travis Hafner
PH-4 Johnny Damon
PH-5 Miguel Cabrera
PH-6 Chris Carpenter
PH-7 Derrek Lee
PH-8 Jason Bay
PH-9 Jason Varitek
PH-10 Ryan Howard
PH-11 Mark Teixeira
PH-12 Carlos Delgado
PH-13 Bartolo Colon
PH-14 David Wright
PH-15 Miguel Tejada
PH-16 Mike Piazza
PH-17 Paul Konerko
PH-18 Jermaine Dye
PH-19 Ichiro Suzuki
PH-20 Brad Wilkerson
PH-21 Hideki Matsui
PH-22 Albert Pujols
PH-23 Chris Burke
PH-24 Derek Jeter
PH-25 Brian Roberts
PH-26 David Ortiz
PH-27 Alex Rodriguez
PH-28 Ken Griffey, Jr.
PH-29 Prince Fielder
PH-30 Bobby Abreu
PH-31 Vladimir Guerrero
PH-32 Tadahito Iguchi
PH-33 Jose Reyes
PH-34 Scott Podsednik
PH-35 Gary Sheffield
WBC Counterparts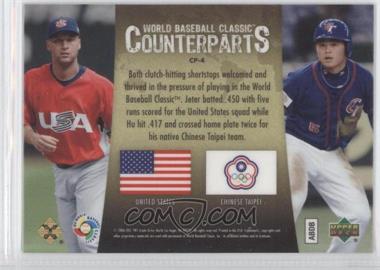 NOTE: This is the only insert unique to the Special F/X product.
CP-1 Yulieski Gourriel / Daisuke Matsuzaka
CP-2 Ken Griffey, Jr. / Yoandy Garlobo
CP-3 Ken Griffey, Jr. / Ichiro
CP-4 Derek Jeter / Chin-Lung Hu
CP-5 Frederich Cepeda / Jong Beom Lee
CP-6 Nobuhiko Matsunaka / Seung Yeop Lee
CP-7 Tsuyoshi Nishioka / Guangbiao Liu
CP-8 Ichiro / Osmany Urrutia
CP-9 Roger Clemens / Daisuke Matsuzaka
CP-10 Chan Ho Park / Yadel Marti
CP-11 Jae Weong Seo / Koji Uehara
CP-12 Bartolo Colon / Shunsuke Watanabe
CP-13 Daisuke Matsuzaka / Johan Santana
CP-14 Pedro Lazo / Freddy Garcia
CP-15 Koji Uehara / Roger Clemens
Star Attractions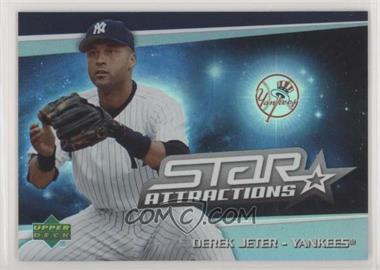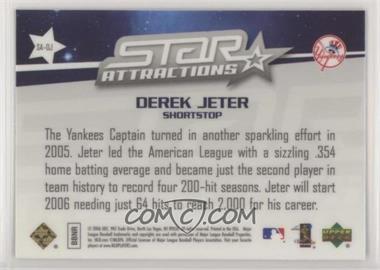 SA-AJ Andruw Jones
SA-AS Alfonso Soriano
SA-BA Bobby Abreu
SA-CB Carlos Beltran
SA-CD Carlos Delgado
SA-CJ Chipper Jones
SA-CS Curt Schilling
SA-DJ Derek Jeter
SA-DL Derrek Lee
SA-DO David Ortiz
SA-DW Dontrelle Willis
SA-GM Greg Maddux
SA-JB Josh Beckett
SA-JC Jose Contreras
SA-JD Johnny Damon
SA-JE Jim Edmonds
SA-JG Jason Giambi
SA-JM Joe Mauer
SA-JR Jose Reyes
SA-JS Jason Schmidt
SA-KG Ken Griffey, Jr.
SA-LB Lance Berkman
SA-MO Magglio Ordonez
SA-MR Manny Ramirez
SA-MT Mark Teixeira
SA-PM Pedro Martinez
SA-PU Albert Pujols
SA-RH Rich Harden
SA-SM John Smoltz
SA-WR David Wright
Autographs & Game-Used
Materials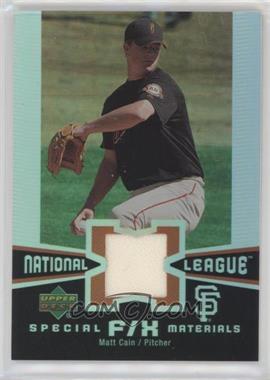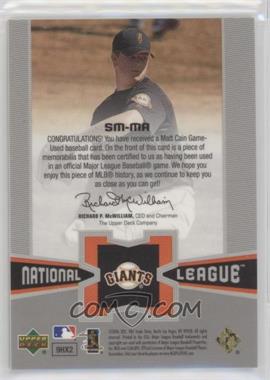 SM-AD Adam Dunn
SM-AP Albert Pujols
SM-AS Alfonso Soriano
SM-AJ Andruw Jones
SM-CC Carl Crawford
SM-CU Chase Utley
SM-CA Chris Carpenter
SM-CR Coco Crisp
SM-CH Cole Hamels
SM-DO David Ortiz
SM-DJ Derek Jeter
SM-DL Derrek Lee
SM-FH Felix Hernandez
SM-FL Francisco Liriano
SM-GS Grady Sizemore
SM-HR Hanley Ramirez
SM-IK Ian Kinsler
SM-JB Jason Bay
SM-JG Jason Giambi
SM-WE Jered Weaver
SM-JH Jeremy Hermida
SM-JT Jim Thome
SM-JM Joe Mauer
SM-JS Johan Santana
SM-JP Jonathan Papelbon
SM-JR Jose Reyes
SM-JW Josh Willingham
SM-JV Justin Verlander
SM-KG Ken Griffey, Jr.
SM-KM Kendrys Morales
SM-KJ Kenji Johjima
SM-LB Lance Berkman
SM-LM Lastings Milledge
SM-MT Mark Teixeira
SM-MA Matt Cain
SM-MC Miguel Cabrera
SM-TE Miguel Tejada
SM-PM Pedro Martinez
SM-PF Prince Fielder
SM-RF Rafael Furcal
SM-RW Rickie Weeks
SM-HA Roy Halladay
SM-RH Ryan Howard
SM-RZ Ryan Zimmerman
SM-SK Scott Kazmir
SM-TH Travis Hafner
SM-TG Troy Glaus
SM-VM Victor Martinez
SM-VG Vladimir Guerrero
Special Endorsements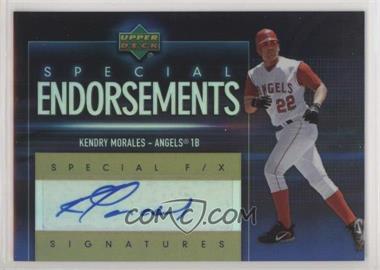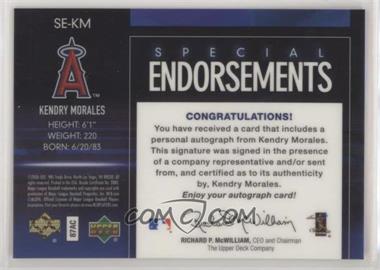 Redemption cards expired December 14th, 2009.
SE-AA Aaron Rakers
SE-AW Adam Wainwright
SE-AH Anderson Hernandez SP
SE-AE Andre Ethier
SE-BJ Ben Johnson
SE-BL Boone Logan
SE-BH Brendan Harris
SE-BA Brian Anderson
SE-BR Brian Bannister
SE-RC Carlos Ruiz
SE-CU Chase Utley
SE-CB Chris Britton
SE-DE Chris Denorfia
SE-RE Chris Resop
SE-RB Chris Roberson
SE-CR Cody Ross PART EXCH
SE-CH Cole Hamels
SE-JA Conor Jackson
SE-BW Craig Breslow
SE-HC Craig Hansen SP
SE-DU Dan Uggla
SE-EV Dana Eveland
SE-DG Dave Gassner
SE-DJ Derek Jeter
SE-DW Dontrelle Willis
SE-FC Fausto Carmona
SE-FN Fernando Nieve
SE-FL Francisco Liriano
SE-FB Freddie Bynum
SE-GS Geovany Soto
SE-HR Hanley Ramirez
SE-HK Hong-Chih Kuo EXCH
SE-KE Howie Kendrick
SE-IK Ian Kinsler
SE-JS James Shields
SE-JB Jason Bay EXCH
SE-JK Jason Kubel
SE-HA Jeff Harris PART EXCH
SE-JW Jered Weaver
SE-AC Jeremy Accardo
SE-HE Jeremy Hermida PART EXCH
SE-JZ Joel Zumaya
SE-JD Joey Devine
SE-HG John Hattig PART EXCH
SE-KO John Koronka
SE-JV John Van Benschoten
SE-JP Jonathan Papelbon
SE-JC Jose Capellan SP
SE-JJ Josh Johnson EXCH
SE-RU Josh Rupe
SE-WI Josh Willingham
SE-JO Josh Wilson
SE-JU Justin Huber
SE-VE Justin Verlander
SE-KS Kelly Shoppach
SE-KG Ken Griffey, Jr. EXCH
SE-KM Kendrys Morales
SE-KF Kevin Frandsen
SE-MM Macay McBride PART EXCH
SE-MC Matt Cain
SE-CM Matt Capps
SE-MS Matt Smith
SE-MI Miguel Cabrera
SE-MJ Mike Jacobs
SE-NM Nate McLouth
SE-NI Nick Masset
SE-PM Paul Maholm
SE-PE Peter Moylan
SE-RA Reggie Abercrombie
SE-RW Rickie Weeks
SE-AN Robert Andino
SE-RF Ron Flores
SE-RL Ruddy Lugo
SE-RS Ryan Shealy
SE-RZ Ryan Zimmerman SP
SE-SM Sean Marshall
SE-TS Takashi Saito EXCH
SE-TB Taylor Buchholz
SE-TC Tim Corcoran
SE-TH Travis Hafner
SE-WN Wil Nieves