2010 Topps Update
Description
The 2010 Topps Update set was released on October 21, 2010. The 331 card base set includes 55 rookies, including a Stephen Strasburg card (#661). Each 36-pack Hobby box will include one autograph or relic card and a Chrome Rookie Refractor parallel. Each Jumbo box will yield one autograph, one relic, one manufactured Bat Barrel card and a Chrome Rookie Refractor.
Distribution
Jumbo boxes, which contain 10 packs with 50 cards in each pack, started selling at $80-$100 when released.
Reviews
Insertion Ratios
Cards
Total Cards
Numbered To
Hobby Odds
Retail Odds
Jumbo Odds
Base
331
-
?
?
40:1
Gold
330
2010
1:6
?
1:1
Black
330
59
?
N/A
1:21
Platinum
330
one-of-one
?
?
1:2,200
Printing Plates
330
four-for-each
?
N/A
1:311
Silk
100
50
?
N/A
1:82
Chrome Rookie Refractor
55
-
one-per-box
N/A
one-per-box
The Cards Your Mother Threw Out
58
-
1:3
?
1:1
The Cards Your Mother Threw Out Original Back
58
-
?
?
1:10
More Tales of the Game
15
-
1:6
?
1:1
Topps Vintage Legends
25
-
1:4
?
1:1
Peak Performance
25
-
1:8
?
1:2
Legendary Lineage
15
-
1:8
?
1:2
Turkey Red
50
-
1:4
?
1:1
Topps Attax Code Cards
50
-
1:1
?
1:1
MLB Exclusive Patch
5
50
?
?
?
Manufactured Bat Barrells
175
-
?
N/A
1:13
Manufactured Bat Barrells Black
175
25
?
N/A
1:48
Manufactured Bat Barrells Pink
175
one-of-one
?
N/A
1:1,220
Peak Performance Autographs Group A
?
-
?
?
1:313
Peak Performance Autographs Group B
?
-
?
?
1:31
Peak Performance Autographs Group C
-
?
?
1:59
Peek Performance Rookie Autographs Group A
?
-
?
?
1:84
Peek Performance Rookie Autographs Group B
?
-
?
?
1:29
Stephen Strasburg Autograph Redemption
1
one-of-one
?
N/A
?
Rookie Logo Patches
3
500
?
?
1:553
All-Star Stitches
60
-
?
?
1:11
All-Star Stitches Gold
60
50
?
?
1:208
All-Star Stitches Platinum
60
one-of-one
?
?
1:10,225
All-Star Stitches Autographed Relics
15
25
?
?
1:2,120
All-Star Jumbo Patches
50
6
?
N/A
1:1,035
All-Star Jumbo Patch Autographs
10
6
?
N/A
1:6,825
All-Star Stitches Dual Relics
10
25
?
?
1:3,160
All-Star Stitches Triple Relics
10
25
?
N/A
1:1,800
Cut Signatures
10
one-of-one
?
?
1:86,900
1963 Mickey Mantle Reprint Relic
1
63
?
?
1:12,416
Pie-in-face variations
?
?
1:432
?
1:60
Consumer Sketch Card
?
?
?
?
1:50,000
Artist Sketch Card
?
?
?
?
1:4,080
Player Sketch Card
?
?
?
?
1:12,400
Hall of Fame Buybacks
?
?
?
?
1:4,625
Checklist
Base Set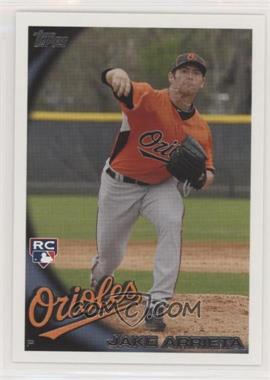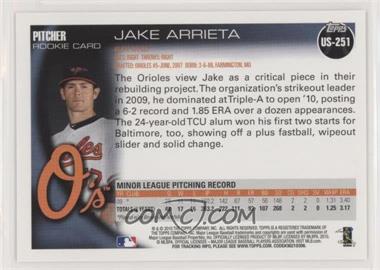 US-1 Vladimir Guerrero
US-2 Dayan Viciedo RC
US-3 Sam Demel RC
US-4 Alex Cora
US-5 Troy Glaus
US-6 Adam Ottavino RC
US-7 Sam LeCure (RC)
US-8 Fred Lewis
US-9 Danny Worth RC
US-10 Hideki Matsui
US-11 Vernon Wells HRD
US-12 Jason Michaels
US-13 Max Scherzer
US-14 Ike Davis RD
US-15 Ike Davis RC
US-16 Felipe Paulino
US-17 Marlon Byrd AS
US-18 Omar Beltre (RC)
US-19 Russell Branyan
US-20 Jason Bay
US-21 Roy Oswalt
US-22 Ty Wigginton AS
US-23 Andy Pettitte AS
US-24 Vladimir Guerrero / Miguel Cabrera "N.L. East Origins"
US-25 Andrew Bailey AS
US-26 Jesus Feliciano RC
US-27 Koyie Hill
US-28 Bill Hall
US-29 Livan Hernandez
US-30 Roy Halladay AS
US-31 Corey Patterson
US-32 Doug Davis
US-33 Matt Capps AS
US-34 Shaun Marcum
US-35 Ryan Braun AS
US-36 Omar Vizquel
US-37 Alex Avila
US-38 Chris Young HRD
US-39 Kila Ka'aihue
US-40 Evan Longoria AS
US-41 Anthony Slama RC
US-42 Conor Jackson
US-43 Brennan Boesch RD
US-44 Scott Rolen AS
US-45 David Price AS
US-46 Colby Lewis
US-47 Jody Gerut
US-48 Geoff Blum
US-49 Bobby Wilson
US-50 Giancarlo Stanton RC
US-51 Tom Gorzelanny
US-52 Andy Oliver RC
US-53 Jordan Smith RC
US-54 Akinori Iwamura
US-55 Stephen Strasburg RD
US-56 Matt Holliday HRD
US-57 Elvis Andrus / Derek Jeter "Andrus' All-Star Advisor"
US-58 Brian Wilson AS
US-59 Jeanmar Gomez RC
US-60 Miguel Tejada
US-61 Alfredo Simon
US-62 Chris Narveson
US-63 David Ortiz HRD
US-64 Jose Valverde
US-65 Victor Martinez / Robinson Cano "See You in September"
US-66 Ronnie Belliard
US-67 Kyle Farnsworth
US-68 John Danks
US-69 Lance Cormier
US-70 Jonathan Broxton AS
US-71 Jason Giambi
US-72 Milton Bradley
US-73 Torii Hunter AS
US-74 Ryan Church
US-75 Jason Heyward AS
US-76 Jose Tabata RD
US-77 John Axford RC
US-78 Jon Link RC
US-79 Jonny Gomes
US-80 David Ortiz AS
US-81 Rich Harden
US-82 Emmanuel Burriss
US-83 Jeff Suppan
US-84 Melvin Mora
US-85 Starlin Castro RC
US-86 Matt Guerrier
US-87 Trevor Plouffe (RC)
US-88 Lance Berkman
US-89 Frank Herrmann RC
US-90 Rafael Furcal AS
US-91 Nick Johnson
US-92 Pedro Feliciano
US-93 Jon Rauch
US-94 Reid Brignac
US-95 Jamie Moyer
US-96 John Bowker
US-97 Troy Tulowitzki / Matt Holliday "Mile High Memories"
US-98 Yunel Escobar
US-99 Jose Bautista
US-100 Roy Halladay
US-101 Jake Westbrook
US-102 Chris Carter RC
US-103 Matt Tuiasosopo
US-104 Paul Konerko AS
US-105 Chone Figgins
US-106 Orlando Cabrera
US-107 Matt Capps
US-108 John Buck AS
US-109 Luke Hughes (RC)
US-110 Curtis Granderson
US-111 Willie Bloomquist
US-112 Chad Qualls
US-113 Brad Ziegler
US-114 Kenley Jansen RC
US-115 Brad Lincoln RC
US-116 Brandon Morrow
US-117 Martin Prado AS
US-118 Jose Bautista AS
US-119 Adam LaRoche
US-120 Brennan Boesch RC
US-121 J.A. Happ
US-122 Darnell McDonald
US-123 Alberto Callaspo
US-124 Chris Young AS
US-125 Adam Wainwright AS
US-126 Elvis Andrus AS
US-127 Nick Swisher AS
US-128 Reed Johnson
US-129 Gregor Blanco
US-130 Ichiro AS
US-131 Takashi Saito
US-132 Corey Hart AS
US-133 Javier Vazquez
US-134 Rick Ankiel
US-135 Starlin Castro RD
US-136 Jarrod Saltalamacchia
US-137 Austin Kearns
US-138 Brandon League
US-139 Jorge Cantu
US-140 Josh Hamilton AS
US-141 Phil Hughes AS
US-142 Mike Cameron
US-143 Jonathan Lucroy RC
US-144 Eric Patterson
US-145 Adrian Beltre
US-146 Peter Bourjos RC
US-147 Argenis Diaz RC
US-148 J.J. Putz
US-149 Kevin Russo RC
US-150 Hanley Ramirez AS
US-151 Kerry Wood
US-152 Ian Kennedy
US-153 Brian McCann AS
US-154 Jose Guillen
US-155 Ivan Rodriguez
US-156 Matt Thornton AS
US-157 Jason Marquis
US-158 CC Sabathia / Carl Crawford "CC Times Two"
US-159 Octavio Dotel
US-160 Josh Johnson AS
US-161 Matt Holliday AS
US-162 Hong-Chih Kuo
US-163 Marco Scutaro
US-164 Gaby Sanchez
US-165 Omar Infante
US-166 Jon Garland
US-167 Ramon Santiago
US-168 Wilson Ramos RC
US-169 Ryan Ludwick
US-170 Carl Crawford AS
US-171 Cristian Guzman
US-172 Josh Donaldson RC
US-173 Lorenzo Cain RC
US-174 Matt Lindstrom
US-175 Drew Storen RC
US-176 Felipe Lopez
US-177 Chris Heisey RC
US-178 Jim Edmonds
US-179 Juan Pierre
US-180 David Wright AS
US-181 J.P. Arencibia RC
US-182 Randy Wolf
US-183 Luis Atilano RC
US-184 Blake DeWitt
US-185 Brian Matusz RC
US-186 Scott Hairston
US-187 Phil Hughes / David Price "Young A.L. East Aces"
US-188 Orlando Hudson
US-189 Derrek Lee
US-190 John Lackey
US-191 Danny Valencia RC
US-192 Daniel Nava RC
US-193 Ryan Theriot
US-194 Vernon Wells AS
US-195 Mark DeRosa
US-196 Aubrey Huff
US-197 Sean Marshall
US-198 Francisco Cervelli
US-199 Jhonny Peralta
US-200 Albert Pujols AS
US-201 Jeffrey Marquez RC
US-202 Mitch Moreland RC
US-203 Jon Jay RC
US-204 Carlos Silva
US-205 Ben Sheets
US-206 Garret Anderson
US-207 Jerry Hairston, Jr.
US-208 Jeff Keppinger
US-209 Bengie Molina
US-210 Ubaldo Jimenez AS
US-211 Daniel Hudson
US-212 Mitch Talbot
US-213 Alex Gonzalez
US-214 Jason Heyward RD
US-215 Albert Pujols / Ryan Braun "The Machine and The Hammer"
US-216 John Baker
US-217 Yorvit Torrealba
US-218 Kevin Gregg
US-219 Bobby Crosby
US-220 Jon Lester AS
US-221 Heath Bell AS
US-222 Ted Lilly
US-223 Henry Blanco
US-224 Scott Olsen
US-225 Josh Bell (RC)
US-226 Scott Podsednik
US-227 Mark Kotsay
US-228 Brandon Phillips / Martin Prado "Second Base Sluggers"
US-229 Joe Saunders
US-230 Robinson Cano AS
US-231 Gabe Kapler
US-232 Jason Kendall
US-233 Brendan Harris
US-234 Matt Downs RC
US-235 Jose Tabata RC
US-236 Matt Daley
US-237 Jhan Marinez RC
US-238 Mark Ellis
US-239 Gabe Gross
US-240 Adrian Gonzalez AS
US-241 Joey Votto AS
US-242 Shelley Duncan
US-243 Michael Bourn AS
US-244 Mike Redmond
US-245 Placido Polanco
US-246 LaTroy Hawkins
US-247 Nick Swisher HRD
US-248 Matt Harrison
US-249 Rafael Soriano AS
US-250 Miguel Cabrera AS
US-251 Jake Arrieta RC
US-252 Jim Thome
US-253 Mike Minor RC
US-254 Chris Perez
US-255 Kevin Millwood
US-256 Mike Gonzalez
US-257 Joel Hanrahan
US-258 Dana Eveland
US-259 Yadier Molina AS
US-260 Andre Ethier AS
US-261 Jason Vargas
US-262 Rob Johnson
US-263 Randy Winn
US-264 Vicente Padilla
US-265 Ryan Howard AS
US-266 Billy Wagner
US-267 Eugenio Velez
US-268 Logan Morrison RC
US-269 Dave Bush
US-270 Vladimir Guerrero AS
US-271 Travis Wood (RC)
US-272 Brian Stokes
US-273 John Jaso
US-274 Stephen Strasburg / Ivan Rodriguez "Merry Stras-Mas"
US-275 Hong-Chih Kuo AS
US-276 Austin Jackson RD
US-277 Micah Owings
US-278 Brad Penny
US-279 Hanley Ramirez HRD
US-280 Alex Rodriguez AS
US-281 Jose Valverde AS
US-282 Rhyne Hughes RC
US-283 Kevin Frandsen
US-284 Josh Reddick
US-285 Jaime Garcia
US-286 Arthur Rhodes
US-287 Alex Sanabia RC
US-288 Jonny Venters RC
US-289 Adam Kennedy
US-290 Justin Verlander AS
US-291 Corey Hart HRD
US-292 Kelly Shoppach
US-293 Pat Burrell
US-294 Aaron Heilman
US-295 Andrew Cashner RC
US-296 Lance Zawadzki RC
US-297 Don Kelly (RC)
US-298 David Freese
US-299 Xavier Nady
US-300 Cliff Lee
US-301 Jeff Clement
US-302 Pedro Feliz
US-303 Brandon Phillips AS
US-304 Kris Medlen
US-305 Cliff Lee AS
US-306 Dan Haren
US-307 Carlos Santana RD
US-308 Matt Thornton
US-309 Andruw Jones
US-310 Derek Jeter AS
US-311 Felix Doubront RC
US-312 Coco Crisp
US-313 Mitch Maier
US-314 Cole Gillespie RC
US-315 Edwin Jackson
US-316 Rod Barajas
US-317 Mike Leake RD
US-318 Domonic Brown RC
US-319 Josh Tomlin RC
US-320 Joe Mauer AS
US-321 Jason Donald RC
US-322 John Ely RC
US-323 Ryan Kalish RC
US-324 George Kottaras
US-325 Ian Kinsler AS
US-326 Miguel Cabrera HRD
US-327 Giancarlo Stanton RD
US-328 Adrian Beltre AS
US-329 Jose Reyes / Hanley Ramirez "Dominican Pride"
US-330 Carlos Santana RC
Stephen Strasburg #661 Base Card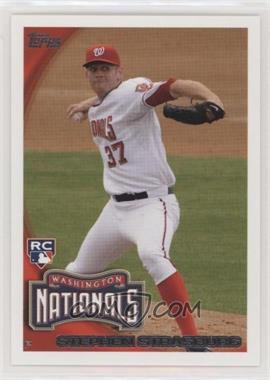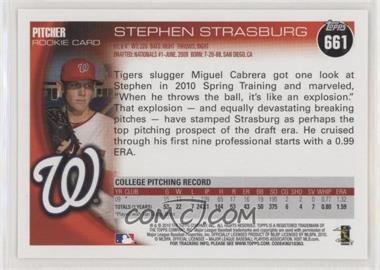 A base card of Stephen Strasburg (sequentially-numbered #661) was inserted into 2010 Topps Update packs. At first, Topps announced that the card inserted into Update packs would be the exact same Strasburg card that was included in each 2010 Topps factory set -- which was also sequentially-numbered #661. For reasons that were never explained by Topps, they used a different photo on the Update card. BCP considers the card inserted into Update packs to be Strasburg's one and only "true" 2010 Topps rookie card.
For more information on the many (many) Stephen Strasburg cards Topps issued in 2010, please see BCP's Guide to the 2010 Topps 661 Stephen Strasburg Cards.
661D Stephen Strasburg RC
Variations, Gimmicks, and Errors
Legends Variations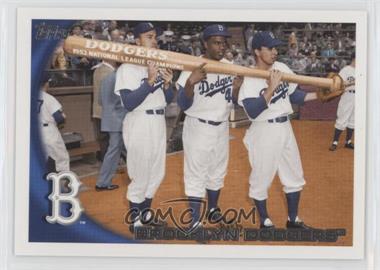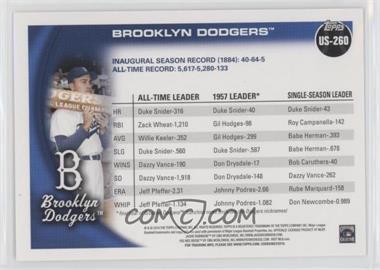 There are 22 cards in total.
661 Bob Gibson
US-15 Willie McCovey
US-25 Philadelphia Athletics
US-45 Steve Carlton
US-50 Reggie Jackson
US-58 New York Giants
US-85 Andre Dawson
US-100 Robin Roberts
US-175 Bruce Sutter
US-185 Jim Palmer
US-200 St. Louis Browns
US-203 Tony Gwynn
US-214 Dave Winfield
US-220 Boston Americans
US-225 Brooks Robinson
US-260 Brooklyn Dodgers
US-276 Rickey Henderson
US-317 Babe Ruth
US-318 Bo Jackson
US-320 Washington Senators
US-330 Cleveland Naps
US-330 Johnny Bench
Pie-in-the-Face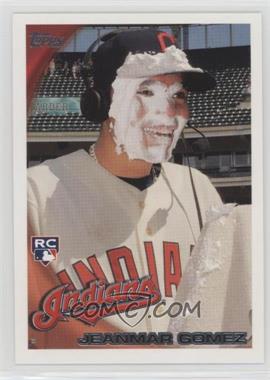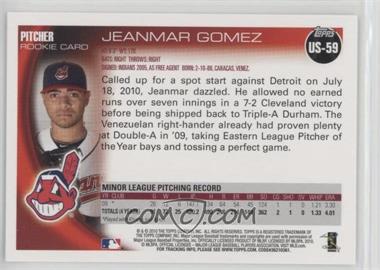 399 Matt Garza
661F Stephen Strasburg
US-251 Jake Arrieta
US-315 Edwin Jackson
US-59 Jeanmar Gomez
Stephen Strasburg Away Jersey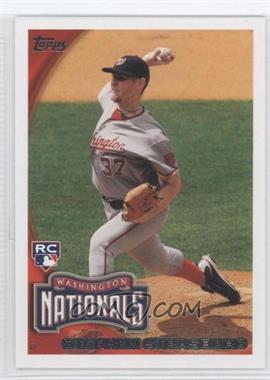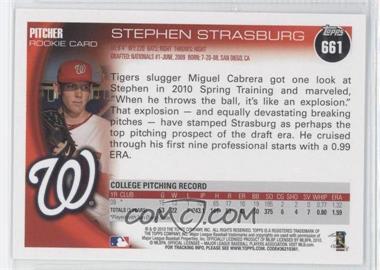 See Guide to the 2010 Topps 661 Stephen Strasburg Cards.
661E Stephen Strasburg (Away JSY)
Rookie Cup Variations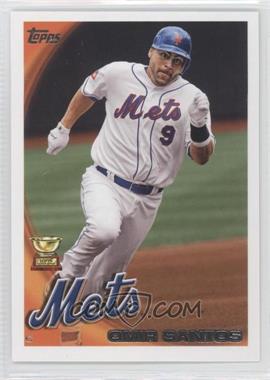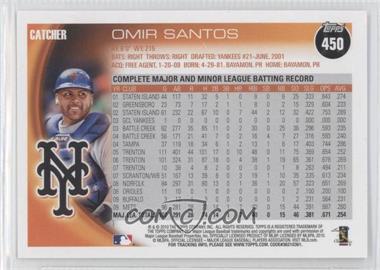 In Series Two, Topps forgot to include the Topps All-Star Rookie Trophy on four cards. So, for Update they made these four short-prints.
450 Omir Santos
493 Travis Ishikawa
508 Chris Getz
653 Nolan Reimold
Parallels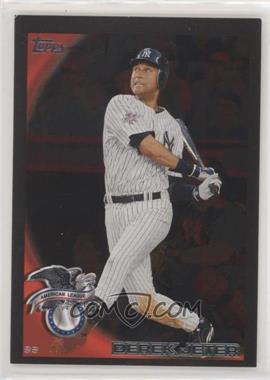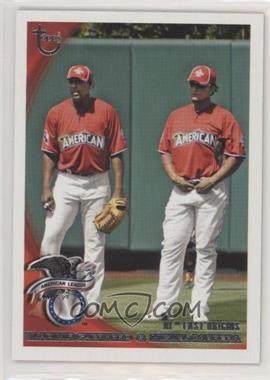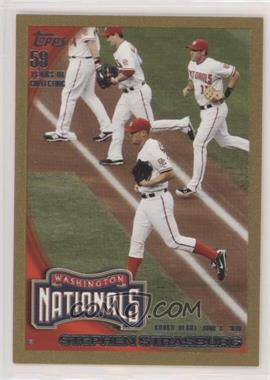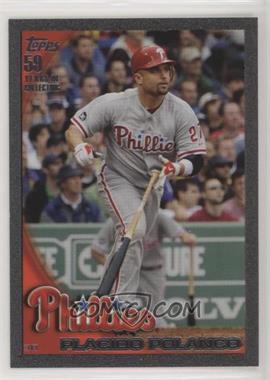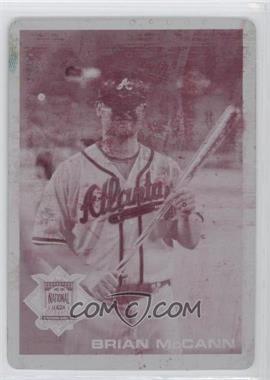 All 330 base cards plus the Stephen Strasburg "661" card are available in the following parallels.
All-Black (exclusive to packs sold at Wal-Mart)
Throwback (exclusive to packs sold at Target)
Gold (serial-numbered to 2010 copies)
Black (serial-numbered to 59 copies)
Platinum (one-of-one)
Printing Plates (four-for-each)
Silk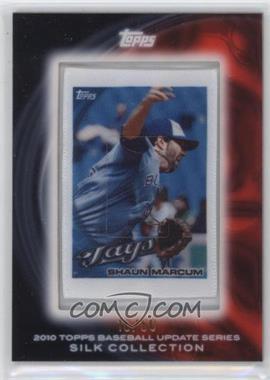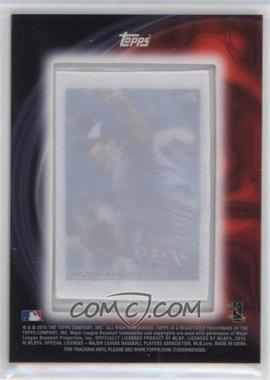 Each Silk card is serial-numbered to 50 copies.
Doug Davis
Coco Crisp
Jason Kendall
Jason Bay
Jim Thome
Omar Vizquel
Jose Valverde
Adam Kennedy
Kelly Shoppach
Akinori Iwamura
Brad Penny
Kevin Millwood
Cliff Lee
Andruw Jones
Rod Barajas
Pedro Feliz
Mike Gonzalez
Placido Polanco
Jhan Marinez
Bobby Wilson
Kris Medlen
Aaron Heilman
Shaun Marcum
Alfredo Simon
Matt Thornton
Billy Wagner
Troy Glaus
Jesus Feliciano
Dana Eveland
Scott Olsen
Corey Patterson
Livan Hernandez
Bill Hall
Josh Reddick
Xavier Nady
Koyie Hill
Tom Gorzelanny
Kevin Frandsen
Mark Kotsay
Arthur Rhodes
Micah Owings
Shelley Duncan
Mike Redmond
Chris Perez
Don Kelly
Alex Avila
Geoff Blum
Mitch Maier
Roy Halladay
Matt Daley
Vicente Padilla
Kila Ka'aihue
Dave Bush
Jody Gerut
George Kottaras
LaTroy Hawkins
Brendan Harris
Alex Cora
Randy Winn
Matt Harrison
Pat Burrell
Mark Ellis
Conor Jackson
Matt Downs
Jeff Clement
Joel Hanrahan
John Jaso
John Danks
Eugenio Velez
Jason Vargas
Rob Johnson
Gabe Gross
David Freese
Jamie Garcia
Gabe Kapler
Colby Lewis
Carlos Santana
Cole Gillespie
Jonny Venters
Jeff Suppan
Lance Zawadzki
Mike Leake
John Ely
Mike Stanton
Rhyne Hughes
Jeanmar Gomez
Brennan Boesch
Austin Jackson
Alex Sanabia
Jason Donald
Andrew Cashner
Josh Bell
Travis Wood
Mike Stanton
Jose Tabata
Jake Arrieta
Carlos Santana
Sam Demel
Felix Doubront
Stephen Strasburg
Chrome Rookie Refractor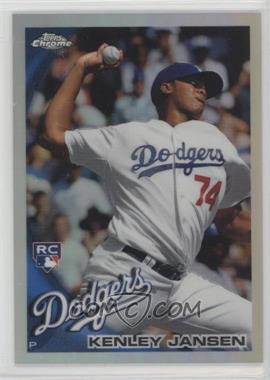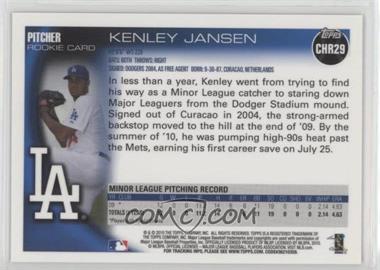 One Chrome Rookie Refractor was seeded into each Hobby wax and HTA Jumbo box as a box topper.
CHR01 Stephen Strasburg
CHR02 Wilson Ramos
CHR03 Lance Zawadzki
CHR04 Jesus Feliciano
CHR05 Logan Morrison
CHR06 Josh Donaldson
CHR07 Travis Wood
CHR08 Cole Gillespie
CHR09 Ryan Kalish
CHR10 Domonic Brown
CHR11 Jason Donald
CHR12 Jeffrey Marquez
CHR13 Adam Ottavino
CHR14 Luke Hughes
CHR15 Jose Tabata
CHR16 Josh Bell
CHR17 Jon Link
CHR18 John Ely
CHR19 Jeanmar Gomez
CHR20 Giancarlo Stanton
CHR21 Luis Atilano
CHR22 Chris Heisey
CHR23 Jake Arrieta
CHR24 Jonathan Lucroy
CHR25 Andrew Cashner
CHR26 Sam LeCure
CHR27 Danny Valencia
CHR28 Rhyne Hughes
CHR29 Kenley Jansen
CHR30 Ike Davis
CHR31 Lorenzo Cain
CHR32 Jonny Venters
CHR33 Andy Oliver
CHR34 Jon Jay
CHR35 Drew Storen
CHR36 Omar Beltre
CHR37 Alex Sanabia
CHR38 Jordan Smith
CHR39 Trevor Plouffe
CHR40 Starlin Castro
CHR41 Jhan Marinez
CHR42 Brad Lincoln
CHR43 Kevin Russo
CHR44 Frank Herrmann
CHR45 Brennan Boesch
CHR46 Daniel Nava
CHR47 Sam Demel
CHR48 Dayan Viciedo
CHR49 Felix Doubront
CHR50 Carlos Santana
CHR51 Josh Tomlin
CHR52 Anthony Slama
CHR53 Chris Carter
CHR54 J.P. Arencibia
CHR55 Mitch Moreland
CHR56 Peter Bourjos
CHR57 Argenis Diaz
CHR58 Mike Minor
CHR59 Brian Matusz
CHR60 Jason Heyward
CHR61 Giancarlo Stanton
CHR62 Ike Davis
CHR63 Carlos Santana
CHR64 Austin Jackson
CHR65 Mike Leake
CHR66 Brennan Boesch
CHR67 Stephen Strasburg
CHR68 Jose Tabata
CHR69 Starlin Castro
CHR70 Danny Worth
Inserts
The Cards Your Mother Threw Out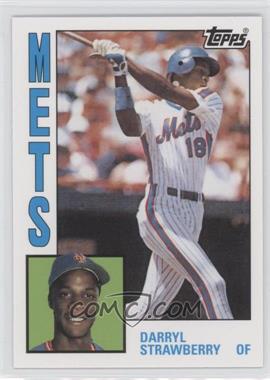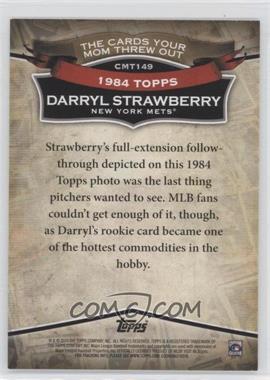 CMT119 Tom Lasorda 1954
CMT120 Harmon Killebrew 1955
CMT121 Jackie Robinson 1956
CMT122 Yankees Power Hitters (Yogi Berra / Mickey Mantl 1957
CMT123 Roger Maris 1958
CMT124 Lew Burdette 1959
CMT125 Roger Maris 1960
CMT126 Carl Yastrzemski 1961
CMT127 Lou Brock 1962
CMT128 Willie McCovey 1963
CMT129 Willie Stargell 1964
CMT130 Ernie Banks 1965
CMT131 Robin Roberts 1966
CMT132 Brooks Robinson 1967
CMT133 Tom Seaver 1968
CMT134 Mickey Mantle 1969
CMT135 Nolan Ryan 1970
CMT136 Steve Garvey 1971
CMT137 Frank Robinson 1972 Traded
CMT138 Luis Aparicio 1973
CMT139 Nolan Ryan 1974
CMT140 Yogi Berra / Roy Campanella MVP 1975
CMT141 Reggie Jackson 1976
CMT142 Mark Fidrych 1977
CMT143 Andre Dawson 1978
CMT144 Dale Murphy 1979
CMT145 Lou Brock / Carl Yastrzemski 1980
CMT146 Ozzie Smith 1981
CMT147 Rickey Henderson 1982
CMT148 Wade Boggs 1983
CMT149 Darryl Strawberry 1984
CMT150 Dave Winfield 1985
CMT151 Paul Molitor 1986
CMT152 Barry Larkin 1987
CMT153 Eddie Murray RB 1988
CMT154 Craig Biggio 1989
CMT155 Larry Walker 1990
CMT156 Nolan Ryan 1991
CMT157 Don Mattingly 1992
CMT158 Frank Thomas 1993
CMT159 Billy Wagner 1994
CMT160 Derek Jeter FS 1995
CMT161 Chipper Jones 1996
CMT162 Derek Jeter 1997
CMT163 Mike Piazza / Ken Griffey, Jr. ILP 1998
CMT164 Alex Rodriguez / Nomar Garciaparra / Derek Jeter 1999
CMT165 Barry Zito / Ben Sheets DP 2000
CMT166 Vladimir Guerrero 2001 HTA
CMT167 Jason Bay 2002
CMT168 Josh Hamilton / Carl Crawford 2003
CMT169 "South Philly Sluggers" (Jim Thome / Mike Schmidt) 2004
CMT170 Ian Kinsler 2005
CMT171 Ryan Zimmerman 2006
CMT172 Ubaldo Jimenez 2007
CMT173 Joey Votto 2008
CMT174 David Price 2009
More Tales of the Game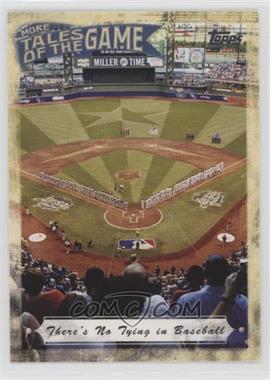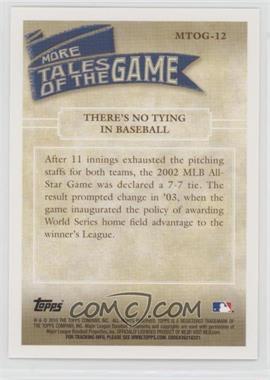 MTOG-1 Joel Youngblood "Two Hits, Two Teams, One Day"
MTOG-2 "Triple Billing"
MTOG-3 "Seven Touchdowns"
MTOG-4 Eddie Mathews "`Homes' of the Braves"
MTOG-5 Babe Ruth "Ruth Laps The League"
MTOG-6 "Intracity Sweep"
MTOG-7 Mike Schmidt "Tape-Measure Single"
MTOG-8 "Mile-high Humidor"
MTOG-9 Andre Dawson / Alex Rodriguez "The Last Shall Be First"
MTOG-10 Walter Johnson "'The Big Train' Gains Steam"
MTOG-11 Warren Spahn "Spahn Spans The Decades"
MTOG-12 "There's No Tying in Baseball"
MTOG-13 Harry S. Truman "The Truman Show"
MTOG-14 Stephen Strasburg "Rookie Tsunami"
MTOG-15 Roy Halladay "Home on The Road"
Vintage Legends Collection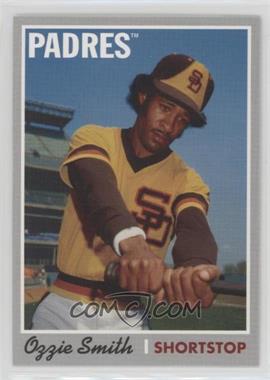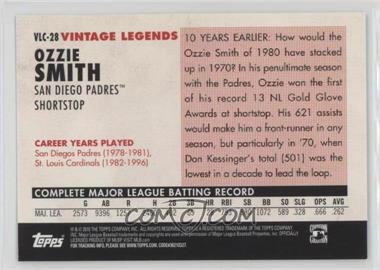 VLC-26 Johnny Mize 1992
VLC-27 Cy Young 1977
VLC-28 Ozzie Smith
VLC-29 Nolan Ryan 1957
VLC-30 George Sisler 1973
VLC-31 Babe Ruth 1975
VLC-32 Reggie Jackson 1961
VLC-33 Christy Mathewson
VLC-34 Mike Schmidt 1966
VLC-35 Mel Ott
VLC-36 Ty Cobb 1971
VLC-37 Eddie Murray 1963
VLC-38 Lou Gehrig 1995
VLC-39 Roy Campanella 2001 HTA
VLC-40 Tom Seaver 2007
VLC-41 Honus Wagner 2000
VLC-42 Jackie Robinson 1981
VLC-43 Johnny Bench 2002
VLC-44 Pee Wee Reese 2003
VLC-45 Thurman Munson 1989
VLC-46 Rogers Hornsby 1982
VLC-47 Jimmie Foxx 1994
VLC-48 Willie McCovey 1988
VLC-49 Tris Speaker 1998
VLC-50 Walter Johnson 1951
Peak Performance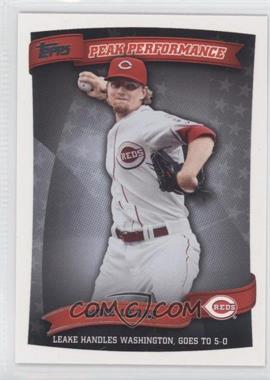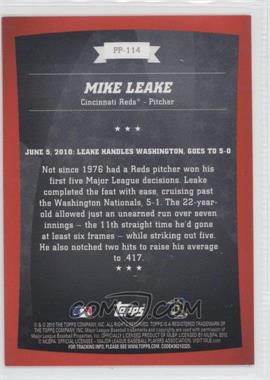 PP-101 Stephen Strasburg
PP-102 Vladimir Guerrero
PP-103 Hideki Matsui
PP-104 Chone Figgins
PP-105 John Lackey
PP-106 Max Scherzer
PP-107 Carlos Pena
PP-108 Ubaldo Jimenez
PP-109 Colby Rasmus
PP-110 Jered Weaver
PP-111 Ryan Zimmerman
PP-112 Jason Heyward
PP-113 Carlos Santana
PP-114 Mike Leake
PP-115 Ike Davis
PP-116 Starlin Castro
PP-117 Mike Stanton
PP-118 Austin Jackson
PP-119 Dustin Pedroia
PP-120 Tyler Colvin
PP-121 Brennan Boesch
PP-122 Dallas Braden
PP-123 Edwin Jackson
PP-124 Daniel Nava
PP-125 Roy Halladay
Legendary Lineage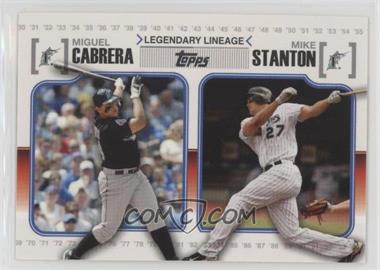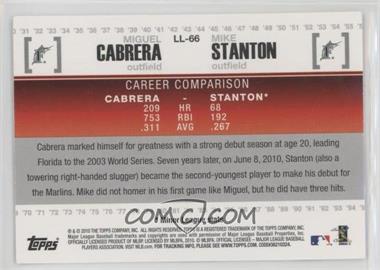 LL-61 Dave Winfield / Jason Heyward
LL-62 Walter Johnson / Stephen Strasburg
LL-63 Victor Martinez / Carlos Santana
LL-64 Rod Carew / Robinson Cano
LL-65 Bob Gibson / Ubaldo Jimenez
LL-66 Miguel Cabrera / Mike Stanton
LL-67 Hank Greenberg / Ike Davis
LL-68 Mark Teixeira / Logan Morrison
LL-69 Tom Seaver / Mike Leake
LL-70 Ernie Banks / Starlin Castro
LL-71 Jim Palmer / Brian Matusz
LL-72 Larry Walker / Justin Morneau
LL-73 Steve Carlton / Jon Lester
LL-74 Johnny Bench / Buster Posey
LL-75 Joe Nathan / Drew Storen
Turkey Red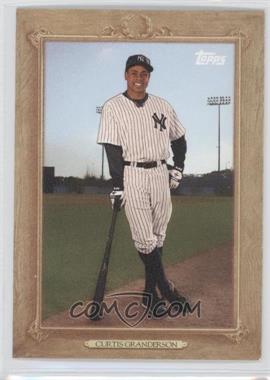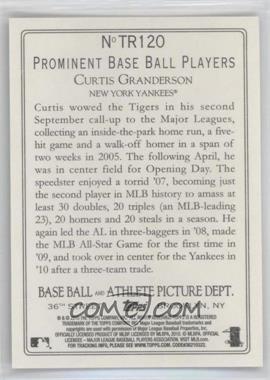 TR101 Hideki Matsui
TR102 Kelly Johnson
TR103 Jason Heyward
TR104 Adam Jones
TR105 John Lackey
TR106 Roy Campanella
TR107 Aramis Ramirez
TR108 Carlos Quentin
TR109 Brandon Phillips
TR110 Shin-Soo Choo
TR111 Ian Stewart
TR112 Miguel Cabrera
TR113 Josh Johnson
TR114 Carlos Lee
TR115 Joakim Soria
TR116 Jonathan Broxton
TR117 Carlos Gomez
TR118 Joe Mauer
TR119 Jason Bay
TR120 Curtis Granderson
TR121 A.J. Burnett
TR122 Ben Sheets
TR123 Roy Halladay
TR124 Ryan Doumit
TR125 Kyle Blanks
TR126 Matt Cain
TR127 Ichiro
TR128 Chris Carpenter
TR129 Matt Garza
TR130 Vladimir Guerrero
TR131 Vernon Wells
TR132 Ryan Zimmerman
TR133 Lou Brock
TR134 Rod Carew
TR135 Orlando Cepeda
TR136 Rogers Hornsby
TR137 Walter Johnson
TR138 Christy Mathewson
TR139 Johnny Mize
TR140 Thurman Munson
TR141 Pee Wee Reese
TR142 Tris Speaker
TR143 Honus Wagner
TR144 Cy Young
TR145 Robin Yount
TR146 Duke Snider
TR147 Frank Robinson
TR148 Stephen Strasburg
TR149 Mike Stanton
TR150 Starlin Castro
Topps Attax Code Cards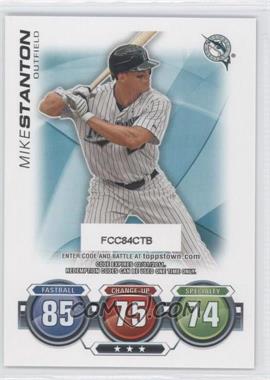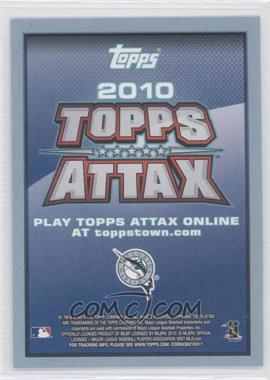 Jered Weaver
Hideki Matsui
Mark Reynolds
Justin Upton
Jason Heyward
Brian McCann
Adam Jones
Nick Markakis
Kevin Youkilis
Victor Martinez
John Lackey
Starlin Castro
Alfonso Soriano
Jake Peavy
Paul Konerko
Carlos Santana
Shin-Soo Choo
Mike Leake
Ubaldo Jimenez
Miguel Cabrera
Austin Jackson
Hanley Ramirez
Mike Stanton
Hunter Pence
Joakim Soria
Andre Ethier
Clayton Kershaw
Ryan Braun
Joe Mauer
Francisco Liriano
Ike Davis
David Wright
Robinson Cano
Derek Jeter
Kurt Suzuki
Roy Halladay
Ryan Howard
Andrew McCutchen
Albert Pujols
Adam Wainwright
Adrian Gonzalez
Buster Posey
Matt Cain
Ichiro
Evan Longoria
David Price
Josh Hamilton
Vernon Wells
Stephen Strasburg
Adam Dunn
Target Exclusive Red Backs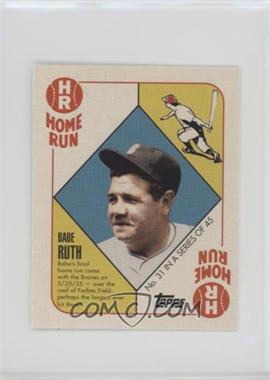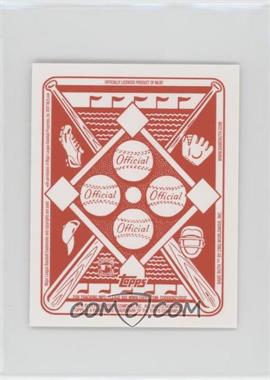 NOTE: These cards measure 2" X 2 5/8", the same size as the originals.
31 Babe Ruth
32 Jimmie Foxx
33 Rogers Hornsby
34 Warren Spahn
35 Reggie Jackson
36 Nolan Ryan
37 Tom Seaver
38 George Sisler
39 Roger Maris
40 Vladimir Guerrero
41 Thurman Munson
42 Johnny Mize
43 Pee Wee Reese
44 Hank Greenberg
45 Ryan Braun
Wal-Mart Exclusive Blue Backs
NOTE: These cards measure 2" X 2 5/8", the same size as the originals.
31 Babe Ruth
32 Jimmie Foxx
33 Rogers Hornsby
34 Ty Cobb
35 Dizzy Dean
36 Reggie Jackson
37 Nolan Ryan
38 Tom Seaver
39 Roger Maris
40 Vladimir Guerrero
41 Roy Campanella
42 Johnny Mize
43 Christy Mathewson
44 Carl Yastrzemski
45 Joe Mauer
Mickey Mouse All-Star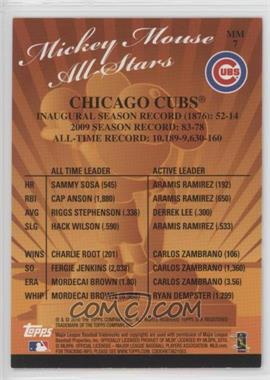 The first five cards in this set were distributed via a wrapper-redemption promotion at the 2010 All-Star Game FanFest in Anaheim, California. The final five cards were an unannounced "stealth" insert, seeded into packs of 2010 Topps Update.
MM-1 Mickey Mouse 2010 All-Star Game
MM-2 Mickey Mouse American League
MM-3 Mickey Mouse National League
MM-4 Mickey Mouse Angels
MM-5 Mickey Mouse Dodgers
MM-6 Mickey Mouse Braves
MM-7 Mickey Mouse Cubs
MM-8 Mickey Mouse Mets
MM-9 Mickey Mouse Yankees
MM-10 Mickey Mouse Giants
Manufactured Relics
MLB Logoman Patch
See 2010 Topps Manufactured MLB Logoman Patch
Commemorative Patches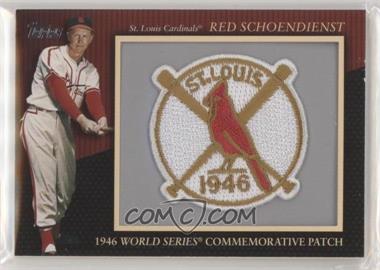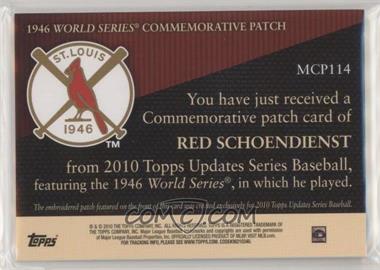 One commemorative patch card was seeded into each Update Series Blaster box.
MCP-101 Tris Speaker
MCP-102 Dizzy Dean
MCP-103 Lou Gehrig
MCP-104 Jimmie Foxx
MCP-105 Hank Greenberg
MCP-106 Bob Feller
MCP-107 Mel Ott
MCP-108 Johnny Mize
MCP-109 Phil Rizzuto
MCP-110 Enos Slaughter
MCP-111 Pee Wee Reese
MCP-112 Stan Musial
MCP-113 Hal Newhouser
MCP-114 Red Schoendienst
MCP-115 Yogi Berra
MCP-116 Larry Doby
MCP-117 Richie Ashburn
MCP-118 Whitey Ford
MCP-119 Johnny Podres
MCP-120 Duke Snider
MCP-121 Roger Maris
MCP-122 Lou Brock
MCP-123 Luis Aparicio
MCP-124 Eddie Mathews
MCP-125 Rollie Fingers
MCP-126 Reggie Jackson
MCP-127 Joe Morgan
MCP-128 Johnny Bench
MCP-129 Steve Carlton
MCP-130 Barry Larkin
MCP-131 Roberto Alomar
MCP-132 Greg Maddux
MCP-133 Derek Jeter
MCP-134 Mike Piazza
MCP-135 Derek Jeter
MCP-136 Chipper Jones
MCP-137 Alex Rodriguez
MCP-138 Roy Halladay
MCP-139 Josh Beckett
MCP-140 Hideki Matsui
MCP-141 Lance Berkman
MCP-142 Ryan Braun
MCP-143 Andre Ethier
MCP-144 Justin Morneau
MCP-145 Joe Mauer
MCP-146 Chase Utley
MCP-147 Vladimir Guerrero
MCP-148 Evan Longoria
MCP-149 Derek Jeter
MCP-150 Albert Pujols
Bat Barrel Cards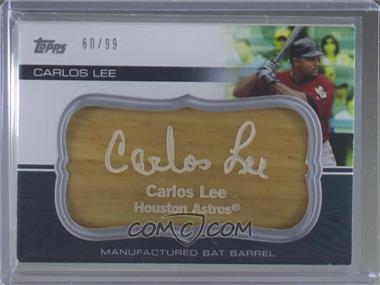 The Bat Barrels were exclusive to Hobby and HTA packs and each serial-numbered to 99 copies, and available in the following parallels.
Black (serial-numbered to 25 copies)
Pink (one-of-one)
MBB-1 Ryan Braun
MBB-2 Derek Jeter
MBB-3 Torii Hunter
MBB-4 Chase Utley
MBB-5 Justin Upton
MBB-6 David Wright
MBB-7 Troy Tulowitzki
MBB-8 Kevin Youkilis
MBB-9 Jose Reyes
MBB-10 Albert Pujols
MBB-11 Jimmy Rollins
MBB-12 Victor Martinez
MBB-13 Shane Victorino
MBB-14 Matt Holliday
MBB-15 Prince Fielder
MBB-16 Hideki Matsui
MBB-17 Nick Markakis
MBB-18 Alfonso Soriano
MBB-19 Shin-Soo Choo
MBB-20 Evan Longoria
MBB-21 Joey Votto
MBB-22 Andrew McCutchen
MBB-23 Mark Reynolds
MBB-24 Andre Ethier
MBB-25 Robinson Cano
MBB-26 Casey McGehee
MBB-27 Paul Konerko
MBB-28 Adam Lind
MBB-29 Dustin Pedroia
MBB-30 Jason Heyward
MBB-31 Billy Butler
MBB-32 Justin Morneau
MBB-33 Aaron Hill
MBB-34 Pablo Sandoval
MBB-35 Miguel Cabrera
MBB-36 Ryan Zimmerman
MBB-37 Hunter Pence
MBB-38 Adrian Gonzalez
MBB-39 Adam Dunn
MBB-40 Vladimir Guerrero
MBB-41 Jason Bay
MBB-42 Matt Kemp
MBB-43 Dan Uggla
MBB-44 Brandon Phillips
MBB-45 Alex Rodriguez
MBB-46 Manny Ramirez
MBB-47 Nick Swisher
MBB-48 Vernon Wells
MBB-49 Corey Hart
MBB-50 Joe Mauer
MBB-51 David Ortiz
MBB-52 Josh Hamilton
MBB-53 Kendry Morales
MBB-54 Colby Rasmus
MBB-55 Chipper Jones
MBB-56 Lance Berkman
MBB-57 James Loney
MBB-58 Ian Kinsler
MBB-59 Carl Crawford
MBB-60 Hanley Ramirez
MBB-61 Buster Posey
MBB-62 Ike Davis
MBB-63 Adam Jones
MBB-64 Brian McCann
MBB-65 Mark Teixeira
MBB-66 Kurt Suzuki
MBB-67 Giancarlo Stanton
MBB-68 Jayson Werth
MBB-69 Nelson Cruz
MBB-70 Ryan Howard
MBB-71 Martin Prado
MBB-72 Michael Young
MBB-73 Ben Zobrist
MBB-74 Carlos Lee
MBB-75 Ichiro
MBB-76 Carlos Quentin
MBB-77 B.J. Upton
MBB-78 Alex Rios
MBB-79 Magglio Ordonez
MBB-80 Jose Bautista
MBB-81 Garrett Jones
MBB-82 Carlos Pena
MBB-83 Jay Bruce
MBB-84 Austin Jackson
MBB-85 Chris Young
MBB-86 Alexei Ramirez
MBB-87 Carlos Gonzalez
MBB-88 Howie Kendrick
MBB-89 Ryan Ludwick
MBB-90 Miguel Tejada
MBB-91 Derrek Lee
MBB-92 Adrian Beltre
MBB-93 Gordon Beckham
MBB-94 Yadier Molina
MBB-95 Starlin Castro
MBB-96 Stephen Drew
MBB-97 Carlos Santana
MBB-98 Bobby Abreu
MBB-99 Ty Wigginton
MBB-100 Scott Rolen
MBB-101 Grady Sizemore
MBB-102 Miguel Montero
MBB-103 Todd Helton
MBB-104 Chris Coghlan
MBB-105 Curtis Granderson
MBB-106 Troy Glaus
MBB-107 Placido Polanco
MBB-108 Elvis Andrus
MBB-109 Aramis Ramirez
MBB-110 Jose Tabata
MBB-111 Ian Desmond
MBB-112 Craig Biggio
MBB-113 Bernie Williams
MBB-114 Frank Robinson
MBB-115 Babe Ruth
MBB-116 Jimmie Foxx
MBB-117 Yogi Berra
MBB-118 Lou Gehrig
MBB-119 Tris Speaker
MBB-120 Roy Campanella
MBB-121 Bobby Murcer
MBB-122 Jimmy Piersall
MBB-123 Bo Jackson
MBB-124 Frank Thomas
MBB-125 Rogers Hornsby
MBB-126 Lou Brock
MBB-127 Richie Ashburn
MBB-128 Steve Garvey
MBB-129 Larry Doby
MBB-130 Jackie Robinson
MBB-131 Andre Dawson
MBB-132 Tony Gwynn
MBB-133 Don Mattingly
MBB-134 Carl Yastrzemski
MBB-135 Hank Greenberg
MBB-136 Dale Murphy
MBB-137 Paul Molitor
MBB-138 Eddie Murray
MBB-139 Mike Piazza
MBB-140 Ty Cobb
MBB-141 Al Kaline
MBB-142 Joe Morgan
MBB-143 Willie McCovey
MBB-144 Bill Mazeroski
MBB-145 George Sisler
MBB-146 Carlton Fisk
MBB-147 Sal Bando
MBB-148 Rod Carew
MBB-149 Orlando Cepeda
MBB-150 Mickey Mantle
MBB-151 Mike Schmidt
MBB-152 Rickey Henderson
MBB-153 Monte Irvin
MBB-154 George Kell
MBB-155 Pee Wee Reese
MBB-156 Robin Yount
MBB-157 Tony Perez
MBB-158 Ryne Sandberg
MBB-159 Luis Aparicio
MBB-160 Honus Wagner
MBB-161 Roger Maris
MBB-162 Duke Snider
MBB-163 Willie Stargell
MBB-164 Dave Winfield
MBB-165 Johnny Mize
MBB-166 Phil Rizzuto
MBB-167 Johnny Bench
MBB-168 Ozzie Smith
MBB-169 Reggie Jackson
MBB-170 Thurman Munson
MBB-171 Harmon Killebrew
MBB-172 Eddie Mathews
MBB-173 Ralph Kiner
MBB-174 Brooks Robinson
MBB-175 Mel Ott
Manufactured Rookie Patches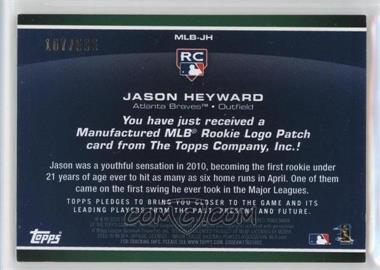 Each Rookie Patch is serial-numbered to 500 copies.
RPC-JH Jason Heyward
RPC-SC Starlin Castro
RPC-SS Stephen Strasburg
Autographs & Game-Used
All-Star Stitches Relics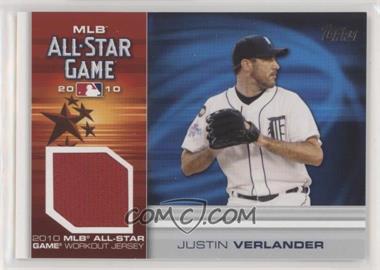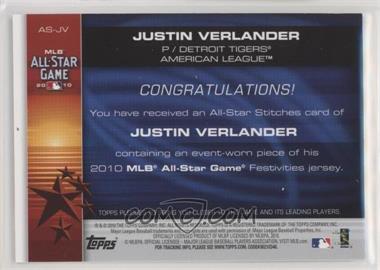 Each All-Star Stitches Relic card is available in the following parallels.
Gold (serial-numbered to 50 copies)
Platinum (one-of-one)
AS-AB Andrew Bailey
AS-ABE Adrian Beltre
AS-AE Andre Ethier
AS-AG Adrian Gonzalez
AS-AP Andy Pettitte
AS-APU Albert Pujols
AS-AR Alex Rodriguez
AS-ARH Arthur Rhodes
AS-AW Adam Wainwright
AS-BM Brian McCann
AS-BP Brandon Phillips
AS-BW Brian Wilson
AS-CB Clay Buchholz
AS-CC Carl Crawford
AS-CCA Chris Carpenter
AS-CCS CC Sabathia
AS-CH Corey Hart
AS-CL Cliff Lee
AS-CY Chris Young
AS-DJ Derek Jeter
AS-DO David Ortiz
AS-DP David Price
AS-DPE Dustin Pedroia
AS-DW David Wright
AS-EA Elvis Andrus
AS-EL Evan Longoria
AS-EM Evan Meek
AS-FC Fausto Carmona
AS-HB Heath Bell
AS-HCK Hong-Chih Kuo
AS-HR Hanley Ramirez
AS-IK Ian Kinsler
AS-IS Ichiro
AS-JB Jose Bautista
AS-JBR Jonathan Broxton
AS-JBU John Buck
AS-JH Josh Hamilton
AS-JHE Jason Heyward
AS-JJ Josh Johnson
AS-JL Jon Lester
AS-JM Joe Mauer
AS-JR Jose Reyes
AS-JS Joakim Soria
AS-JV Justin Verlander
AS-JVO Joey Votto
AS-JW Jered Weaver
AS-MB Marlon Byrd
AS-MBO Michael Bourn
AS-MC Miguel Cabrera
AS-MCA Matt Capps
AS-MH Matt Holliday
AS-MP Martin Prado
AS-MT Matt Thornton
AS-NF Neftali Feliz
AS-OI Omar Infante
AS-PH Phil Hughes
AS-PK Paul Konerko
AS-RB Ryan Braun
AS-RC Robinson Cano
AS-RF Rafael Furcal
AS-RH Roy Halladay
AS-RHO Ryan Howard
AS-RS Rafael Soriano
AS-SR Scott Rolen
AS-TC Trevor Cahill
AS-TH Torii Hunter
AS-THU Tim Hudson
AS-TL Tim Lincecum
AS-TT Troy Tulowitzki
AS-TW Ty Wigginton
AS-UJ Ubaldo Jimenez
AS-VG Vladimir Guerrero
AS-VM Victor Martinez
AS-VW Vernon Wells
AS-YG Yovani Gallardo
AS-YM Yadier Molina
Jumbo Patches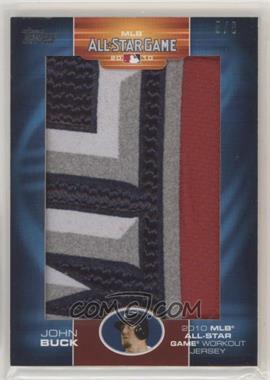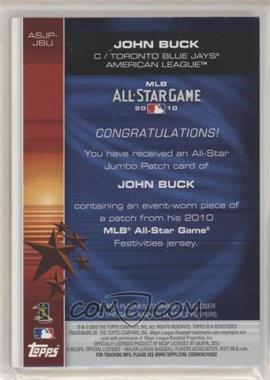 Each All-Star Jumbo Patch is serial-numbered to six copies.
ASJP-AB Adrian Beltre
ASJP-ABA Andrew Bailey
ASJP-AE Andre Ethier
ASJP-AG Adrian Gonzalez
ASJP-AP Andy Pettitte
ASJP-AR Alex Rodriguez
ASJP-ARH Arthur Rhodes
ASJP-AW Adam Wainwright
ASJP-BM Brian McCann
ASJP-BP Brandon Phillips
ASJP-BW Brian Wilson
ASJP-CC Carl Crawford
ASJP-CCA Chris Carpenter
ASJP-CCS CC Sabathia
ASJP-CH Corey Hart
ASJP-CL Cliff Lee
ASJP-CYO Chris Young
ASJP-DJ Derek Jeter
ASJP-DO David Ortiz
ASJP-DP David Price
ASJP-DPE Dustin Pedroia
ASJP-DW David Wright
ASJP-EA Elvis Andrus
ASJP-EME Evan Meek
ASJP-FC Fausto Carmona
ASJP-HB Heath Bell
ASJP-HCK Hong-Chih Kuo
ASJP-HR Hanley Ramirez
ASJP-IS Ichiro
ASJP-JB Jonathan Broxton
ASJP-JBA Jose Bautista
ASJP-JBU John Buck
ASJP-JH Josh Hamilton
ASJP-JL Jon Lester
ASJP-JM Joe Mauer
ASJP-JR Jose Reyes
ASJP-JV Justin Verlander
ASJP-JVO Joey Votto
ASJP-JW Jered Weaver
ASJP-MB Marlon Byrd
ASJP-MBO Michael Bourn
ASJP-MC Miguel Cabrera
ASJP-MCA Matt Capps
ASJP-MH Matt Holliday
ASJP-MTH Matt Thornton
ASJP-NF Neftali Feliz
ASJP-OIN Omar Infante
ASJP-PH Phil Hughes
ASJP-PK Paul Konerko
ASJP-RB Ryan Braun
ASJP-RF Rafael Furcal
ASJP-RH Roy Halladay
ASJP-RHO Ryan Howard
ASJP-RS Rafael Soriano
ASJP-SR Scott Rolen
ASJP-TH Torii Hunter
ASJP-THU Tim Hudson
ASJP-TL Tim Lincecum
ASJP-TT Troy Tulowitzki
ASJP-TWI Ty Wigginton
ASJP-UJ Ubaldo Jimenez
ASJP-VG Vladimir Guerrero
ASJP-VM Victor Martinez
ASJP-VW Vernon Wells
ASJP-YG Yovani Gallardo
ASJP-YM Yadier Molina
Dual
Each All-Star Stitches Dual Relic is serial-numbered to 25 copies.
ASSD-HB Josh Hamilton / Ryan Braun
ASSD-HL Roy Halladay / Tim Lincecum
ASSD-IH Ichiro / Jason Heyward
ASSD-JL Josh Johnson / Jon Lester
ASSD-JP Ubaldo Jimenez / David Price
ASSD-JR Derek Jeter / Hanley Ramirez
ASSD-OH David Ortiz / Ryan Howard
ASSD-PC Albert Pujols / Miguel Cabrera
ASSD-RC Alex Rodriguez / Robinson Cano
ASSD-WL David Wright / Evan Longoria
Triple
Each All-Star Stitches Triple Relic is serial-numbered to 25 copies.
ASST-BHE Ryan Braun / Jason Heyward / Andre Ethier
ASST-CVH Miguel Cabrera / Joey Votto / Ryan Howard
ASST-FTH Prince Fielder / Mark Teixeira / Ryan Howard
ASST-HGO Josh Hamilton / Vladimir Guerrero / David Ortiz
ASST-HJJ Roy Halladay / Ubaldo Jimenez / Josh Johnson
ASST-JRC Derek Jeter / Alex Rodriguez / Robinson Cano
ASST-LPC Evan Longoria / David Price / Carl Crawford
ASST-PIM Albert Pujols / Ichiro / Joe Mauer
ASST-RWP Hanley Ramirez / David Wright / Martin Prado
ASST-SLL CC Sabathia / Cliff Lee / Jon Lester
ASST-WHC Adam Wainwright / Matt Holliday / Chris Carpenter
Autographs
Each All-Star Stitches Autograph is serial-numbered to 25 copies.
ASAR-AB Andrew Bailey
ASAR-AG Adrian Gonzalez
ASAR-AR Alex Rodriguez
ASAR-CC Carl Crawford
ASAR-CL Cliff Lee
ASAR-DW David Wright
ASAR-EA Elvis Andrus
ASAR-JH Josh Hamilton
ASAR-JH Jason Heyward
ASAR-NF Neftali Feliz
ASAR-RC Robinson Cano
ASAR-RH Ryan Howard
ASAR-TH Tim Hudson
ASAR-TT Troy Tulowitzki
ASAR-YG Yovani Gallardo
Autograph Jumbo Patches
Each All-Star Autograph Jumbo Patch is serial-numbered to six copies.
AJPA-AP Albert Pujols
AJPA-CB Clay Buchholz
AJPA-EL Evan Longoria
AJPA-IK Ian Kinsler
AJPA-JH Jason Heyward
AJPA-JJ Josh Johnson
AJPA-JS Joakim Soria
AJPA-MP Martin Prado
AJPA-RC Robinson Cano
AJPA-TC Trevor Cahill
Mickey Mantle Reprint Relic
MMR-63 Mickey Mantle BAT 63
Peak Performance Autographs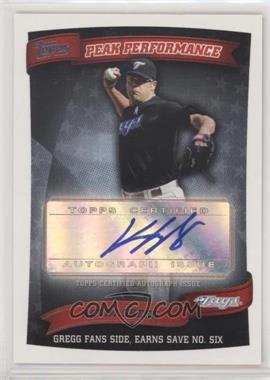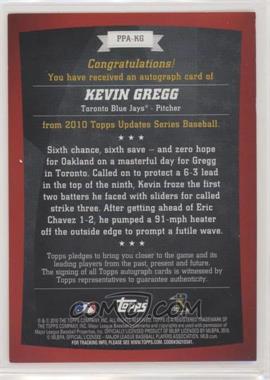 PPA-AE Andre Ethier
PPA-AES Alcides Escobar
PPA-AG Adrian Gonzalez
PPA-AL Adam Lind
PPA-AM Andrew McCutchen
PPA-AS Alfonso Soriano
PPA-CC Chris Coghlan
PPA-CCR Carl Crawford
PPA-CF Chone Figgins
PPA-CP Carlos Pena
PPA-CR Colby Rasmus
PPA-DS Drew Stubbs
PPA-DW David Wright
PPA-ES Ervin Santana
PPA-FC Fausto Carmona
PPA-HB Heath Bell
PPA-JB Jose Bautista
PPA-JC Johnny Cueto
PPA-JL John Lackey
PPA-JM Justin Masterson
PPA-JU Justin Upton
PPA-KG Kevin Gregg
PPA-KK Kevin Kouzmanoff
PPA-MC Matt Capps
PPA-MCA Matt Cain
PPA-MS Max Scherzer
PPA-NF Neftali Feliz
PPA-NM Nyjer Morgan
PPA-PF Prince Fielder
PPA-PP Placido Polanco
PPA-PS Pablo Sandoval
PPA-RB Ryan Braun
PPA-RC Robinson Cano
PPA-RH Ryan Howard
PPA-RN Ricky Nolasco
PPA-RR Ricky Romero
PPA-RW Randy Wells
PPA-SR Sean Rodriguez
PPA-TC Trevor Cahill
PPA-TH Tommy Hanson
PPA-TW Tim Wood
PPA-UJ Ubaldo Jimenez
PPA-VG Vladimir Guerrero
PPA-VW Vernon Wells
Peek Performance Autographs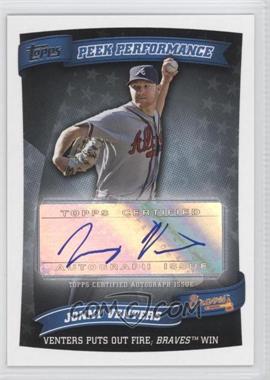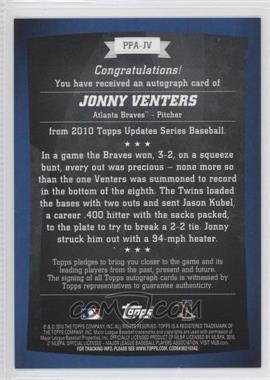 PPA-AC Andrew Cashner
PPA-AJ Austin Jackson
PPA-AO Adam Ottavino
PPA-AOL Andy Oliver
PPA-BB Brennan Boesch
PPA-BL Brad Lincoln
PPA-BP Buster Posey
PPA-CH Chris Heisey
PPA-CS Carlos Santana
PPA-DST Drew Storen
PPA-ID Ike Davis
PPA-IDE Ian Desmond
PPA-JD Jason Donald
PPA-JE John Ely
PPA-JH Jason Heyward
PPA-JT Jose Tabata
PPA-JV Jonny Venters
PPA-LA Luis Atilano
PPA-ML Mike Leake
PPA-MST Giancarlo Stanton
PPA-SC Starlin Castro
PPA-SS Stephen Strasburg
PPA-TCO Tyler Colvin
Baseball Legends Cut Signatures
Each Baseball Legends Cut Signature is a one-of-one.
LCS-BR Babe Ruth
LCS-GS George Sisler
LCS-JM Johnny Mize
LCS-LB Lou Boudreau
LCS-MM Mickey Mantle
LCS-PR Pee Wee Reese
LCS-RC Roy Campanella
LCS-RM Roger Maris
LCS-RR Robin Roberts
LCS-WJ Walter Johnson