1986 Sportflics
Description
In 1986, Major League Marketing became the fourth fully licensed card producer. In March, they released their debut trading card set: Sportflics. Developed by Optigraphics of Arlington, Texas, the cards used a state-of-the-art printing process called "lenticular printing." They were referred to as a "Triple Action Magic Motion®" card. Each card changes its picture three times. One headshot and two action shots of one sequence given the effect of the player either hitting or pitching. Optigraphics trademarked the idea on March 22nd, 1976. Sportflics was trademarked on December 15th, 1985. Optigraphics was owned by Ann Blake, whom later produced Score cards in 1988, and eventually start Playoff, Inc.
The 200-card set plus 133 trivia cards were touted as "Series #1" and the back of the packs told collectors to "Watch For New Series", however, no second series ever materialized - most likely due to poor sales.
The 200-card set was made up of 139 base cards and 41 subset cards. Most of the stars of the day had five to eight cards each.
The front design (intentional or not) is very similar to the 1953 Bowman set. The back of the cards when applicable gave a relatively extended overview bio of the player along with their basic raw statistics for their career. The back of the card is also noteworthy because it lists the player's uniform number. A first in baseball card information.
Intended as innovation - it appeared to be gimmicky. Amurol Products president A.G. Atwater, the company responsible for distribution, said "Sportflics are official baseball cards but they have much greater dimension that other cards." [1] Nevertheless, The Hobby, in general, couldn't see pass that the cards were reminiscent of the Kellogg's 3-D cards (1970 - 1983) and the 1984 Seven-Eleven Coin set.
The unintended innovation came in its packaging. This was the first time that a tamper proof foil wrapper was used.
Card #182 showcasing "1985 Milestones" uses the picture of young fan, Matt Tallman, to represent the record setting attendance at MLB games.
Considered to be the least produced of the four licensed MLB card products from 1986.
According to hobby lore, 50 to 100 copies of the Robin Yount's card with a Yankees logo were produced.
[1] Sun Sentinel, 1986, March 19, Trading Cards Now Feature "Triple Action"
Distribution
36 packs per box, 3 superstar cards and 2 trivia cards per pack and a offer sheet for either a Dwight Gooden or Don Mattingly one of a kind disc. (MSRP .65¢)
Factory sets.
500 uncut sheets were produced. Each numbered set contained eight sheets.
Collation data from one box. Base Set Completion: 14.5% (29 of 200); Duplicates: 79
Reviews
In a 1986 Sun Sentinel article, Keith Olbermann, then sports director at KTLA-TV, Los Angeles said "Sportflics are very nice, but they're prohibitively expensive. Dealers are charging $40 for the 200 cards compared with $16 or $17 for a full set of 792 cards from Topps. They're novelty items, and this time, they may find their niche in some collector's shoe boxes."
1986 Sportflics pricing debuted in the March 1986 Beckett Baseball Card Monthly issue at $40 for the set. In the "Owner's Box" editorial Dr. James Beckett said, "We wish them well and appreciate their innovative multi-picture, multi-player approach."
Checklist
Promos
Persograph Prototypes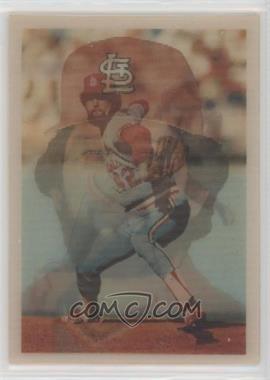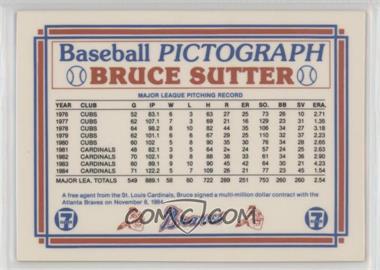 In 1985, Optigraphics produced six protoypes to show Major League Baseball and the Major League Baseball Players Association what Sportflics was proposing in order to be a new licensee for producing cards. These cards are very difficult to find and are considerably rarer than the Sample cards which were given out after the Sportflics license had been granted (see below).
Four of the cards are standard-sized, along with one mini-sized (1 5/16" by 1 5/16") Joe DiMaggio card, and one trivia card (1 3/4" by 2"). The standard-size cards resemble regular 1986 Sportflics cards, but have different photos and stats only through 1984. One of the Winfield cards has a bio only; unfortunately the biographical statements on the back are incorrect in several instances. The DiMaggio card has black and white photos on the front, and career totals on the back. The Schmidt card is dubbed a "Persograph" as it contains a list of his favorite things on the back. The trivia card is the same as those distributed with 1986 Sportflics, except it shows the Major League Baseball logo on the front.
Joe DiMaggio Mini (1 5/16" x 1 5/16"), black & white photo on front, career totals on ba
Mike Schmidt Persograph on back
Mike Schmidt Stats on back
Bruce Sutter
Dave Winfield Biography on back
Dave Winfield Stats on back
Trivia Card
Samples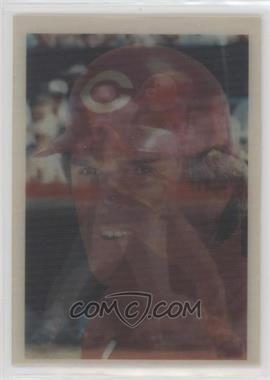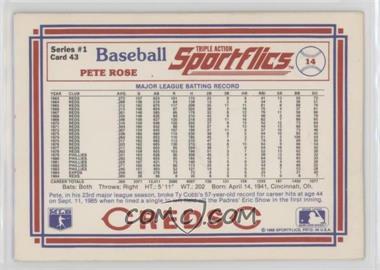 A three-card pack was distributed freely by Optigraphics salesmen to potential buyers to show them what the new Sportflics card set would look like. The set is sometimes referred to as the Vendor Sample Kit. Some of these packs even found their way to the retail counters. They are not rare although they are obviously much less common than the regular issue of Sportflics. The cards show statistics only up through 1984. The copyright date on the card backs shows 1986.
1 Dale Murphy / Jim Rice / Mike Schmidt
43 Pete Rose
45 Tom Seaver
Base Set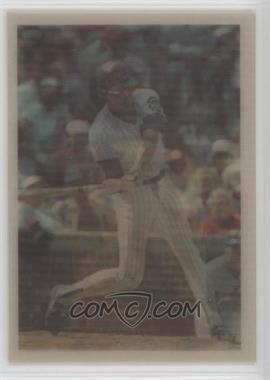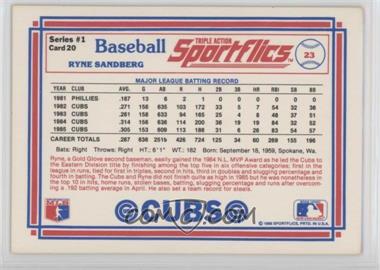 1 George Brett
2 Don Mattingly
3 Wade Boggs
4 Ed Murray
5 Dale Murphy
6 Rickey Henderson
7 Harold Baines
8 Cal Ripken, Jr.
9 Orel Hershiser
10 Bret Saberhagen
11 Tim Raines
12 Fernando Valenzuela
13 Tony Gwynn
14 Pedro Guerrero
15 Keith Hernandez
16 Ernest Riles
17 Jim Rice
18 Ron Guidry
19 Willie McGee
20 Ryne Sandberg
21 Kirk Gibson
22 Ozzie Guillen RC
23 Dave Parker
24 Vince Coleman RC
25 Tom Seaver
26 Brett Butler
27 Steve Carlton
28 Gary Carter
29 Cecil Cooper
30 Jose Cruz
31 Alvin Davis
32 Dwight Evans
33 Julio Franco
34 Damaso Garcia
35 Steve Garvey
36 Kent Hrbek
37 Reggie Jackson
38 Fred Lynn
39 Paul Molitor
40 Jim Presley
41 Dave Righetti
42 Robin Yount
43 Nolan Ryan
44 Mike Schmidt
45 Lee Smith
46 Rick Sutcliffe
47 Bruce Sutter
48 Lou Whitaker
49 Dave Winfield
50 Pete Rose
Tri-Stars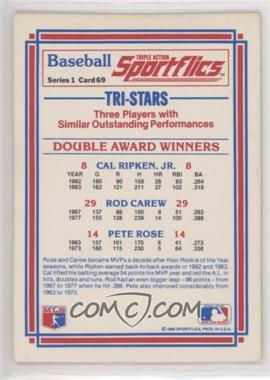 51 Steve Garvey/Pete Rose/Ryne Sandberg
52 Harold Baines/George Brett/Jim Rice
53 Phil Niekro/Jerry Reuss/Mike Witt
54 Don Mattingly/Cal Ripken, Jr./Robin Yount
55 Goose Gossage/Dan Quisenberry/Lee Smith
56 Pete Rose/Steve Sax/Darryl Strawberry
57 Don Baylor/Reggie Jackson/Cal Ripken, Jr.
58 Bill Madlock/Dave Parker/Pete Rose
59 Mike Flanagan/Ron Guidry/La Marr Hoyt
60 Tom Seaver/Rick Sutcliffe/Fernando Valenzuela
61 Tony Armas/Reggie Jackson/Jim Rice
62 Keith Hernandez/Dale Murphy/Mike Schmidt
63 George Brett/Fred Lynn/Robin Yount
64 Bert Blyleven/John Denny/Jerry Koosman
65 Rollie Fingers/Bruce Sutter
66 Andre Dawson/Bob Horner/Gary Matthews
67 Carlton Fisk/Ron Kittle/Tom Seaver
68 George Foster/Dave Kingman/Mike Schmidt
69 Rod Carew/Cal Ripken, Jr./Pete Rose
70 Steve Carlton/Tom Seaver/Rick Sutcliffe
71 Reggie Jackson/Fred Lynn/Robin Yount
72 Dave Righetti/Rick Sutcliffe/Fernando Valenzuela
73 Fred Lynn/Eddie Murray/Cal Ripken, Jr.
74 Rod Carew/Alvin Davis/Lou Whitaker
75 Wade Boggs/Carney Lansford/Don Mattingly
76 Jesse Barfield
77 Phil Bradley
78 Chris Brown
79 Tom Browning
80 Tom Brunansky
81 Bill Buckner
82 Chili Davis
83 Mark Davis
84 Rich Gedman
85 Willie Hernandez
86 Ron Kittle
87 Lee Lacy
88 Bill Madlock
89 Mike Marshall
90 Keith Moreland
91 Graig Nettles
92 Lance Parrish
93 Kirby Puckett
94 Juan Samuel
95 Steve Sax
96 Dave Stieb
97 Darryl Strawberry
98 Willie Upshaw
99 Frank Viola
100 Dwight Gooden
101 Joaquin Andujar
102 George Bell
103 Bert Blyleven
104 Mike Boddicker
105 Britt Burns
106 Rod Carew
107 Jack Clark
108 Danny Cox
109 Ron Darling
110 Andre Dawson
111 Leon Durham
112 Tony Fernandez
113 Tom Herr
114 Teddy Higuera RC
115 Bob Horner
116 Dave Kingman
117 Jack Morris
118 Dan Quisenberry
119 Jeff Reardon
120 Bryn Smith
121 Ozzie Smith
122 John Tudor
123 Tim Wallach
124 Willie Wilson
125 Carlton Fisk
Tri-Stars
126 Gary Carter/George Foster/Al Oliver
127 Tim Raines/Ryne Sandberg
128 Paul Molitor/Cal Ripken, Jr./Willie Wilson
129 Dennis Eckersley/John Candelaria
130 Ron Cey/Rollie Fingers/Pete Rose
131 Dave Concepcion/George Foster/Bill Madlock
132 Vida Blue/John Denny/Fernando Valenzuela
133 Doyle Alexander/Joaquin Andujar/Richard Dotson
134 John Denny/Tom Seaver/Rick Sutcliffe
135 Phil Niekro/Tom Seaver/Don Sutton
136 Vince Coleman / Dwight Gooden / Alfredo Griffin
137 Gary Carter/Steve Garvey/Fred Lynn
138 Tony Perez/Pete Rose/Rusty Staub
139 George Foster/Jim Rice/Mike Schmidt
140 Bill Buckner/Tony Gwynn/Al Oliver
141 Jack Morris/Dave Righetti/Nolan Ryan
142 Vida Blue/Bert Blyleven/Tom Seaver
143 Dwight Gooden/Nolan Ryan/Fernando Valenzuela
144 Davey Lopes/Tim Raines/Willy Wilson
145 Tony Armas/Cecil Cooper/Ed Murray
146 Rod Carew/Rollie Fingers/Jim Rice
147 Rick Dempsey/Reggie Jackson/Alan Trammell
148 Pedro Guerrero/Mike Schmidt/Dan Porter
149 Mike Boddicker/Ron Guidry/Rick Sutcliffe
150 Reggie Jackson/Dave Kingman/Fred Lynn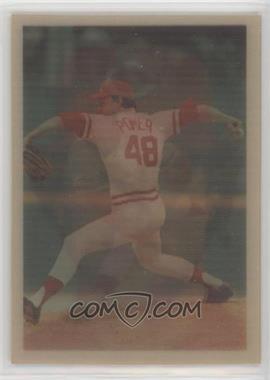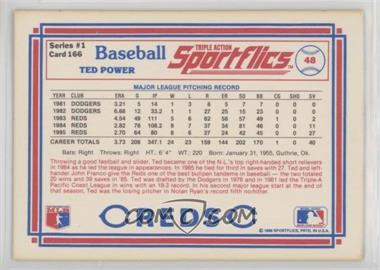 151 Buddy Bell
152 Oil Can Boyd
153 Dave Concepcion
154 Brian Downing
155 Shawon Dunston
156 John Franco
157 Scott Garrelts
158 Bob James
159 Charlie Leibrandt
160 Oddibe McDowell
161 Roger McDowell RC
162 Mike Moore
163 Phil Niekro
164 Al Oliver
165 Tony Pena
166 Ted Power
167 Mike Scioscia
168 Mario Soto
169 Bob Stanley
170 Garry Templeton
171 Andre Thornton
172 Alan Trammell
173 Doug DeCinces
174 Greg Walker
175 Don Sutton
Big Six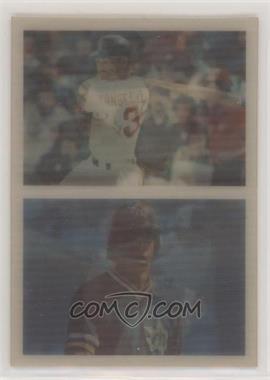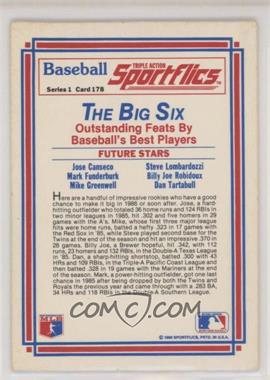 176 Awards
177 1985 Hot Rookies
178 1985 Hot Rookies
179 Gold Glove
180 Active Lifetime .300
181 Active Lifetime .300
182 1985 Milestones
183 Triple Crown
184 1985 Highlights
185 1985 20 Game Winners
World Series Champions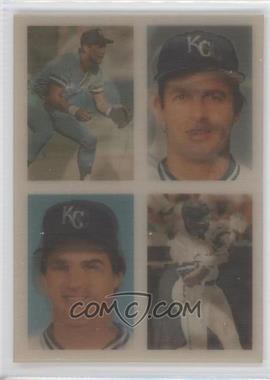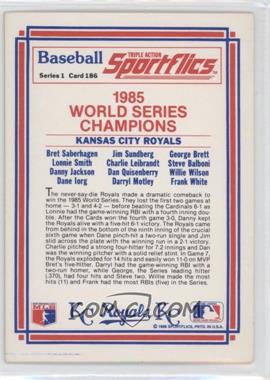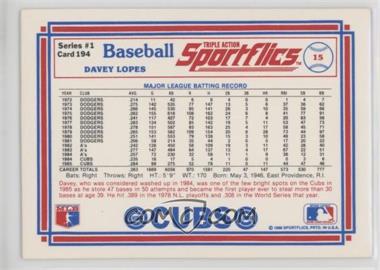 187 Hubie Brooks
188 Glenn Davis
189 Darrell Evans
190 Goose Gossage
191 Andy Hawkins
192 Jay Howell
193 La Marr Hoyt
194 Davey Lopes
195 Milt Scott
196 Ted Simmons
197 Gary Ward
198 Bob Welch
199 Mike Young
200 Buddy Biancalana
Errors
42 Robin Yount (Yankee logo on back)
178 (Jim Wilson instead of Mark Funderburk)
179 Karl Best / Mark Funderburk / Andres Galarraga / Dwayne Henry / Pete Incaviglia / Todd Worrell
Sportflics
Boxed Sets:
Rookies:
Other Sportflics Sets: