1987 Classic Update
Description
Classic Update is a 50-card set distributed as part of an update to the 1987 Classic trivia board game. Unlike the original Classic game, the Update set was sold without the game. The set is sometimes referred to as the "Travel Edition" of the game.
The card backs contain several trivia questions (and answers) which are used to play the game. A yellow border frames the full-color photo. The games were produced by Game Time, Ltd. and were available in toy stores as well as from card dealers. Cards are numbered beginning with 101, as they are an extension of the original set.
According to the set's producers, reportedly about 1/3 of the 150,000 sets printed were error sets in that they had green backs instead of yellow backs.
Early cards of Barry Bonds and Mark McGwire highlight this set. Despite the MLB/MLBPA license, none of the cards in the set are considered "true" rookies. Most cards issued of Barry Bonds tend to be off center. It is believed that the average centering on this card is approximately 80/20.
Distribution
Factory sets only. 150,000 sets produced: 100,000 with yellow backs, 50,000 with green backs.
Reviews
Insertion Ratios
| Cards | Total Cards | Numbered To | Odds |
| --- | --- | --- | --- |
| Yellow Backs | 50 | - | 50:1 |
| Green Backs | 50 | - | 50:1 |
Checklist
Base Set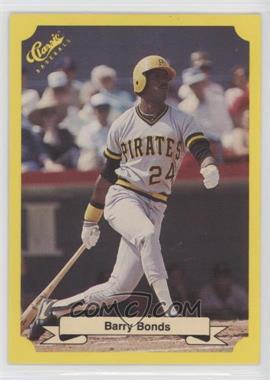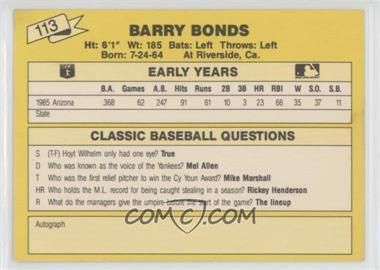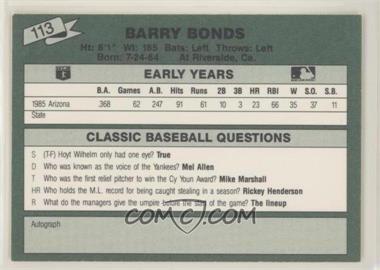 101 Mike Schmidt
102 Eric Davis
103 Pete Rose
104 Don Mattingly
105 Wade Boggs
106 Dale Murphy
107 Glenn Davis
108 Wally Joyner
109 Bo Jackson
110 Cory Snyder
111 Jim Lindeman
112 Kirby Puckett
113 Barry Bonds
114 Roger Clemens
115 Oddibe McDowell
116 Bret Saberhagen
117 Joe Magrane
118 Scott Fletcher
119 Mark McLemore
120 Joe Niekro
121 Mark McGwire
122 Darryl Strawberry
123 Mike Scott
124 Andre Dawson
125 Jose Canseco
126 Kevin McReynolds
127 Joe Carter
128 Casey Candaele
129 Matt Nokes
130 Kal Daniels
131 Pete Incaviglia
132 Benito Santiago
133 Barry Larkin
134 Gary Pettis
135 B.J. Surhoff
136 Juan Nieves
137 Jim Deshaies
138 Pete O'Brien
139 Kevin Seitzer
140 Devon White
141 Rob Deer
142 Kurt Stillwell
143 Edwin Correa
144 Dion James
145 Danny Tartabull
146 Jerry Browne
147 Ted Higuera
148 Jack Clark
149 Ruben Sierra
150 Mark McGwire / Eric Davis