1993 Donruss McDonald's Expos
Description
1993 Donruss McDonald's Expos is a 33-card set honoring the Montreal Expos' 25th anniversary. The cards were distributed exclusively at McDonald's restaurants throughout French-speaking Canada. Unlike Donruss' Blue Jays set, the design is completely original.
Randomly inserted into packs, at the rate of 1:2500 packs, was an autograph of Expos manager Felipe Alou. The Alou card was serial-numbered to 2000 copies.
Distribution
Four cards per pack.
Reviews
Checklist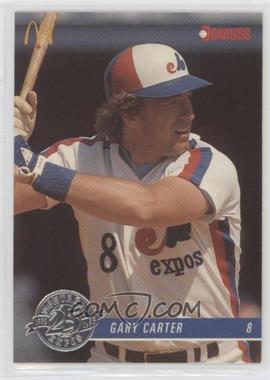 1 Moises Alou
2 Andre Dawson
3 Delino DeShields
4 Andres Galarraga
5 Marquis Grissom
6 Tim Raines
7 Larry Walker
8 Tim Wallach
9 Ken Hill
10 Dennis Martinez
11 Jeff Reardon
12 Gary Carter
13 Dave Cash
14 Warren Cromartie
15 Mack Jones
16 Al Oliver
17 Larry Parrish
18 Rodney Scott
19 Ken Singleton
20 Rusty Staub
21 Ellis Valentine
22 Woodie Fryman
23 Charlie Lea
24 Bill Lee
25 Mike Marshall
26 Claude Raymond
27 Steve Renko
28 Steve Rogers
29 Bill Stoneman
30 Gene Mauch
31 Felipe Alou
32 Buck Rodgers
33 Checklist 1-32
Autographs & Game-Used