1993 Select Rookie/Traded
Description
1993 Select Rookie/Traded was a 150-card set released in October, 1993. This was first baseball card product released under the newly renamed "Pinnacle Brands." Only 1950, 24-box cases were produced with each individual box bearing a distinct serial number. Unlike 1993 Select, Select R/T was a Hobby exclusive product.
Card design is similar to 1993 Select except for the purple borders (instead of emerald green for the base cards) and gold foil stamping on each card.
Distribution
24 pack per box, 12 cards per pack. 24 boxes per case, 1950 cases produced.
Insertion Ratios
| Cards | Total Cards | Numbered To | Odds |
| --- | --- | --- | --- |
| Base | 150 | - | ? |
| All-Star Rookies | 10 | 1950 | 1:58 |
| Rookies of the Year | 2 | 1950 | 1:288 |
| Nolan Ryan Tribute | 1 | 1950 | 1:576 |
Checklist
Base Set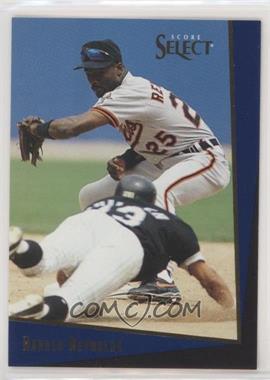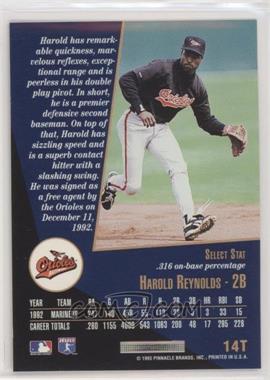 1T Rickey Henderson
2T Rob Deer
3T Tim Belcher
4T Gary Sheffield
5T Fred McGriff
6T Mark Whiten
7T Jeff Russell
8T Harold Baines
9T Dave Winfield
10T Ellis Burks
11T Andre Dawson
12T Gregg Jefferies
13T Jimmy Key
14T Harold Reynolds
15T Tom Henke
16T Paul Molitor
17T Wade Boggs
18T David Cone
19T Tony Fernandez
20T Roberto Kelly
21T Paul O'Neill
22T Jose Lind
23T Barry Bonds
24T Dave Stewart
25T Randy Myers
26T Benito Santiago
27T Tim Wallach
28T Greg Gagne
29T Kevin Mitchell
30T Jim Abbott
31T Lee Smith
32T Bobby Munoz
33T Mo Sanford
34T John Roper
35T David Hulse RC
36T Pedro Martinez
37T Chuck Carr
38T Armando Reynoso
39T Ryan Thompson
40T Carlos Garcia
41T Matt Whiteside RC
42T Benji Gil
43T Rodney Bolton
44T J.T. Snow
45T David McCarty
46T Paul Quantrill
47T Al Martin
48T Lance Painter
49T Lou Frazier RC
50T Eduardo Perez
51T Kevin Young
52T Mike Trombley
53T Sterling Hitchcock RC
54T Tim Bogar RC
55T Hilly Hathaway RC
56T Wayne Kirby
57T Craig Paquette
58T Bret Boone
59T Greg McMichael RC
60T Mike Lansing RC
61T Brent Gates
62T Rene Arocha RC
63T Ricky Gutierrez
64T Kevin Rogers
65T Ken Ryan RC
66T Phil Hiatt
67T Pat Meares RC
68T Troy Neel
69T Steve Cooke
70T Sherman Obando RC
71T Blas Minor
72T Angel Miranda
73T Tom Kramer RC
74T Chip Hale
75T Brad Pennington
76T Graeme Lloyd RC
77T Darrell Whitmore RC
78T David Nied
79T Todd Van Poppel
80T Chris Gomez RC
81T Jason Bere
82T Jeffrey Hammonds
83T Brad Ausmus
84T Kevin Stocker
85T Jeromy Burnitz
86T Aaron Sele
87T Roberto Mejia RC
88T Kirk Rueter RC
89T Kevin Roberson RC
90T Allen Watson
91T Charlie Leibrandt
92T Eric Davis
93T Jody Reed
94T Danny Jackson
95T Gary Gaetti
96T Norm Charlton
97T Doug Drabek
98T Scott Fletcher
99T Greg Swindell
100T John Smiley
101T Kevin Reimer
102T Andres Galarraga
103T Greg Hibbard
104T Chris Hammond
105T Darnell Coles
106T Mike Felder
107T Jose Guzman
108T Chris Bosio
109T Spike Owen
110T Felix Jose
111T Cory Snyder
112T Craig Lefferts
113T David Wells
114T Pete Incaviglia
115T Mike Pagliarulo
116T Dave Magadan
117T Charlie Hough
118T Ivan Calderon
119T Manny Lee
120T Bob Patterson
121T Bob Ojeda
122T Scott Bankhead
123T Greg Maddux
124T Chili Davis
125T Milt Thompson
126T Dave Martinez
127T Frank Tanana
128T Phil Plantier
129T Juan Samuel
130T Eric Young
131T Joe Orsulak
132T Derek Bell
133T Darrin Jackson
134T Tom Brunansky
135T Jeff Reardon
136T Kevin Higgins
137T Joel Johnston
138T Rick Trlicek
139T Richie Lewis RC
140T Jeff Gardner
141T Jack Voigt RC
142T Rod Correja RC
143T Billy Brewer
144T Terry Jorgensen
145T Rich Amaral
146T Sean Berry
147T Dan Peltier
148T Paul Wagner
149T Damon Buford
150T Wilfredo Cordero
Inserts
NOTE: A complete sealed case should theoretically yield all 13 inserts. The calculated production figure for all inserts is 1950 copies.
All-Star Rookies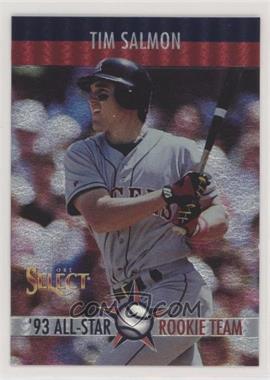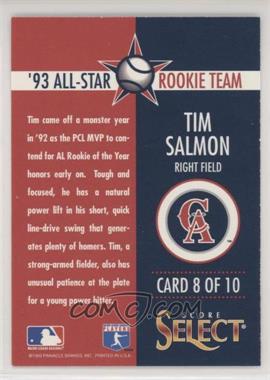 This ten-card set featured the best rookie player (in Select's opinion) at each position for the 1993 season on a Dufex finished card front.
1 Jeff Conine
2 Brent Gates
3 Mike Lansing
4 Kevin Stocker
5 Mike Piazza
6 Jeffrey Hammonds
7 David Hulse
8 Tim Salmon
9 Rene Arocha
10 Greg McMichael
Rookies of the Year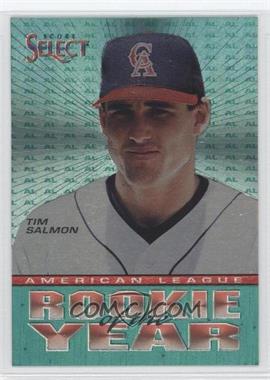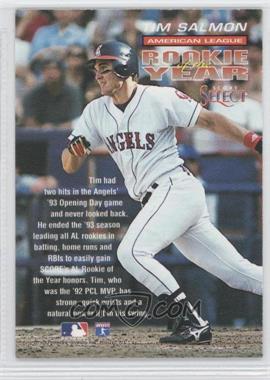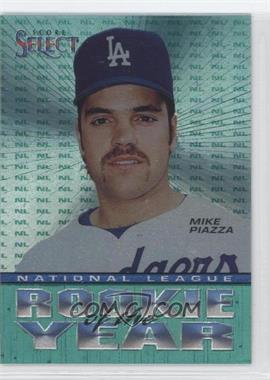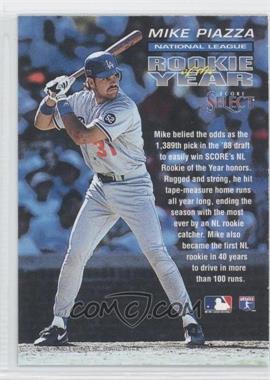 This two-card set paid tribute to the 1993 AL and NL Rookies of the Year on an emerald-green Dufex finish. The idea was similar to the 1994 Select insert tribute to Dave Winfield and Cal Ripken, Jr.
Nolan Ryan Tribute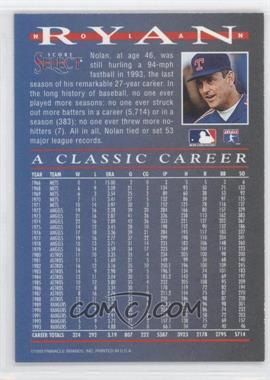 This special all-gold, concentric-radiant Dufex card was inserted as a "case hit" and commemorated the end of Nolan Ryan's career.
Select
Pinnacle Brands Era:
Panini America Era:
---
Rookie/Traded:
Other Select Brands