1994 Upper Deck The American Epic
Description
1994 Upper Deck: The American Epic is an 80-card boxed set produced in conjunction with the PBS documentary "Baseball: The American Epic," produced by Ken Burns and sponsored by GM. The set was available from leading retail stores, the QVC television network, direct mail solicitation, and the Upper Deck Authenticated catalog.
Like the documentary, the set is divided into "nine innings" and arranged chronologically. Three insert cards were included with the set. A Michael Jordan card was available for direct mail customers, a Babe Ruth card for retail customers and a Mickey Mantle card for QVC customers.
Card #77 features Pete Rose who had been banned for life from baseball five years earlier. This card remains, to date, Rose's last appearance in an officially-licensed baseball card set -- although he has appeared in numerous partially-licensed sets (e.g. 2013 Panini Prizm).
Distribution
A stand alone 80 card box set. One bonus card was included depending on where the set was bought from. (MSRP: $19.95)
Reviews
Checklist
Base Set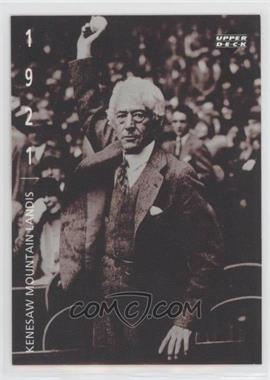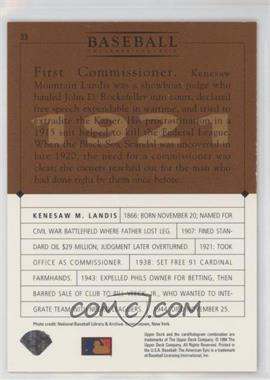 1 Our Game
2 Alexander Cartwright
3 Henry Chadwick
4 The Fair Sex
5 Harry Wright
6 Albert Spalding
7 Cap Anson
8 Moses Walker
9 King Kelly
10 John M. Ward
11 Ty Cobb
12 John McGraw
13 Rube Waddell
14 Christy Mathewson
15 Walter Johnson
16 Alta Weiss
17 Fred Merkle
19 John Henry Lloyd
20 Honus Wagner
21 Woodrow Wilson
22 Nap Lajoie
23 Addie Joss
24 Joe Wood
25 Royal Rooters
26 Ebbets Field
27 Johnny Evers
28 World War
29 Joe Jackson
30 Babe Ruth
31 Rube Foster
32 Ray Chapman
33 Kenesaw Mountain Landis
34 Yankee Stadium
35 Roger Hornsby
36 Warren G. Harding
37 Lou Gehrig
38 Grover C. Alexander
39 House of David
40 Satchel Paige
41 Lefty Grove
42 Jimmy Foxx
43 Connie Mack
44 Josh Gibson
45 Dizzy Dean
46 Carl Hubbell
47 Franklin D. Roosevelt
48 Bob Feller
49 James Bell
50 Jackie Robinson
51 Ted Williams
52 Symphony Band
53 Annabel Lee
54 Hank Greenberg
55 Branch Rickey
56 Harry S. Truman
57 Casey Stengel
58 Bobby Thomson
59 Dwight D. Eisenhower
60 Mario Cuomo
61 Buck O'Neil
62 Yogi Berra
63 Mickey Mantle
64 Don Larsen
65 John F. Kennedy
66 Bill Mazeroski
67 Roger Maris
68 Frank Robinson
69 Bob Gibson
70 Tom Seaver
71 Curt Flood
72 Roberto Clemente
73 Luis Tiant
74 Marvin Miller
75 Reggie Jackson
76 Willie Stargell
77 Pete Rose
78 Bill Clinton
79 Nolan Ryan
80 George Brett
Inserts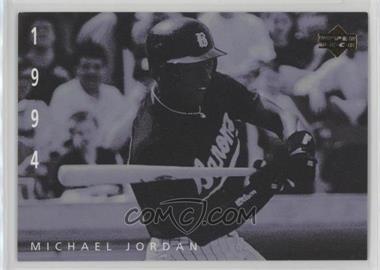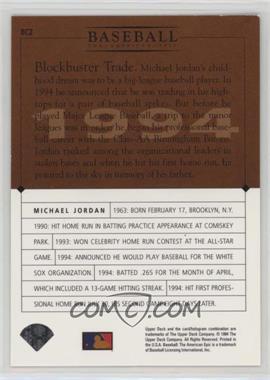 Each set contained one insert that varied depending on where it was purchased. The Michael Jordan card was exclusive to sets sold via direct mail and the Upper Deck Authenticated catalog, a Babe Ruth card for mass-market retail sets, and a Mickey Mantle card for QVC customers.
BC1 Mickey Mantle
BC2 Michael Jordan
BC3 Babe Ruth
General Motors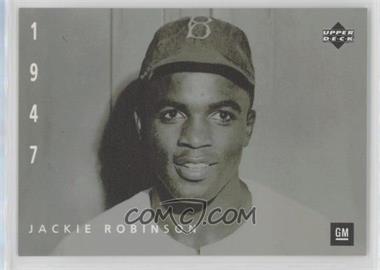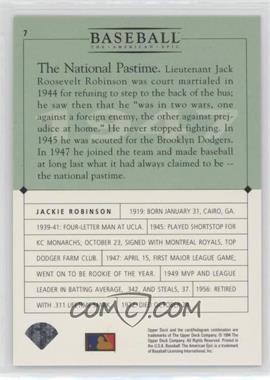 This nine-card set was exclusively available at GM dealers, for $1.00. The GM logo appears in the lower right corner.
1 Hank Aaron
2 Roberto Clemente
3 Ty Cobb
4 Hank Greenberg
5 Mickey Mantle
6 Satchel Paige
7 Jackie Robinson
8 Babe Ruth
9 Ted Williams
Little Debbie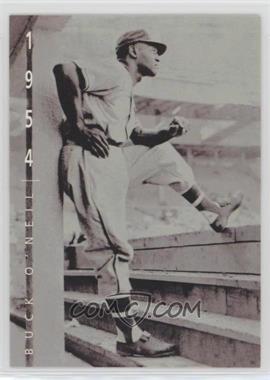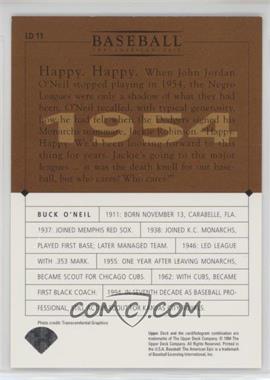 This 15-card set could be ordered through an offer on all packages of Little Debbie cakes for $3.99. The Little Debbie logo appears on the bottom of the checklist card.
LD1 Our Game
LD2 Alexander Cartwright
LD3 King Kelly
LD4 John McGraw
LD5 Christy Mathewson
LD6 Walter Johnson
LD7 Ted Williams
LD8 Annabel Lee
LD9 Jackie Robinson
LD10 Bobby Thomson
LD11 Buck O'Neil
LD12 Mickey Mantle
LD13 Bob Gibson
LD14 Curt Flood
LD15 Reggie Jackson