1996 Topps Team Topps
Description
1996 Topps Team Topps is a series of nine, 16 or 17-card team sets that were distributed exclusively at Wal-Mart stores in the summer of 1996. Each team set also came packaged with a "Big" parallel.
Team Topps cards are virtually identical to player's 1996 Topps base card, but with a special foil-stamped logo.
Distribution
One team set plus one Big card (MSRP: $4.99). Exclusive to Wal-Mart stores
Reviews
Insertion Ratios
| Cards | Total Cards | Numbered To | Retail Odds |
| --- | --- | --- | --- |
| Base | 16 or 17 | - | 16 or 17:1 |
| Big | 1 | - | 1 |
Checklist
Base Set
For five of the nine Team Topps sets, each card is struck with a "TEAM TOPPS" gold foil stamp. Four other Team Topps sets have a different foil stamp, as noted below.
Indians
Each card has a "1995 American League Champions" foil stamp.
I25 Sean Casey
I40 Orel Hershiser
I45 Albert Belle
I75 Carlos Baerga
I81 Julian Tavarez
I84 Omar Vizquel
I125 Eddie Murray
I181 Denny Martinez
I223 Albert Belle
I226 Carlos Baerga
I231 Jose Mesa
I253 Jim Thome
I276 Jose Mesa
I294 Sandy Alomar
I326 Charles Nagy
I355 Herb Perry
I358 Chad Ogea
I373 Paul Sorrento
I400 Manny Ramirez
I414 Ken Hill
I420 Kenny Lofton
Rangers
R79 Roger Pavlik
R87 Rusty Greer
R130 Kenny Rogers
R140 Ivan Rodriguez
R152 Benji Gil
R166 Mark McLemore
R178 Otis Nixon
R227 Ivan Rodriguez
R242 Jonathan Johnson
R286 Mickey Tettleton
R299 Will Clark
R325 Juan Gonzalez
R379 Dean Palmer
R387 Bob Tewksbury
Mariners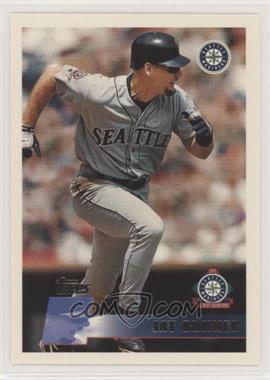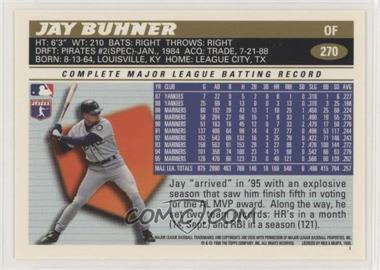 Each card has a "1995 AL West Champions" logo.
M38 Tim Belcher
M67 Felix Fermin
M94 Alex Diaz
M117 Dan Wilson
M150 Randy Johnson
M168 Tino Martinez
M205 Ken Griffey, Jr.
M224 Randy Johnson
M230 Ken Griffey, Jr.
M238 Shane Monahan
M247 Edgar Martinez
M263 Vince Coleman
M270 Jay Buhner
M304 Joey Cora
M314 Andy Benes
M353 Bob Wolcott
M392 Norm Charlton
M419 Mike Blowers
Yankees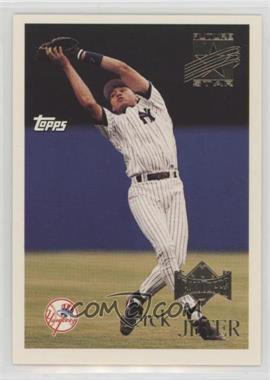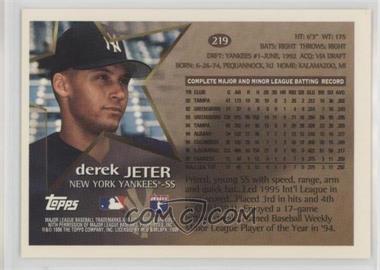 Y7 Mickey Mantle
Y27 Tony Fernandez
Y68 Bernie Williams
Y95 John Wetteland
Y124 David Cone
Y135 Mike Stanley
Y185 Don Mattingly
Y203 Jack McDowell
Y219 Derek Jeter
Y225 Wade Boggs
Y245 Brian Buchanan
Y273 Jimmy Key
Y284 Paul O'Neill
Y290 Ruben Sierra
Y323 Wade Boggs
Y346 Ruben Rivera
Y361 Randy Velarde
Y378 Andy Pettitte
Braves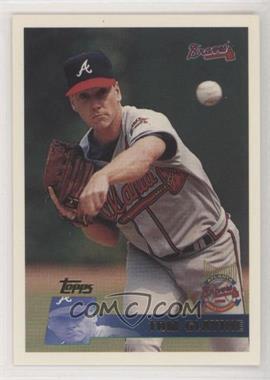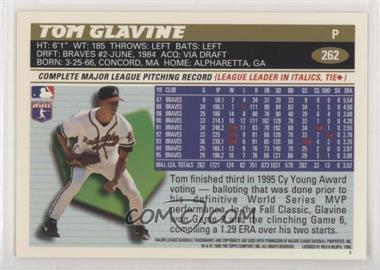 Each card has a "World Champions" logo.
B3 Greg Maddux
B8 Tom Glavine
B12 Jim Scharrer
B49 Mark Wohlers
B60 Dave Justice
B83 Mark Lemke
B165 Steve Avery
B177 Chipper Jones
B189 John Smoltz
B193 Ryan Klesko
B262 Tom Glavine
B266 Kent Mercker
B297 Marquis Grissom
B318 Greg Maddux
B367 Javy Lopez
B389 Fred McGriff
B406 Jeff Blauser
Dodgers
Each card has a "35th Anniversary" foil stamp.
D2 Mike Piazza
D48 Todd Hollandsworth
D89 Jose Offerman
D136 Hideo Nomo
D153 Tom Candiotti
D175 Raul Mondesi
D196 Eric Karros
D206 Ramon Martinez
D217 Karim Garcia
D236 David Yocum
D246 Mike Piazza
D277 Brett Butler
D312 Delino DeShields
D324 Ismael Valdes
D402 Chad Fonville
D412 Todd Worrell
Orioles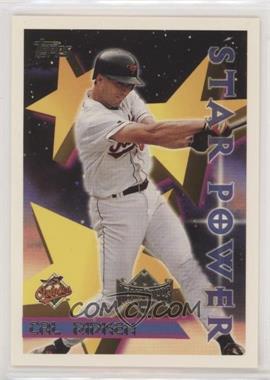 O34 Manny Alexander
O65 Mike Mussina
O96 Cal Ripken, Jr.
O121 Curtis Goodwin
O183 Doug Jones
O191 Chris Hoiles
O200 Cal Ripken, Jr.
O222 Cal Ripken, Jr.
O228 Mike Mussina
O234 Alvie Shepherd
O258 Brady Anderson
O320 Ben McDonald
O329 Bobby Bonilla
O352 Rick Krivda
O354 Jimmy Haynes
O357 Harold Baines
O376 Kevin Brown
O395 Rafael Palmeiro
Cubs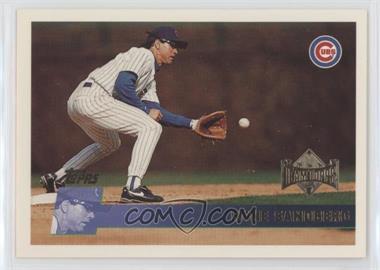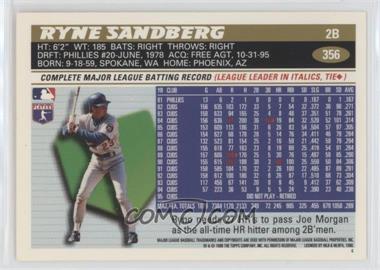 C35 Todd Zeile
C55 Mark Grace
C62 Kevin Foster
C146 Frank Castillo
C184 Brian McRae
C198 Randy Myers
C239 Brian McNichol
C252 Sammy Sosa
C278 Luis Gonzalez
C287 Rey Sanchez
C316 Jim Bullinger
C344 Brooks Kieschnick
C356 Ryne Sandberg
C381 Jaime Navarro
C399 Shawon Dunston
White Sox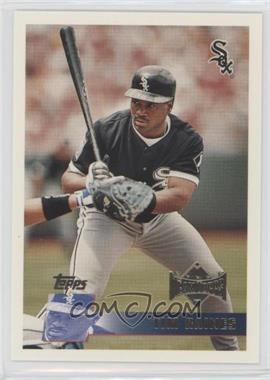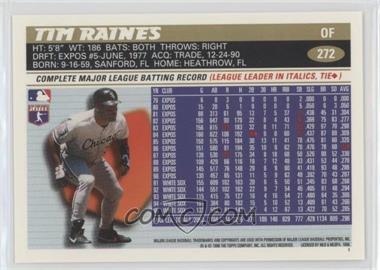 W52 Ron Karkovice
W100 Frank Thomas
W119 Lyle Mouton
W129 Ozzie Guillen
W159 Wilson Alvarez
W173 Ray Durham
W194 Alex Fernandez
W229 Frank Thomas
W243 Jeff Liefer
W272 Tim Raines
W310 Robin Ventura
W345 Chris Snopek
W375 Lance Johnson
W405 Roberto Hernandez
Inserts
Big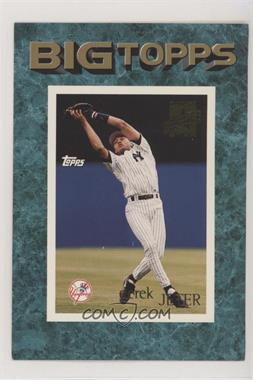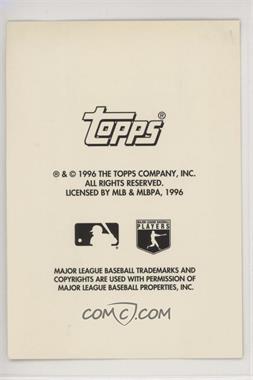 One 3 1/2" X 5" Big card was included in each team set.
Albert Belle
Juan Gonzalez
Ken Griffey, Jr.
Derek Jeter
Greg Maddux
Hideo Nomo
Cal Ripken, Jr.
Ryne Sandberg
Frank Thomas