1998 Donruss Crusade
Description
1998 Donruss Crusade is a 130-card set released across a variety of 1998 Donruss and Leaf brands. The fronts featured color player photos with a Medieval design theme and were printed on chromium stock with a holographic foil finish. The product insertion breakdown is as follows:
Donruss had plans for extending the Crusade set into 1999 and beyond, however with the bankruptcy of their parent Pinnacle Brands, those plans never came to fruition. However, in the years since a number of Crusades with card numbers above 130 have surfaced as many of these cards were "backdoored" after the Pinnacle Brands bankruptcy (see Unreleased Cards section below).
There are two types of Crusade cards and three color variations:
Type: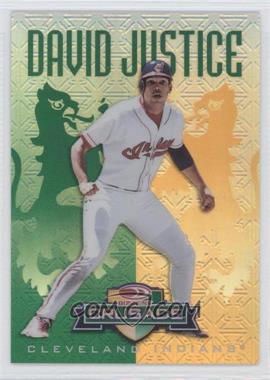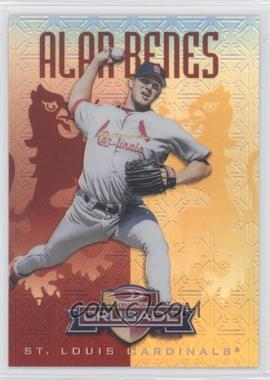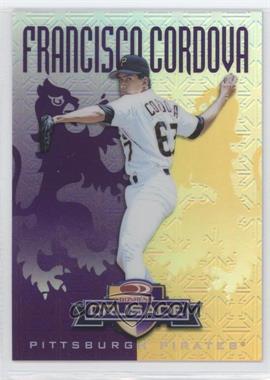 Call to Arms (CTA): All of the CTA Crusade cards that were officially released/packed-out were mistakenly printed without card numbers. No corrections to this error was made.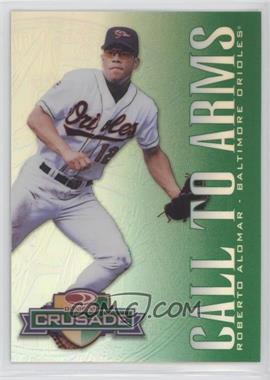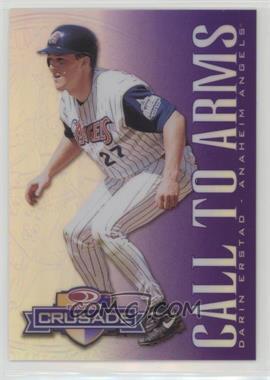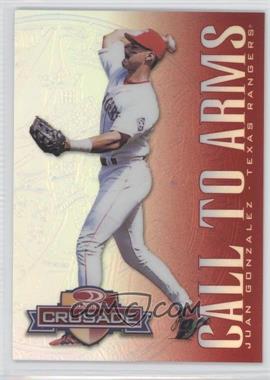 Color:
Green (serial-numbered to 250)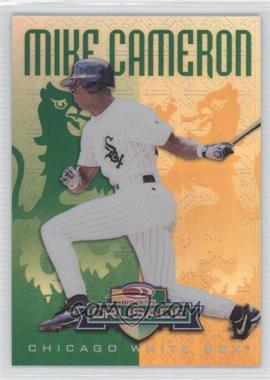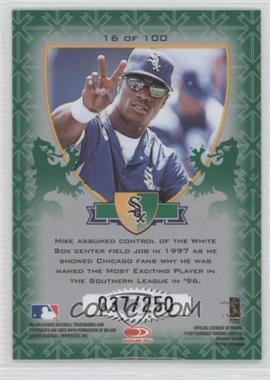 Purple (serial-numbered to 100)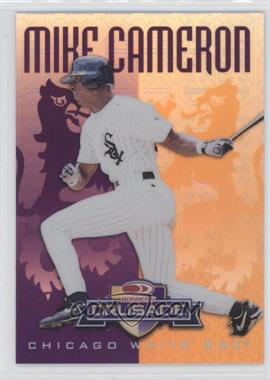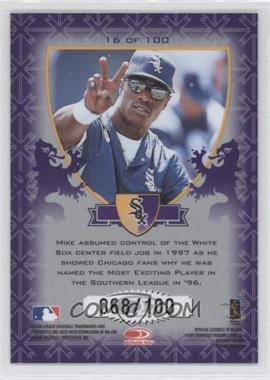 Red (serial-numbered to 25)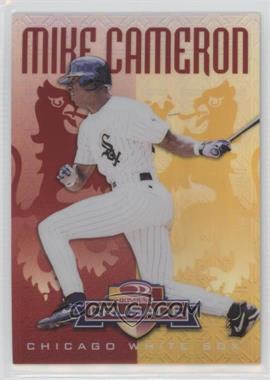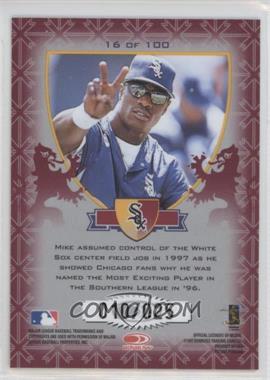 Checklist
1 Tim Salmon U
2 Garret Anderson U
3 Jim Edmonds CTA L
4 Darin Erstad CTA L
5 Jason Dickson D
6 Todd Greene D
7 Roberto Alomar CTA D
8 Cal Ripken, Jr. D
9 Rafael Palmeiro CTA U
10 Brady Anderson U
11 Mike Mussina L
12 Mo Vaughn CTA D
13 Nomar Garciaparra D
14 Frank Thomas CTA U
15 Albert Belle CTA L
16 Mike Cameron D
17 Robin Ventura U
18 Manny Ramirez L
19 Jim Thome CTA L
20 Sandy Alomar, Jr. D
21 Dave Justice D
22 Matt Williams U
23 Tony Clark U
24 Bubba Trammell L
25 Justin Thompson D
26 Bob Higginson L
27 Kevin Appier D
28 Paul Molitor L
29 Chuck Knoblauch CTA U
30 Todd Walker L
31 Bernie Williams U
32 Derek Jeter CTA U
33 Tino Martinez D
34 Andy Pettitte L
35 Wade Boggs CTA L
36 Hideki Irabu D
37 Jose Canseco D
38 Jason Giambi U
39 Ken Griffey, Jr. D
40 Alex Rodriguez CTA L
41 Randy Johnson L
42 Edgar Martinez D
43 Jay Buhner CTA U
44 Juan Gonzalez CTA U
45 Will Clark D
46 Ivan Rodriguez L
47 Rusty Greer D
48 Roger Clemens L
49 Carlos Delgado U
50 Shawn Green D
51 Jose Cruz, Jr. D
52 Kenny Lofton D
53 Chipper Jones D
54 Andruw Jones CTA L
55 Greg Maddux U
56 John Smoltz CTA L
57 Tom Glavine U
58 Javy Lopez L
59 Fred McGriff L
60 Mark Grace U
61 Sammy Sosa CTA U
62 Kevin Orie D
63 Barry Larkin CTA U
64 Pokey Reese L
65 Deion Sanders D
66 Andres Galarraga L
67 Larry Walker D
68 Dante Bichette CTA D
69 Neifi Perez U
70 Eric Young L
71 Todd Helton D
72 Gary Sheffield CTA U
73 Moises Alou L
74 Bobby Bonilla D
75 Kevin Brown D
76 Ben Grieve L
77 Jeff Bagwell CTA U
78 Craig Biggio D
79 Mike Piazza L
80 Raul Mondesi U
81 Hideo Nomo CTA U
82 Wilton Guerrero D
83 Rondell White CTA U
84 Vladimir Guerrero CTA U
85 Pedro Martinez D
86 Edgardo Alfonzo D
87 Todd Hundley CTA U
88 Scott Rolen D
89 Francisco Cordova D
90 Jose Guillen D
91 Jason Kendall L
92 Ray Lankford D
93 Mark McGwire CTA D
94 Matt Morris D
95 Alan Benes L
96 Brian Jordan CTA U
97 Tony Gwynn L
98 Ken Caminiti CTA L
99 Barry Bonds CTA U
100 Shawn Estes D
Leaf Rookies & Stars Series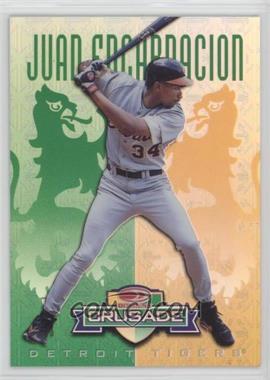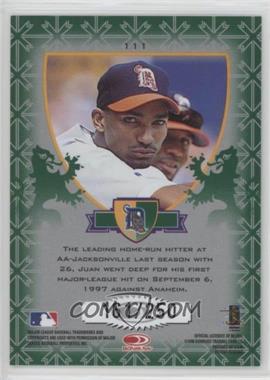 101 Richard Hidalgo
102 Paul Konerko
103 Miguel Tejada
104 Fernando Tatis
105 Travis Lee
106 Wes Helms
107 Rich Butler
108 Mark Kotsay
109 Eli Marrero
110 David Ortiz
111 Juan Encarnacion
112 Jaret Wright
113 Livan Hernandez
114 Ron Wright
115 Ryan Christenson
116 Eric Milton
117 Brad Fullmer
118 Karim Garcia
119 Abraham Nunez
120 Ricky Ledee
121 Carl Pavano
122 Derrek Lee
123 A.J. Hinch
124 Brian Rose
125 Bobby Estalella
126 Kevin Millwood
127 Kerry Wood
128 Sean Casey
129 Russell Branyan
130 Magglio Ordonez
Executive Promos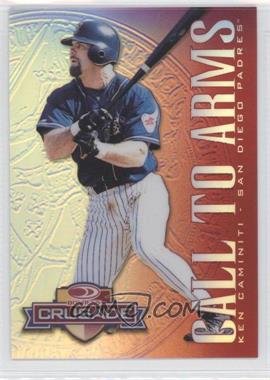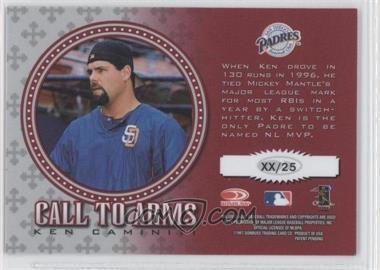 These cards are serial-numbered either "XXX/250" (green), "XXX/100" (purple), or "XX/25" (red). The serial-numbering is printed rather than stamped. These cards were produced for Donruss staff and were used in-house for final approval and quality control before production. Many collectors believe that 1-2 copies of an Executive Promo each player for each color were produced for all cards in the officially released set (i.e., cards #1 - #130).
Because of the popularity of the Crusade set in general and potential rarity of Executive Promos specifically, these command strong premiums in the secondary sales market over the pack-issued Crusades.
Unreleased Cards
A number of additional Crusade cards (sequentially numbered #131 - #200 in the set) were produced by Donruss for future 1998 and 1999 baseball products, but were never officially released due to the bankruptcy of Pinnacle Brands. However, all 70 of these known, unreleased Crusades emerged on the secondary market shortly after Pinnacle's bankruptcy. None of these unreleased Crusades are serial-numbered. While Major League Baseball Properties (MLBP) instructed Pinnacle Brands - which included the Donruss and Leaf products - to destroy its baseball card inventory after the bankruptcy filing, some Donruss employees collated and kept these unreleased Crusades and sold them to Dave and Adam's Card World, a sports card and collectibles store. In turn, they sold the entire lot to a private collector, which then traded hands again to another private collector. Had these Crusades not been backdoored, collectors may have never seen these.
While many collectors believe that one copy of the Red and Purple and two copies of the Green of each player from this unreleased portion of the set exist, this is more of an exception than the norm. The large majority of players only have one of each color, with some players not having one or two colors confirmed to exist.
Most players in the initial Crusade set (#1 - #100) were to have a "base" and "Call to Arms" (CTA) card, for all three colors. The first Crusade "type" for each of these players were released in packs of 1998 Donruss, Leaf, and Donruss Update; however, the second Crusade "type" for many players were part of this unreleased set. For example, the Ken Griffey, Jr. CTA Crusade was one of these unreleased cards that emerged on the secondary market after the bankruptcy - Griffey, Jr. had a "base" Crusade that was officially released in packs but his CTA subset was to be featured in sets that were never officially released.
Unlike the CTA Crusades that were inserted into packs, all unreleased CTA cards are sequentially-numbered.
Because of the popularity of the Crusade set in general and potential rarity of the unreleased Crusades specifically, these command also strong premiums in the secondary sales market over the pack-issued Crusades.
These cards are sequentially-numbered beginning at #131. The players and cards in the checklist below have been confirmed to exist.
NOTES:
Rickey Henderson (#166) and Vinny Castilla (#138) both do not have a Crusade that was released in packs but have a Crusade in this Unreleased set
Both of Mo Vaughn's Crusades (#12 & #196) - pack-issued and in the unreleased set - were the CTA version; Vaughn does not have a "base" Crusade
All player cards between #131 - #200 have been accounted for
131 Ken Griffey, Jr. CTA (Green, Purple, Red)
132 Frank Thomas (Green, Purple, Red)
133 Todd Helton CTA (Green, Purple, Red)
134 Ben Grieve CTA (Green, Purple, Red)
135 Michael Tucker (Purple, Red)
136 David Segui (Purple, Red)
137 Eric Karros (Green, Red)
138 Vinny Castilla (Green, Purple, Red)
139 Curt Schilling (Green, Purple, Red)
140 Sandy Alomar, Jr. CTA (Green, Purple)
141 Henry Rodriguez (Green, Purple, Red)
142 Rusty Greer CTA (Green, Purple, Red)
143 Dante Bichette (Green, Purple, Red)
144 Andy Pettitte CTA (Green, Purple, Red)
145 Roberto Alomar (Green)
146 Randy Johnson CTA (Green, Purple, Red)
147 Manny Ramirez CTA (Green, Purple, Red)
148 Paul Molitor CTA (Green, Purple, Red)
149 Mike Mussina (Green, Red)
150 Jim Thome (Green, Purple, Red)
151 Tino Martinez CTA (Green, Purple, Red)
152 Gary Sheffield (Green, Purple, Red)
153 Chuck Knoblauch (Green, Purple, Red)
154 Bernie Williams CTA (Green, Purple, Red)
155 Tim Salmon CTA (Green, Purple, Red)
156 Sammy Sosa (Green, Purple, Red)
157 Wade Boggs (Red)
158 Andres Galarraga CTA (Green, Purple, Red)
159 Pedro Martinez CTA (Green, Purple)
160 David Justice (Green, Purple, Red)
161 Chan Ho Park (Green, Red)
162 Brian Jordan (Green, Purple, Red)
163 Ryan Klesko (Green, Purple, Red)
164 Barry Larkin (Green, Purple, Red)
165 Will Clark CTA (Green, Purple, Red)
166 Ricky Henderson (Green, Purple, Red)
167 Jim Edmonds (Green, Purple, Red)
168 Jason Giambi CTA (Green, Red)
169 John Smoltz (Green, Purple)
170 Ken Caminiti (Green, Purple)
171 Craig Biggio CTA (Green, Purple)
172 Matt Williams (Green)
173 Edgar Martinez CTA (Green, Purple, Red)
174 Mark Grace CTA (Green, Purple, Red)
175 Cal Ripken, Jr. CTA (Green, Purple, Red)
176 Alex Rodriguez (Green, Purple, Red)
177 Greg Maddux CTA (Green)
178 Mike Piazza CTA (Green, Purple, Red)
179 Chipper Jones CTA (Green, Purple, Red)
180 Tony Gwynn CTA (Green, Purple, Red)
181 Derek Jeter (Green, Purple, Red)
182 Jeff Bagwell (Green, Purple, Red)
183 Juan Gonzalez (Green, Purple, Red)
184 Nomar Garciaparra CTA (Green, Purple, Red)
185 Andruw Jones (Green, Purple, Red)
186 Edgar Renteria (Green, Purple, Red)
187 Raul Mondesi CTA (Green, Purple, Red)
188 Roger Clemens CTA (Green, Purple, Red)
189 Mark McGwire (Green, Red)
190 Scott Rolen CTA (Green, Purple, Red)
191 Vladimir Guerrero (Green, Purple, Red)
192 Barry Bonds (Green, Purple, Red)
193 Darin Erstad (Green, Purple, and Red)
194 Albert Belle (Green, Purple, and Red)
195 Kenny Lofton CTA (Green, Purple, Red)
196 Mo Vaughn CTA (Green, Purple, Red)
197 Ivan Rodriguez CTA (Red)
198 Jose Cruz, Jr. CTA (Green, Purple, Red)
199 Tony Clark CTA (Green, Purple, Red)
200 Larry Walker CTA (Green, Purple, Red)