2002 Sweet Spot Classics
Description
2002 Sweet Spot Classics is a 90-card set released by Upper Deck in February 2002. The product focuses exclusively on retired players and had no active Major League players.
This set was notable for featuring the first ever licensed, game-used, nameplate bat barrel cards of any player, retired or active. This landmark innovation in the game-used memorabilia craze that was in full gear at the time was both novel and trendsetting as competing companies began featuring nameplate barrels in subsequent releases in later years and are still featured in modern-day releases (although modern day releases are not explicitly game-used as these were).
Each 12-pack box will yield three game-used memorabilia cards and every other box a Sweet Spot Signature on a mounted piece of leather.
Distribution
12 packs per box, four cards per pack. Eight boxes per case. Hobby only.
Reviews
Insertion Ratios
| Cards | Total Cards | Numbered To | Hobby Odds |
| --- | --- | --- | --- |
| Base | 90 | - | 4:1 |
| Game Bat | 30 | - | 1:8 |
| Game Bat Gold | 30 | 25 | ? |
| Game Jersey | 27 | - | 1:8 |
| Game Jersey Gold | 27 | 25 | ? |
| Bat Barrels | 29 | varies | ? |
| Signatures | 34 | - | 1:24 |
| Signatures Gold | 34 | 25 | ? |
Checklist
Base Set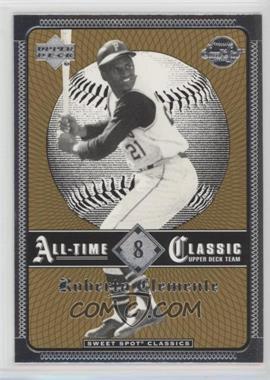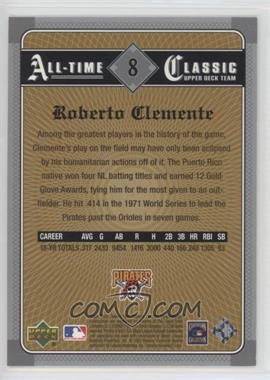 1 Mickey Mantle
2 Joe DiMaggio
3 Babe Ruth
4 Ty Cobb
5 Nolan Ryan
6 Sandy Koufax
7 Cy Young
8 Roberto Clemente
9 Lefty Grove
10 Lou Gehrig
11 Walter Johnson
12 Honus Wagner
13 Christy Mathewson
14 Jackie Robinson
15 Joe Morgan
16 Reggie Jackson
17 Eddie Collins
18 Cal Ripken, Jr.
19 Hank Greenberg
20 Harmon Killebrew
21 Johnny Bench
22 Ernie Banks
23 Willie McCovey
24 Mel Ott
25 Tom Seaver
26 Tony Gwynn
27 Dave Winfield
28 Willie Stargell
29 Mark McGwire
30 Al Kaline
31 Jimmy Foxx
32 Satchel Paige
33 Eddie Murray
34 Lou Boudreau
35 Joe Jackson
36 Luke Appling
37 Ralph Kiner
38 Robin Yount
39 Paul Molitor
40 Juan Marichal
41 Brooks Robinson
42 Wade Boggs
43 Kirby Puckett
44 Yogi Berra
45 George Sisler
46 Buck Leonard
47 Billy Williams
48 Duke Snider
49 Don Drysdale
50 Bill Mazeroski
51 Tony Oliva
52 Luis Aparicio
53 Carlton Fisk
54 Kirk Gibson
55 Catfish Hunter
56 Joe Carter
57 Gaylord Perry
58 Don Mattingly
59 Eddie Mathews
60 Fergie Jenkins
61 Roy Campanella
62 Orlando Cepeda
63 Tony Perez
64 Dave Parker
65 Richie Ashburn
66 Andre Dawson
67 Dwight Evans
68 Rollie Fingers
69 Dale Murphy
70 Ron Santo
71 Steve Garvey
72 Monte Irvin
73 Alan Trammell
74 Ryne Sandberg
75 Gary Carter
76 Fred Lynn
77 Maury Wills
78 Ozzie Smith
79 Bobby Bonds
80 Mickey Cochrane
81 Dizzy Dean
82 Graig Nettles
83 Keith Hernandez
84 Boog Powell
85 Jack Clark
86 Dave Stewart
87 Tom Lasorda
88 Dennis Eckersley
89 Ken Griffey, Sr.
90 Bucky Dent
Autographs & Game-Used
Game Bat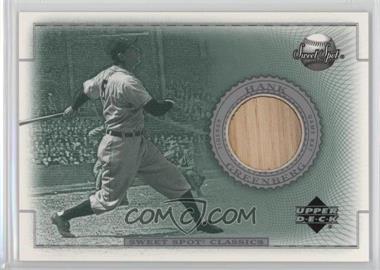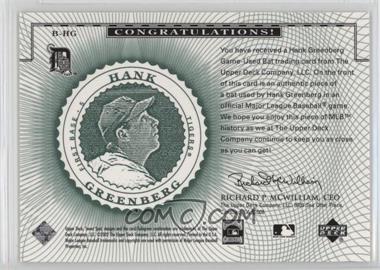 Each Game Bat is also available in a Gold parallel, which is serial-numbered to 25 copies.
B-AK Al Kaline
B-BBO Bob Boone
B-BBU Bill Buckner
B-BD Bucky Dent
B-BM Bill Madlock
B-BR Brooks Robinson
B-BW Billy Williams
B-CR Cal Ripken, Jr. DP
B-DE Dwight Evans
B-DM Don Mattingly
B-DP Dave Parker
B-DW Dave Winfield DP
B-FJ Fergie Jenkins
B-FL Fred Lynn
B-GC Gary Carter
B-GN Graig Nettles
B-HG Hank Greenberg SP
B-JB Johnny Bench
B-JD Joe DiMaggio SP 40
B-KG Ken Griffey, Sr. DP
B-KP Kirby Puckett DP
B-NR Nolan Ryan
B-PM Paul Molitor
B-RC Roberto Clemente
B-RJ Reggie Jackson
B-SG Steve Garvey
B-TG Tony Gwynn DP
B-TM Thurman Munson
B-WB Wade Boggs DP
B-YB Yogi Berra
Game Jersey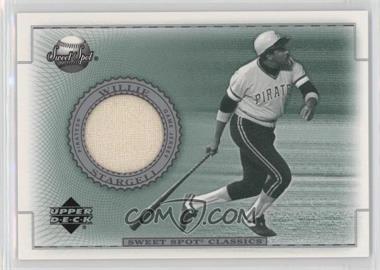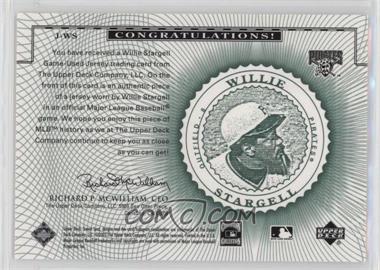 Each Game Jersey is also available in a Gold parallel, which is serial-numbered to 25 copies.
J-BM Bill Madlock
J-BW Billy Williams
J-CR Cal Ripken, Jr. DP
J-DM Don Mattingly DP
J-DP Dave Parker
J-DSN Duke Snider SP 53
J-DST Dave Stewart
J-EM Eddie Murray
J-GC Gary Carter
J-GN Graig Nettles
J-JC Joe Carter
J-JD Joe DiMaggio SP 53
J-JMA Juan Marichal
J-MM Mickey Mantle SP 53
J-NR Nolan Ryan DP
J-OS Ozzie Smith
J-PM Paul Molitor DP
J-RF Rollie Fingers
J-RJ Reggie Jackson
J-RS Ryne Sandberg
J-RY Robin Yount DP
J-SG Steve Garvey
J-SK Sandy Koufax SP
J-TG Tony Gwynn DP
J-TS Tom Seaver
J-WB Wade Boggs
J-WS Willie Stargell
Bat Barrels
BB-AK Al Kaline 4
BB-BM Bill Madlock 1
BB-BR Brooks Robinson 2
BB-BW Billy Williams 2
BB-BAR Babe Ruth 1
BB-BBO Bob Boone 2
BB-CR Cal Ripken, Jr. 5
BB-DE Dwight Evans 1
BB-DM Don Mattingly 1
BB-DP Dave Parker 4
BB-DW Dave Winfield 1
BB-FJ Fergie Jenkins 1
BB-FL Fred Lynn 2
BB-GC Gary Carter 1
BB-GN Graig Nettles 2
BB-HG Hank Greenberg 1
BB-JB Johnny Bench 5
BB-JD Joe DiMaggio 5
BB-KG Ken Griffey, Sr. 3
BB-KP Kirby Puckett 4
BB-NR Nolan Ryan 4
BB-PM Paul Molitor 4
BB-RC Roberto Clemente 1
BB-RJ Reggie Jackson 13
BB-SG Steve Garvey 1
BB-TG Tony Gwynn 12
BB-TM Thurman Munson 1
BB-WB Wade Boggs 2
BB-YB Yogi Berra 3
Signatures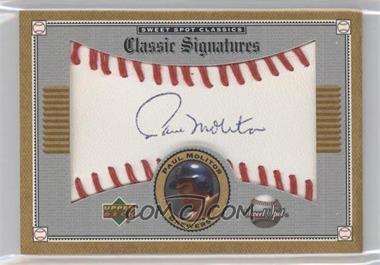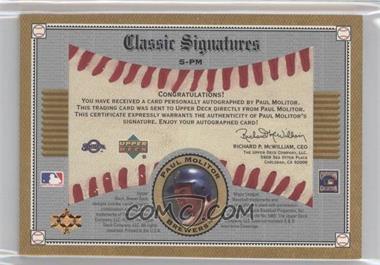 Each Signature is also available in a Gold parallel, which is serial-numbered to 25 copies.
NOTES
Shortly after the product's release, Upper Deck issued production runs on specific players; however, none of the cards are serial-numbered.
Other cards are believed to be in shorter supply, but print runs were not divulged.
Don Mattingly's card was produced in a greater supply, compared to others in the set.
S-AD Andre Dawson SP 100
S-AK Al Kaline
S-AT Alan Trammell
S-BD Bucky Dent
S-BM Bill Mazeroski
S-BP Boog Powell
S-BR Brooks Robinson
S-CF Carlton Fisk SP 100
S-CR Cal Ripken, Jr.
S-DAM Dale Murphy
S-DAS Dave Stewart
S-DEE Dennis Eckersley
S-DOM Don Mattingly DP
S-DW Dave Winfield SP 70
S-EB Ernie Banks
S-FJ Fergie Jenkins
S-FL Fred Lynn
S-GP Gaylord Perry
S-JB Johnny Bench
S-JM Joe Morgan
S-KG Kirk Gibson SP
S-KH Keith Hernandez
S-KP Kirby Puckett SP 74
S-NR Nolan Ryan SP 74
S-OS Ozzie Smith SP 137
S-PM Paul Molitor
S-RF Rollie Fingers
S-RJ Reggie Jackson SP
S-SG Steve Garvey
S-SK Sandy Koufax SP
S-TL Tom Lasorda
S-TS Tom Seaver
S-WM Willie McCovey SP
S-YB Yogi Berra SP 100
Hawaii Signatures
One card from this set was given away to attendees of the annual Hawaii Trade Conference. With the exception of "HAWAII XVII" running along the left side of the card, there is nothing differentiating these cards from the Signatures that were pulled in Sweet Spot Classics packs.
Cards were not serial-numbered and the production figures listed below were released by UD during the show.
S-AD Andre Dawson 10
S-AK Al Kaline 25
S-AT Alan Trammell 25
S-BD Bucky Dent 25
S-BP Boog Powell 25
S-BR Brooks Robinson 25
S-CF Carlton Fisk 10
S-CR Cal Ripken, Jr. 10
S-DE Dennis Eckersley 25
S-DM Dale Murphy 10
S-DS Dave Stewart 25
S-EB Ernie Banks 10
S-FJ Fergie Jenkins 25
S-FL Fred Lynn 25
S-GP Gaylord Perry 25
S-KH Keith Hernandez 20
S-PM Paul Molitor 25
S-RF Rollie Fingers 25
S-SG Steve Garvey 25
S-SK Sandy Koufax 5
Sweet Spot
Sweet Spot
Sweet Spot Classics: