2008 eTopps Allen and Ginter Yankee Stadium Tribute
Description
2008 eTopps Allen and Ginter Yankee Stadium Tribute is an eleven-card set, distributed exclusively through Topps's eTopps platform. 1499 sets were produced and made available on a first-come, first-served basis beginning August 4th, 2008 at 1:00pm ET.
The first seven cards in the set parallel the 2008 Topps NSCC VIP set. Cards 8 through 10 are also done in the same style, and are in the same mini-sized dimensions. Card 11 is standard-sized and features a Yankee Stadium final season logo.
As with all eTopps cards, all feature a holographic sheen and come encased in a plastic holder.
Distribution
1499 factory sets, available exclusively on eTopps.com
Reviews
Checklist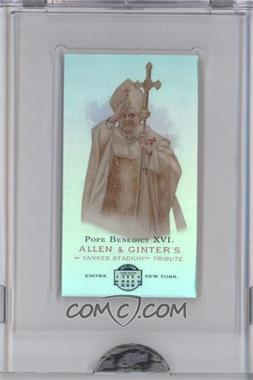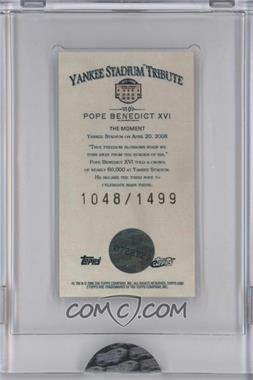 1 Babe Ruth
2 Lou Gehrig
3 Jackie Robinson
4 Don Larsen
5 Johnny Unitas
6 Roger Maris
7 Mickey Mantle
8 Reggie Jackson
9 Aaron Boone
10 Pope Benedict XVI
11 Yankee Stadium