2009 Topps Unique
Description
2009 Topps Unique is a 200-card set released exclusively to Hobby outlets November 18th, 2009. The last 50 cards are serial-numbered to 2699 copies. This would be the only Topps Unique product.
Each 24-pack box will yield one autograph, one Relic, and one Patch or Jumbo Relic card. Each 10-box Hobby case will yield a Relic or Autographed Relic serial-numbered to six or less.
Insertion Ratios
| Cards | Total Cards | Numbered To | Hobby Odds |
| --- | --- | --- | --- |
| Base | 200 | - | ? |
| short set | 150 | - | ? |
| Rookie Subset | 50 | 2699 | 1:2 |
| Premier | 200 | 1199 | one-per-pack |
| Select | 200 | 99 | ? |
| Reserve | 200 | 25 | ? |
| Unique | 200 | one-of-one | ? |
| Unique Unis | 20 | - | I |
| Unique Unis Select | 10 | 99 | ? |
| Unique Unis Reserve | 20 | 25 | ? |
| Unique Unis Unique | 20 | one-of-one | ? |
| Unparallelled Performances | 20 | - | I |
| Unparallelled Performances Select | 10 | 99 | ? |
| Unparallelled Performances Reserve | 20 | 25 | ? |
| Unparallelled Performances Unique | 20 | one-of-one | ? |
| Alone at the Top | 10 | - | I |
| Alone at the Top Select | 10 | 99 | ? |
| Alone at the Top Reserve | 10 | 25 | ? |
| Alone at the Top Unique | 10 | one-of-one | ? |
| Presidential Plates | 44 | - | ? |
| Presidential Plates Platinum | 44 | one-of-one | ? |
| Solo Shot Relics | 25 | 275 | R |
| Dual Distinction Relics | 25 | 99 | R |
| Triple Threat Relics | 25 | 25 | R |
| Solo Shot Autographs | 29 | - | AU |
| Dual Distinction Autographs | 10 | 25 | AU |
| Triple Threat Autographs | 10 | 10 | AU |
| Primetime Patches | 121 | 99 | P/JR |
| Jumbo Relics | 40 | 40 | P/JR |
| Solo Shot Autograph Relics | 10 | 25 | ? |
| Dual Distinction Autograph Relics | 10 | 10 | ? |
| Triple Threat Autograph Relics | 10 | 5 | ? |
| Jumbo Autograph Relics | 16 | 15 | ? |
| Bat Barrel Relics | 10 | one-of-one | UR |
| Bat Knob Relics | 100 | one-of-one | UR |
| MLB Logo Man Relics | 309 | one-of-one | UR |
| Majestic Tag Relics | 27 | one-of-one | UR |
| Russell Logo Relics | 36 | one-of-one | UR |
| Authentic Tag Relics | 11 | one-of-one | UR |
| Button Relics | 80 | 6 | UR |
| Bat Barrel Autographs | 10 | one-of-one | UR |
| Bat Knob Autographs | 100 | one-of-one | UR |
| MLB Logo Man Autographs | 309 | one-of-one | UR |
| Majestic Tag Autographs | 37 | one-of-one | UR |
| Russell Logo Autographs | 26 | one-of-one | UR |
| Button Autographs | 80 | 6 | UR |
I: Odds of finding an insert: 1:2/packs
R: Odds of finding a Relic: 1:24/packs
AU: Odds of finding an autograph: 1:24/packs
P/JR: Odds of finding a Primetime Patch or a Jumbo Relic: 1:24/packs
UR: Odds of finding a "Unique Relic": 1:240/packs
Checklist
Base Set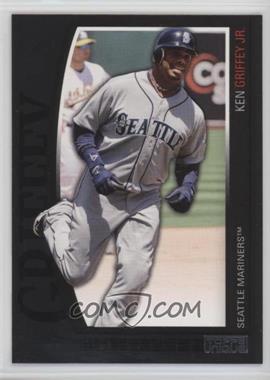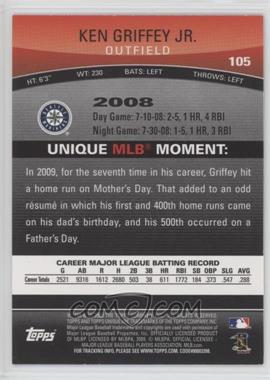 1 Nick Markakis
2 Geovany Soto
3 Brandon Phillips
4 Torii Hunter
5 Jay Bruce
6 Cliff Lee
7 Jose Reyes
8 Justin Masterson
9 Jermaine Dye
10 Ryan Braun
11 Ubaldo Jimenez
12 Carlos Lee
13 Alex Rodriguez
14 Jon Lester
15 Chipper Jones
16 Justin Morneau
17 Dan Haren
18 Andre Ethier
19 Felix Hernandez
20 Grady Sizemore
21 Rick Ankiel
22 Ryan Dempster
23 Justin Verlander
24 Chase Utley
25 David Wright
26 Matt Cain
27 Brad Hawpe
28 John Lackey
29 Roy Oswalt
30 Alfonso Soriano
31 Braden Looper
32 Jayson Werth
33 Edinson Volquez
34 Matt Kemp
35 Adam Jones
36 Joba Chamberlain
37 Jason Giambi
38 Chris Carpenter
39 Jim Thome
40 Daisuke Matsuzaka
41 Kevin Millwood
42 Francisco Liriano
43 Joey Votto
44 Aramis Ramirez
45 Hanley Ramirez
46 Johan Santana
47 Hank Blalock
48 Joe Saunders
49 Carlos Quentin
50 Ryan Howard
51 Aaron Rowand
52 Aaron Cook
53 Curtis Granderson
54 Max Scherzer
55 Manny Ramirez
56 Carlos Delgado
57 Garrett Atkins
58 Josh Johnson
59 Gary Sheffield
60 Victor Martinez
61 Miguel Tejada
62 Roy Halladay
63 Kevin Kouzmanoff
64 Javier Vazquez
65 Joe Mauer
66 Lance Berkman
67 Ryan Zimmerman
68 Ryan Ludwick
69 Randy Johnson
70 Jimmy Rollins
71 A.J. Burnett
72 Adrian Beltre
73 Nelson Cruz
74 Bobby Abreu
75 Miguel Cabrera
76 Chad Billingsley
77 Freddy Sanchez
78 Scott Kazmir
79 Magglio Ordonez
80 Brandon Webb
81 Hunter Pence
82 Adam Dunn
83 Dan Uggla
84 Jair Jurrjens
85 Prince Fielder
86 Melvin Mora
87 Jason Bay
88 Clayton Kershaw
89 Akinori Iwamura
90 Zack Greinke
91 Yunel Escobar
92 Russell Martin
93 Derrek Lee
94 Mike Pelfrey
95 Tim Lincecum
96 Carlos Pena
97 Justin Upton
98 Denard Span
99 Paul Konerko
100 Albert Pujols
101 Kurt Suzuki
102 Corey Hart
103 Aubrey Huff
104 Scott Rolen
105 Ken Griffey, Jr.
106 Stephen Drew
107 Carlos Beltran
108 Dustin Pedroia
109 Derek Jeter
110 Carl Crawford
111 Carlos Zambrano
112 Yovani Gallardo
113 Raul Ibanez
114 Vernon Wells
115 Vladimir Guerrero
116 Adam LaRoche
117 Carlos Guillen
118 Todd Helton
119 Brian McCann
120 Jake Peavy
121 David Ortiz
122 Mark Buehrle
123 CC Sabathia
124 Jorge Cantu
125 Ichiro
126 Josh Hamilton
127 Nate McLouth
128 B.J. Upton
129 Alex Gordon
130 Cole Hamels
131 Josh Beckett
132 James Shields
133 Alexei Ramirez
134 Kosuke Fukudome
135 Adrian Gonzalez
136 Ian Kinsler
137 Johnny Cueto
138 Jacoby Ellsbury
139 Jorge Posada
140 Alex Rios
141 Matt Holliday
142 Michael Young
143 Robinson Cano
144 Mike Lowell
145 Evan Longoria
146 John Maine
147 Jose Lopez
148 Aaron Hill
149 Garret Anderson
150 Mark Teixeira
Rookie Subset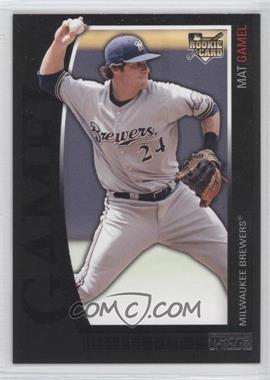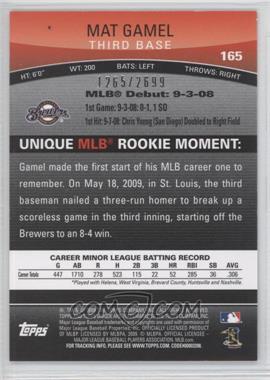 NOTE: Each Rookie is serial-numbered to 2699 copies
151 Fernando Martinez RC
152 David Hernandez RC
153 Chris Coghlan RC
154 Brett Anderson RC
155 Tyler Greene (RC)
156 Michael Bowden (RC)
157 Wilkin Ramirez RC
158 Trevor Cahill RC
159 Dexter Fowler (RC)
160 Bud Norris RC
161 Francisco Cervelli RC
162 Brett Cecil RC
163 Mat Latos RC
164 Derek Holland RC
165 Mat Gamel RC
166 Kenshin Kawakami RC
167 Matt LaPorta RC
168 Kris Medlen RC
169 Gerardo Parra RC
170 Josh Outman RC
171 Trevor Crowe RC
172 Ryan Perry RC
173 Colby Rasmus (RC)
174 Rick Porcello RC
175 Nolan Reimold (RC)
176 David Price RC
177 Omir Santos RC
178 Ricky Romero (RC)
179 Jordan Schafer (RC)
180 Anthony Swarzak (RC)
181 Travis Snider RC
182 Koji Uehara RC
183 Jesus Guzman RC
184 Sean West (RC)
185 Neftali Feliz RC
186 Vin Mazzaro RC
187 Gordon Beckham RC
188 Jordan Zimmermann RC
189 Chris Tillman RC
190 Tommy Hanson RC
191 Josh Reddick RC
192 Michael Saunders RC
193 Alfredo Aceves RC
194 Kyle Blanks RC
195 Elvis Andrus RC
196 Andrew McCutchen (RC)
197 Will Venable RC
198 David Huff RC
199 Aaron Bates RC
200 Jhoulys Chacin RC
Parallels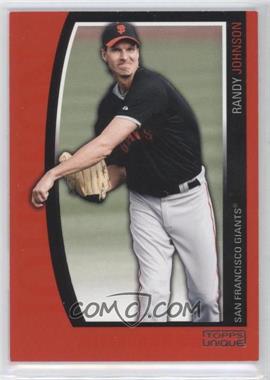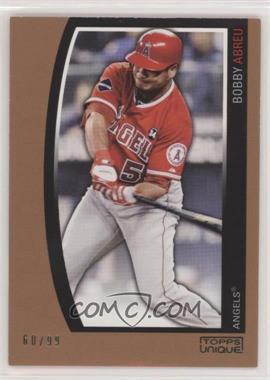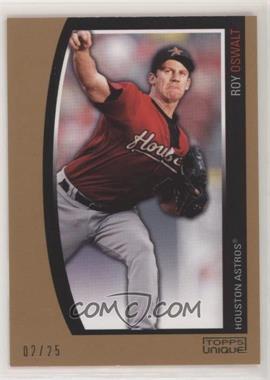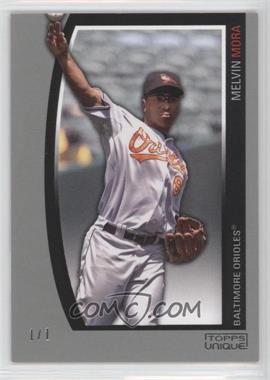 All 200 base cards are available in the following parallels.
Premiere (Red; serial-numbered to 1199 copies)
Select (Bronze; serial-numbered to 99 copies)
Reserve (Gold; serial-numbered to 25 copies)
Unique (Platinum; one-of-one)
Inserts
All three inserts are also available in the following parallels.
Bronze (serial-numbered to 99 copies)
Gold (serial-numbered to 25 copies)
Platinum (one-of-one)
Unis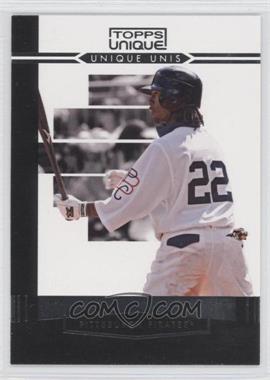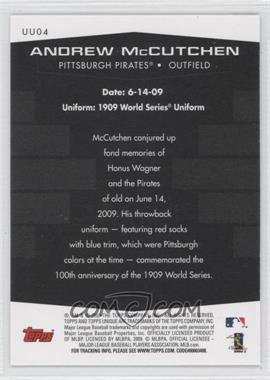 UU01 Chipper Jones
UU02 Ryan Braun
UU03 Alexei Ramirez
UU04 Andrew McCutchen
UU05 Ben Sheets
UU06 Jermaine Dye
UU07 Prince Fielder
UU08 Evan Longoria
UU09 Jason Giambi
UU10 Jose Reyes
UU11 Curtis Granderson
UU12 Jason Bay
UU13 Jimmy Rollins
UU14 Justin Verlander
UU15 Roy Halladay
UU16 David Wright
UU17 Carl Crawford
UU18 Gil Meche
UU19 Kevin Youkilis
UU20 Ryan Zimmerman
Unparalleled Performances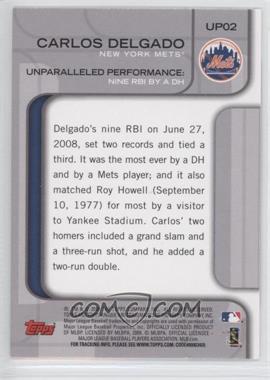 UP01 Ian Kinsler
UP02 Carlos Delgado
UP03 Randy Johnson
UP04 Alex Rodriguez
UP05 Orlando Hudson
UP06 Carl Crawford
UP07 Mariano Rivera
UP08 Alfonso Soriano
UP09 Dexter Fowler
UP10 Fernando Tatis
UP11 Adam LaRoche
UP12 Raul Ibanez
UP13 Carlos Beltran
UP14 James Loney
UP15 Bronson Arroyo
UP16 Aaron Hill
UP17 Jeremy Hermida
UP18 Randy Johnson
UP19 Micah Owings
UP20 Johnny Cueto
Alone at the Top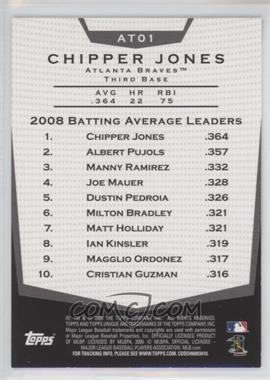 AT01 Chipper Jones
AT02 Albert Pujols
AT03 Hanley Ramirez
AT04 Ryan Howard
AT05 Adam Dunn
AT06 Willy Taveras
AT07 Johan Santana
AT08 Tim Lincecum
AT09 Francisco Rodriguez
AT10 Roy Halladay
Manufactured Relics
Presidential Plates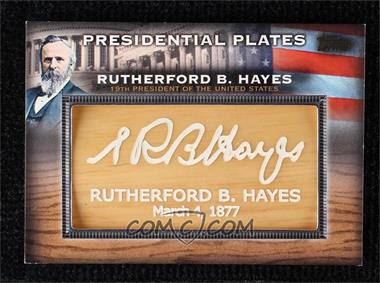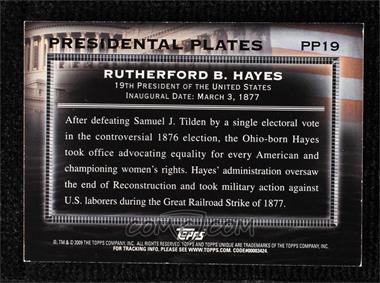 Reach Presidential Plate is also available in a one-of-one Platinum parallel.
PP1 George Washington
PP2 John Adams
PP3 Thomas Jefferson
PP4 James Madison
PP5 James Monroe
PP6 John Quincy Adams
PP7 Andrew Jackson
PP8 Martin Van Buren
PP9 William Henry Harrison
PP10 John Tyler
PP11 James K. Polk
PP12 Zachary Taylor
PP13 Millard Fillmore
PP14 Franklin Pierce
PP15 James Buchanan
PP16 Abraham Lincoln
PP17 Andrew Johnson
PP18 Ulysses S. Grant
PP19 Rutherford B. Hayes
PP20 James A. Garfield
PP21 Chester A. Arthur
PP22 Grover Cleveland
PP23 Benjamin Harrison
PP24 Grover Cleveland
PP25 William McKinley
PP26 Theodore Roosevelt
PP27 William Howard Taft
PP28 Woodrow Wilson
PP29 Warren G. Harding
PP30 Calvin Coolidge
PP31 Herbert Hoover
PP32 Franklin D. Roosevelt
PP33 Harry S Truman
PP34 Dwight D. Eisenhower
PP35 John F. Kennedy
PP36 Lyndon B. Johnson
PP37 Richard Nixon
PP38 Gerald Ford
PP39 Jimmy Carter
PP40 Ronald Reagan
PP41 George Bush
PP42 Bill Clinton
PP43 George W. Bush
PP44 Barack Obama
Game Used
Solo Shot Relics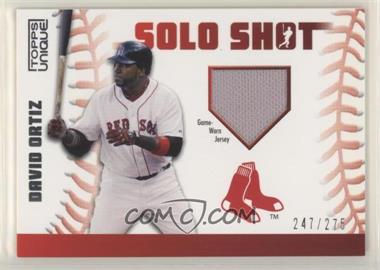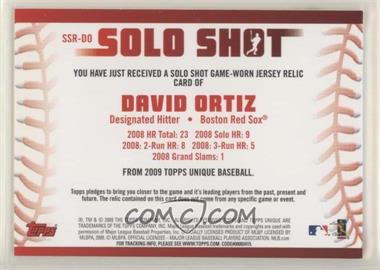 Each Solo Shot Relic is serial-numbered to 275 copies.
SSR-AG Adrian Gonzalez
SSR-AP Albert Pujols
SSR-AR Alex Rodriguez
SSR-AS Alfonso Soriano
SSR-CJ Chipper Jones
SSR-CU Chase Utley
SSR-DO David Ortiz
SSR-DW David Wright
SSR-EL Evan Longoria
SSR-GS Grady Sizemore
SSR-HR Hanley Ramirez
SSR-IS Ichiro
SSR-JH Josh Hamilton
SSR-JM Joe Mauer
SSR-JMO Justin Morneau
SSR-JR Jimmy Rollins
SSR-MC Miguel Cabrera
SSR-MH Matt Holliday
SSR-MR Manny Ramirez
SSR-MT Mark Teixeira
SSR-NM Nick Markakis
SSR-PF Prince Fielder
SSR-RB Ryan Braun
SSR-RH Ryan Howard
SSR-VG Vladimir Guerrero
Dual Distinction Relics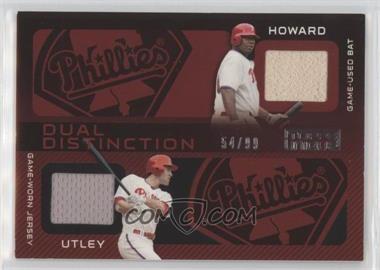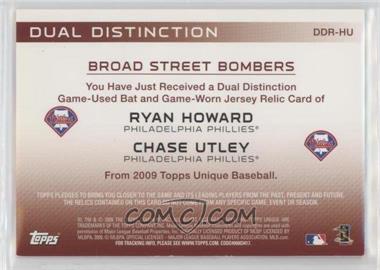 Each Dual Distinction Relic is serial-numbered to 99 copies.
DDR-BF Ryan Braun / Prince Fielder
DDR-BP Lance Berkman / Hunter Pence
DDR-CL Matt Cain / Tim Lincecum
DDR-CP Miguel Cabrera / Albert Pujols
DDR-EP Jacoby Ellsbury / Dustin Pedroia
DDR-GH Vladimir Guerrero / Torii Hunter
DDR-GP Adrian Gonzalez / Albert Pujols
DDR-HB Roy Halladay / Josh Beckett
DDR-HK Josh Hamilton / Ian Kinsler
DDR-HU Ryan Howard / Chase Utley
DDR-IM Ichiro / Daisuke Matsuzaka
DDR-JM Chipper Jones / Brian McCann
DDR-KR Matt Kemp / Manny Ramirez
DDR-LC Evan Longoria / Carl Crawford
DDR-MJ Nick Markakis / Adam Jones
DDR-MM Joe Mauer / Justin Morneau
DDR-OY David Ortiz / Kevin Youkilis
DDR-PR Jorge Posada / Mariano Rivera
DDR-RU Hanley Ramirez / Dan Uggla
DDR-SH Johan Santana / Cole Hamels
DDR-SR Alfonso Soriano / Aramis Ramirez
DDR-SS Grady Sizemore / Ichiro
DDR-TR Mark Teixeira / Alex Rodriguez
DDR-VP Justin Verlander / Rick Porcello
DDR-WR David Wright / Jose Reyes
Triple Threat Relics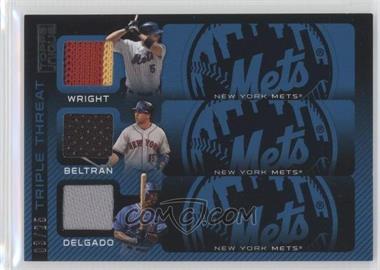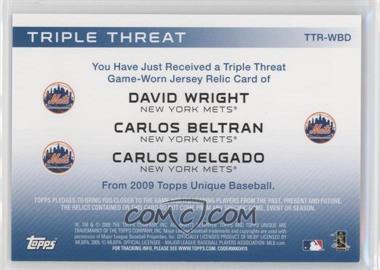 Each Triple Threat Relic is serial-numbered to 25 copies.
TTR-BLC Chad Billingsley / Tim Lincecum / Matt Cain
TTR-GIH Vladimir Guerrero / Ichiro / Josh Hamilton
TTR-HPG Ryan Howard / Albert Pujols / Adrian Gonzalez
TTR-JWR Chipper Jones / David Wright / Alex Rodriguez
TTR-KHY Ian Kinsler / Josh Hamilton / Michael Young
TTR-KUP Ian Kinsler / Chase Utley / Dustin Pedroia
TTR-LCJ Tim Lincecum / Matt Cain / Randy Johnson
TTR-LKC Evan Longoria / Scott Kazmir / Carl Crawford
TTR-MJM Nate McLouth / Chipper Jones / Brian McCann
TTR-MJR Nick Markakis / Adam Jones / Brian Roberts
TTR-MMM Brian McCann / Joe Mauer / Victor Martinez
TTR-MRK Russell Martin / Manny Ramirez / Matt Kemp
TTR-PBB Hunter Pence / Jay Bruce / Ryan Braun
TTR-PBL Hunter Pence / Lance Berkman / Carlos Lee
TTR-POY Dustin Pedroia / David Ortiz / Kevin Youkilis
TTR-PSH David Price / Johan Santana / Cole Hamels
TTR-RLY Alex Rodriguez / Evan Longoria / Michael Young
TTR-RRR Hanley Ramirez / Jose Reyes / Jimmy Rollins
TTR-RUH Jimmy Rollins / Chase Utley / Ryan Howard
TTR-RWB Jose Reyes / David Wright / Carlos Beltran
TTR-SLK Grady Sizemore / Evan Longoria / Ian Kinsler
TTR-SMH Grady Sizemore / Nick Markakis / Josh Hamilton
TTR-TRP Mark Teixeira / Alex Rodriguez / Jorge Posada
TTR-WBD David Wright / Carlos Beltran / Carlos Delgado
TTR-WHH Vernon Wells / Roy Halladay / Aaron Hill
TTR-ZLW Ryan Zimmerman / Evan Longoria / David Wright
Primetime Patches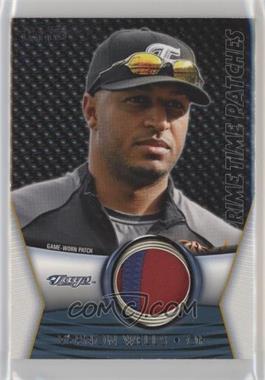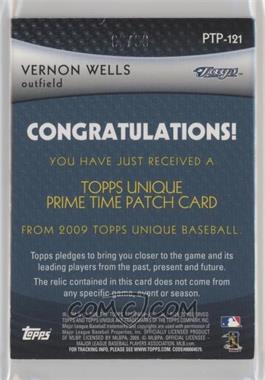 PTP-1 Adam Dunn 99
PTP-2 Adrian Beltre 99
PTP-3 Albert Pujols 99
PTP-4 Alex Gordon 99
PTP-5 Alex Rodriguez 20
PTP-6 Alex Rodriguez 99
PTP-7 Andrew Miller 99
PTP-8 Anthony Reyes 75
PTP-9 B.J. Upton
PTP-10 Barry Zito 99
PTP-11 Brad Lidge 99
PTP-12 Brett Myers 99
PTP-13 Carlos Beltran 99
PTP-14 Carlos Delgado 75
PTP-15 Carlos Zambrano 25
PTP-16 CC Sabathia 99
PTP-17 Chase Utley 50
PTP-18 Chipper Jones 99
PTP-19 David Ortiz 99
PTP-20 Edinison Volquez 99
PTP-21 Ervin Santana 75
PTP-22 Freddy Sanchez 99
PTP-23 Hank Blalock
PTP-24 Hideki Okajima 50
PTP-25 Howie Kendrick 99
PTP-26 Ian Kinsler 99
PTP-27 Ivan Rodriguez 99
PTP-28 J.D. Drew 50
PTP-29 J.J. Hardy 75
PTP-30 Jacoby Ellsbury 75
PTP-31 Jason Giambi 75
PTP-32 Jim Thome
PTP-33 Jim Thome 75
PTP-34 Jim Thome
PTP-35 Joey Votto 99
PTP-36 John Smoltz 99
PTP-37 Johnny Damon 75
PTP-38 Jorge Posada 75
PTP-39 Jose Reyes 99
PTP-40 Josh Hamilton 99
PTP-41 Kevin Millwood 99
PTP-42 Kevin Youkilis 75
PTP-43 Lance Berkman 99
PTP-44 Magglio Ordonez 99
PTP-45 Manny Ramirez 99
PTP-46 Mark Teixeira 75
PTP-47 Matt Holliday 75
PTP-48 Michael Young 99
PTP-49 Miguel Cabrera 99
PTP-50 Miguel Tejada 99
PTP-51 Mike Lowell 99
PTP-52 Mike Napoli 99
PTP-53 Pablo Sandoval 75
PTP-54 Pat Burrell 99
PTP-55 Pedro Martinez 99
PTP-56 Phil Hughes 75
PTP-57 Prince Fielder 75
PTP-58 Rafael Furcal 99
PTP-59 Robinson Cano 50
PTP-60 Rocco Baldelli 99
PTP-61 Roy Oswalt 99
PTP-62 Scott Rolen 99
PTP-63 Todd Helton 99
PTP-64 Torii Hunter 99
PTP-65 Trevor Hoffman 75
PTP-66 Vernon Wells 75
PTP-67 Victor Martinez 99
PTP-68 Vladimir Guerrero 99
PTP-69 Wladimir Balentien 99
PTP-70 Yovani Gallardo 99
PTP-71 Anthony Reyes 50
PTP-72 Carlos Delgado 50
PTP-73 Jason Giambi 50
PTP-74 Jim Thome 50
PTP-75 Jim Thome
PTP-76 Johnny Damon 50
PTP-77 Mark Teixeira 50
PTP-78 Pablo Sandoval 50
PTP-79 Prince Fielder 50
PTP-80 Albert Pujols 50
PTP-81 Andrew Miller 50
PTP-82 Brett Myers 50
PTP-83 Carlos Beltran 50
PTP-84 Edinison Volquez 50
PTP-85 Freddy Sanchez 50
PTP-86 Josh Hamilton 50
PTP-87 Miguel Cabrera 50
PTP-88 Mike Lowell 50
PTP-89 Mike Napoli 50
PTP-90 Vladimir Guerrero 50
PTP-91 Adrian Beltre 99
PTP-92 Barry Zito 99
PTP-93 David Ortiz 99
PTP-94 Hank Blalock 99
PTP-95 Ivan Rodriguez 99
PTP-96 Jose Reyes 99
PTP-97 Magglio Ordonez 99
PTP-98 Michael Young 99
PTP-99 Miguel Tejada 99
PTP-100 Pedro Martinez 99
PTP-101 Rocco Baldelli 99
PTP-102 Roy Oswalt 99
PTP-103 Scott Rolen 99
PTP-104 Wladimir Balentien 99
PTP-105 Kevin Millwood 99
PTP-106 Kevin Millwood 50
PTP-107 Torii Hunter 99
PTP-108 Torii Hunter 99
PTP-109 Adam Dunn 99
PTP-110 Adam Dunn 99
PTP-111 Adam Dunn 99
PTP-112 Chipper Jones 99
PTP-113 Chipper Jones 99
PTP-114 Chipper Jones 99
PTP-115 Lance Berkman 99
PTP-116 Lance Berkman 99
PTP-117 Lance Berkman 99
PTP-118 Todd Helton 99
PTP-119 Todd Helton 99
PTP-120 Todd Helton 99
Jumbo Patches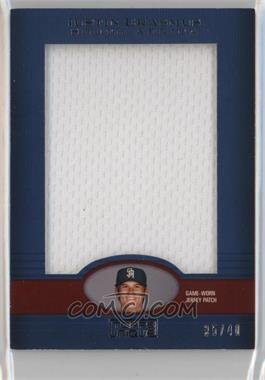 NOTE: This set features some World Baseball Classic-used patches.
JR-AR Anthony Reyes 20
JR-BM Brian McCann 40
JR-CL Che-Hsuan Lin 40
JR-CQ Carlos Quentin 15
JR-CS CC Sabathia 40
JR-CSM Curt Smith 40
JR-CU Chase Utley
JR-DC David Cortes
JR-DE Damaso Espino 40
JR-DU Dan Uggla 35
JR-FC Francisco Cervelli 40
JR-FH Felix Hernandez 40
JR-GS Grady Sizemore 13
JR-HJR Hyun-Jin Ryu 40
JR-HR Hein Robb 14
JR-HRA Hanley Ramirez 15
JR-JE Justin Erasmus 40
JR-JH Josh Hamilton 15
JR-JM Joe Mauer 15
JR-JR Jimmy Rollins 20
JR-JRE Jose Reyes 15
JR-JU Justin Upton
JR-JW Jered Weaver 13
JR-JWE Jeff Weaver 40
JR-MC Mike Constanzo
JR-MCO Manuel Corpas 40
JR-MH Matt Holliday
JR-MO Magglio Ordonez 22
JR-MO2 Magglio Ordonez 40
JR-MT Mark Teixeira 40
JR-NM Nick Markakis 15
JR-RA Rick Ankiel 40
JR-RD Ryan Doumit 15
JR-RH Ryan Howard 15
JR-RJ Randy Johnson 30
JR-RL Ryan Ludwick 40
JR-TH Todd Helton 15
JR-TL Tim Lincecum 20
JR-YC Yurendell de Caster 40
JR-YG Yovani Gallardo
Bat Barrels
Each Bat Barrel is a one-of-one.
BNP-AR Alex Rodriguez
BNP-DW David Wright
BNP-HR Hanley Ramirez
BNP-MR Manny Ramirez
BNP-MT Mark Teixeira
Bat Knobs
Each Bat Knob is a one-of-one.
BK-AP Albert Pujols
BK-AR Alex Rodriguez
BK-DW David Wright
BK-MC Miguel Cabrera
BK-VG Vladimir Guerrero
Logo Man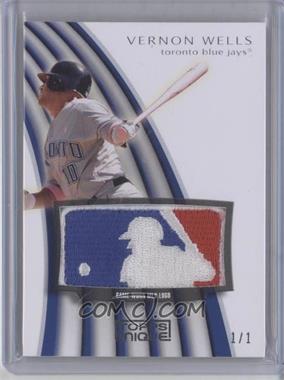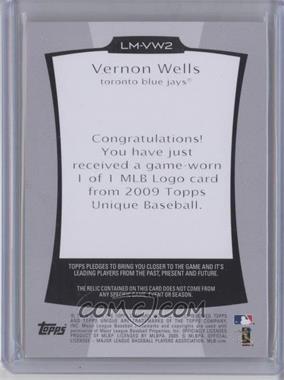 Each Logo Man is a one-of-one.
LM-AD1 Adam Dunn
LM-AD2 Adam Dunn
LM-AD3 Adam Dunn
LM-AD4 Adam Dunn
LM-AD5 Adam Dunn
LM-AP1 Andy Pettitte
LM-AP2 Andy Pettitte
LM-BR1 Brian Roberts
LM-BR2 Brian Roberts
LM-BR3 Brian Roberts
LM-BW Brandon Webb
LM-CH1 Cole Hamels
LM-CH2 Cole Hamels
LM-CH3 Cole Hamels
LM-CU1 Chase Utley
LM-CU2 Chase Utley
LM-CU3 Chase Utley
LM-CZ1 Carlos Zambrano
LM-CZ2 Carlos Zambrano
LM-DL Derek Lee
LM-DM Daisuke Matsuzaka
LM-DU1 Dan Uggla
LM-DU2 Dan Uggla
LM-DU3 Dan Uggla
LM-HM Hideki Matsui
LM-HP1 Hunter Pence
LM-HP2 Hunter Pence
LM-HR Hanley Ramirez
LM-IS1 Ichiro
LM-IS2 Ichiro
LM-IS3 Ichiro
LM-IS4 Ichiro
LM-IS5 Ichiro
LM-JB1 Josh Beckett
LM-JB2 Josh Beckett
LM-JB3 Josh Beckett
LM-JC1 Joba Chamberlain
LM-JC2 Joba Chamberlain
LM-JM1 Joe Mauer
LM-JM2 Joe Mauer
LM-JM3 Joe Mauer
LM-JM4 Joe Mauer
LM-JR1 Jose Reyes
LM-JR2 Jose Reyes
LM-JR3 Jose Reyes
LM-JRO1 Jimmy Rollins
LM-JRO2 Jimmy Rollins
LM-JRO3 Jimmy Rollins
LM-JU Justin Upton
LM-KY Kevin Youkilis
LM-LB1 Lance Berkman
LM-LB2 Lance Berkman
LM-LB3 Lance Berkman
LM-LB4 Lance Berkman
LM-LB5 Lance Berkman
LM-MB Mark Buehrle
LM-MO1 Magglio Ordonez
LM-MO2 Magglio Ordonez
LM-MO3 Magglio Ordonez
LM-MR Mariano Rivera
LM-MT1 Mark Teixeira
LM-MT2 Mark Teixeira
LM-MT3 Mark Teixeira
LM-MT4 Mark Teixeira
LM-MT5 Mark Teixeira
LM-NM Nick Markakis
LM-RJ1 Randy Johnson
LM-RJ2 Randy Johnson
LM-RJ3 Randy Johnson
LM-RJ4 Randy Johnson
LM-RJ5 Randy Johnson
LM-RM Russell Martin
LM-RO1 Roy Oswalt
LM-RO2 Roy Oswalt
LM-RO3 Roy Oswalt
LM-RZ1 Ryan Zimmerman
LM-RZ2 Ryan Zimmerman
LM-SK1 Scott Kazmir
LM-SK2 Scott Kazmir
LM-SK3 Scott Kazmir
LM-SK4 Scott Kazmir
LM-SK5 Scott Kazmir
LM-TH1 Todd Helton
LM-TH2 Todd Helton
LM-TH3 Todd Helton
LM-TH4 Todd Helton
LM-TH5 Todd Helton
LM-VW1 Vernon Wells
LM-VW2 Vernon Wells
LM-VW3 Vernon Wells
Majestic Tag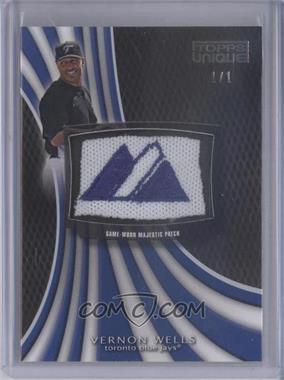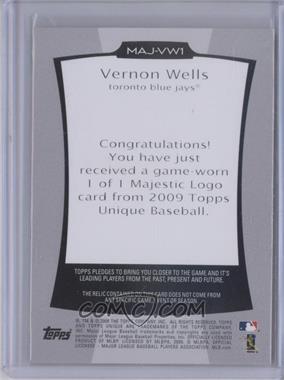 Each Majestic Tag is a one-of-one.
MAJ-AD1 Adam Dunn
MAJ-AD2 Adam Dunn
MAJ-BR1 Brian Roberts
MAJ-BR2 Brian Roberts
MAJ-HM Hideki Matsui
MAJ-JM1 Joe Mauer
MAJ-JM2 Joe Mauer
MAJ-JR Jose Reyes
MAJ-JR1 Jimmy Rollins
MAJ-JR2 Jimmy Rollins
MAJ-JR3 Jimmy Rollins
MAJ-KW Kerry Wood
MAJ-LB Lance Berkman
MAJ-LB2 Lance Berkman
MAJ-LB3 Lance Berkman
MAJ-MB Mark Buehrle
MAJ-MT1 Mark Teixeira
MAJ-MT2 Mark Teixeira
MAJ-MT3 Mark Teixeira
MAJ-MT4 Mark Teixeira
MAJ-RF Rafael Furcal
MAJ-RH Roy Halladay
MAJ-VW1 Vernon Wells
MAJ-VW2 Vernon Wells
Russell Logo
Each Russell Logo is a one-of-one.
RL-AG Adrian Gonzalez
RL-DL Derek Lowe
RL-JD J.D. Drew
RL-JH Josh Hamilton
RL-RJ Randy Johnson
RL-TH1 Todd Helton
RL-TH2 Todd Helton
RL-TH3 Todd Helton
RL-TH4 Todd Helton
RL-TH5 Todd Helton
Buttons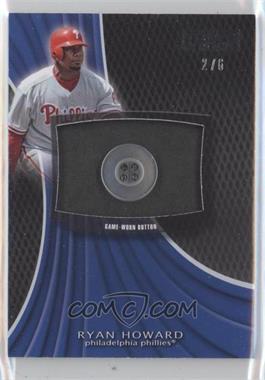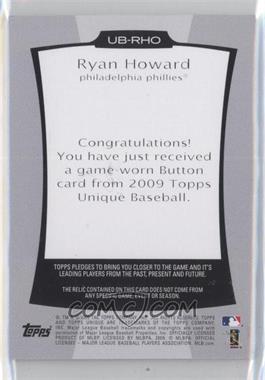 Each Button is serial-numbered to six copies.
UB-AP Albert Pujols
UB-CU Chase Utley
UB-DW David Wright
UB-IS Ichiro
UB-JM Joe Mauer
UB-JR Jimmy Rollins
UB-MR Manny Ramirez
UB-RH Roy Halladay
UB-RHO Ryan Howard
Authentic Tag
Each Authentic Tag is a one-of-one.
AT-AP Albert Pujols
AT-AR Alex Rodriguez
AT-CJ Chipper Jones
AT-DM Daisuke Matsuzaka
AT-DW David Wright
AT-HR Hanley Ramirez
AT-IK Ian Kinsler
AT-IS Ichiro
AT-JE Jacoby Ellsbury
AT-JM Joe Mauer
AT-RH Ryan Howard
Autographs
Solo Shot Autographs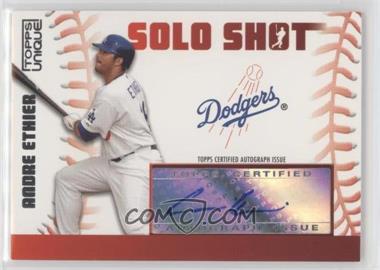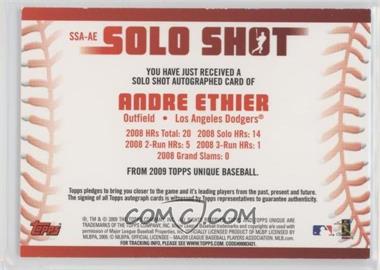 SSA-AE Andre Ethier
SSA-AG Adrian Gonzalez
SSA-AL Adam Lind
SSA-CB Chad Billingsley
SSA-CG Curtis Granderson
SSA-DP David Price
SSA-DPE Dustin Pedroia
SSA-DU Dan Uggla
SSA-GB Gordon Beckham
SSA-JB Jay Bruce
SSA-JC Johnny Cueto
SSA-JCH Joba Chamberlain
SSA-JCU Jack Cust
SSA-JJ Josh Johnson
SSA-JU Justin Upton
SSA-MB Milton Bradley
SSA-MC Melky Cabrera
SSA-MCA Matt Cain
SSA-MK Matt Kemp
SSA-MS Max Scherzer
SSA-NM Nick Markakis
SSA-PH Phil Hughes
SSA-RB Ryan Braun
SSA-RC Ryan Church
SSA-RH Rich Hill
SSA-RI Raul Ibanez
SSA-RP Rick Porcello
SSA-TL Tim Lincecum
SSA-ZG Zack Greinke
Dual Distinction Autographs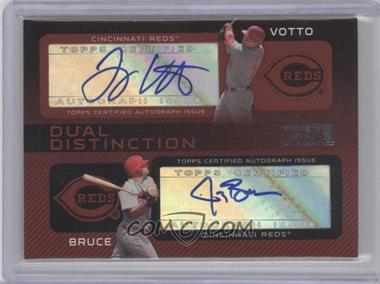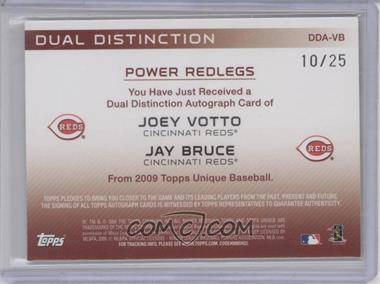 Each Dual Distinction Autograph is serial-numbered to 25 copies.
DDA-BC Chad Billingsley / Matt Cain
DDA-BP Jason Bay / Dustin Pedroia
DDA-CH Nelson Cruz / Josh Hamilton
DDA-HC Phil Hughes / Joba Chamberlain
DDA-MJ Nick Markakis / Adam Jones
DDA-PB Jake Peavy / Gordon Beckham
DDA-PP Rick Porcello / David Price
DDA-RK Manny Ramirez / Matt Kemp
DDA-SS Joe Saunders / Ervin Santana
DDA-VB Joey Votto / Jay Bruce
Triple Threat Autographs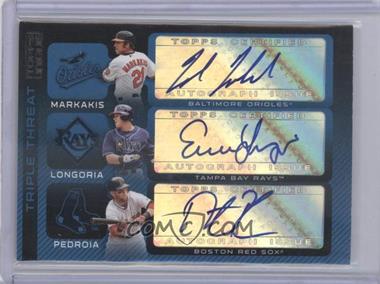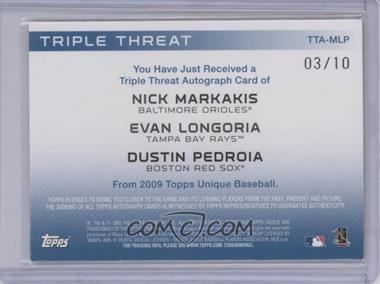 Each Triple Threat Autograph is serial-numbered to ten.
TTA-BBP Ryan Braun / Jay Bruce / Hunter Pence
TTA-BWD Carlos Beltran / David Wright / Carlos Delgado
TTA-DRC Johnny Damon / Alex Rodriguez / Robinson Cano
TTA-MLP Nick Markakis / Evan Longoria / Dustin Pedroia
TTA-OGR David Ortiz / Valdimir Guerrero / Alex Rodriguez
TTA-PGH Albert Pujols / Adrian Gonzalez / Ryan Howard
TTA-PLK David Price / Evan Longoria / Scott Kazmir
TTA-PRR Albert Pujols / Alex Rodriguez / Manny Ramirez
TTA-VVB Joey Votto / Edinson Volquez / Jay Bruce
TTA-WLJ David Wright / Evan Longoria / Chipper Jones
Autographed Relics
Single Shot Autograph Relics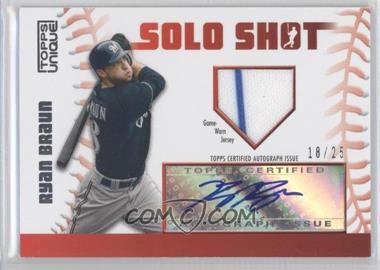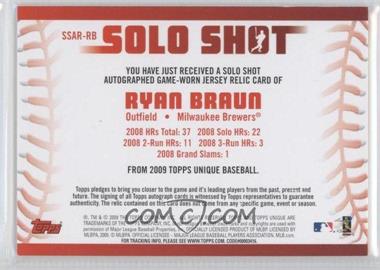 Each Single Shot Autograph Relic is serial-numbered to 25 copies.
SSAR-CJ Chipper Jones
SSAR-DP Dustin Pedroia
SSAR-DPR David Price
SSAR-DW David Wright
SSAR-EL Evan Longoria
SSAR-JH Josh Hamilton
SSAR-JM Justin Morneau
SSAR-JU Justin Upton
SSAR-NM Nick Markakis
SSAR-RB Ryan Braun
Dual Distinction Autograph Relics
Each Dual Distinction Autograph Relic is serial-numbered to ten.
DDAR-BC Chad Billingsley / Matt Cain
DDAR-BP Lance Berkman / Hunter Pence
DDAR-CG Chris Carpenter / Zack Greinke
DDAR-EP Jacoby Ellsbury / Dustin Pedroia
DDAR-HG Torii Hunter / Vladimir Guerrero
DDAR-MC Justin Morneau / Miguel Cabrera
DDAR-QD Carlos Quentin / Jermaine Dye
DDAR-RP Alex Rodriguez / Albert Pujols
DDAR-UU Justin Upton / B.J. Upton
DDAR-WR David Wright / Carlos Beltran
Triple Threat Autographed Relics
Each Triple Threat Autographed Relic is serial-numbered to five.
TTAR-BJB Lance Berkman / Chipper Jones / Carlos Beltran
TTAR-HFP Ryan Howard / Prince Fielder / Albert Pujols
TTAR-HRI Ryan Howard / Jimmy Rollins / Raul Ibanez
TTAR-KHY Ian Kinsler / Josh Hamilton / Michael Young
TTAR-LPS Tim Lincecum / Jake Peavy / Johan Santana
TTAR-MJM Brian McCann / Chipper Jones / Nate McLouth
TTAR-RPR Mariano Rivera / Jorge Posada / Alex Rodriguez
TTAR-TSR Jim Thome / Gary Sheffield / Alex Rodriguez
TTAR-VPB Jason Varitek / Dustin Pedroia / Jason Bay
TTAR-WBS David Wright / Carlos Beltran / Johan Santana
Jumbo Patch Autographs
Each Jumbo Patch Autograph is serial-numbered to fifteen.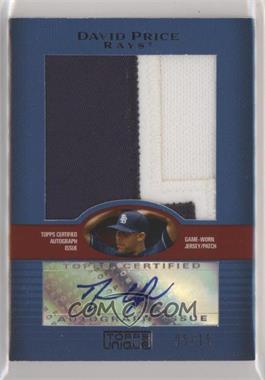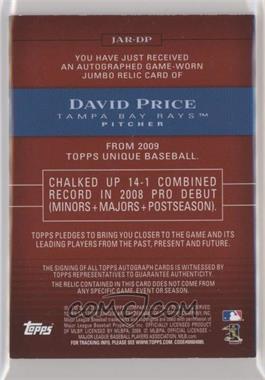 AJ Adam Jones
BM Brian McCann
CB Chad Billingsley
DP1 Dustin Pedroia
DP2 David Price
DW David Wright
EL Evan Longoria
JB Jay Bruce
JC Johnny Cueto
JV Joey Votto
MC Matt Cain
NM Nate McLouth
RB Ryan Braun
YE Yunel Escobar
Bat Barrel Autographs
Each Bat Barrel Autograph is a one-of-one.
BNPA-AP Albert Pujols
BNPA-AR Alex Rodriguez
BNPA-BM Brian McCann
BNPA-CC Carl Crawford
BNPA-CB Carlos Beltran
BNPA-DO David Ortiz
BNPA-JD Johnny Damon
BNPA-JP Jorge Posada
BNPA-MR Manny Ramirez
BNPA-VG Vladimir Guerrero
Bat Knob Autographs
Each Bat Knob Autograph is a one-of-one.
BKA-AC Asdrubal Cabrera
BKA-AGO Alex Gordon
BKA-AI Akinori Iwamura
BKA-AJ Andruw Jones
BKA-AK Austin Kearns
BKA-AL Adam Lind
BKA-AP2 Albert Pujols
BKA-AR1 Aramis Ramirez
BKA-AROD1 Alex Rodriguez
BKA-ASO6 Alfonso Soriano
BKA-BA1 Bobby Abreu
BKA-BC1 Bobby Crosby
BKA-BD Blake DeWitt
BKA-BJU1 B.J. Upton
BKA-BM1 Brian McCann
BKA-BM3 Brian McCann
BKA-BP Brandon Phillips
BKA-BZ Ben Zobrist
BKA-CB Clint Barmes
BKA-CBE10 Carlos Beltran
BKA-CC1 Carl Crawford
BKA-CD1 Carlos Delgado
BKA-CG1 Curtis Granderson
BKA-CG2 Curtis Granderson
BKA-CH Chase Headley
BKA-CJ1 Conor Jackson
BKA-CJ2 Conor Jackson
BKA-CJO1 Chipper Jones
BKA-CM1 Cameron Maybin
BKA-CS Clint Sammons
BKA-CT Chad Tracy
BKA-DER1 Darin Erstad
BKA-DO1 David Ortiz
BKA-DY1 Delmon Young
BKA-EC1 Eric Chavez
BKA-ED1 Elijah Dukes
BKA-ED2 Elijah Dukes
BKA-ER1 Edgar Renteria
BKA-FG Franklin Gutierrez
BKA-GS1 Gary Sheffield
BKA-HB1 Hank Blalock
BKA-HK Howie Kendrick
BKA-IR1 Ivan Rodriguez
BKA-JB1 Jason Bay
BKA-JB2 Jason Bay
BKA-JBA Josh Barfield
BKA-JBR Jay Bruce
BKA-JC1 Jorge Cantu
BKA-JC2 Jorge Cantu
BKA-JCU Johnny Cueto
BKA-JD1 Johnny Damon
BKA-JDY1 Jermaine Dye
BKA-JDY2 Jermaine Dye
BKA-JGA Joey Gathright
BKA-JGI Jason Giambi
BKA-JJH J.J. Hardy
BKA-JJR Jo Jo Reyes
BKA-JM1 Justin Morneau
BKA-JPO Jorge Posada
BKA-JS1 Jarrod Saltalamacchia
BKA-JS2 Jarrod Saltalamacchia
BKA-JT1 Jim Thome
BKA-JV1 Jason Varitek
BKA-JW1 Josh Willingham
BKA-JW2 Josh Willingham
BKA-KJ1 Kenji Johjima
BKA-KK Kevin Kouzmanoff
BKA-KS Kurt Suzuki
BKA-LM Lastings Milledge
BKA-MBR1 Milton Bradley
BKA-MBR2 Milton Bradley
BKA-MC1 Melky Cabrera
BKA-MC2 Melky Cabrera
BKA-ME Mark Ellis
BKA-MH Matt Holliday
BKA-MN Mike Napoli
BKA-MR1 Manny Ramirez
BKA-MTE1 Miguel Tejada
BKA-MY Michael Young
BKA-NS1 Nick Swisher
BKA-NS2 Nick Swisher
BKA-PF1 Prince Fielder
BKA-PF2 Prince Fielder
BKA-PH Philip Humber
BKA-RBR Ryan Braun
BKA-RC1 Robinson Cano
BKA-RC2 Robinson Cano
BKA-RH1 Ryan Howard
BKA-SP1 Scott Podsednik
BKA-TGJ Tony Gwynn, Jr.
BKA-THU1 Torii Hunter
BKA-UJ Ubaldo Jimenez
BKA-VM1 Victor Martinez
BKA-YE Yunel Escobar
BKA-YG Yovani Gallardo
Logo Man Autos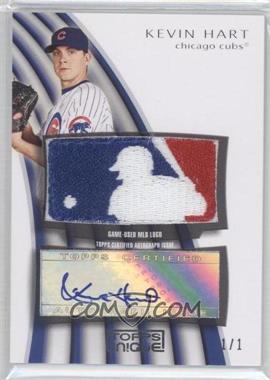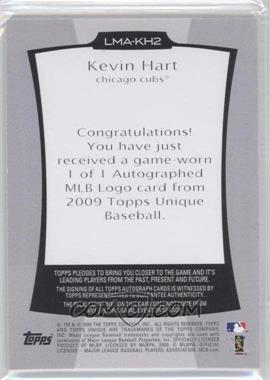 Each Logo Man Auto is a one-of-one.
LMA-1 Bobby Abreu
LMA-2 Bobby Abreu
LMA-3 Bobby Abreu
LMA-4 Bobby Abreu
LMA-5 Bobby Abreu
LMA-6 Jonathan Albaladejo
LMA-7 Brett Anderson
LMA-8 Josh Anderson
LMA-9 Elvis Andrus
LMA-10 Elvis Andrus
LMA-11 Homer Bailey
LMA-12 Homer Bailey
LMA-13 Wladimir Balentien
LMA-14 Wladimir Balentien
LMA-15 Clint Barmes
LMA-16 Jason Bartlett
LMA-17 Jason Bay
LMA-18 Erik Bedard
LMA-19 Wilson Betemit
LMA-20 Hank Blalock
LMA-21 Hank Blalock
LMA-22 Hank Blalock
LMA-23 Hank Blalock
LMA-24 Hank Blalock
LMA-25 Hank Blalock
LMA-26 Jeremy Bonderman
LMA-27 Jeremy Bonderman
LMA-28 Ryan Braun
LMA-29 Ryan Braun
LMA-30 Ryan Braun
LMA-31 Ryan Braun
LMA-32 Jay Bruce
LMA-33 Clay Buchholz
LMA-34 Clay Buchholz
LMA-35 Asdrubal Cabrera
LMA-36 Miguel Cabrera
LMA-37 Miguel Cabrera
LMA-38 Miguel Cabrera
LMA-39 Miguel Cabrera
LMA-40 Miguel Cabrera
LMA-41 Orlando Cabrera
LMA-42 Trevor Cahill
LMA-43 Matt Cain
LMA-44 Robinson Cano
LMA-45 Robinson Cano
LMA-46 Matt Capps
LMA-47 Matt Capps
LMA-48 Fausto Carmona
LMA-49 Fausto Carmona
LMA-50 Chris Carpenter
LMA-51 Eric Chavez
LMA-52 Eric Chavez
LMA-53 Carl Crawford
LMA-54 Carl Crawford
LMA-55 Carl Crawford
LMA-56 Johnny Cueto
LMA-57 Johnny Damon
LMA-58 Johnny Damon
LMA-59 Johnny Damon
LMA-60 Dave Davidson
LMA-61 Carlos Delgado
LMA-62 Stephen Drew
LMA-63 Justin Duchscherer
LMA-64 Chris Duncan
LMA-65 Jermaine Dye
LMA-66 Jermaine Dye
LMA-67 Jacoby Ellsbury
LMA-68 Jacoby Ellsbury
LMA-69 Darin Erstad
LMA-70 Yunel Escobar
LMA-71 Andre Ethier
LMA-72 Andre Ethier
LMA-73 Andre Ethier
LMA-74 Prince Fielder
LMA-75 Prince Fielder
LMA-76 Prince Fielder
LMA-77 Prince Fielder
LMA-78 Josh Fields
LMA-79 Dexter Fowler
LMA-80 Jeff Francis
LMA-81 Jeff Francis
LMA-82 Armando Galarraga
LMA-83 Yovani Gallardo
LMA-84 Yovani Gallardo
LMA-85 Mat Gamel
LMA-86 Matt Garza
LMA-87 Chris Getz
LMA-88 Jason Giambi
LMA-89 Jason Giambi
LMA-90 Jason Giambi
LMA-91 Johnny Gomes
LMA-92 Alex Gordon
LMA-93 Alex Gordon
LMA-94 Alex Gordon
LMA-95 Tom Gorzelanny
LMA-96 Tom Gorzelanny
LMA-97 Curtis Granderson
LMA-98 Curtis Granderson
LMA-99 Curtis Granderson
LMA-100 Vladimir Guerrero
LMA-101 Vladimir Guerrero
LMA-102 Vladimir Guerrero
LMA-103 Vladimir Guerrero
LMA-104 Vladimir Guerrero
LMA-105 Jeremy Guthrie
LMA-106 Travis Hafner
LMA-107 Travis Hafner
LMA-108 Craig Hansen
LMA-109 Rich Harden
LMA-110 Rich Harden
LMA-111 Rich Harden
LMA-112 Rich Harden
LMA-113 Rich Harden
LMA-114 J.J. Hardy
LMA-115 J.J. Hardy
LMA-116 J.J. Hardy
LMA-117 Kevin Hart
LMA-118 Kevin Hart
LMA-119 Brad Hawpe
LMA-120 Felix Hernandez
LMA-121 Rich Hill
LMA-122 Luke Hochevar
LMA-123 Matt Holliday
LMA-124 Matt Holliday
LMA-125 Ryan Howard
LMA-126 Ryan Howard
LMA-127 Ryan Howard
LMA-128 Ryan Howard
LMA-129 Ryan Howard
LMA-130 Tim Hudson
LMA-131 Tim Hudson
LMA-132 Tim Hudson
LMA-133 Torii Hunter
LMA-134 Torii Hunter
LMA-135 Torii Hunter
LMA-136 Torii Hunter
LMA-137 Akinori Iwamura
LMA-138 Conor Jackson
LMA-139 Bobby Jenks
LMA-140 Ubaldo Jimenez
LMA-141 Andruw Jones
LMA-142 Andruw Jones
LMA-143 Andruw Jones
LMA-144 Andruw Jones
LMA-145 Andruw Jones
LMA-146 Andruw Jones
LMA-147 Andruw Jones
LMA-148 Andruw Jones
LMA-149 Chipper Jones
LMA-150 Chipper Jones
LMA-151 Chipper Jones
LMA-152 Chipper Jones
LMA-153 Chipper Jones
LMA-154 Howie Kendrick
LMA-155 Clayton Kershaw
LMA-156 Ian Kinsler
LMA-157 Jon Lester
LMA-158 Fred Lewis
LMA-159 Brad Lidge
LMA-160 Brent Lillibridge
LMA-161 Tim Lincecum
LMA-162 Francisco Liriano
LMA-163 Francisco Liriano
LMA-164 James Loney
LMA-165 James Loney
LMA-166 Evan Longoria
LMA-167 Julio Lugo
LMA-168 Lou Marson
LMA-169 Mike Lowell
LMA-170 Fernando Martinez
LMA-171 Victor Martinez
LMA-172 Victor Martinez
LMA-173 Victor Martinez
LMA-174 Cameron Maybin
LMA-175 Cameron Maybin
LMA-176 Cameron Maybin
LMA-177 Brian McCann
LMA-178 Brian McCann
LMA-179 Andrew McCutchen
LMA-180 Lastings Milledge
LMA-181 Andrew Miller
LMA-182 Kendry Morales
LMA-183 Juan Morillo
LMA-184 Justin Morneau
LMA-185 Brett Myers
LMA-186 Brett Myers
LMA-187 Brett Myers
LMA-188 Mike Napoli
LMA-189 Jeff Niemann
LMA-190 Hideki Okajima
LMA-191 Hideki Okajima
LMA-192 David Ortiz
LMA-193 David Ortiz
LMA-194 David Ortiz
LMA-195 David Ortiz
LMA-196 David Ortiz
LMA-197 David Ortiz
LMA-198 David Ortiz
LMA-199 Jonathan Papelbon
LMA-200 Steve Pearce
LMA-201 Steve Pearce
LMA-202 Jake Peavy
LMA-203 Dustin Pedroia
LMA-204 Brad Penny
LMA-205 Glen Perkins
LMA-206 Brandon Phillips
LMA-207 Brandon Phillips
LMA-208 Felix Pie
LMA-209 Felix Pie
LMA-210 Scott Podsednik
LMA-211 Albert Pujols
LMA-212 Albert Pujols
LMA-213 Albert Pujols
LMA-214 Albert Pujols
LMA-215 Albert Pujols
LMA-216 Albert Pujols
LMA-217 Albert Pujols
LMA-218 Aramis Ramirez
LMA-219 Manny Ramirez
LMA-220 Manny Ramirez
LMA-221 Manny Ramirez
LMA-222 Manny Ramirez
LMA-223 Manny Ramirez
LMA-224 Edgar Renteria
LMA-225 Anthony Reyes
LMA-226 Jo Jo Reyes
LMA-227 Clayton Richard
LMA-228 Shawn Riggans
LMA-229 Mariano Rivera
LMA-230 Mariano Rivera
LMA-231 Alex Rodriguez
LMA-232 Alex Rodriguez
LMA-233 Alex Rodriguez
LMA-234 Alex Rodriguez
LMA-235 Ivan Rodriguez
LMA-236 Ivan Rodriguez
LMA-237 Ivan Rodriguez
LMA-238 Ivan Rodriguez
LMA-239 Ivan Rodriguez
LMA-240 Ervin Santana
LMA-241 Ervin Santana
LMA-242 Johan Santana
LMA-243 Nate Schierholtz
LMA-244 Ben Sheets
LMA-245 Gary Sheffield
LMA-246 John Smoltz
LMA-247 John Smoltz
LMA-248 John Smoltz
LMA-249 Joakim Soria
LMA-250 Kurt Suzuki
LMA-251 Jack Taschner
LMA-252 Taylor Teagarden
LMA-253 Miguel Tejada
LMA-254 Miguel Tejada
LMA-255 Miguel Tejada
LMA-256 Miguel Tejada
LMA-257 Miguel Tejada
LMA-258 Jim Thome
LMA-259 Jim Thome
LMA-260 Brad Thompson
LMA-261 Rich Thompson
LMA-262 J.R. Towles
LMA-263 Troy Tulowitzki
LMA-264 Troy Tulowitzki
LMA-265 Troy Tulowitzki
LMA-266 B.J. Upton
LMA-267 B.J. Upton
LMA-268 Jason Varitek
LMA-269 Justin Verlander
LMA-270 Justin Verlander
LMA-271 Edinson Volquez
LMA-272 Joey Votto
LMA-273 Joey Votto
LMA-274 Adam Wainwright
LMA-275 Chien-Ming Wang
LMA-276 Chien-Ming Wang
LMA-277 Chien-Ming Wang
LMA-278 Chien-Ming Wang
LMA-279 Dontrelle Willis
LMA-280 Dontrelle Willis
LMA-281 Dontrelle Willis
LMA-282 Dontrelle Willis
LMA-283 Dontrelle Willis
LMA-284 Dontrelle Willis
LMA-285 Dontrelle Willis
LMA-286 Dontrelle Willis
LMA-287 Dontrelle Willis
LMA-288 Dontrelle Willis
LMA-289 Dontrelle Willis
LMA-290 Dontrelle Willis
LMA-291 Dontrelle Willis
LMA-292 David Wright
LMA-293 David Wright
LMA-294 David Wright
LMA-295 David Wright
LMA-296 David Wright
LMA-297 David Wright
LMA-298 David Wright
LMA-299 David Wright
LMA-300 Delmon Young
LMA-301 Delmon Young
LMA-302 Delmon Young
LMA-303 Michael Young
LMA-304 Michael Young
LMA-305 Michael Young
LMA-306 Michael Young
LMA-307 Michael Young
LMA-308 Cliff Pennington
LMA-309 Collin Balester
Majestic Tag Autographs
Each Majestic Tag Autograph is a one-of-one.
MTA-AH Aaron Hill
MTA-AR Alex Rodriguez
MTA-AR2 Alex Rodriguez
MTA-BA Brett Anderson
MTA-BAB Bobby Abreu
MTA-BC Bobby Crosby
MTA-BC2 Bobby Crosby
MTA-BJ Bobby Jenks
MTA-CB Clint Barmes
MTA-CC Chris Carpenter
MTA-CD Carlos Delgado
MTA-DE Darin Erstad
MTA-DW David Wright
MTA-EC1 Eric Chavez
MTA-EC2 Eric Chavez
MTA-EC3 Eric Chavez
MTA-EC4 Eric Chavez
MTA-EC5 Eric Chavez
MTA-HB Hank Blalock
MTA-HB2 Hank Blalock
MTA-HB3 Hank Blalock
MTA-HB4 Hank Blalock
MTA-JD Jermaine Dye
MTA-JF Jeff Francis
MTA-JH J.J. Hardy
MTA-JT Jim Thome
MTA-MR Manny Ramirez
MTA-MT Miguel Tejada
MTA-PF Prince Fielder
MTA-RC Robinson Cano
MTA-RH Rich Harden
MTA-RH2 Rich Harden
MTA-RHO Ryan Howard
MTA-TH Tim Hudson
MTA-TH2 Tim Hudson
MTA-VG Vladimir Guerrero
MTA-ZD Zach Duke
Russell Logo Autographs
Each Russell Logo Autograph is a one-of-one.
RLA-AJ Andruw Jones
RLA-AJ2 Andruw Jones
RLA-AJ3 Andruw Jones
RLA-AJ4 Andruw Jones
RLA-AP Albert Pujols
RLA-AP2 Albert Pujols
RLA-AR Alex Rodriguez
RLA-CJ Chipper Jones
RLA-DW Dontrelle Willis
RLA-DW2 Dontrelle Willis
RLA-DW3 Dontrelle Willis
RLA-JD Johnny Damon
RLA-JD2 Johnny Damon
RLA-JG Jason Giambi
RLA-JG2 Jason Giambi
RLA-JG3 Jason Giambi
RLA-JG4 Jason Giambi
RLA-JS John Smoltz
RLA-JS2 John Smoltz
RLA-JV Jason Varitek
RLA-ML Mike Lowell
RLA-MT Miguel Tejada
RLA-MY Michael Young
RLA-OC Orlando Cabrera
RLA-TH Tim Hudson
RLA-THU Torii Hunter
Button Autographs
Each Button Autograph is serial-numbered to six copies.
BA-AC Asdrubal Cabrera
BA-AE Andre Ethier
BA-AG Alex Gordon
BA-AG2 Alex Gordon
BA-AGA Armando Galarraga
BA-AH Aaron Hill
BA-AI Akinori Iwamura
BA-AM Andrew Miller
BA-AP Albert Pujols
BA-AR Alex Rodriguez
BA-ARE Anthony Reyes
BA-AS Alfonso Soriano
BA-BC Bobby Crosby
BA-BH Brad Hawpe
BA-BM Brian McCann
BA-BP Brad Penny
BA-BT Brad Thompson
BA-BU B.J. Upton
BA-CC Carl Crawford
BA-CC2 Carl Crawford
BA-CCA Chris Carpenter
BA-CD Carlos Delgado
BA-CG Curtis Granderson
BA-CJ Chipper Jones
BA-CM Cameron Maybin
BA-CW Chien-Ming Wang
BA-DO David Ortiz
BA-DP Dustin Pedroia
BA-DW David Wright
BA-DW2 David Wright
BA-DWI Dontrelle Willis
BA-EC Eric Chavez
BA-ES Ervin Santana
BA-EV Edinson Volquez
BA-FC Fausto Carmona
BA-FH Felix Hernandez
BA-FL Francisco Liriano
BA-FLE Fred Lewis
BA-GP Glen Perkins
BA-HB Hank Blalock
BA-HO Hideki Okajima
BA-IK Ian Kinsler
BA-IR Ivan Rodriguez
BA-JB Jeremy Bonderman
BA-JBA Jason Bartlett
BA-JC Johnny Cueto
BA-JD Johnny Damon
BA-JG Jeremy Guthrie
BA-JGI Jason Giambi
BA-JL Jon Lester
BA-JLA James Loney
BA-JM Justin Morneau
BA-JP Jonathon Papelbon
BA-JPE Jake Peavy
BA-JS John Smoltz
BA-JSO Joakim Soria
BA-JT Jim Thome
BA-JV Jason Varitek
BA-KM Kendry Morales
BA-MG Matt Garza
BA-MH Matt Holliday
BA-MR Manny Ramirez
BA-MT Miguel Tejada
BA-MY Michael Young
BA-MY2 Michael Young
BA-PF Prince Fielder
BA-RB Ryan Braun
BA-RC Robinson Cano
BA-RH Ryan Howard
BA-SP Scott Podsednik
BA-TG Tom Gorzelanny
BA-TH Travis Hafner
BA-THU Tim Hudson
BA-TL Tim Lincecum
BA-TT Troy Tulowitzki
BA-TT2 Troy Tulowitzki
BA-UJ Ubaldo Jimenez
BA-VG Vladimir Guerrero
BA-ZD Zach Duke
BA-ZG Zack Greinke