2010 Topps Logoman HTA
Description
2010 Topps Logoman HTA is a 50-card set distributed exclusively through Hobby stores participating in Topps' Home Team Advantage (HTA) program. Beginning on Opening Day and continuing throughout the 2010 season, collectors who visited their local HTA store and purchased a pack of any 2010 Topps baseball product would be entitled to one card from this set -- two different cards every week.
At least that's how the promotion was supposed to work. In reality, since Topps shipped boxes of all 50 cards at one time before the season, most dealers either gave them away or sold complete sets on eBay.
NOTE: The design of this set is identical to that of the 2010 Topps Manufactured MLB Logoman Patch set, only without the manufactured patch, and can be considered a 50-card partial parallel.
Checklist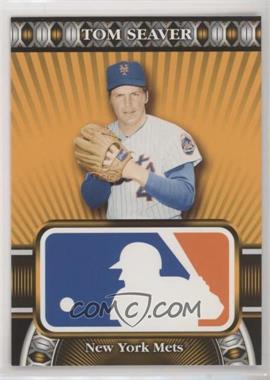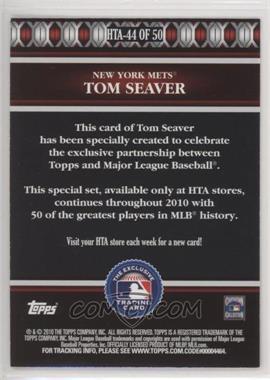 HTA-1 Albert Pujols
HTA-2 Hanley Ramirez
HTA-3 Mike Schmidt
HTA-4 CC Sabathia
HTA-5 Babe Ruth
HTA-6 George Sisler
HTA-7 Gordon Beckham
HTA-8 Tris Speaker
HTA-9 Ryan Braun
HTA-10 Jackie Robinson
HTA-11 Stan Musial
HTA-12 Ichiro
HTA-13 Manny Ramirez
HTA-14 Ty Cobb
HTA-15 Tommy Hanson
HTA-16 Joe Mauer
HTA-17 David Ortiz
HTA-18 Tim Lincecum
HTA-19 Andrew McCutchen
HTA-20 Reggie Jackson
HTA-21 Nolan Ryan
HTA-22 Evan Longoria
HTA-23 Johan Santana
HTA-24 Mark Teixeira
HTA-25 Pablo Sandoval
HTA-26 Jimmie Foxx
HTA-27 Roy Halladay
HTA-28 Lou Gehrig
HTA-29 Alex Rodriguez
HTA-30 Thurman Munson
HTA-31 Mel Ott
HTA-32 Mickey Mantle
HTA-33 Johnny Mize
HTA-34 Rogers Hornsby
HTA-35 Chase Utley
HTA-36 Walter Johnson
HTA-37 Zack Greinke
HTA-38 Honus Wagner
HTA-39 Roy Campanella
HTA-40 Prince Fielder
HTA-41 Cal Ripken, Jr.
HTA-42 Carl Yastrzemski
HTA-43 David Wright
HTA-44 Tom Seaver
HTA-45 Cy Young
HTA-46 Christy Mathewson
HTA-47 Justin Morneau
HTA-48 Ryan Howard
HTA-49 Rick Porcello
HTA-50 Nolan Reimold