2014 Topps Dynasty
Description
2014 Topps Dynasty was released December 3, 2014. Each card is a either a one-of-one cut signature, or an autographed patch card serial-numbered to 10 copies or less.
Distribution
One card per box (MSRP: $200). Five boxes per case. Hobby only.
Reviews
Insertion Ratios
| Cards | Total Cards | Numbered To | Odds |
| --- | --- | --- | --- |
| Autographed Patches | 472 | 10 | ? |
| Autographed Patches Gold Ink | 472 | one-of-one | ? |
| Autographed Dual Relic Greats | 6 | 5 | ? |
| Cut Signatures | 40 | one-of-one | ? |
| Cut Signatures Dual Relic Legends | 10 | one-of-one | ? |
Checklist
NOTE: Each card is encased.
Autographed Patches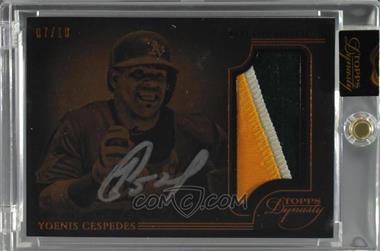 Each Autographed Patch is serial-numbered to ten with a one-of-one Gold Ink parallel also available.
Adrian Gonzalez
Albert Pujols
Bryce Harper
Bo Jackson
Buster Posey
Craig Biggio
Carlton Fisk
Chipper Jones
Clayton Kershaw
Cal Ripken, Jr.
Daisuke Matsuzaka
Don Mattingly
David Ortiz
Dustin Pedroia
David Wright
Evan Longoria
Freddie Freeman
Frank Thomas
Greg Maddux
Gregory Polanco
Giancarlo Stanton
George Springer
Steve Carlton
Hisashi Iwakuma
Hanley Ramirez
Jose Abreu
Jose Fernandez
Josh Hamilton
Jason Heyward
Joe Mauer
John Smoltz
Joey Votto
Ken Griffey, Jr.
Ken Griffey, Jr.
Miguel Cabrera
Mark McGwire
Manny Machado
Mike Piazza
Mike Piazza
Mariano Rivera
Mike Trout
Michael Wacha
Nick Castellanos
Nolan Ryan
Nolan Ryan
Oscar Taveras
Paul Goldschmidt
Pedro Martinez
Roberto Alomar
Ryan Braun
Roger Clemens
Rickey Henderson
Rickey Henderson
Reggie Jackson
Randy Johnson
Ryne Sandberg
Robin Yount
Sonny Gray
Shelby Miller
Tom Glavine
Troy Tulowitzki
Taijuan Walker
Vladimir Guerrero
Vladimir Guerrero
Wade Boggs
Wade Boggs
Wil Myers
Willie Mays
Yoenis Cespedes
Yu Darvish
Yadier Molina
Yasiel Puig
Autographed Dual Relics Greats
Each Autographed Dual Relic Great is serial-numbered to five.
Yasiel Puig
Don Mattingly
Ernie Banks
Hank Aaron
Johnny Bench
Sandy Koufax
Willie Mays
Cut Signatures
Each Cut Signature is a one-of-one EXCEPT Earl Weaver, who has two Cut Signatures.
Bob Feller
Babe Ruth
Carl Hubbell
Cy Young
Dizzy Dean
Don Drysdale
Elmer Flick
Ernie Lombardi
Earl Weaver
Ford Frick
Hank Greenberg
Harry Hooper
Honus Wagner
Joe Cronin
Joe DiMaggio
Jimmie Foxx
Joe McCarthy
Joe Medwick
Joe Sewell
Kirby Puckett
Lefty Grove
Lou Gehrig
Mel Ott
Phil Rizzuto
Pie Traynor
Pee Wee Reese
Roberto Clemente
Rogers Hornsby
Ralph Kiner
Roger Maris
Ron Santo
Sam Crawford
Satchel Paige
Ty Cobb
Ted Lyons
Thurman Munson
Ted Williams
Warren Giles
Warren Spahn
Willie Stargell
Cut Signatures Dual Relic Legends
Each Cut Signature Dual Relic Legend is a one-of-one.
Babe Ruth
Joe DiMaggio
Jimmie Foxx
Jackie Robinson
Lou Gehrig
Roberto Clemente
Roger Maris
Stan Musial
Ted Williams
Warren Spahn