2016 Cubs Topps World Series Champions
Description
2016 Cubs Topps World Series Champions are two boxed sets produced in commemoration of the Chicago Cubs' curse-breaking 2016 season. As with similar World Series commemorative boxed sets, they were released just in time for the 2016 Christmas season.
Topps produced two sets: A 25-card "Boxed" set, and a smaller fifteen-card "Blister" set. The "Boxed" set came packaged in a "Hanger" style box, while the "Blister" set was issued on a blister card -- not unlike Topps' annual team sets. The checklist for the first fifteen cards in the boxed set is identical to that of the blister set, yet have different photographs. Unfortunately, short of opening both, there is no other way to distinguish between the two sets. (Even the production codes on the reverse side are the same. Thanks Topps!)
Cards #WS-16 through #WS-25 are exclusive to the larger set.
Distribution
Reviews
Checklist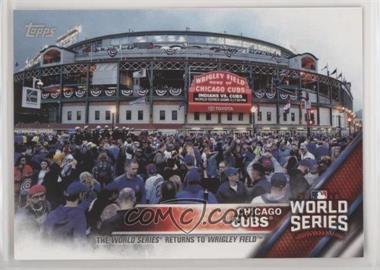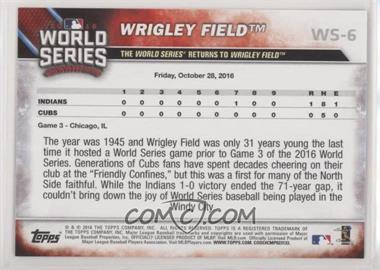 WS-1 Kyle Schwarber
WS-2 Anthony Rizzo
WS-3 Kyle Schwarber
WS-4 Jake Arrieta
WS-5 Aroldis Chapman
WS-6 Wrigley Field
WS-7 David Ross / Anthony Rizzo
WS-8 Kris Bryant
WS-9 Aroldis Chapman
WS-10 Kris Bryant
WS-11 Addison Russell
WS-12 Dexter Fowler
WS-13 David Ross
WS-14 Ben Zobrist
WS-15 Chicago Cubs Team
WS-16 Willson Contreras
WS-17 Jon Lester
WS-18 Addison Russell
WS-19 Kris Bryant
WS-20 Ben Zobrist
WS-21 Anthony Rizzo
WS-22 Javier Baez
WS-23 Jake Arrieta
WS-24 Kyle Schwarber
WS-25 Aroldis Chapman