Topps Living Set
Description
The Topps Living Set made its debut in March, 2018. At the beginning of each week, Topps announced three additional cards in the Living Set, and those cards would be made available for a week on Topps' website. All cards are printed to order and the set will continue indefinitely.
Each player will have one, and only one, Living Set card UNLESS that player changes teams. In which case, that player will have an additional Living Set card, depicting him with his new team.
Each card is done in the style of the 1953 Topps set and features original artwork from Mayumi Seto.
Distribution
$7.99 per card or $14.99 for three cards.
Reviews
Checklist
Listed below is the final production run for each card (although each card is NOT serial-numbered), and the date each card was first made available.
2018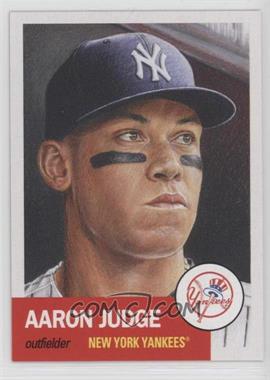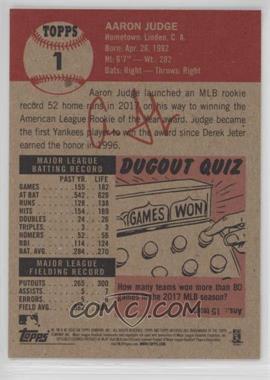 1 Aaron Judge 13256 14-Mar
2 Joe Panik 3650 14-Mar
3 Nick Castellanos 3639 14-Mar
4 Rhys Hoskins 5446 21-Mar
5 Ian Happ 3042 21-Mar
6 Nick Markakis 2678 21-Mar
7 Shohei Ohtani 20966 28-Mar
8 Russell Martin 3953 28-Mar
9 Jackie Bradley, Jr. 3959 28-Mar
10 Derek Jeter 10692 4-Apr
11 Alex Gordon 4143 4-Apr
12 Jean Segura 4052 4-Apr
13 Bryce Harper 9515 11-Apr
14 Mallex Smith 4529 11-Apr
15 A.J. Pollock 4221 11-Apr
16 Jose Altuve 6185 18-Apr
17 Chris Taylor 4837 18-Apr
18 Paul DeJong 4936 18-Apr
19 Ronald Acuna 46809 25-Apr
20 Jose Ramirez 9671 25-Apr
21 Matt Olson 9631 25-Apr
22 Albert Pujols 9403 2-May
23 Amed Rosario 7637 2-May
24 Chase Headley 6752 2-May
25 Ichiro 10713 9-May
26 Yoan Moncada 6382 9-May
27 Jose Berrios 6065 9-May
28 Rickey Henderson 6851 16-May
29 Rafael Devers 8403 16-May
30 Brandon Morrow 5585 16-May
31 Charlie Blackmon 6585 23-May
32 Ozzie Albies 14036 23-May
33 Lewis Brinson 5549 23-May
34 Gleyber Torres 28550 30-May
35 Adam Duvall 5766 30-May
36 Jordy Mercer 5731 30-May
37 Manny Machado 6516 6-Jun
38 Christian Villanueva 5296 6-Jun
39 Eric Sogard 4690 6-Jun
40 Scott Kingery 7277 13-Jun
41 Joey Rickard 5791 13-Jun
42 Jackie Robinson 13147 13-Jun
43 Juan Soto 28572 20-Jun
44 Bartolo Colon 5630 20-Jun
45 Brad Peacock 5440 20-Jun
46 Hank Aaron 11233 27-Jun
47 Jordan Hicks 6099 27-Jun
48 Kevin Pillar 5505 27-Jun
49 Miguel Andujar 12794 4-Jul
50 Noah Syndergaard 6167 4-Jul
51 Austin Hedges 5354 4-Jul
52 Max Scherzer 6277 11-Jul
53 Walker Buehler 7503 11-Jul
54 Mitch Haniger 5187 11-Jul
55 Ted Williams 10927 18-Jul
56 Brian Anderson 5218 18-Jul
57 Sean Manaea 4792 18-Jul
58 Giancarlo Stanton 7626 25-Jul
59 Freddy Peralta 4915 25-Jul
60 Pat Neshek 12736 25-Jul
61 Francisco Lindor 6714 1-Aug
62 Andrew Benintendi 6239 1-Aug
63 Austin Meadows 5639 1-Aug
64 Ryne Sandberg 7212 8-Aug
65 Dustin Fowler 4808 8-Aug
66 Yasiel Puig 4886 8-Aug
67 Anthony Rizzo 5568 15-Aug
68 Daniel Murphy 4586 15-Aug
69 Willy Adames 4974 15-Aug
70 Bo Jackson 7321 22-Aug
71 Jake Arrieta 5060 22-Aug
72 Dereck Rodriguez 5798 22-Aug
73 Cody Bellinger 5273 29-Aug
74 Lourdes Gurriel, Jr. 5094 29-Aug
75 Joe Mauer 4725 29-Aug
76 Roberto Clemente 10922 5-Sep
77 Tyler O�Neill 4851 5-Sep
78 Avisail Garcia 4520 5-Sep
79 Jacob deGrom 5302 12-Sep
80 Victor Robles 6104 12-Sep
81 Jed Lowrie 4348 12-Sep
82 Joey Votto 4915 19-Sep
83 David Bote 5345 19-Sep
84 Trevor Story 4576 19-Sep
85 Don Mattingly 6785 26-Sep
86 Nick Williams 4733 26-Sep
87 David Wright 5524 26-Sep
88 Manny Machado 4802 3-Oct
89 Jack Flaherty 4754 3-Oct
90 Adrian Beltre 4585 3-Oct
91 J.D. Martinez 4532 10-Oct
92 Francisco Mejia 5096 10-Oct
93 Evan Gattis 3990 10-Oct
94 Christian Yelich 5025 17-Oct
95 Clayton Kershaw 5872 17-Oct
96 Ryan McMahon 4549 17-Oct
97 Chris Sale 4622 24-Oct
98 Dominic Smith 4035 24-Oct
99 Ender Inciarte 4248 24-Oct
100 Babe Ruth 14976 31-Oct
101 Sandy Alcantara 4771 31-Oct
102 Victor Martinez 4634 31-Oct
103 Javier Baez 4499 7-Nov
104 Alex Verdugo 3911 7-Nov
105 Ketel Marte 3644 7-Nov
106 Cal Ripken, Jr. 6423 14-Nov
107 Blake Snell 4173 14-Nov
108 J.P. Crawford 4180 14-Nov
109 Nolan Arenado 4065 21-Nov
110 Clint Frazier 4365 21-Nov
111 Andrew Heaney 3602 21-Nov
112 Ralph Kiner 4114 28-Nov
113 Daniel Palka 3923 28-Nov
114 Billy Hamilton 3837 28-Nov
115 Luis Severino 4061 5-Dec
116 Felix Jorge 3472 5-Dec
117 Trey Mancini 3490 5-Dec
118 Nolan Ryan 6745 12-Dec
119 A.J. Minter 3994 12-Dec
120 Harrison Bader 4283 12-Dec
121 Buster Posey 3990 19-Dec
122 Jorge Alfaro 3416 19-Dec
123 David Peralta 3353 19-Dec
124 Jim Thome 3753 26-Dec
125 Ryan Yarbrough 3201 26-Dec
126 Justin Upton 3110 26-Dec
2019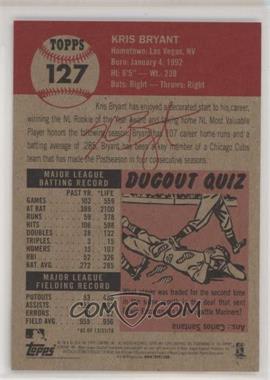 127 Kris Bryant 5361 2-Jan
128 Eugenio Suarez 3766 2-Jan
129 Matthew Boyd 3720 2-Jan
130 George Springer 3541 9-Jan
131 Wil Myers 3239 9-Jan
132 Daniel Mengden 3250 9-Jan
133 Frank Thomas 4163 16-Jan
134 Trea Turner 3402 16-Jan
135 Devon Travis 3205 16-Jan
136 Mariano Rivera 8945 23-Jan
137 Michael Lorenzen 3252 23-Jan
138 Jake Odorizzi 3164 23-Jan
139 Zack Greinke 3094 30-Jan
140 Brandon Crawford 3246 30-Jan
141 Adam Frazier 3074 30-Jan
142 Freddie Freeman 3430 6-Feb
143 Ryan O�Hearn 3145 6-Feb
144 Jedd Gyorko 2974 6-Feb
145 Justin Verlander 3855 13-Feb
146 Cedric Mullins 3190 13-Feb
147 Jose Urena 3053 13-Feb
148 Ivan Rodriguez 3177 20-Feb
149 Aaron Altherr 2964 20-Feb
150 Khris Davis 2976 20-Feb
151 Stephen Strasburg 3084 27-Feb
152 Kyle Tucker 3853 27-Feb
153 Mike Clevinger 2998 27-Feb
154 Stan Musial 4575 6-Mar
155 Luis Urias 3313 6-Mar
156 Ryon Healy 2765 6-Mar
157 Anthony Rendon 13-Mar
158 Garrett Hampson 13-Mar
159 Jose Abreu 13-Mar
160 Randy Johnson 3318 20-Mar
161 Brandon Lowe 2936 20-Mar
162 Enrique Hernandez 2959 20-Mar
163 Bryce Harper 8233 27-Mar
164 Sean Reid-Foley 3052 27-Mar
165 Ryan Braun 3056 27-Mar
166 Robinson Cano 2870 3-Apr
167 Eloy Jimenez 6356 3-Apr
168 Matt Carpenter 2833 3-Apr
169 Corey Kluber 2871 10-Apr
170 Nick Burdi 2873 10-Apr
171 Shin-Soo Choo 2737 10-Apr
172 Evan Longoria 2930 17-Apr
173 Fernando Tatis, Jr. 10099 17-Apr
174 Andrelton Simmons 2914 17-Apr
175 Jim Palmer 3252 24-Apr
176 Pete Alonso 8695 24-Apr
177 Tim Beckham 2777 24-Apr
178 Xander Bogaerts 3776 1-May
179 Vladimir Guerrero, Jr. 27749 1-May
180 Nelson Cruz 3581 1-May
181 Paul Goldschmidt 3098 8-May
182 Ramon Laureano 2975 8-May
183 Howie Kendrick 2633 8-May
184 Al Kaline 4278 15-May
185 Yusei Kikuchi 3640 15-May
186 Ji-Man Choi 2934 15-May
187 Lorenzo Cain 2799 22-May
188 Nick Senzel 4700 22-May
189 Hunter Dozier 2879 22-May
190 Justin Turner 2762 29-May
191 Carter Kieboom 3338 29-May
192 Wade Davis 2605 29-May
193 Ken Griffey, Jr. 8369 5-Jun
194 Jeff McNeil 3713 5-Jun
195 Brian McCann 3243 5-Jun
196 JT Realmuto 2796 12-Jun
197 Keston Hiura 3234 12-Jun
198 Brett Gardner 2928 12-Jun
199 Christin Stewart 4858 19-Jun
200 Mike Trout 22017 19-Jun
201 Martin Prado 4755 19-Jun
CL-01 Checklist #1-100� 4393 19-Jun
CL-02 Checklist #101-200� 4393 19-Jun
202 Rod Carew 3295 26-Jun
203 Michael Chavis 3393 26-Jun
204 Pablo Sandoval 2574 26-Jun
205 Hyun-Jin Ryu 2628 3-Jul
206 Austin Riley 5143 3-Jul
207 Eduardo Escobar 2583 3-Jul
208 Craig Biggio 2680 10-Jul
209 Cavan Biggio 2972 10-Jul
210 Jason Heyward 2573 10-Jul
211 Charlie Morton 2644 17-Jul
212 Brendan Rodgers 2796 17-Jul
213 Tim Anderson 2619 17-Jul
214 Tony Gwynn 3783 24-Jul
215 Oscar Mercado 2853 24-Jul
216 Starling Marte 2659 24-Jul
217 Ernie Banks 5406 31-Jul
218 Dakota Hudson 2639 31-Jul
219 Harold Baines 2821 31-Jul
220 Dansby Swanson 2652 7-Aug
221 John Means 2477 7-Aug
222 Joey Gallo 2499 7-Aug
223 Vladimir Guerrero 2992 14-Aug
224 Spencer Turnbull 2461 14-Aug
225 Max Kepler 2523 14-Aug
226 Marcus Stroman 2372 21-Aug
227 Chris Paddack 2699 21-Aug
228 Jorge Soler 2318 21-Aug
229 Bernie Williams 2788 28-Aug
230 Griffin Canning 2326 28-Aug
231 Adam Eaton 2332 28-Aug
232 Deion Sanders 2564 4-Sep
233 Justus Sheffield 2295 4-Sep
234 Stephen Piscotty 2278 4-Sep
235 Mike Piazza 2984 11-Sep
236 Pablo Lopez 2311 11-Sep
237 Travis d�Arnaud 2280 11-Sep
238 Yasiel Puig 2315 18-Sep
239 Bryan Reynolds 2658 18-Sep
240 Felix Hernandez 2290 18-Sep
241 CC Sabathia 2825 25-Sep
242 Touki Toussaint 2267 25-Sep
243 Maikel Franco 2210 25-Sep
244 Honus Wagner 3707 2-Oct
245 Zach Plesac 2424 2-Oct
246 Mitch Garver 2306 2-Oct
247 Gerrit Cole 2632 9-Oct
248 Will Smith 2781 9-Oct
249 Adam Ottavino 2433 9-Oct
250 Yadier Molina 2695 16-Oct
251 Max Fried 2328 16-Oct
252 Alex Bregman 2888 16-Oct
253 Aroldis Chapman 2472 23-Oct
254 Ryan Zimmerman 2347 23-Oct
255 Ty Cobb 3691 30-Oct
256 Josh James 2285 30-Oct
257 Sean Doolittle 2083 6-Nov
258 Michael Kopech 2157 6-Nov
259 Thurman Munson 3657 13-Nov
260 Jon Duplantier 2128 13-Nov
261 Mike Soroka 2239 20-Nov
262 Tommy Pham 2009 20-Nov
263 Gary Carter 2606 27-Nov
264 Brad Keller 2125 27-Nov