1994 Bowman's Best
Description
1994 Bowman's Best is a 200-card set that is a hybrid of Topps' successful Bowman and Finest lines. The set consists of 90 veteran stars, 90 rookies and prospects and 20 Mirror Image cards. The veteran cards have red fronts and are designated R1-R90. The rookies and prospects cards have blue fronts and are designated B1-B90. This is the first instance of Topps' "Red/Blue" numbering scheme that has became commonplace in future Bowman sets.
The 20 Mirror Image cards feature a veteran star and a prospect matched by position in a horizontal design. These cards are numbered X91-X110. Subsets featured are Super Vet (R1-R6), Super Rookie (R82-R90), and Blue Chip (B1-B11).
Notable Rookie Cards include Billy Wagner, Chan Ho Park, Jorge Posada and Edgar Renteria.
Distribution
Hobby: 24 packs per box, four cards per pack (MSRP: $5).
Retail: 20 packs per box, four cards per pack (MSRP: $5).
Reviews
Insertion Ratios
| Cards | Total Cards | Numbered To | Odds |
| --- | --- | --- | --- |
| Base | 200 | - | ? |
| Red and Blue subsets | 180 | - | 3:1 |
| Mirror Image | 20 | - | 1:1 |
| Refractors | 200 | - | 1:9 |
Checklist
Base Set
Veterans (Reds)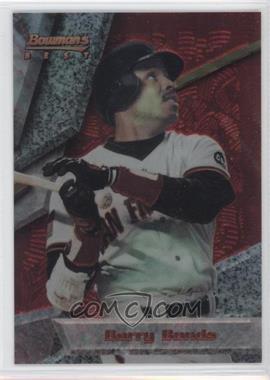 R1 Paul Molitor
R2 Eddie Murray
R3 Ozzie Smith
R4 Rickey Henderson
R5 Lee Smith
R6 Dave Winfield
R7 Roberto Alomar
R8 Matt Williams
R9 Mark Grace
R10 Lance Johnson
R11 Darren Daulton
R12 Tom Glavine
R13 Gary Sheffield
R14 Rod Beck
R15 Fred McGriff
R16 Joe Carter
R17 Dante Bichette
R18 Danny Tartabull
R19 Juan Gonzalez
R20 Steve Avery
R21 John Wetteland
R22 Ben McDonald
R23 Jack McDowell
R24 Jose Canseco
R25 Tim Salmon
R26 Wilson Alvarez
R27 Gregg Jefferies
R28 John Burkett
R29 Greg Vaughn
R30 Robin Ventura
R31 Paul O'Neill
R32 Cecil Fielder
R33 Kevin Mitchell
R34 Jeff Conine
R35 Carlos Baerga
R36 Greg Maddux
R37 Roger Clemens
R38 Deion Sanders
R39 Delino DeShields
R40 Ken Griffey, Jr.
R41 Albert Belle
R42 Wade Boggs
R43 Andres Galarraga
R44 Aaron Sele
R45 Don Mattingly
R46 David Cone
R47 Lenny Dykstra
R48 Brett Butler
R49 Bill Swift
R50 Bobby Bonilla
R51 Rafael Palmeiro
R52 Moises Alou
R53 Jeff Bagwell
R54 Mike Mussina
R55 Frank Thomas
R56 Jose Rijo
R57 Ruben Sierra
R58 Randy Myers
R59 Barry Bonds
R60 Jimmy Key
R61 Travis Fryman
R62 John Olerud
R63 Dave Justice
R64 Ray Lankford
R65 Bob Tewksbury
R66 Chuck Carr
R67 Jay Buhner
R68 Kenny Lofton
R69 Marquis Grissom
R70 Sammy Sosa
R71 Cal Ripken, Jr.
R72 Ellis Burks
R73 Jeff Montgomery
R74 Julio Franco
R75 Kirby Puckett
R76 Larry Walker
R77 Andy Van Slyke
R78 Tony Gwynn
R79 Will Clark
R80 Mo Vaughn
R81 Mike Piazza
R82 James Mouton
R83 Carlos Delgado
R84 Ryan Klesko
R85 Javy Lopez
R86 Raul Mondesi
R87 Cliff Floyd
R88 Manny Ramirez
R89 Hector Carrasco
R90 Jeff Granger
Rookies & Prospects (Blues)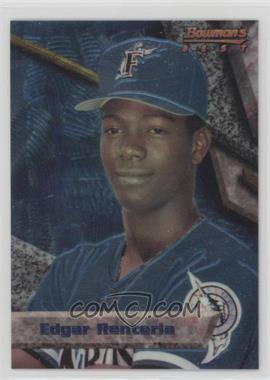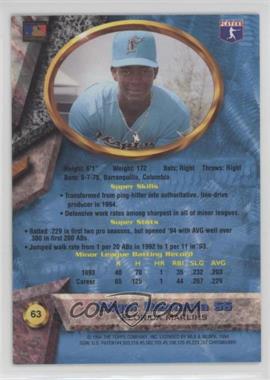 B1 Chipper Jones
B2 Derek Jeter
B3 Bill Pulsipher
B4 James Baldwin
B5 Brooks Kieschnick
B6 Justin Thompson
B7 Midre Cummings
B8 Joey Hamilton
B9 Pokey Reese
B10 Brian Barber
B11 John Burke
B12 DeShawn Warren
B13 Edgardo Alfonzo
B14 Eddie Pearson
B15 Jimmy Haynes
B16 Danny Bautista
B17 Roger Cedeno
B18 Jon Lieber
B19 Billy Wagner
B20 Tate Seefried
B21 Chad Mottola
B22 Jose Malave
B23 Terrell Wade
B24 Shane Andrews
B25 Chan Ho Park RC
B26 Kirk Presley
B27 Robbie Beckett
B28 Orlando Miller
B29 Jorge Posada
B30 Frankie Rodriguez
B31 Brian L. Hunter
B32 Billy Ashley
B33 Rondell White
B34 John Roper
B35 Marc Valdes
B36 Scott Ruffcorn
B37 Rod Henderson
B38 Curtis Goodwin
B39 Russ Davis
B40 Rick Gorecki
B41 Johnny Damon
B42 Roberto Petagine
B43 Chris Snopek
B44 Mark Acre RC
B45 Todd Hollandsworth
B46 Shawn Green
B47 John Carter
B48 Jim Pittsley RC
B49 John Wasdin
B50 D.J. Boston
B51 Tim Clark
B52 Alex Ochoa
B53 Chad Roper
B54 Mike Kelly
B55 Brad Fullmer
B56 Carl Everett
B57 Tim Belk
B58 Jimmy Hurst
B59 Mac Suzuki
B60 Mike Moore
B61 Alan Benes
B62 Tony Clark
B63 Edgar Renteria
B64 Trey Beamon
B65 LaTroy Hawkins
B66 Wayne Gomes
B67 Ray McDavid
B68 John Dettmer
B69 Willie Greene
B70 Dave Stevens
B71 Kevin Orie
B72 Chad Ogea
B73 Ben Van Ryn
B74 Kym Ashworth
B75 Dmitri Young
B76 Herbert Perry
B77 Joey Eischen
B78 Arquimedez Pozo
B79 Ugueth Urbina
B80 Keith Williams
B81 John Frascatore
B82 Garey Ingram
B83 Aaron Small
B84 Olmedo Saenz
B85 Jesus Tavarez
B86 Jose Silva
B87 Jay Witasick
B88 Jay Maldonado
B89 Keith Heberling
B90 Rusty Greer RC
Mirror Image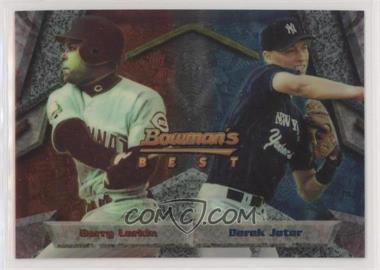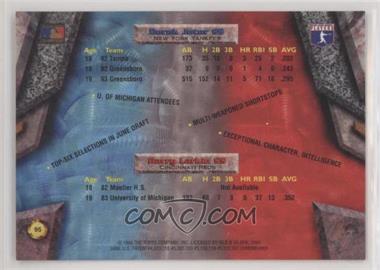 NOTE: The Mirror Image cards were seeded at the rate of one-per-pack, making them triple printed.
X91 Frank Thomas / Dmitri Young
X92 Fred McGriff / Brooks Kieschnick
X93 Matt Williams / Shane Andrews
X94 Cal Ripken / Kevin Orie
X95 Derek Jeter / Barry Larkin
X96 Ken Griffey, Jr.
X97 Barry Bonds / Rondell White
X98 Albert Belle / Jimmy Hurst
X99 Ruben Rivera / Raul Mondesi
X100 Roger Clemens / Scott Ruffcorn
X101 Greg Maddux / John Wasdin
X102 Tim Salmon / Chad Mottola
X103 Carlos Baerga / Arquimedez Pozo
X104 Mike Piazza / Bobby Hughes
X105 Carlos Delgado / Melvin Nieves
X106 Jorge Posada / Javy Lopez
X107 Manny Ramirez / Jose Malave
X108 Chipper Jones / Travis Fryman
X109 Steve Avery / Bill Pulsipher
X110 John Olerud / Shawn Green
Parallels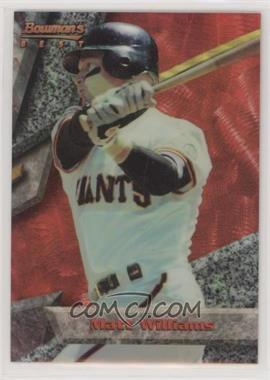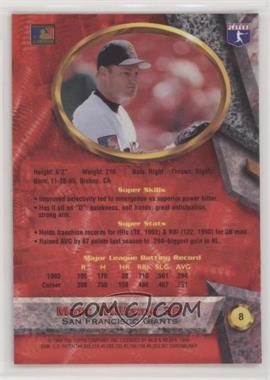 All 200 cards are available in a Refractor parallel.