1995 Bowman's Best
Description
1995 Bowman's Best is a 195-card set consisting of 90 veterans, 90 rookies, and 15 Mirror Image cards.
Distribution
24 packs per box, seven cards per pack (MSRP: $5).
Reviews
Insertion Ratios
| Cards | Total Cards | Numbered To | Odds |
| --- | --- | --- | --- |
| Base | 195 | - | ? |
| Refractors | 180 | - | 1:6 |
| Mirror Image Diffractors | 15 | - | 1:11 |
Checklist
Base Set
Blue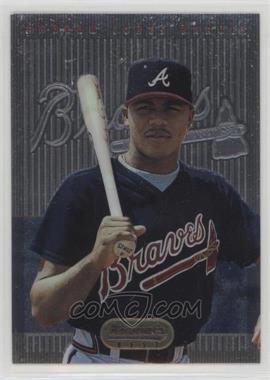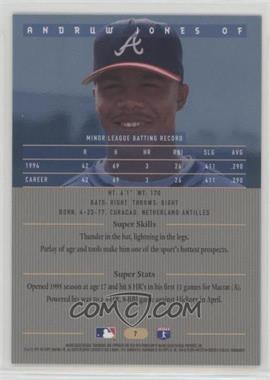 B1 Derek Jeter
B2 Vladimir Guerrero
B3 Bob Abreu
B4 Chan Ho Park
B5 Paul Wilson
B6 Chad Ogea
B7 Andruw Jones
B8 Brian Barber
B9 Andy Larkin
B10 Richie Sexson RC
B11 Everett Stull
B12 Brooks Kieschnick
B13 Matt Murray
B14 John Wasdin
B15 Shannon Stewart
B16 Luis Ortiz
B17 Marc Kroon
B18 Todd Greene
B19 Juan Acevedo RC
B20 Tony Clark
B21 Jermaine Dye
B22 Derrek Lee
B23 Pat Watkins
B24 Pokey Reese
B25 Ben Grieve
B26 Julio Santana
B27 Felix Rodriguez RC
B28 Paul Konerko
B29 Nomar Garciaparra
B30 Pat Ahearne
B31 Jason Schmidt
B32 Billy Wagner
B33 Rey Ordonez
B34 Curtis Goodwin
B35 Sergio Nunez
B36 Tim Belk
B37 Scott Elarton RC
B38 Jason Isringhausen
B39 Trot Nixon
B40 Sid Roberson RC
B41 Ron Villone
B42 Ruben Rivera
B43 Rick Huisman
B44 Todd Hollandsworth
B45 Johnny Damon
B46 Garret Anderson
B47 Jeff D'Amico
B48 Dustin Hermanson
B49 Juan Encarnacion
B50 Andy Pettitte
B51 Chris Stynes
B52 Troy Percival
B53 LaTroy Hawkins
B54 Roger Cedeno
B55 Alan Benes
B56 Karim Garcia
B57 Andrew Lorraine
B58 Gary Rath
B59 Bret Wagner
B60 Jeff Suppan
B61 Bill Pulsipher
B62 Jay Payton
B63 Alex Ochoa
B64 Ugueth Urbina
B65 Armando Benitez
B66 George Arias
B67 Raul Casanova
B68 Matt Drews
B69 Jimmy Haynes
B70 Jimmy Hurst
B71 C.J. Nitkowski RC
B72 Tommy Davis
B73 Bartolo Colon
B74 Chris Carpenter
B75 Trey Beamon
B76 Bryan Rekar
B77 James Baldwin
B78 Marc Valdes
B79 Tom Fordham
B80 Marc Newfield
B81 Angel Martinez
B82 Brian L. Hunter
B83 Jose Herrera
B84 Glenn Dishman RC
B85 Jacob Cruz
B86 Paul Shuey
B87 Scott Rolen RC
B88 Doug Million
B89 Desi Relaford
B90 Michael Tucker
Red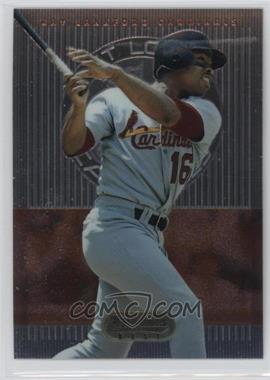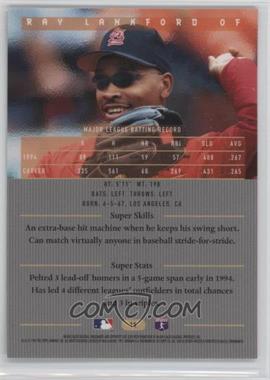 R1 Randy Johnson
R2 Joe Carter
R3 Chili Davis
R4 Moises Alou
R5 Gary Sheffield
R6 Kevin Appier
R7 Denny Neagle
R8 Ruben Sierra
R9 Darren Daulton
R10 Cal Ripken, Jr.
R11 Bobby Bonilla
R12 Manny Ramirez
R13 Barry Bonds
R14 Eric Karros
R15 Greg Maddux
R16 Jeff Bagwell
R17 Paul Molitor
R18 Ray Lankford
R19 Mark Grace
R20 Kenny Lofton
R21 Tony Gwynn
R22 Will Clark
R23 Roger Clemens
R24 Dante Bichette
R25 Barry Larkin
R26 Wade Boggs
R27 Kirby Puckett
R28 Cecil Fielder
R29 Jose Canseco
R30 Juan Gonzalez
R31 David Cone
R32 Craig Biggio
R33 Tim Salmon
R34 Dave Justice
R35 Sammy Sosa
R36 Mike Piazza
R37 Carlos Baerga
R38 Jeff Conine
R39 Rafael Palmeiro
R40 Bret Saberhagen
R41 Lenny Dykstra
R42 Mo Vaughn
R43 Wally Joyner
R44 Chuck Knoblauch
R45 Robin Ventura
R46 Don Mattingly
R47 Dave Hollins
R48 Andy Benes
R49 Ken Griffey, Jr.
R50 Albert Belle
R51 Matt Williams
R52 Rondell White
R53 Raul Mondesi
R54 Brian Jordan
R55 Greg Vaughn
R56 Fred McGriff
R57 Roberto Alomar
R58 Dennis Eckersley
R59 Lee Smith
R60 Eddie Murray
R61 Kenny Rogers
R62 Ron Gant
R63 Larry Walker
R64 Chad Curtis
R65 Frank Thomas
R66 Paul O'Neill
R67 Kevin Seitzer
R68 Marquis Grissom
R69 Mark McGwire
R70 Travis Fryman
R71 Andres Galarraga
R72 Carlos Perez RC
R73 Tyler Green
R74 Marty Cordova
R75 Shawn Green
R76 Vaughn Eshelman
R77 John Mabry
R78 Jason Bates
R79 Jon Nunnally
R80 Ray Durham
R81 Edgardo Alfonzo
R82 Esteban Loaiza
R83 Hideo Nomo RC
R84 Orlando Miller
R85 Alex Gonzalez
R86 Mark Grudzielanek RC
R87 Julian Tavarez
R88 Benji Gil
R89 Quilvio Veras
R90 Ricky Bottalico
Mirror Image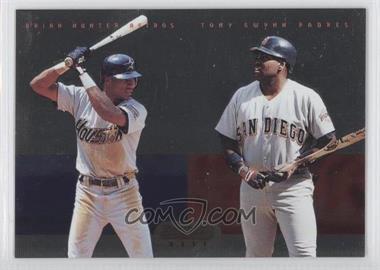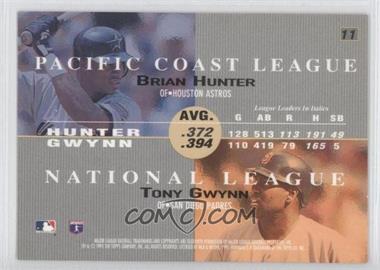 X1 Ben Davis / Ivan Rodriguez RC
X2 Mark Redman / Manny Ramirez
X3 Reggie Taylor / Deion Sanders RC
X4 Ryan Jaroncyk / Shawn Green RC*
X5 Juan LeBron / Juan Gonzalez RC UER (Photo of Carlos Beltran)
X6 Tony McKnight / Craig Biggio RC
X7 Marty Barrett / Travis Fryman
X8 Corey Jenkins / Mo Vaughn RC*
X9 Ruben Rivera / Frank Thomas
X10 Curtis Goodwin / Kenny Lofton
X11 Brian R. Hunter / Tony Gwynn
X12 Todd Greene / Ken Griffey, Jr.
X13 Karim Garcia / Matt Williams
X14 Billy Wagner / Randy Johnson
X15 Pat Watkins / Jeff Bagwell
Parallels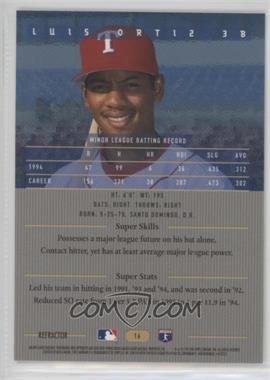 All 180 cards from the "Red" and "Blue" subsets are available in a Refractor parallel. The 15 Mirror Image cards are available in a Diffractor parallel.
NOTE: Some Red Refractors do not have the "REFRACTOR" label on the back.
Jumbo Refractors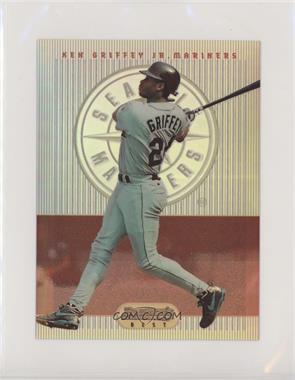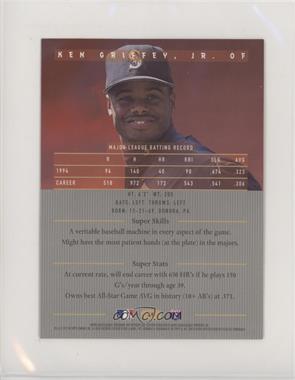 This ten-card partial-parallel set was randomly inserted into specially-marked retail rewraps distributed by Treat, Inc. Each card measures 4" X 6".
Most of these cards were distributed regionally; however, the Albert Belle and Greg Maddux cards were distributed nationally. No more than 9000 copies of each were produced, but the cards are not serial-numbered.
1 Albert Belle
2 Ken Griffey, Jr.
3 Tony Gwynn
4 Greg Maddux
5 Hideo Nomo
6 Mike Piazza
7 Cal Ripken, Jr.
8 Sammy Sosa
9 Frank Thomas
10 Mo Vaughn