1995 Pinnacle
Description
1995 Pinnacle is a 450-card set released in two series of 225 cards. By 1995, Pinnacle Brands, Inc. and its flagship product were established in the Hobby and known for its Dufex technology used on inserts and parallels. Following the "Insert-Mania" trend of the time, this year's set featured 9 different insert offerings in addition to two parallels, which was the highest number of "chase" cards the product had produced up to that point. For the second consecutive year, each base card featured a borderless color photo with a gold-foil section at the bottom of the card front that housed the player nameplate and resembled the seams and surface of a baseball. Additionally, the unique anti-counterfeit bar codes were again featured on the back.
There were 3 subsets and Checklists at the end of each series:
Rookies
Draft Picks
Swing Men
There are no notable Rookie Cards in the set.
Distribution
Hobby/Retail: 36 packs per box, 12 cards per pack.
Jumbo: 36 packs per box, 15 cards per pack.
Insertion Ratios
| Cards | Total Cards | Numbered To | Hobby Odds | Retail Odds | Jumbo Odds |
| --- | --- | --- | --- | --- | --- |
| Base | 450 | - | ? | ? | ? |
| Museum Collection | 450 | - | 1:4 | 1:4 | 1:3 |
| Artist's Proof | 450 | - | 1:36 | 1:36 | N/A |
| Team Pinnacle (S1) | 9 | - | 1:90 | 1:90 | N/A |
| ETA 95 (S1) | 6 | - | 1:24 | N/A | N/A |
| Upstarts (S1) | 30 | - | 1:8 | 1:8 | N/A |
| Pinnacle Performers (S1) | 18 | - | N/A | N/A | 1:12 |
| Team Pinnacle Pin Redemptions (S2) | 18 | - | 1:48 | 1:48 | 1:36 |
| Red Hot (S2) | 25 | - | 1:8 | 1:8 | N/A |
| White Hot (S2) | 25 | - | ? | N/A | N/A |
| New Blood (S2) | 9 | - | 1:90 | 1:90 | N/A |
| Gate Attractions (S2) | 18 | - | N/A | N/A | 1:12 |
Checklist
Promos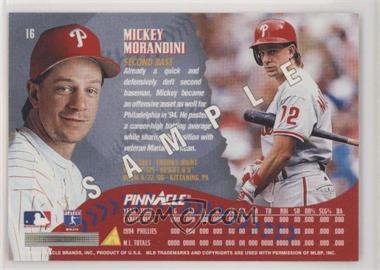 This 9-card set was issued in sealed packs to promote the release of 1995 Pinnacle Baseball Series One. The pack contained seven base set reprints, a card from the Upstarts insert set, and an unnumbered title card explaining the set. These promo cards are easily distinguished from their regular issue counterparts as "SAMPLE" is diagonally printed across the front and the back and "0"'s are used in the stat lines on the back.
US22 Wil Cordero
NNO Title Card
16 Mickey Morandini
119 Gary Sheffield
122 Ivan Rodriguez
132 Alex Rodriguez
208 Bo Jackson
223 Jose Rijo
224 Ryan Klesko
Base Set
Series One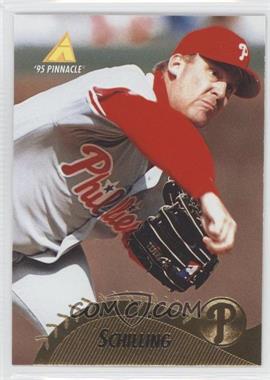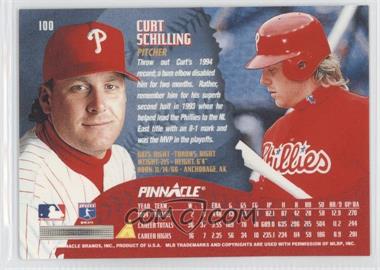 1 Jeff Bagwell
2 Roger Clemens
3 Mark Whiten
4 Shawon Dunston
5 Bobby Bonilla
6 Kevin Tapani
7 Eric Karros
8 Cliff Floyd
9 Pat Kelly
10 Jeffrey Hammonds
11 Jeff Conine
12 Fred McGriff
13 Chris Bosio
14 Mike Mussina
15 Danny Bautista
16 Mickey Morandini
17 Chuck Finley
18 Jim Thome
19 Luis Ortiz
20 Walt Weiss
21 Don Mattingly
22 Bob Hamelin
23 Melido Perez
24 Keith Mitchell
25 John Smoltz
26 Hector Carrasco
27 Pat Hentgen
28 Derrick May
29 Mike Kingery
30 Chuck Carr
31 Billy Ashley
32 Todd Hundley
33 Luis Gonzalez
34 Marquis Grissom
35 Jeff King
36 Eddie Williams
37 Tom Pagnozzi
38 Chris Hoiles
39 Sandy Alomar, Jr.
40 Mike Greenwell
41 Lance Johnson
42 Junior Felix
43 Felix Jose
44 Scott Leius
45 Ruben Sierra
46 Kevin Seitzer
47 Wade Boggs
48 Reggie Jefferson
49 Jose Canseco
50 Dave Justice
51 John Smiley
52 Joe Carter
53 Rick Wilkins
54 Ellis Burks
55 David Weathers
56 Pedro Astacio
57 Ryan Thompson
58 James Mouton
59 Mel Rojas
60 Orlando Merced
61 Matt Williams
62 Bernard Gilkey
63 J.R. Phillips
64 Lee Smith
65 Jim Edmonds
66 Darrin Jackson
67 Scott Cooper
68 Ron Karkovice
69 Chris Gomez
70 Kevin Appier
71 Bobby Jones
72 Doug Drabek
73 Matt Mieske
74 Sterling Hitchcock
75 John Valentin
76 Reggie Sanders
77 Wally Joyner
78 Turk Wendell
79 Charlie Hayes
80 Bret Barberie
81 Troy Neel
82 Ken Caminiti
83 Milt Thompson
84 Paul Sorrento
85 Trevor Hoffman
86 Jay Bell
87 Mark Portugal
88 Sid Fernandez
89 Charles Nagy
90 Jeff Montgomery
91 Chuck Knoblauch
92 Jeff Frye
93 Tony Gwynn
94 John Olerud
95 David Nied
96 Chris Hammond
97 Edgar Martinez
98 Kevin Stocker
99 Jeff Fassero
100 Curt Schilling
101 Dave Clark
102 Delino DeShields
103 Leo Gomez
104 Dave Hollins
105 Tim Naehring
106 Otis Nixon
107 Ozzie Guillen
108 Jose Lind
109 Stan Javier
110 Greg Vaughn
111 Chipper Jones
112 Ed Sprague
113 Mike Macfarlane
114 Steve Finley
115 Ken Hill
116 Carlos Garcia
117 Lou Whitaker
118 Todd Zeile
119 Gary Sheffield
120 Ben McDonald
121 Pete Harnisch
122 Ivan Rodriguez
123 Wilson Alvarez
124 Travis Fryman
125 Pedro Munoz
126 Mark Lemke
127 Jose Valentin
128 Ken Griffey, Jr.
129 Omar Vizquel
130 Milt Cuyler
Rookies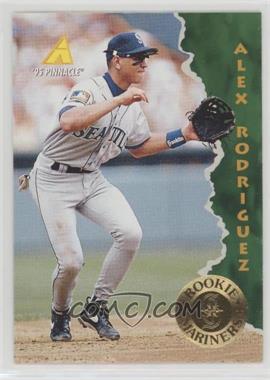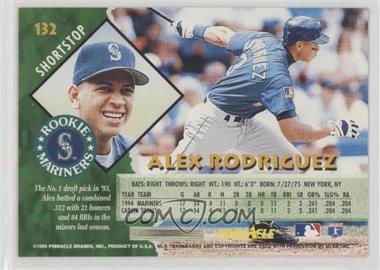 131 Steve Trachsel
132 Alex Rodriguez
133 Garret Anderson
134 Armando Benitez
135 Shawn Green
136 Jorge Fabregas
137 Orlando Miller
138 Rikkert Faneyte
139 Ismael Valdes
140 Jose Oliva
141 Aaron Small
142 Tim Davis
143 Ricky Bottalico
144 Mike Matheny
145 Roberto Petagine
146 Fausto Cruz
147 Bryce Florie
148 Jose Lima
149 John Hudek
150 Duane Singleton
151 John Mabry
152 Robert Eenhoorn
153 Jon Lieber
154 Garey Ingram
155 Paul Shuey
156 Mike Lieberthal
157 Steve Dunn
158 Charles Johnson
159 Ernie Young
160 Jose Martinez
161 Kurt Miller
162 Joey Eischen
163 Dave Stevens
164 Brian L. Hunter
165 Jeff Cirillo
166 Mark Smith
Draft Picks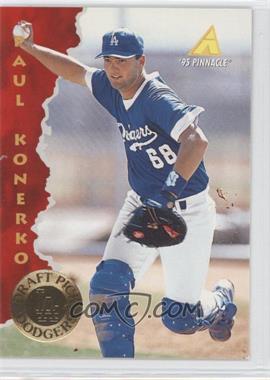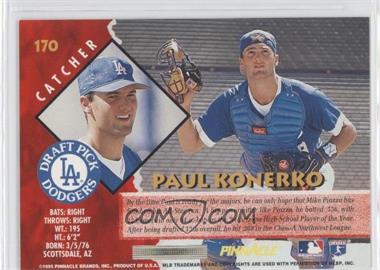 167 McKay Christensen DP RC
168 C.J. Nitkowski DP RC
169 Antone Williamson DP RC
170 Paul Konerko DP
171 Scott Elarton DP RC
172 Jacob Shumate DP
173 Terrence Long DP
174 Mark Johnson DP RC
175 Ben Grieve DP
176 Jayson Peterson DP RC*
Checklists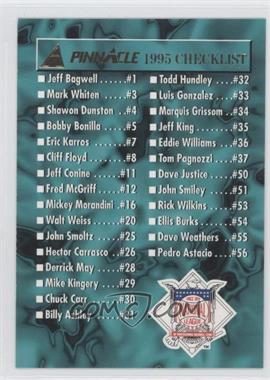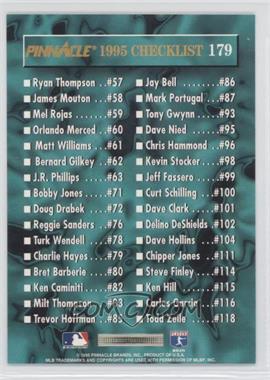 Differing from normal structure of checklist cards, Series One Checklists were arranged by League.
177 American League Checklist
178 American League Checklist
179 National League Checklist
180 National League Checklist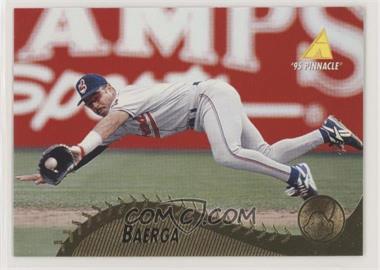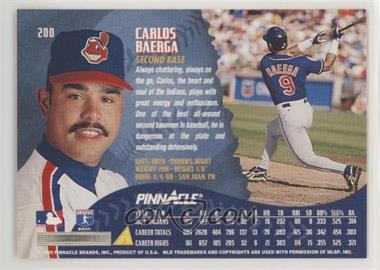 181 Brian Anderson
182 Steve Buechele
183 Mark Clark
184 Cecil Fielder
185 Steve Avery
186 Devon White
187 Craig Shipley
188 Brady Anderson
189 Kenny Lofton
190 Alex Cole
191 Brent Gates
192 Dean Palmer
193 Alex Gonzalez
194 Steve Cooke
195
196 Mark McGwire
197 Marc Newfield
198 Pat Rapp
199 Darren Lewis
200 Carlos Baerga
201 Rickey Henderson
202 Kurt Abbott
203 Kirt Manwaring
204 Cal Ripken, Jr.
205 Darren Daulton
206 Greg Colbrunn
207 Darryl Hamilton
208 Bo Jackson
209 Tony Phillips
210 Geronimo Berroa
211 Rich Becker
212 Tony Tarasco
213 Karl Rhodes
214 Phil Plantier
215 J.T. Snow
216 Mo Vaughn
217 Greg Gagne
218 Ricky Bones
219 Mike Bordick
220 Chad Curtis
221 Royce Clayton
222 Roberto Alomar
223 Jose Rijo
224 Ryan Klesko
225 Mark Langston
Series Two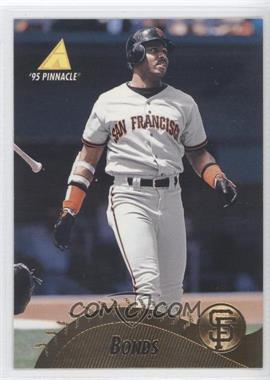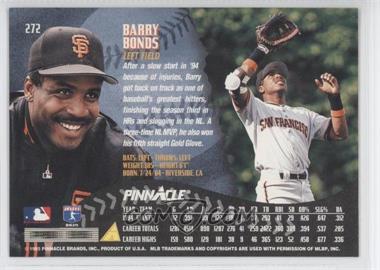 226 Frank Thomas
227 Juan Gonzalez
228 Ron Gant
229 Javy Lopez
230 Sammy Sosa
231 Kevin Brown
232 Gary DiSarcina
233 Albert Belle
234 Jay Buhner
235 Pedro Martinez
236 Bob Tewksbury
237 Mike Piazza
238 Darryl Kile
239 Bryan Harvey
240 Andres Galarraga
241 Jeff Blauser
242 Jeff Kent
243 Bobby Munoz
244 Greg Maddux
245 Paul O'Neill
246 Lenny Dykstra
247 Todd Van Poppel
248 Bernie Williams
249 Glenallen Hill
250 Duane Ward
251 Dennis Eckersley
252 Pat Mahomes
253 Rusty Greer
254 Roberto Kelly
255 Randy Myers
256 Scott Ruffcorn
257 Robin Ventura
258 Eduardo Perez
259 Aaron Sele
260 Paul Molitor
261 Juan Guzman
262 Darren Oliver
263 Mike Stanley
264 Tom Glavine
265 Rico Brogna
266 Craig Biggio
267 Darrell Whitmore
268 Jimmy Key
269 Will Clark
270 David Cone
271 Brian Jordan
272 Barry Bonds
273 Danny Tartabull
274 Ramon J. Martinez
275 Al Martin
Swing Men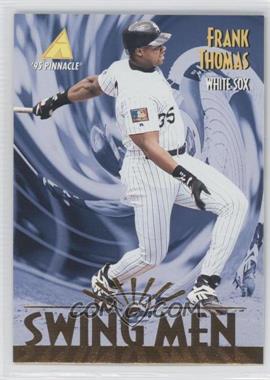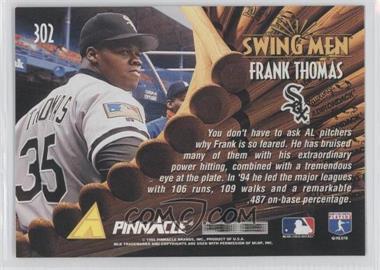 276 Fred McGriff
277 Carlos Delgado
278 Juan Gonzalez
279 Shawn Green
280 Carlos Baerga
281 Cliff Floyd
282 Ozzie Smith
283 Alex Rodriguez
284 Kenny Lofton
285 Dave Justice
286 Tim Salmon
287 Manny Ramirez
288 Will Clark
289 Garret Anderson
290 Billy Ashley
291 Tony Gwynn
292 Raul Mondesi
293 Rafael Palmeiro
294 Matt Williams
295 Don Mattingly
296 Kirby Puckett
297 Paul Molitor
298 Albert Belle
299 Barry Bonds
300 Mike Piazza
301 Jeff Bagwell
302 Frank Thomas
303 Chipper Jones
304 Ken Griffey, Jr.
305 Cal Ripken, Jr.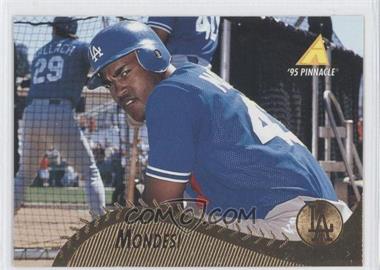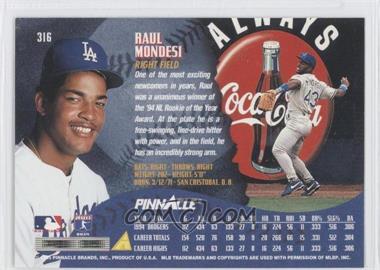 306 Eric Anthony
307 Todd Benzinger
308 Jacob Brumfield
309 Wes Chamberlain
310 Tino Martinez
311 Roberto Mejia
312 Jose Offerman
313 David Segui
314 Eric Young
315 Rey Sanchez
316 Raul Mondesi
317 Bret Boone
318 Andre Dawson
319 Brian McRae
320 Dave Nilsson
321 Moises Alou
322 Don Slaught
323 Dave McCarty
324 Mike Huff
325 Rick Aguilera
326 Rod Beck
327 Kenny Rogers
328 Andy Benes
329 Allen Watson
330 Randy Johnson
331 Willie Greene
332 Hal Morris
333 Ozzie Smith
334 Jason Bere
335 Scott Erickson
336 Dante Bichette
337 Willie Banks
338 Eric Davis
339 Rondell White
340 Kirby Puckett
341 Deion Sanders
342 Eddie Murray
343 Mike Harkey
344 Joey Hamilton
345 Roger Salkeld
346 Wil Cordero
347 John Wetteland
348 Geronimo Pena
349 Kirk Gibson
350 Manny Ramirez
351 William VanLandingham
352 B.J. Surhoff
353 Ken Ryan
354 Terry Steinbach
355 Bret Saberhagen
356 John Jaha
357 Joe Girardi
358 Steve Karsay
359 Alex Fernandez
360 Salomon Torres
361 John Burkett
362 Derek Bell
363 Tom Henke
364 Gregg Jefferies
365 Jack McDowell
366 Andujar Cedeno
367 Dave Winfield
368 Carl Everett
369 Danny Jackson
370 Jeromy Burnitz
371 Mark Grace
372 Larry Walker
373 Bill Swift
374 Dennis Martinez
375 Mickey Tettleton
376 Mel Nieves
377 Cal Eldred
378 Orel Hershiser
379 David Wells
380 Gary Gaetti
381 Tim Raines
382 Barry Larkin
383 Jason Jacome
384 Tim Wallach
385 Robby Thompson
386 Frank Viola
387 Dave Stewart
388 Bip Roberts
389 Ron Darling
390 Carlos Delgado
391 Tim Salmon
392 Alan Trammell
393 Kevin Foster
394 Jim Abbott
395 John Kruk
396 Andy Van Slyke
397 Dave Magadan
398 Rafael Palmeiro
399 Mike Devereaux
400 Benito Santiago
401 Brett Butler
402 John Franco
403 Matt Walbeck
404 Terry Pendleton
405 Chris Sabo
406 Andrew Lorraine
407 Dan Wilson
408 Mike Lansing
409 Ray McDavid
410 Shane Andrews
411 Tom Gordon
412 Chad Ogea
413 James Baldwin
414 Russ Davis
415 Ray Holbert
416 Ray Durham
417 Matt Nokes
418 Rodney Henderson
419 Gabriel White
420 Todd Hollandsworth
421 Midre Cummings
422 Harold Baines
423 Troy Percival
424 Joe Vitiello
425 Andy Ashby
426 Michael Tucker
427 Mark Gubicza
428 Jim Bullinger
429 Jose Malave
430 Pete Schourek
431 Bobby Ayala
432 Marvin Freeman
433 Pat Listach
434 Eddie Taubensee
435 Steve Howe
436 Kent Mercker
437 Hector Fajardo
438 Scott Kamieniecki
439 Robb Nen
440 Mike Kelly
441 Tom Candiotti
442 Albie Lopez
443 Jeff Granger
444 Rich Aude
445 Luis Polonia
Checklists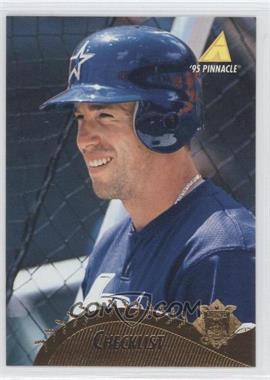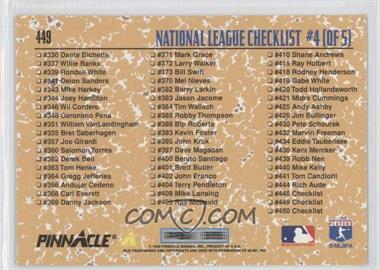 As with Series One, Series Two Checklists were arranged by League. Card #450 is a checklist for all the inserts.
446 Frank Thomas
447 Ken Griffey, Jr.
448 Mike Piazza
449 Jeff Bagwell
450 Jeff Bagwell / Frank Thomas / Ken Griffey, Jr. / Mike Piazza
Parallels
All 450 base cards were available in the following parallels:
Museum Collection
Artist's Proof
Museum Collection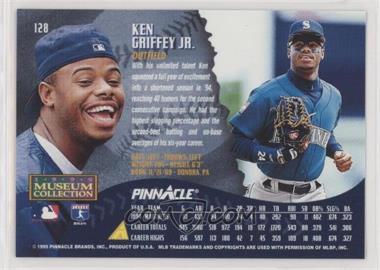 Each Museum Collection card utilized the same photo and design as the base set but featured a Dufex finish that emanated from the team logo.
Museum Collection Redemption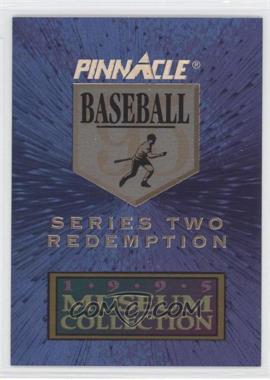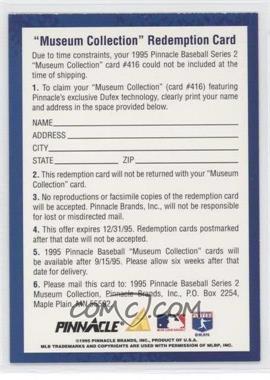 Just like last year's set, seven Series Two Museum Collection cards packed out as redemption cards which expired December 31st, 1995. Due to a low response of mailing, these seven cards are considered to be difficult to locate.
410 Shane Andrews
413 James Baldwin
416 Ray Durham
420 Todd Hollandsworth
423 Troy Percival
426 Michael Tucker
444 Rich Aude
Artist's Proof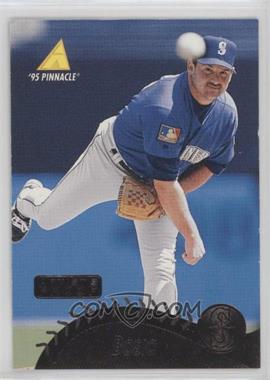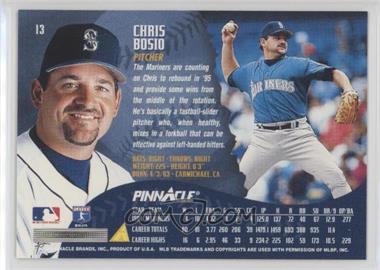 Each Artist's Proof card featured the same photo and design as the base set but had grey-silver foil finish over the baseball seam and surface design at the bottom of each card (compared to a gold foil stamp used for base cards) and an "Artist's Proof" logo stamp. The usage of different foils seemingly helped with distinction between the base card and this parallel. Unlike the previous year's set, Pinnacle Brands, Inc. did not announce the production figures for the Artist's Proof parallels.
Holographic Foil Artist's Proof
Pictures: [1]
In February 2016, a seller on eBay listed a plethora of Artist's Proof parallels featuring a holographic gold foil finish over the baseball seam and surface design and Artist's Proof logo on the card fronts. The players listed included stars and commons from the base and subsets and while provenance cannot be officially confirmed, the seller claimed these were, "pulled in [his] store 20 years ago" and that he, "had many come from one case". Unfortunately, no information was given from the seller or Pinnacle Brands, Inc. about the print run of these holographic versions.
Collectors speculate that these were test issue, alternative versions of the Artist's Proof parallels that were scrapped but erroneously made their way out of the factory and/or were mistakenly distributed into packs.
Inserts
Team Pinnacle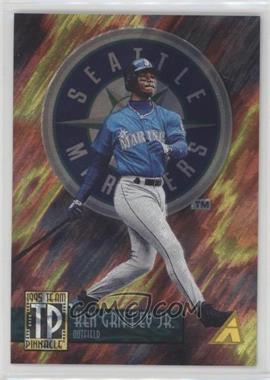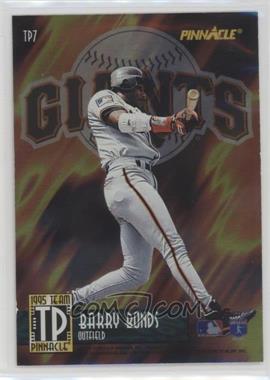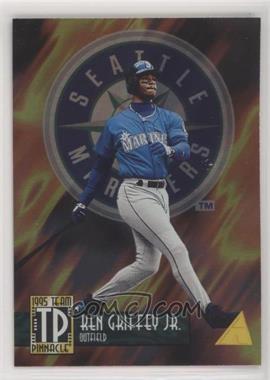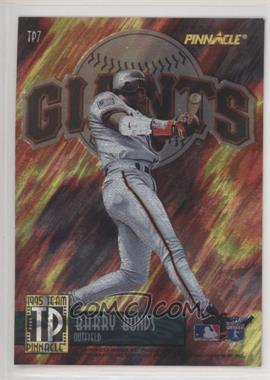 This nine-card set, exclusive to Series One packs, utilized a reddish-orange and brown background and showcased Pinnacle's picks for the top players at each position with an American League player on the front and a National League player on the back. All cards were intentionally issued with two variations where one side of the card or the other had the Dufex finish; thus each card in the set had a version with the American League player side having the Dufex finish and a version with the National League player side having the Dufex finish. There is no version featuring a Dufex finish on both sides of the card, nor is there a "plain vanilla" version without Dufex.
TP1 Mike Mussina / Greg Maddux
TP2 Carlos Delgado / Mike Piazza
TP3 Frank Thomas / Jeff Bagwell
TP4 Craig Biggio / Roberto Alomar
TP5 Ozzie Smith / Cal Ripken
TP6 Matt Williams / Travis Fryman
TP7 Barry Bonds / Ken Griffey, Jr.
TP8 Dave Justice / Albert Belle
TP9 Kirby Puckett / Tony Gwynn
ETA 95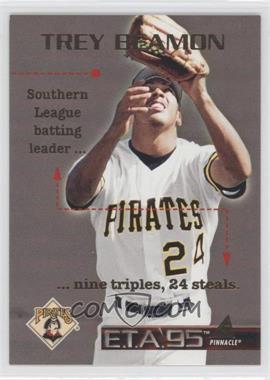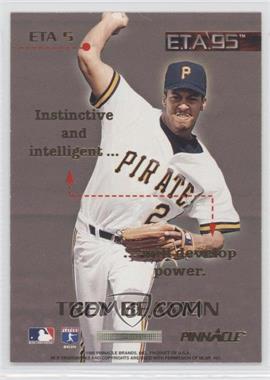 This six-card set identified future potential stars that were set to feature during the '95 season on a card design that highlighted each player's standout stats and tools. This set was exclusive to Series One Hobby packs.
ETA1 Ben Grieve
ETA2 Alex Ochoa
ETA3 Joe Vitiello
ETA4 Johnny Damon
ETA5 Trey Beamon
ETA6 Brooks Kieschnick
Upstarts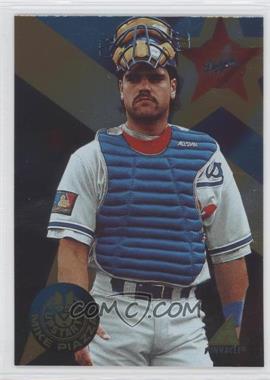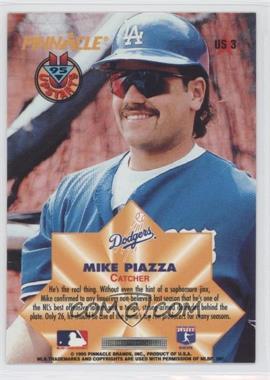 This 30-card set highlighted some of the top young players in the game on a red, blue, and yellow star-designed foil background. This set was exclusive to Series One packs.
US1 Frank Thomas
US2 Roberto Alomar
US3 Mike Piazza
US4 Javy Lopez
US5 Albert Belle
US6 Carlos Delgado
US7 Brent Gates
US8 Tim Salmon
US9 Raul Mondesi
US10 Juan Gonzalez
US11 Manny Ramirez
US12 Sammy Sosa
US13 Jeff Kent
US14 Melvin Nieves
US15 Rondell White
US16 Shawn Green
US17 Bernie Williams
US18 Aaron Sele
US19 Jason Bere
US20 Joey Hamilton
US21 Mike Kelly
US22 Wil Cordero
US23 Moises Alou
US24 Roberto Kelly
US25 Deion Sanders
US26 Steve Karsay
US27 Bret Boone
US28 Willie Greene
US29 Billy Ashley
US30 Brian Anderson
Pinnacle Performers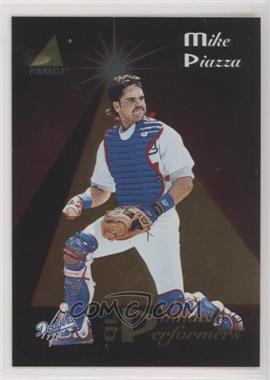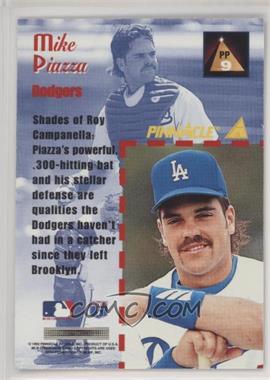 This 18-card set highlighted some of top players in the game at the time on a foil background featuring a gold pyramid that seemingly represented a 3-dimensional version of the Pinnacle logo. This set was exclusive to Series One Super packs.
PP1 Frank Thomas
PP2 Albert Belle
PP3 Barry Bonds
PP4 Juan Gonzalez
PP5 Andres Galarraga
PP6 Raul Mondesi
PP7 Paul Molitor
PP8 Tim Salmon
PP9 Mike Piazza
PP10 Gregg Jefferies
PP11 Will Clark
PP12 Greg Maddux
PP13 Manny Ramirez
PP14 Kirby Puckett
PP15 Shawn Green
PP16 Rafael Palmeiro
PP17 Paul O'Neill
PP18 Jason Bere
New Blood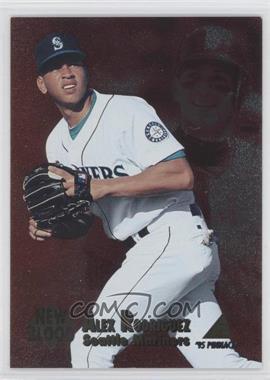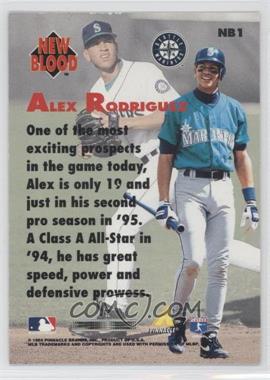 This nine-card set highlighted some of the top prospects in the game at the time on a blood-red, Dufex background with a full-color player photo in the foreground. This set was exclusive to Series Two Hobby and Retail packs.
NB1 Alex Rodriguez
NB2 Shawn Green
NB3 Brian L. Hunter
NB4 Garret Anderson
NB5 Charles Johnson
NB6 Chipper Jones
NB7 Carlos Delgado
NB8 Billy Ashley
NB9 J.R. Phillips
Red Hot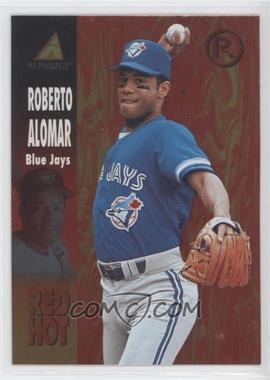 This 25-card set highlighted some of the most popular players in the game on a red-orange, fire-themed foil background. This set was exclusive to Series Two Hobby and Retail packs.
RH1 Cal Ripken, Jr.
RH2 Ken Griffey, Jr.
RH3 Frank Thomas
RH4 Jeff Bagwell
RH5 Mike Piazza
RH6 Barry Bonds
RH7 Albert Belle
RH8 Tony Gwynn
RH9 Kirby Puckett
RH10 Don Mattingly
RH11 Matt Williams
RH12 Greg Maddux
RH13 Raul Mondesi
RH14 Paul Molitor
RH15 Manny Ramirez
RH16 Joe Carter
RH17 Will Clark
RH18 Roger Clemens
RH19 Tim Salmon
RH20 Dave Justice
RH21 Kenny Lofton
RH22 Deion Sanders
RH23 Roberto Alomar
RH24 Cliff Floyd
RH25 Carlos Baerga
White Hot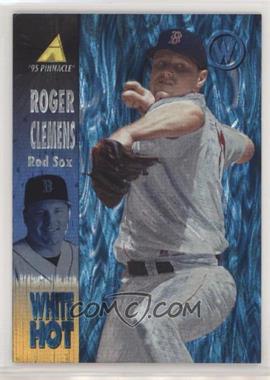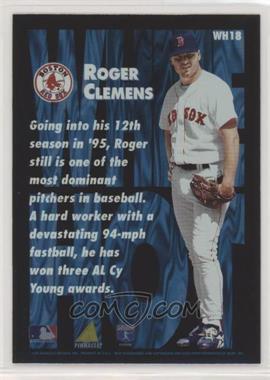 This 25-card set fully paralleled the Red Hot insert set and featured the same player photos but utilized a blue and white fire-themed background with a Dufex finish. The back of each White Hot card also featured a foil finish. White Hot cards were sequentially-numbered with a "WH" prefix.
Gate Attractions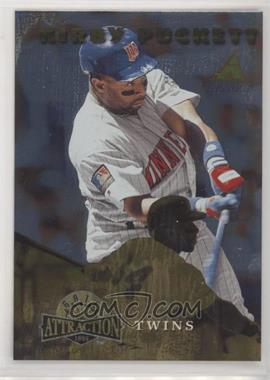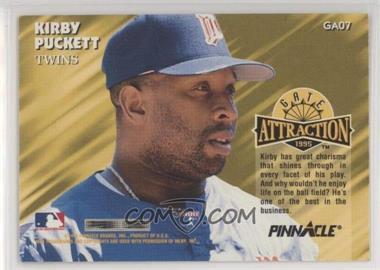 This 18-card set highlighted some of the top players in the game that brought fans to the stadium on a silver and gold foil background. This set was exclusive to Series Two Super packs.
GA01 Ken Griffey, Jr.
GA02 Frank Thomas
GA03 Cal Ripken, Jr.
GA04 Jeff Bagwell
GA05 Mike Piazza
GA06 Barry Bonds
GA07 Kirby Puckett
GA08 Albert Belle
GA09 Tony Gwynn
GA10 Raul Mondesi
GA11 Will Clark
GA12 Don Mattingly
GA13 Roger Clemens
GA14 Paul Molitor
GA15 Matt Williams
GA16 Greg Maddux
GA17 Kenny Lofton
GA18 Cliff Floyd
Team Pinnacle Pin Redemption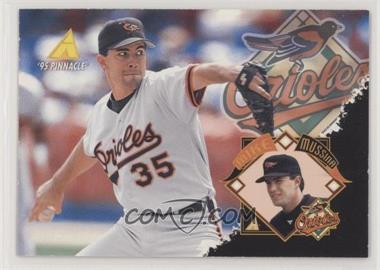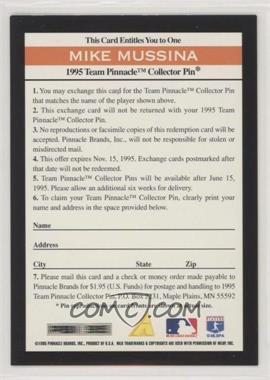 This 18-card set was the foundation for a redemption program: any card from this set could be redeemed (along with $1.95 for shipping and handling) for a collectible die-cast pin of that player. Collectors had until November 15th, 1995 to claim their pins. The checklist mirrored the Team Pinnacle insert and the cards are NOT sequentially-numbered. These cards were exclusive to all Series Two packs.
Greg Maddux
Mike Mussina
Mike Piazza
Carlos Delgado
Jeff Bagwell
Frank Thomas
Craig Biggio
Roberto Alomar
Ozzie Smith
Cal Ripken, Jr.
Matt Williams
Travis Fryman
Barry Bonds
Ken Griffey, Jr.
David Justice
Albert Belle
Tony Gwynn
Kirby Puckett
Team Pinnacle Pin Cards
Pin Card Picture: [2]
Pin Card & Pin Package Picture: [3]
This 18-card set was separate but related to the Team Pinnacle Pin Redemption cards. Information about this set is limited because Pinnacle Brands, Inc. never released official information about these Pin Cards. However, the late Bob Lemke - the former editor of Sports Collector Digest (SCD) - was the most knowledgeable person in the Hobby about this set and theorized that these Pin Cards were produced with the intention of being mailed back along with the pin to the person that sent in the Team Pinnacle Redemption card that was inserted in all Series Two packs. Lemke acknowledged this theory as speculation as there was no mention of these Pin Cards on the back of the Redemption cards and because no Pin Cards were ever mailed back to people. This led him to believe that it was originally part of the redemption program but that the idea was ultimately scrapped.
The first card Lemke confirmed the existence of was David Justice. Then, in late-January 2013, Lemke was contacted by a card dealer in Florida that had multiple copies of the Ozzie Smith Pin Card, suggesting that Pin Cards were produced for all 18 players that were in the Team Pinnacle Pin Redemption set.
Then, in September/October 2013, an Ozzie Smith Pin Card and pin (the same pin one would receive after redeeming the Team Pinnacle Pin Redemption card) "package" surfaced for sale on eBay. This package contained a Pin Card, pin, and the full checklist of players (the same 18 players from the Redemption set) and was encased in a hard plastic covering similar to hangar packs, suggesting that these could have been intended to be sold at retail outlets and stores.
Lemke last theorized that Pin Cards of other players that have emerged over the years may have surfaced due to the liquidation of product after Donruss/Leaf/Pinnacle's (DLP) bankruptcy in 1998.
Players with Pin Cards confirmed to exist:
David Justice
Ozzie Smith
Ken Griffey, Jr.
Cal Ripken, Jr.
Frank Thomas
Pinnacle
Pinnacle Brands Era:
Panini America Era:
---
Boxed Sets:
Other Pinnacle Brands: