1997 New Pinnacle
Description
1997 New Pinnacle was a 200-card, single-series set released in June 1997. Rather than issue a second series of 1997 Pinnacle, the parent company decided to release an entirely new set, complete with a new checklist, design, and inserts. Each base card featured a borderless color photo, gold foil accents, a team-colored nameplate, and a holographic window behind the nameplate.
While the product was not as well received as expected, the release was notable for making press plates available to the Hobby through normal distribution channels for the first time. Press plates were one-of-ones and the first of its kind for any product from Pinnacle Brands, Inc. These press plates were the second one-of-one chase cards made available to the Hobby (the first being the 1997 Flair Showcase Masterpieces). Press plates were distributed through two different methods involving the New Pinnacle brand: in sealed cases and in packs.
There were 3 subests and Checklists at the end of the set:
Rookies
East Meets West
Aura
There were no notable Rookie Cards in this set.
Distribution
18 packs per box, ten cards per pack (MSRP: $2.99).
Insertion Ratios
| Cards | Total Cards | Numbered To | Odds |
| --- | --- | --- | --- |
| Base | 200 | - | ? |
| Museum Collection | 200 | - | 1:9 |
| Artist's Proof | 200 | - | 1:39 |
| Press Plates | 288* | one-of-one** | 1:1250 |
| Spellbound | 50 | - | 1:19 |
| Keeping the Pace | 18 | - | 1:89 |
| Interleague Encounter | 10 | - | 1:240 |
* Includes both the base set and all non-parallel inserts. ** Eight Press Plates for each card: 4 for front of card (C,M,Y,K colors), 4 for back of card (C,M,Y,K colors).
Checklist
Promos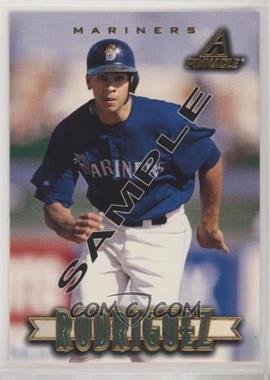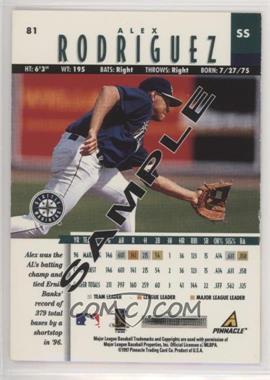 There were 6 cards used to promote the set and featured the word "SAMPLE" (in black with a white outline) printed diagonally across the front and back of the card.
2 Sammy Sosa
45 Mike Piazza
57 Jeff Bagwell
81 Alex Rodriguez
127 Ryan Klesko
175 Andruw Jones
Base Set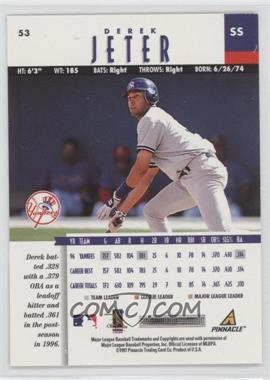 1 Ken Griffey, Jr.
2 Sammy Sosa
3 Greg Maddux
4 Matt Williams
5 Jason Isringhausen
6 Gregg Jefferies
7 Chili Davis
8 Paul O'Neill
9 Larry Walker
10 Ellis Burks
11 Cliff Floyd
12 Albert Belle
13 Javy Lopez
14 David Cone
15 Jose Canseco
16 Todd Zeile
17 Bernard Gilkey
18 Andres Galarraga
19 Chris Snopek
20 Tim Salmon
21 Roger Clemens
22 Reggie Sanders
23 John Jaha
24 Andy Pettitte
25 Kenny Lofton
26 Robb Nen
27 John Wetteland
28 Bobby Bonilla
29 Hideo Nomo
30 Cecil Fielder
31 Garret Anderson
32 Pat Hentgen
33 Dave Justice
34 Billy Wagner
35 Al Leiter
36 Mark Wohlers
37 Rondell White
38 Charles Johnson
39 Mark Grace
40 Pedro Martinez
41 Tom Goodwin
42 Manny Ramirez
43 Greg Vaughn
44 Brian Jordan
45 Mike Piazza
46 Roberto Hernandez
47 Wade Boggs
48 Scott Sanders
49 Alex Gonzalez
50 Kevin Brown
51 Bob Higginson
52 Ken Caminiti
53 Derek Jeter
54 Carlos Baerga
55 Jay Buhner
56 Tim Naehring
57 Jeff Bagwell
58 Steve Finley
59 Kevin Appier
60 Jay Bell
61 Ivan Rodriguez
62 Terrell Wade
63 Rusty Greer
64 Juan Guzman
65 Fred McGriff
66 Tino Martinez
67 Ray Lankford
68 Juan Gonzalez
69 Ron Gant
70 Jack McDowell
71 Tony Gwynn
72 Joe Carter
73 Wilson Alvarez
74 Jason Giambi
75 Brian Hunter
76 Michael Tucker
77 Andy Benes
78 Brady Anderson
79 Ramon Martinez
80 Troy Percival
81 Alex Rodriguez
82 Jim Thome
83 Denny Neagle
84 Rafael Palmeiro
85 Jose Valentin
86 Marc Newfield
87 Mariano Rivera
88 Alan Benes
89 Jimmy Key
90 Joe Randa
91 Cal Ripken, Jr.
92 Craig Biggio
93 Dean Palmer
94 Gary Sheffield
95 Ismael Valdes
96 John Valentin
97 Johnny Damon
98 Mo Vaughn
99 Paul Sorrento
100 Randy Johnson
101 Raul Mondesi
102 Roberto Alomar
103 Royce Clayton
104 Mark Grudzielanek
105 Wally Joyner
106 Wil Cordero
107 Will Clark
108 Chuck Knoblauch
109 Derek Bell
110 Henry Rodriguez
111 Edgar Renteria
112 Travis Fryman
113 Eric Young
114 Sandy Alomar, Jr.
115 Darin Erstad
116 Barry Larkin
117 Barry Bonds
118 Frank Thomas
119 Carlos Delgado
120 Jason Kendall
121 Todd Hollandsworth
122 Jim Edmonds
123 Chipper Jones
124 Jeff Fassero
125 Deion Sanders
126 Matt Lawton
127 Ryan Klesko
128 Mike Mussina
129 Paul Molitor
130 Dante Bichette
131 Bill Pulsipher
132 Todd Hundley
133 J.T. Snow
134 Chuck Finley
135 Shawn Green
136 Charles Nagy
137 Willie Greene
138 Marty Cordova
139 Eddie Murray
140 Ryne Sandberg
141 Alex Fernandez
142 Mark McGwire
143 Eric Davis
144 Jermaine Dye
145 Ruben Sierra
146 Damon Buford
147 John Smoltz
148 Alex Ochoa
149 Moises Alou
150 Rico Brogna
151 Terry Steinbach
152 Jeff King
153 Carlos Garcia
154 Tom Glavine
155 Edgar Martinez
156 Kevin Elster
157 Darryl Hamilton
Rookies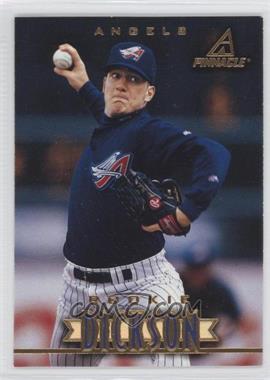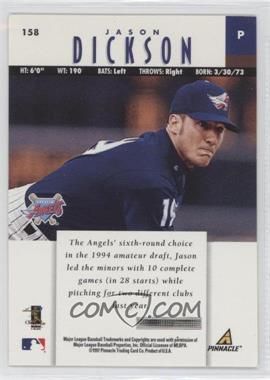 158 Jason Dickson
159 Kevin Orie
160 Bubba Trammell RC
161 Jose Guillen
162 Brant Brown
163 Wendell Magee, Jr.
164 Scott Spiezio
165 Todd Walker
166 Rod Myers
167 Damon Mashore
168 Wilton Guerrero
169 Vladimir Guerrero
170 Nomar Garciaparra
171 Shannon Stewart
172 Scott Rolen
173 Bob Abreu
174 Danny Patterson
175 Andruw Jones
176 Brian Giles RC
177 Dmitri Young
East Meets West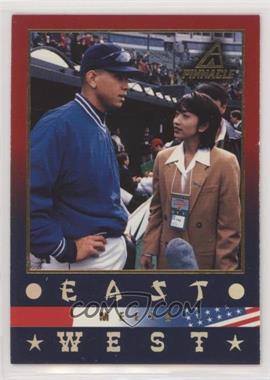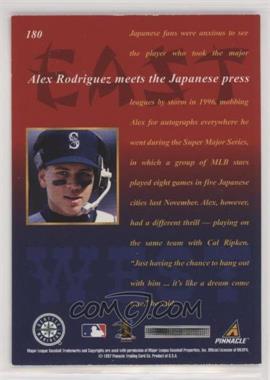 178 Cal Ripken, Jr.
179 Chuck Knoblauch
180 Alex Rodriguez
181 Andres Galarraga
182 Pedro Martinez
183 Brady Anderson
184 Barry Bonds
185 Ivan Rodriguez
186 Gary Sheffield
187 Denny Neagle
Aura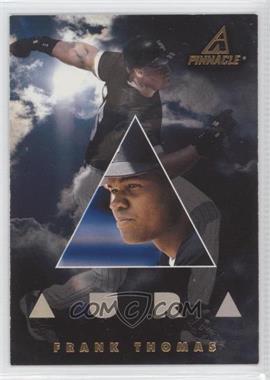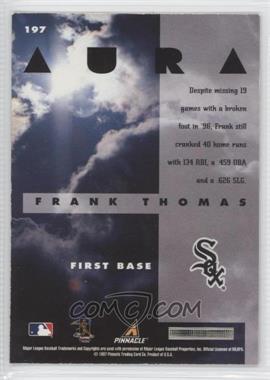 188 Mark McGwire
189 Ellis Burks
190 Alex Rodriguez
191 Mike Piazza
192 Barry Bonds
193 Albert Belle
194 Chipper Jones
195 Juan Gonzalez
196 Brady Anderson
197 Frank Thomas
Checklists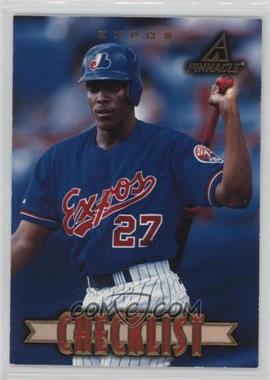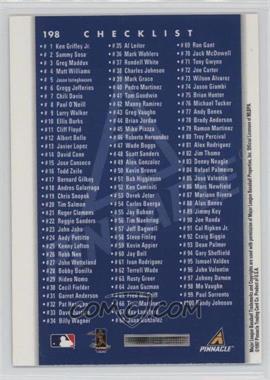 198 Vladimir Guerrero
199 Todd Walker
200 Scott Rolen
Parallels
Museum Collection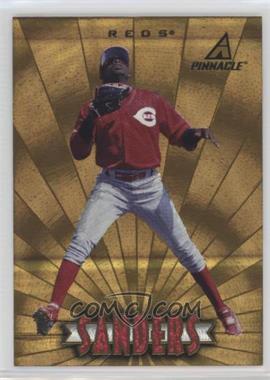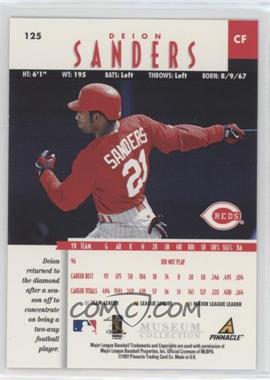 All 200 base cards were available in a Museum Collection parallel and utilized the same photo and design as the base set but featured a gold Dufex finish that emanated from the player nameplate.
Artist's Proofs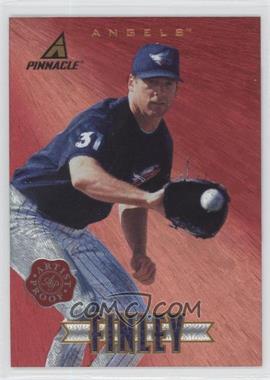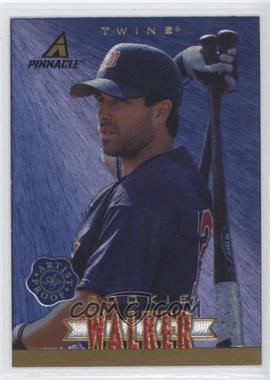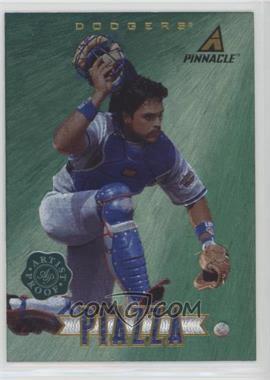 Similar to its "sister" set, all 200 cards were available in an Artist's Proof parallel and "fractured" into three different groups, represented by the color of Dufex finish that emanated from the corner of the card:
125 Red Artist's Proofs
50 Blue Artist's Proofs
25 Green Artist's Proofs
Green Artist's Proofs were the scarcest and were reserved for the top stars in the game, Blue Artist's Proofs were the second hardest to pull, and Red Artist's Proofs were the least scarce of the three. All three shared the same Artist's Proof logo on front, in the respective color. The designated color of each Artist's Proof in listed below with either a "R" "B" or "G."
1 Ken Griffey, Jr. G
2 Sammy Sosa B
3 Greg Maddux G
4 Matt Williams B
5 Jason Isringhausen R
6 Gregg Jefferies R
7 Chili Davis R
8 Paul O'Neill R
9 Larry Walker R
10 Ellis Burks B
11 Cliff Floyd R
12 Albert Belle G
13 Javy Lopez R
14 David Cone R
15 Jose Canseco B
16 Todd Zeile R
17 Bernard Gilkey B
18 Andres Galarraga B
19 Chris Snopek R
20 Tim Salmon B
21 Roger Clemens B
22 Reggie Sanders R
23 John Jaha R
24 Andy Pettitte B
25 Kenny Lofton G
26 Robb Nen R
27 John Wetteland B
28 Bobby Bonilla R
29 Hideo Nomo G
30 Cecil Fielder R
31 Garret Anderson R
32 Pat Hentgen R
33 Dave Justice R
34 Billy Wagner R
35 Al Leiter R
36 Mark Wohlers R
37 Rondell White R
38 Charles Johnson R
39 Mark Grace R
40 Pedro Martinez R
41 Tom Goodwin R
42 Manny Ramirez B
43 Greg Vaughn R
44 Brian Jordan B
45 Mike Piazza G
46 Roberto Hernandez R
47 Wade Boggs B
48 Scott Sanders R
49 Alex Gonzalez R
50 Kevin Brown R
51 Bob Higginson B
52 Ken Caminiti B
53 Derek Jeter G
54 Carlos Baerga R
55 Jay Buhner B
56 Tim Naehring R
57 Jeff Bagwell G
58 Steve Finley R
59 Kevin Appier R
60 Jay Bell R
61 Ivan Rodriguez B
62 Terrell Wade R
63 Rusty Greer R
64 Juan Guzman R
65 Fred McGriff R
66 Tino Martinez R
67 Ray Lankford R
68 Juan Gonzalez G
69 Ron Gant R
70 Jack McDowell R
71 Tony Gwynn B
72 Joe Carter B
73 Wilson Alvarez R
74 Jason Giambi R
75 Brian Hunter R
76 Michael Tucker R
77 Andy Benes R
78 Brady Anderson B
79 Ramon Martinez R
80 Troy Percival B
81 Alex Rodriguez G
82 Jim Thome B
83 Denny Neagle R
84 Rafael Palmeiro B
85 Jose Valentin R
86 Marc Newfield R
87 Mariano Rivera B
88 Alan Benes R
89 Jimmy Key R
90 Joe Randa R
91 Cal Ripken, Jr. G
92 Craig Biggio R
93 Dean Palmer R
94 Gary Sheffield B
95 Ismael Valdes R
96 John Valentin R
97 Johnny Damon R
98 Mo Vaughn G
99 Paul Sorrento R
100 Randy Johnson B
101 Raul Mondesi B
102 Roberto Alomar B
103 Royce Clayton R
104 Mark Grudzielanek R
105 Wally Joyner R
106 Wil Cordero R
107 Will Clark B
108 Chuck Knoblauch B
109 Derek Bell R
110 Henry Rodriguez R
111 Edgar Renteria R
112 Travis Fryman R
113 Eric Young R
114 Sandy Alomar R
115 Darin Erstad B
116 Barry Larkin B
117 Barry Bonds B
118 Frank Thomas G
119 Carlos Delgado R
120 Jason Kendall R
121 Todd Hollandsworth R
122 Jim Edmonds R
123 Chipper Jones G
124 Jeff Fassero R
125 Deion Sanders B
126 Matt Lawton R
127 Ryan Klesko R
128 Mike Mussina R
129 Paul Molitor B
130 Dante Bichette R
131 Bill Pulsipher R
132 Todd Hundley B
133 J.T. Snow R
134 Chuck Finley R
135 Shawn Green R
136 Charles Nagy R
137 Willie Greene R
138 Marty Cordova R
139 Eddie Murray R
140 Ryne Sandberg R
141 Alex Fernandez R
142 Mark McGwire G
143 Eric Davis R
144 Jermaine Dye R
145 Ruben Sierra R
146 Damon Buford R
147 John Smoltz B
148 Alex Ochoa R
149 Moises Alou R
150 Rico Brogna R
151 Terry Steinbach R
152 Jeff King R
153 Carlos Garcia R
154 Tom Glavine R
155 Edgar Martinez B
156 Kevin Elster R
157 Darryl Hamilton R
158 Jason Dickson R
159 Kevin Orie R
160 Bubba Trammell R
161 Jose Guillen B
162 Brant Brown R
163 Wendell Magee, Jr. R
164 Scott Spiezio R
165 Todd Walker B
166 Rod Myers R
167 Damon Mashore R
168 Wilton Guerrero B
169 Vladimir Guerrero G
170 Nomar Garciaparra B
171 Shannon Stewart R
172 Scott Rolen R
173 Bob Abreu R
174 Danny Patterson R
175 Andruw Jones G
176 Brian Giles R
177 Dmitri Young R
178 Cal Ripken, Jr. G
179 Chuck Knoblauch B
180 Alex Rodriguez G
181 Andres Galarraga R
182 Pedro Martinez R
183 Brady Anderson R
184 Barry Bonds B
185 Ivan Rodriguez B
186 Gary Sheffield B
187 Denny Neagle B
188 Mark McGwire B
189 Ellis Burks R
190 Alex Rodriguez G
191 Mike Piazza G
192 Barry Bonds B
193 Albert Belle G
194 Chipper Jones G
195 Juan Gonzalez G
196 Brady Anderson B
197 Frank Thomas G
198 Vladimir Guerrero R
199 Todd Walker R
200 Scott Rolen R
Press Plates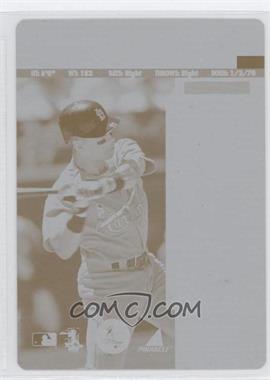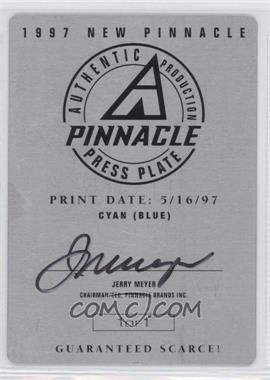 The introduction of Press Plates to the Hobby by Pinnacle Brands, Inc. was a revolutionary and novel concept as it was the first time materials used to print the actual cards were made available to collectors through case and pack distribution. Taking a cue from the Masterpieces from Flair Showcase (which were the first "one-of-one" cards in the Hobby, Press Plates also had a print run of only a single set. Just as Masterpieces received much praise and criticism, these Press Plates received similar feedback but nonetheless have remained a staple one-of-one parallel used by many card companies over the years and are still featured in the Hobby today.
Press Plates were the aluminum plates used to transfer ink to cardboard for each individual 1997 New Pinnacle card. Each plate displayed an authentication seal on the back and was autographed by Pinnacle Chairman and CEO, Jerry Meyer. There were Press Plate parallels of all 200 base cards and all 3 insert sets and thus, a total of 2224 Press Plates were inserted into packs. Every card (base and insert) in the set had 8 press plates - four "front" plates of different colors and four "back" plates of different colors:
Front Cyan
Front Magenta
Front Yellow
Front Black
Back Cyan
Back Magenta
Back Yellow
Back Black
As part of a promotion, Pinnacle Brands, Inc. offered a bounty to collectors: any collector that put together all four press plates of the same card for the front or back and returned them to Pinnacle by August 22nd, 1997 would receive a reward of $35,000. A sliding reward scale was imposed with a $30,000 reward for plates received by August 29th, $25,000 for those received by September 5th, and $20,000 for those received after September 5th but before December 31st, 1997. It is unknown if anyone managed to cash-in on any bounty.
Inserts
Spellbound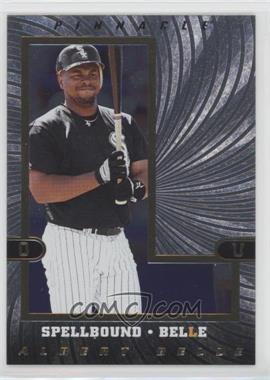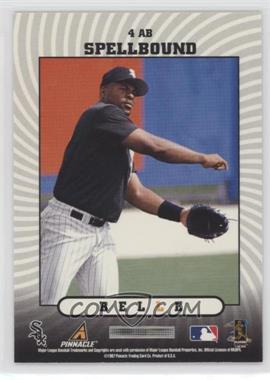 This 50-card set highlighted some of the most recognizable names in the game on a a silver etched-foil card that featured the player superimposed over one of the letters of the player's name or nickname. A completed set for each player could be put together side-by-side to spell out both the player's name/nickname and the word "Spellbound". The Spellbound set marked the first time this concept was utilized in the Hobby and was later replicated by Upper Deck products over a decade later.
Press Plate versions of all cards in this insert set (front and back) exist.
AB1 Albert Belle B
AB2 Albert Belle E
AB3 Albert Belle L
AB4 Albert Belle L
AB5 Albert Belle E
AJ1 Andruw Jones A
AJ2 Andruw Jones N
AJ3 Andruw Jones D
AJ4 Andruw Jones R
AJ5 Andruw Jones U
AJ6 Andruw Jones W
AR1 Alex Rodriguez A
AR2 Alex Rodriguez L
AR3 Alex Rodriguez E
AR4 Alex Rodriguez X
CJ1 Chipper Jones C
CJ2 Chipper Jones H
CJ3 Chipper Jones I
CJ4 Chipper Jones P
CJ5 Chipper Jones P
CJ6 Chipper Jones E
CJ7 Chipper Jones R
CR1 Cal Ripken, Jr. R
CR2 Cal Ripken, Jr. I
CR3 Cal Ripken, Jr. P
CR4 Cal Ripken, Jr. K
CR5 Cal Ripken, Jr. E
CR6 Cal Ripken, Jr. N
FT1 Frank Thomas F
FT2 Frank Thomas R
FT3 Frank Thomas A
FT4 Frank Thomas N
FT5 Frank Thomas K
IR1 Ivan Rodriguez P
IR2 Ivan Rodriguez U
IR3 Ivan Rodriguez D
IR4 Ivan Rodriguez G
IR5 Ivan Rodriguez E
KG1 Ken Griffey, Jr. J
KG2 Ken Griffey, Jr. U
KG3 Ken Griffey, Jr. N
KG4 Ken Griffey, Jr. I
KG5 Ken Griffey, Jr. O
KG6 Ken Griffey, Jr. R
MP1 Mike Piazza P
MP2 Mike Piazza I
MP3 Mike Piazza A
MP4 Mike Piazza Z
MP5 Mike Piazza Z
MP6 Mike Piazza A
Keeping The Pace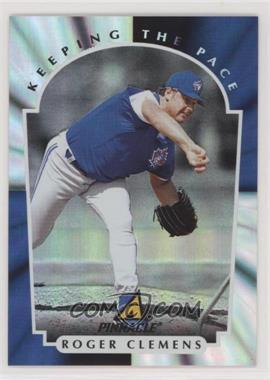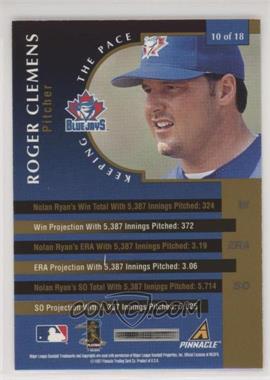 This 18-card highlighted star players that were on pace to set or break an established baseball record on team-colored, dot matrix holographic foil.
Press Plate versions of all cards in this insert set (front and back) exist.
1 Juan Gonzalez
2 Greg Maddux
3 Ivan Rodriguez
4 Ken Griffey, Jr.
5 Alex Rodriguez
6 Barry Bonds
7 Frank Thomas
8 Chuck Knoblauch
9 Derek Jeter
10 Roger Clemens
11 Kenny Lofton
12 Tony Gwynn
13 Troy Percival
14 Cal Ripken, Jr.
15 Andy Pettitte
16 Hideo Nomo
17 Randy Johnson
18 Mike Piazza
Interleague Encounter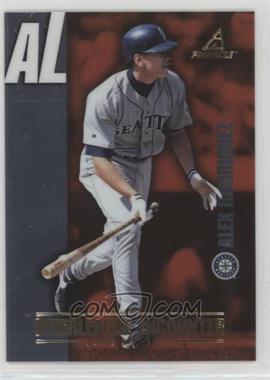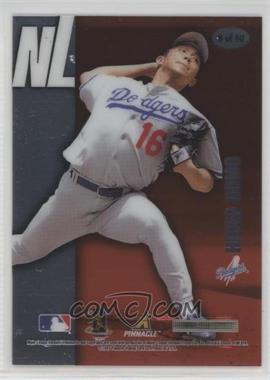 This 10-card set highlighted top Interleague matchups and featured a double-front design with a top American League player on one side and a top National League counterpart on the back and the date of the first Interleague matchup between the two teams.
Press Plate versions of all cards in this insert set (front and back) exist.
1 Albert Belle / Brian Jordan
2 Andruw Jones / Brady Anderson
3 Ken Griffey, Jr. / Tony Gwynn
4 Cal Ripken / Chipper Jones
5 Mike Piazza / Ivan Rodriguez
6 Derek Jeter / Vladimir Guerrero
7 Greg Maddux / Mo Vaughn
8 Alex Rodriguez / Hideo Nomo
9 Juan Gonzalez / Barry Bonds
10 Frank Thomas / Jeff Bagwell
Pinnacle
Pinnacle Brands Era:
Panini America Era:
---
Boxed Sets:
Other Pinnacle Brands: