1997 E-X 2000
Description
E-X2000 was produced by Fleer/Skybox and was a 102-card set released in the summer of 1997. Continuing with the previous year's theme of depth, each base card was multi-layered: The card fronts (top layer) featured a colored holographic foil (blue, purple, red, or orange) that accented the player's team with a translucent acetate shadowbox (middle layer) in the center of the card that depicted the sky. The player action photo was layered on top of the acetate. The card backs (bottom layer) were a non-holographic mirror image of the card fronts.
There are no notable rookies in this set.
Distribution
A hobby exclusive, each box of 1997 E-X2000 contained 24 packs of 2 "super premium" cards each. This set marked the first instance that a major licensed card company featured only two cards per pack and was an effort to further establish the set as high-end and exclusive.
Reviews
http://oldschoolbreaks.wordpress.com/2008/05/17/1997-e-x2000-baseball-review/
Insertion Ratios
| Cards | Total Cards | Numbered To | Hobby Odds |
| --- | --- | --- | --- |
| Base | 100 | - | ? |
| Credentials | 100 | 299 | ? |
| Essential Credentials | 100 | 99 | ? |
| Star Date 2000 | 15 | - | 1:9 |
| Hall or Nothing | 20 | - | 1:20 |
| A Cut Above | 10 | - | 1:288 |
| Emerald Autograph Redemptions | 6 | - | 1:500 |
| Alex Rodriguez Autographed Baseball | 1 | - | ? |
Checklist
Promos
Sample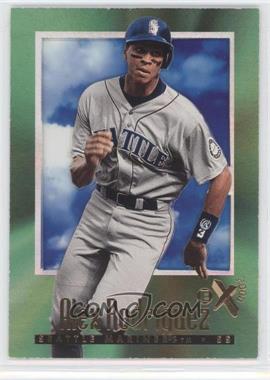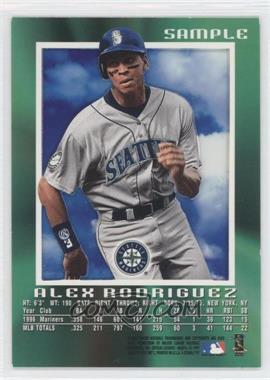 Dealers who ordered E-X2000 cases were given an Alex Rodriguez promo card. The card paralleled his base card but is marked "SAMPLE" on the back.
Additionally, an over-sized promotional "strip" featuring A-Rod also exists and is considered to be very rare.
Commemorative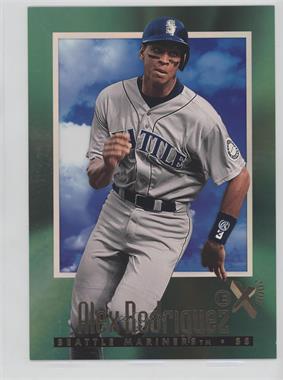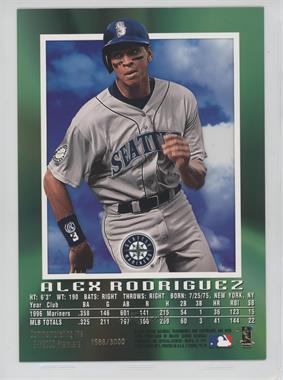 A special Alex Rodriguez promo card was also produced and distributed. These were serial-numbered to 3,000 on the back and marked as a commemoration of the premiere of the set.
Base Set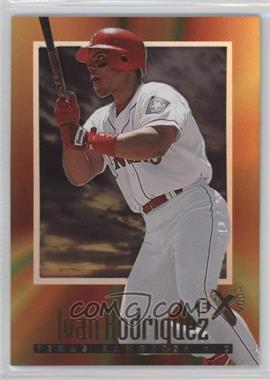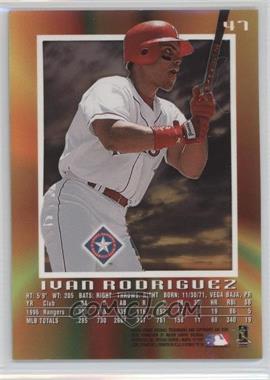 NOTE: Each pack contained either a checklist or a redemption card. The checklists are sequentially-numbered as part of the set but are printed on plain cardstock.
1 Jim Edmonds
2 Darin Erstad
3 Eddie Murray
4 Roberto Alomar
5 Brady Anderson
6 Mike Mussina
7 Rafael Palmeiro
8 Cal Ripken, Jr.
9 Steve Avery
10 Nomar Garciaparra
11 Mo Vaughn
12 Albert Belle
13 Mike Cameron
14 Ray Durham
15 Frank Thomas
16 Robin Ventura
17 Manny Ramirez
18 Jim Thome
19 Matt Williams
20 Tony Clark
21 Travis Fryman
22 Bob Higginson
23 Kevin Appier
24 Johnny Damon
25 Jermaine Dye
26 Jeff Cirillo
27 Ben McDonald
28 Chuck Knoblauch
29 Paul Molitor
30 Todd Walker
31 Wade Boggs
32 Cecil Fielder
33 Derek Jeter
34 Andy Pettitte
35 Ruben Rivera
36 Bernie Williams
37 Jose Canseco
38 Mark McGwire
39 Jay Buhner
40 Ken Griffey, Jr.
41 Randy Johnson
42 Edgar Martinez
43 Alex Rodriguez
44 Dan Wilson
45 Will Clark
46 Juan Gonzalez
47 Ivan Rodriguez
48 Joe Carter
49 Roger Clemens
50 Juan Guzman
51 Pat Hentgen
52 Tom Glavine
53 Andruw Jones
54 Chipper Jones
55 Ryan Klesko
56 Kenny Lofton
57 Greg Maddux
58 Fred McGriff
59 John Smoltz
60 Mark Wohlers
61 Mark Grace
62 Ryne Sandberg
63 Sammy Sosa
64 Barry Larkin
65 Deion Sanders
66 Reggie Sanders
67 Dante Bichette
68 Ellis Burks
69 Andres Galarraga
70 Moises Alou
71 Kevin Brown
72 Cliff Floyd
73 Edgar Renteria
74 Gary Sheffield
75 Bob Abreu
76 Jeff Bagwell
77 Craig Biggio
78 Todd Hollandsworth
79 Eric Karros
80 Raul Mondesi
81 Hideo Nomo
82 Mike Piazza
83 Vladimir Guerrero
84 Henry Rodriguez
85 Todd Hundley
86 Alex Ochoa
87 Rey Ordonez
88 Gregg Jefferies
89 Scott Rolen
90 Jermaine Allensworth
91 Jason Kendall
92 Ken Caminiti
93 Tony Gwynn
94 Rickey Henderson
95 Barry Bonds
96 J.T. Snow
97 Dennis Eckersley
98 Ron Gant
99 Brian Jordan
100 Ray Lankford
Checklists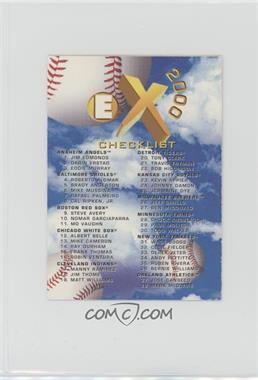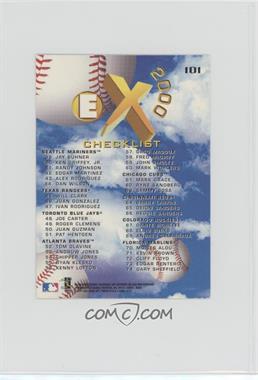 101 Checklist
102 Checklist
Parallels
Credentials
The Credentials set fully paralleled the base set and each card was serial-numbered to 299. Each Credentials card featured the same multi-layering as a base card but had a silver holographic finish on the card front and was marked "Credentials" horizontally along the upper-left portion of the card front.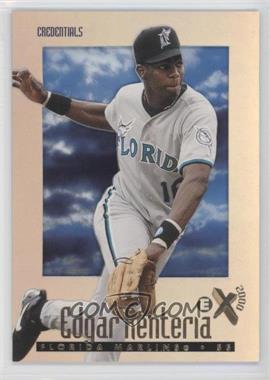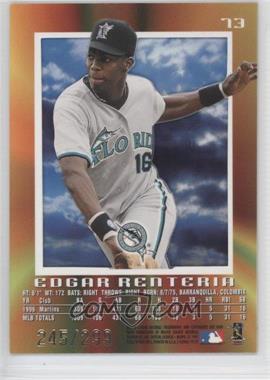 Essential Credentials
The Essential Credentials set also fully paralleled the base set but each of these were serial-numbered to 99. Each Essential Credentials card featured the same multi-layering as a base card but had a star-foiled finish and was marked "Essential Credentials" horizontally and vertically along the upper-right portion of the card front. 1997 marked the inaugural release of this parallel set which became very popular with collectors and was featured in every E-X brand release until its end in 2004.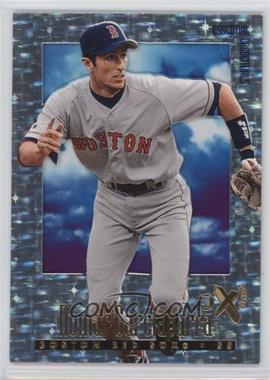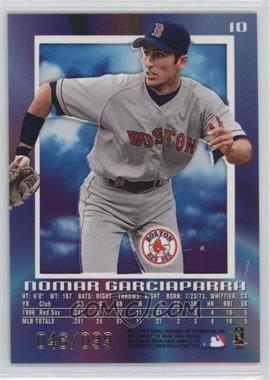 Inserts
Star Date 2000
This 15-card set highlighted top young players in the game at the time that could be stars by 2000 and featured each player on a holographic, galaxy-themed background.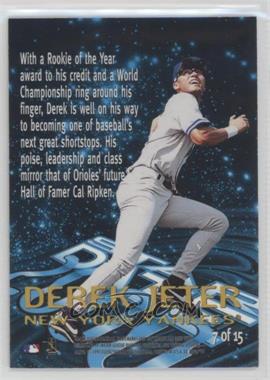 1 Alex Rodriguez
2 Andruw Jones
3 Andy Pettitte
4 Brooks Kieschnick
5 Chipper Jones
6 Darin Erstad
7 Derek Jeter
8 Jason Kendall
9 Jermaine Dye
10 Neifi Perez
11 Scott Rolen
12 Todd Hollandsworth
13 Todd Walker
14 Tony Clark
15 Vladimir Guerrero
Hall or Nothing
This 20-card set highlighted players that were on a projected path to the Hall of Fame. Each card was die-cut, translucent, and had depth created through foil and design. Cards were die-cut to resemble an elaborate gate/archway into the Hall of Fame and player photos were layered on top of the acetate gate/archway entrance.
The foil was etched for detail; however, two colored foil versions exist: Copper and Gold. Fleer/Skybox provided no information about these two versions and two theories have emerged for explanation: that the Copper and Gold foiled cards were a result of a printing error or that one color was a stealth parallel variation that was never officially announced. Regardless of the theories, the Copper foil versions are more plentiful than the Gold and the common conclusion is that the Copper foil was the intended finish and the Gold foil was the variant (intentional or unintentional).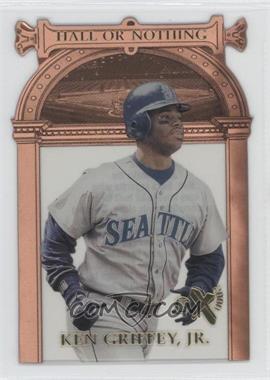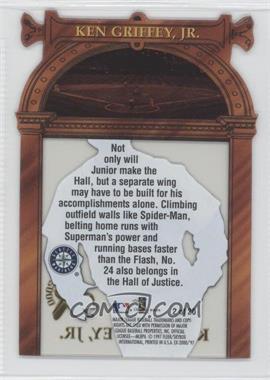 Variant/Misprint (Gold foil):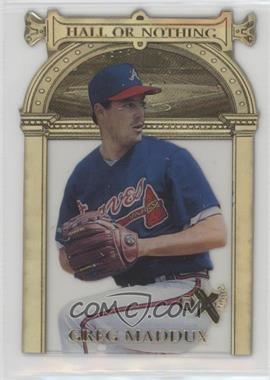 1 Frank Thomas
2 Ken Griffey, Jr.
3 Eddie Murray
4 Cal Ripken, Jr.
5 Ryne Sandberg
6 Wade Boggs
7 Roger Clemens
8 Tony Gwynn
9 Alex Rodriguez
10 Mark McGwire
11 Barry Bonds
12 Greg Maddux
13 Juan Gonzalez
14 Albert Belle
15 Mike Piazza
16 Jeff Bagwell
17 Dennis Eckersley
18 Mo Vaughn
19 Roberto Alomar
20 Kenny Lofton
A Cut Above
This 10-card set featured 10 players in the game who were considered to be on a level higher than the rest of their peers. Each card was die-cut like saw blades on the top and bottom of the card, printed on silver holographic foil, and featured embossed "A Cut Above" text box.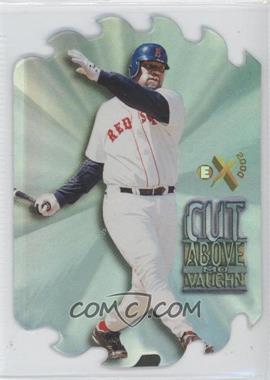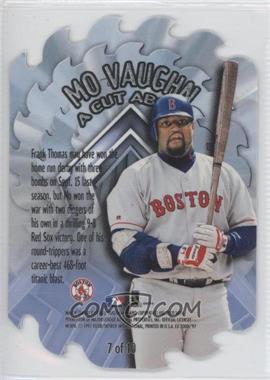 1 Frank Thomas
2 Ken Griffey, Jr.
3 Alex Rodriguez
4 Albert Belle
5 Juan Gonzalez
6 Mark McGwire
7 Mo Vaughn
8 Manny Ramirez
9 Barry Bonds
10 Fred McGriff
Autographs & Game-Used
Emerald Autographs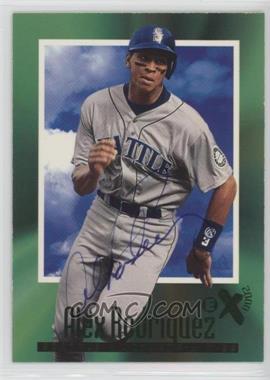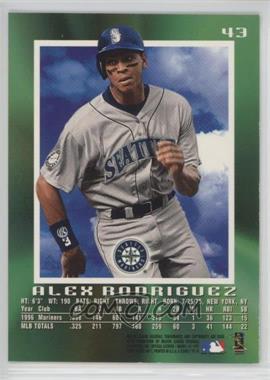 This 6-card set consisted of redemption cards that could be exchanged via mail before May 1st, 1998 for an autographed card of that player. Each autographed card is a base card with an emerald-green foil finish on the nameplate and "E-X2000" logo for differentiation.
2 Darin Erstad
30 Todd Walker
43 Alex Rodriguez
78 Todd Hollandsworth
86 Alex Ochoa
89 Scott Rolen
Alex Rodriguez Autographed Baseball
A redemption card good for a baseball signed by Alex Rodriguez was also randomly inserted in packs. 100 of these redemption cards were produced and the redemption deadline was May 1st, 1998.