2004 Bowman Draft Picks & Prospects
Description
2004 Bowman Draft Picks & Prospects is a 165-card set released in late November, 2004. As with the previous two BDP&P sets, a Chrome parallel was bundled into the product. In addition, the Chrome edition contained an additional ten autographed base cards.
Distribution
Hobby/Retail: 24 packs per box, seven cards per pack (MSRP: $3)
Reviews
Insertion Ratios
| Cards | Total Cards | Numbered To | Hobby Odds | Retail Odds |
| --- | --- | --- | --- | --- |
| Base | 165 | - | ? | ? |
| Gold | 165 | - | one-per-pack | one-per-pack |
| Red | 165 | one-of-one | 1:4471 | N/A |
| Printing Plates | 165 | four for each | 1:559 | N/A |
| Chrome | 165 | - | two-per-pack | two-per-pack |
| Refractors | 165 | - | 1:11 | 1:11 |
| X-Fractors | 165 | 125 | 1:48 | 1:80 |
| Gold Refractors | 165 | 50 | 1:119 | 1:205 |
| Red Refractors | 165 | one-of-one | 1:4471 | N/A |
| Printing Plates | 165 | four for each | 1:559 | N/A |
| Autographed Chrome Rookies | 10 | 1695 | 1:60 | 1:60 |
| Autographed Chrome Rookie Refractor | 10 | 500 | 1:204 | 1:204 |
| Autographed Chrome Rookie X-Fractor | 10 | 250 | 1:407 | 1:407 |
| Autographed Chrome Rookie Gold Refractor | 10 | 50 | 1:2045 | 1:2055 |
| Autographed Chrome Rookie Red Refractor | 10 | one-of-one | 1:4471 | N/A |
| Autographed Chrome Rookie Printing Plates | 10 | one-of-one | 1:559 | N/A |
| AFLAC Redemptions | 1 | - | ? | ? |
| AFLAC Redemptions Red | 1 | one-of-one | ? | ? |
| Chrome AFLAC Redemptions | 1 | - | ? | ? |
| Chrome AFLAC Redemptions Red Refractor | 1 | one-of-one | ? | ? |
| Futures Game Jersey Relics | 20 | - | 1:31 | 1:30 |
| Prospect Premiums Relics | 12 | - | varies | varies |
| Signs of the Future | 6 | - | varies | varies |
Checklist
Base Set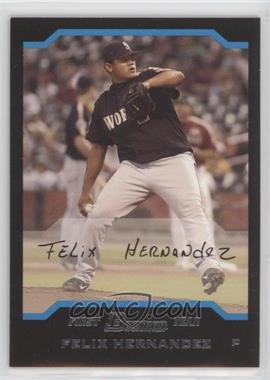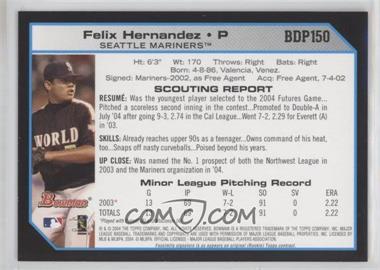 BDP1 Lyle Overbay
BDP2 David Newhan
BDP3 J.R. House
BDP4 Chad Tracy
BDP5 Humberto Quintero
BDP6 Dave Bush
BDP7 Scott Hairston
BDP8 Mike Wood
BDP9 Alexis Rios
BDP10 Sean Burnett
BDP11 Wilson Valdez
BDP12 Lew Ford
BDP13 Freddy Thon
BDP14 Zack Greinke
BDP15 Bucky Jacobsen
BDP16 Kevin Youkilis
BDP17 Grady Sizemore
BDP18 Denny Bautista
BDP19 David DeJesus
BDP20 Casey Kotchman
BDP21 David Kelton
BDP22 Charles Thomas
BDP23 Kazuhito Tadano RC
BDP24 Justin Leone RC
BDP25 Eduardo Villacis RC
BDP26 Brian Dallimore RC
BDP27 Nick Green
BDP28 Sam McConnell
BDP29 Brad Halsey
BDP30 Roman Colon RC
BDP31 Josh Fields RC
BDP32 Cody Bunkelman
BDP33 Jay Rainville RC*
BDP34 Richie Robnett RC*
BDP35 Jon Poterson
BDP36 Huston Street RC
BDP37 Erick San Pedro RC*
BDP38 Cory Dunlap
BDP39 Kurt Suzuki RC
BDP40 Anthony Swarzak
BDP41 Ian Desmond
BDP42 Chris Covington
BDP43 Christian Garcia
BDP44 Gaby Hernandez RC*
BDP45 Steven Register
BDP46 Eduardo Morlan
BDP47 Collin Balester
BDP48 Nathan Phillips
BDP49 Dan Schwartzbauer
BDP50 Rafael Gonzalez
BDP51 K.C. Herren RC*
BDP52 William Susdorf
BDP53 Rob Johnson
BDP54 Louis Marson
BDP55 Joe Koshansky
BDP56 Jamar Walton
BDP57 Mark Lowe
BDP58 Matt Macri RC
BDP59 Donny Lucy
BDP60 Mike Ferris RC*
BDP61 Mike Nickeas
BDP62 Eric Hurley
BDP63 Scott Elbert RC
BDP64 Blake DeWitt RC
BDP65 Danny Putnam RC
BDP66 J.P. Howell RC
BDP67 John Wiggins
BDP68 Justin Orenduff RC*
BDP69 Ray Liotta
BDP70 Billy Buckner
BDP71 Eric Campbell
BDP72 Olin Wick
BDP73 Sean Gamble
BDP74 Seth Smith
BDP75 Wade Davis
BDP76 Joe Jacobitz
BDP77 J.A. Happ
BDP78 Eric Ridener
BDP79 Matt Tuiasosopo RC
BDP80 Brad Bergesen
BDP81 Javy Guerra
BDP82 Buck Shaw
BDP83 Paul Janish
BDP84 Sean Kazmar
BDP85 Josh Johnson
BDP86 Angel Salome
BDP87 Jordan Parraz
BDP88 Kelvin Vazquez
BDP89 Grant Hansen
BDP90 Matt Fox
BDP91 Trevor Plouffe
BDP92 Wes Whisler
BDP93 Curtis Thigpen
BDP94 Donnie Smith
BDP95 Luis Rivera
BDP96 Jesse Hoover RC*
BDP97 Jason Vargas
BDP98 Clary Carlsen
BDP99 Mark Robinson
BDP100 J.C. Holt
BDP101 Chad Blackwell
BDP102 Daryl Jones
BDP103 Jonathan Tierce
BDP104 Patrick Bryant
BDP105 Eddie Prasch
BDP106 Mitch Einertson RC*
BDP107 Kyle Waldrop RC
BDP108 Jeff Marquez
BDP109 Zach Jackson
BDP110 Josh Wahpepah
BDP111 Adam Lind
BDP112 Kyle Bloom
BDP113 Ben Harrison
BDP114 Taylor Tankersley
BDP115 Steven Jackson
BDP116 David Purcey
BDP117 Jacob McGee
BDP118 Lucas Harrell
BDP119 Brandon Allen
BDP120 Van Pope
BDP121 Jeff Francis
BDP122 Joe Blanton
BDP123 Wil Ledezma
BDP124 Bryan Bullington
BDP125 Jairo Garcia
BDP126 Matt Cain
BDP127 Arnie Munoz
BDP128 Clint Everts
BDP129 Jesus Cota
BDP130 Gavin Floyd
BDP131 Edwin Encarnacion
BDP132 Koyie Hill
BDP133 Ruben Gotay
BDP134 Jeff Mathis
BDP135 Andy Marte
BDP136 Dallas McPherson
BDP137 Justin Morneau
BDP138 Rickie Weeks
BDP139 Joel Guzman
BDP140 Shin Soo Choo
BDP141 Yusmeiro Petit
BDP142 Jorge Cortes
BDP143 Val Majewski
BDP144 Felix Pie
BDP145 Aaron Hill
BDP146 Jose Capellan
BDP147 Dioner Navarro
BDP148 Fausto Carmona RC
BDP149 Robinzon Diaz
BDP150 Felix Hernandez
BDP151 Andres Blanco RC
BDP152 Jason Kubel
BDP153 Willy Taveras RC
BDP154 Merkin Valdez
BDP155 Robinson Cano
BDP156 Bill Murphy
BDP157 Chris Burke
BDP158 Kyle Sleeth
BDP159 B.J. Upton
BDP160 Tim Stauffer
BDP161 David Wright
BDP162 Conor Jackson
BDP163 Brad Thompson
BDP164 Delmon Young
BDP165 Jeremy Reed
Parallels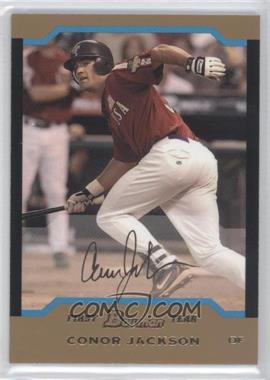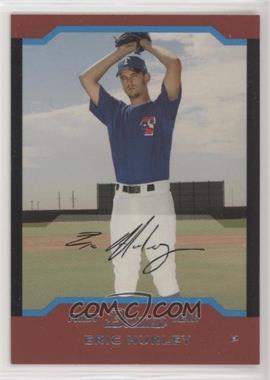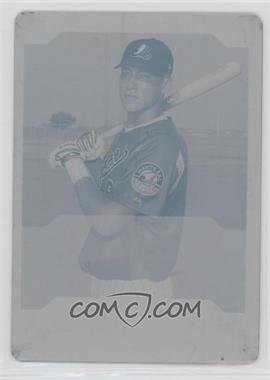 All 165 Bowman Draft base cards are available in the following parallels.
Gold (one-per-pack)
Red (one-of-one)
Printing Plates (set of four for each card)
Chrome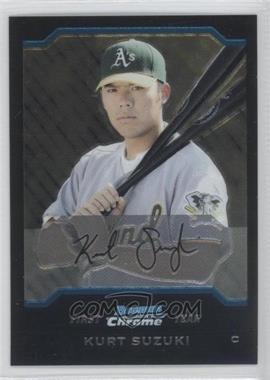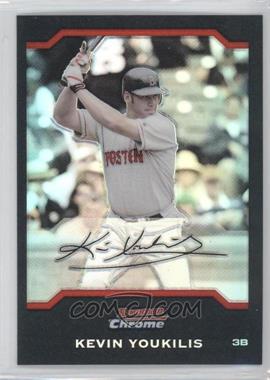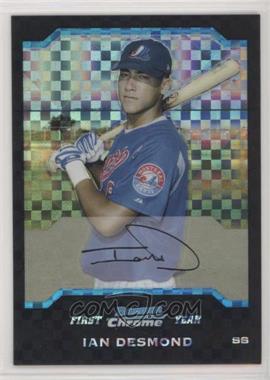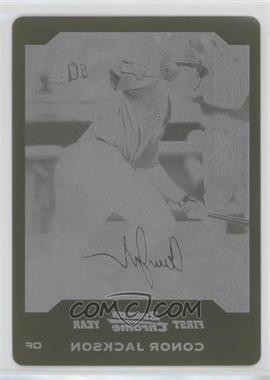 Each pack of 2004 Bowman Draft Picks and Prospects contains two Chrome parallels. The Chrome's are also available in the following Refractor parallels
X-Fractors (serial-numbered to 125 copies)
Gold Refractors (serial-numbered to 50 copies)
Red Refractors (one-of-one)
Printing Plates (set of four for each card)
Autographed Chrome Rookies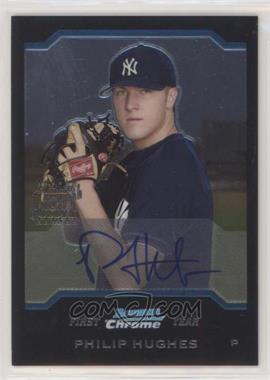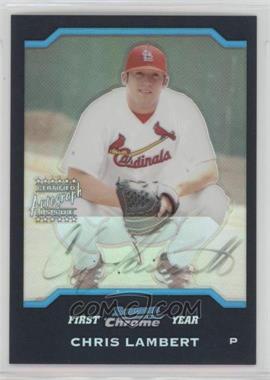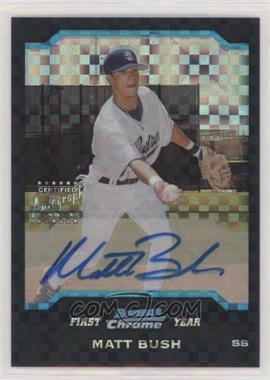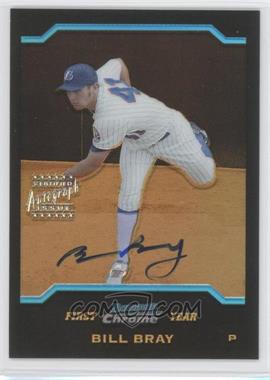 These ten cards are sequentially-numbered as an extension of the Bowman Chrome Draft Picks and Prospects base set. These 10 players are exclusive to this set and are not available either unautographed or on a non-Chrome card.
Each card is limited (but not serial-numbered) to 1695 copies, and available in the following serial-numbered Refractor parallels.
Refractor (serial-numbered to 500 copies)
X-Fractor (serial-numbered to 250 copies)
Gold Refractor (serial-numbered to 50 copies)
Red Refractor (one-of-one; Hobby only)
Printing Plates (set of four for each card; Hobby only)
BDP166 Matt Bush AU
BDP167 Mark Rogers AU
BDP168 Thomas Diamond AU
BDP169 Greg Golson AU RC
BDP170 Homer Bailey AU RC
BDP171 Chris Lambert AU
BDP172 Neil Walker AU
BDP173 Bill Bray AU RC
BDP174 Philip Hughes AU RC
BDP175 Gio Gonzalez AU
Futures Game Jersey Relics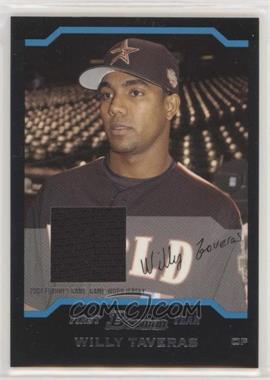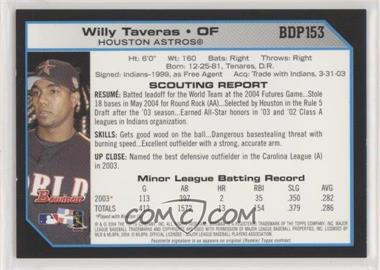 This set is a 20-card partial-parallel of the Futures Game subset, with each card featuring a piece of the uniform the player wore in that year's Futures Game.
146 Jose Capellan
147 Dioner Navarro
148 Fausto Carmona
149 Robinzon Diaz
150 Felix Hernandez
151 Andres Blanco
152 Jason Kubel
153 Willy Taveras
154 Merkin Valdez
155 Robinson Cano
156 Bill Murphy
157 Chris Burke
158 Kyle Sleeth
159 B.J. Upton
160 Tim Stauffer
161 David Wright
162 Conor Jackson
163 Brad Thompson
164 Delmon Young
165 Jeremy Reed
Inserts
AFLAC Redemptions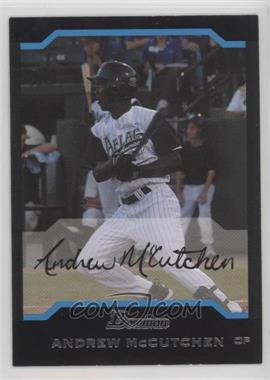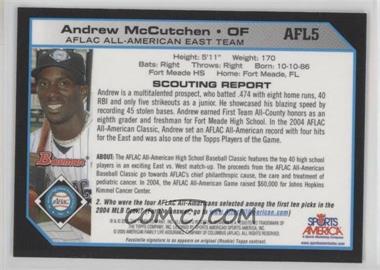 Randomly inserted into packs at the rate of one-per Hobby box is an exchange card good for a 12-card set of participants in the 2004 AFLAC All-American High School All-Star Game. Collectors had until November 30, 2005 redeem their exchange cards.
There were seven different exchange cards, good for either a "base" set or one of six different parallels.
Chrome
Chrome Refractor (limited to 550 sets)
Chrome X-Fractor (limited to 125 sets)
Chrome Gold Refractor (limited to 50 sets)
Red (one set)
Chrome Red Refractor (one set)
Due to licensing restrictions beyond Topps' control, these sets we not fulfilled until June 2006. Also, Topps accidentally printed more than 50 Chrome Gold Refractor exchange cards. Those collectors pulling a Gold Refractor exchange card were given the option of taking the set, or receiving a four-card AFLAC Autographed Refractor set (see below).
1 C.J. Henry
2 John Drennen
3 Beau Jones
4 Jeff Lyman
5 Andrew McCutchen
6 Chris Volstad
7 Jonathan Egan
8 P.J. Phillips
9 Steve Johnson
10 Ryan Tucker
11 Cameron Maybin
12 Shane Funk
Autographs & Game-Used
Prospect Premiums Relics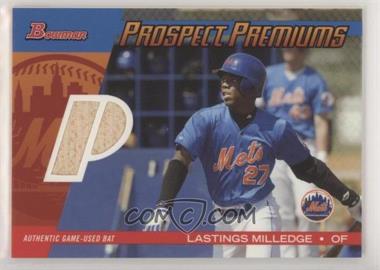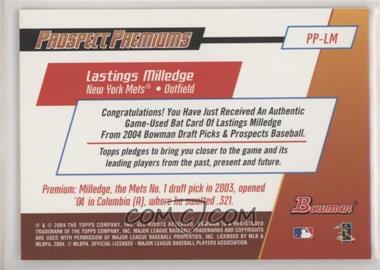 AB Angel Berroa
BU B.J. Upton
CJ Conor Jackson
CQ Carlos Quentin
DN Dioner Navarro
DY Delmon Young
EJ Edwin Jackson
JR Jeremy Reed
KC Kevin Cash
LM Lastings Milledge
NS Nick Swisher
RH Ryan Harvey
Signs of the Future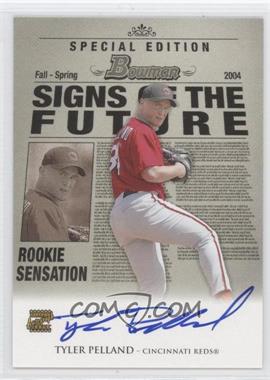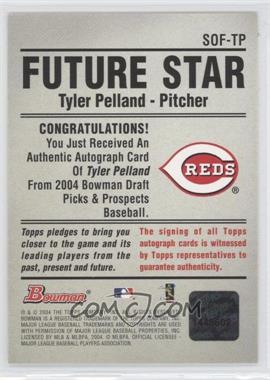 AL Adam Loewen
CC Chad Cordero
JH James Houser
PM Paul Maholm
TP Tyler Pelland
TT Terry Tiffee
AFLAC Autographed Chrome Refractors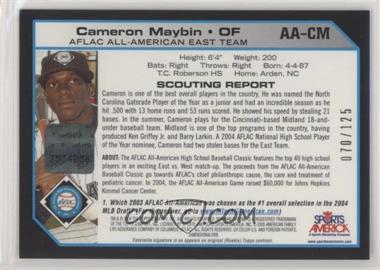 This four-card set was produced to satisfy collectors who pulled a redemption card for the AFLAC Gold Refractor set. Topps had initially stated that only 50 Gold Refractor sets would be produced, but wound up inserting more than 50 redemption cards.
Collectors who pulled a Gold Refractor redemption card had the option of either taking the promised Gold Refractor set, or this four-card Autographed Chrome Refractor set. Only 125 Autographed Chrome Refractor sets were produced.
AM Andrew McCutchen
CH C.J. Henry
CM Cameron Maybin
JU Justin Upton
Classic Era:
Junk Wax Era:
Post-Strike Era:
Exclusive License Era:
---
Bowman Update Sets
Draft Picks & Prospects:
Draft:
Bowman Parallel Brands
Chrome:
Chrome Mega Box:
Other Bowman Sets