1968 O-Pee-Chee
Description
1968 O-Pee-Chee is a 196-card set done in the style of the 1968 Topps set for the Canadian market. Unlike future OPC baseball sets, the cards are only in English. The only determinant between Topps and OPC are the words "PTD. IN CANADA" on the back of each card.
Notable rookies include Nolan Ryan.
Distribution
24 packs per box, five cards plus one Poster and one stick of gum per pack (MSRP: C$0.05).
NOTE: '68 OPC boxes are identical to '68 Topps boxes, even having the Topps "fish hook" logo on the front panel. The side panel on the OPC box should indicate the exclusive posters, and the bottom should indicate that it was manufactured by O-Pee-Chee.
Reviews
Insertion Ratios
| Cards | Total Cards | Numbered To | Odds |
| --- | --- | --- | --- |
| Base | 196 | - | 5:1 |
| Posters | 32 | - | one-per-pack |
Checklist
Base Set
League Leaders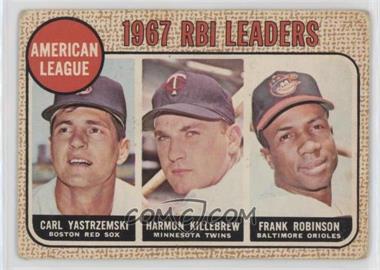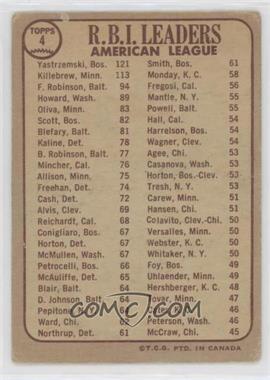 1 Roberto Clemente / Tony Gonzalez / Matty Alou LL NL AVG
2 Carl Yastrzemski / Frank Robinson / Al Kaline LL AL AVG
3 Orlando Cepeda / Roberto Clemente / Hank Aaron LL NL RBI
4 Carl Yastrzemski / Harmon Killebrew / Frank Robinson LL AL RBI
5 Hank Aaron / Jim Wynn / Ron Santo / Willie McCovey LL NL HR
6 Carl Yastrzemski / Harmon Killebrew / Frank Howard LL AL HR
7 Phil Niekro / Jim Bunning / Chris Short LL NL ERA
8 Joe Horlen / Gary Peters / Sonny Siebert LL AL ERA
9 Mike McCormick / Ferguson Jenkins / Jim Bunning / Claude Osteen LL NL W
10 Jim Lonborg / Earl Wilson / Dean Chance LL AL W
11 Jim Bunning / Ferguson Jenkins / Gaylord Perry LL NL SO
12 Jim Lonborg / Sam McDowell / Dean Chance LL AL SO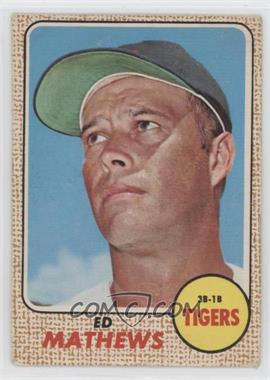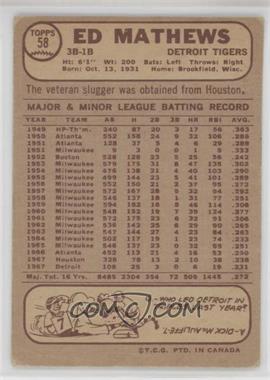 13 Chuck Hartenstein RC
14 Jerry McNertney
15 Ron Hunt
16 Lou Piniella / Richie Scheinblum
17 Dick Hall
18 Mike Hershberger
19 Juan Pizarro
20 Brooks Robinson
21 Ron Davis
22 Pat Dobson
23 Chico Cardenas
24 Bobby Locke
25 Julian Javier
26 Darrell Brandon
27 Gil Hodges MGR
28 Ted Uhlaender
29 Joe Verbanic
30 Joe Torre
31 Ed Stroud
32 Joe Gibbon
33 Pete Ward
34 Al Ferrara
35 Steve Hargan
36 Pirates Rookies - Bob Moose / Bob Robertson
37 Billy Williams
38 Tony Pierce
39 Cookie Rojas
40 Denny McLain
41 Julio Gotay
42 Larry Haney
43 Gary Bell
44 Frank Kostro
45 Tom Seaver
46 Dave Ricketts
47 Ralph Houk
48 Ted Davidson
49 Ed Brinkman
50 Willie Mays
51 Bob Locker
52 Hawk Taylor
53 Gene Alley
54 Stan Williams
55 Felipe Alou
56 Orioles Rookies - Dave May / Dave Leonhard
57 Dan Schneider
58 Eddie Mathews
59 Don Lock
60 Ken Holtzman
61 Reggie Smith
62 Chuck Dobson
63 Dick Kenworthy
64 Jim Merritt
65 John Roseboro
66 Casey Cox
67 Jim Kaat CL
68 Ron Willis
69 Tom Tresh
70 Bob Veale
71 Vern Fuller
72 Tommy John
73 Jim Ray Hart
74 Milt Pappas
75 Don Mincher
76 Braves Rookies - Jim Britton / Ron Reed
77 Don Wilson
78 Jim Northrup
79 Ted Kubiak
80 Rod Carew
81 Larry Jackson
82 Sam Bowens
83 John Stephenson
84 Bob Tolan
85 Gaylord Perry
86 Willie Stargell
87 Dick Williams
88 Phil Regan
89 Jake Gibbs
90 Vada Pinson
91 Jim Ollom
92 Ed Kranepool
93 Tony Cloninger
94 Lee Maye
95 Bob Aspromonte
96 Senator Rookies - Frank Coggins / Dick Nold
97 Tom Phoebus
98 Gary Sutherland
99 Rocky Colavito
100 Bob Gibson
101 Glenn Beckert
102 Jose Cardenal
103 Don Sutton
104 Dick Dietz
105 Al Downing
106 Dalton Jones
107 Checklist 2 - Juan Marichal
108 Don Pavletich
109 Bert Campaneris
110 Hank Aaron
111 Rich Reese
112 Woody Fryman
113 Tigers Rookies - Tom Matchick / Daryl Patterson
114 Ron Swoboda
115 Sam McDowell
116 Ken McMullen
117 Larry Jaster
118 Mark Belanger
119 Ted Savage
120 Mel Stottlemyre
121 Jimmie Hall
122 Gene Mauch
123 Jose Santiago
124 Nate Oliver
125 Joel Horlen
126 Bobby Etheridge
127 Paul Lindblad
128 Astros Rookies - Tom Dukes / Alonzo Harris
129 Mickey Stanley
130 Tony Perez
131 Frank Bertaina
132 Bud Harrelson
133 Fred Whitfield
134 Pat Jarvis
135 Paul Blair
136 Randy Hundley
137 Twins Team Card
138 Ruben Amaro
139 Chris Short
140 Tony Conigliaro
141 Dal Maxvill
142 White Sox Rookies - Buddy Bradford / Bill Voss
143 Pete Cimino
144 Joe Morgan
145 Don Drysdale
146 Sal Bando
147 Frank Linzy
148 Dave Bristol
149 Bob Saverine
150 Roberto Clemente
World Series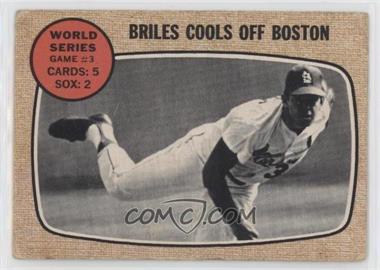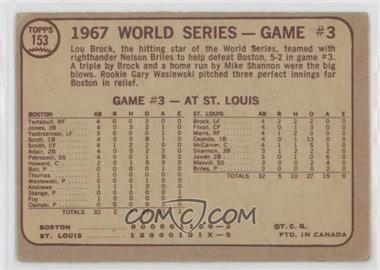 151 World Series Game 1 - Lou Brock
152 World Series Game 2 - Carl Yastrzemski
153 World Series Game 3 - Nellie Briles
154 World Series Game 4 - Bob Gibson
155 World Series Game 5 - Jim Lonborg
156 World Series Game 6 - Rico Petrocelli
157 World Series Game 7
158 World Series Summary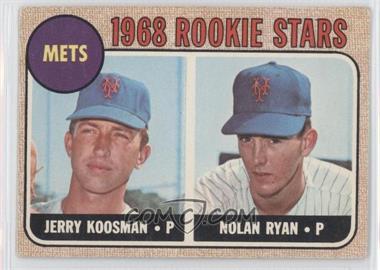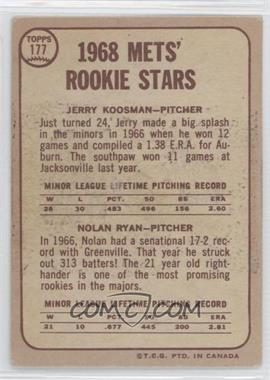 159 Don Kessinger
160 Earl Wilson
161 Norm Miller
162 Cards Rookies - Hal Gilson / Mike Torrez
163 Gene Brabender
164 Ramon Webster
165 Tony Oliva
166 Claude Raymond
167 Elston Howard
168 Dodgers Team Card
169 Bob Bolin
170 Jim Fregosi
171 Don Nottebart
172 Walt Williams
173 John Boozer
174 Bob Tillman
175 Maury Wills
176 Bob Allen
177 Mets Rookies - Nolan Ryan / Jerry Koosman
178 Don Wert
179 Bill Stoneman
180 Curt Flood
181 Jerry Zimmerman
182 Dave Giusti
183 Bob Kennedy
184 Lou Johnson
185 Tom Haller
186 Eddie Watt
187 Sonny Jackson
188 Cap Peterson
189 Bill Landis
190 Bill White
191 Dan Frisella
192 Checklist 3 - Carl Yastrzemski
193 Jack Hamilton
194 Don Buford
195 Joe Pepitone
196 Gary Nolan
Inserts
Posters
1 Brooks Robinson
2 Bert Campaneris
3 Carl Yastrzemski
4 Bob Clemente
5 Cleon Jones
6 Don Drysdale
7 Orlando Cepeda
8 Hank Aaron
9 Tommie Agee
10 Boog Powell
11 Mickey Mantle
12 Chico Cardenas
13 Johnny Callison
14 Frank Howard
15 Willie Mays
16 Sam McDowell
17 Al Kaline
18 Juan Marichal
19 Denny McLain
20 Matty Alou
21 Felipe Alou
22 Joe Pepitone
23 Leon Wagner
24 Bobby Knoop
25 Tony Oliva
26 Joe Torre
27 Ron Santo
28 Willie McCovey
29 Frank Robinson
30 Ron Hunt
31 Harmon Killebrew
32 Joe Morgan
O-Pee-Chee
Pre-War Era:
Topps Replication Era:
Original Era:
Upper Deck Era:
---
O-Pee-Chee Premier: