1979 O-Pee-Chee
Description
1979 O-Pee-Chee is a 374-card version of the 1979 Topps set, produced and distributed for the Canadian market. As was custom, featured a disproportionate number of players from the two Canadian teams. 22 cards were double-printed.
Because O-Pee-Chee was released later in the year, OPC was able to notate those players who had changed teams in the interim. Also, the Bump Willis "Blue Jays" error card does not exist in this set.
The key card is a Rookie of Ozzie Smith.
Distribution
Wax: 36 packs per box, 12 cards plus one stick of gum per pack (MSRP: $0.15). 24 boxes per case.
Reviews
Checklist
Base Set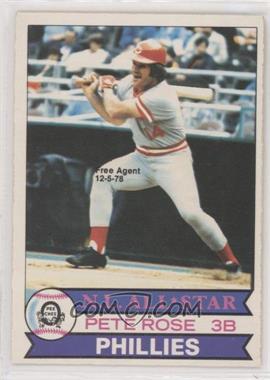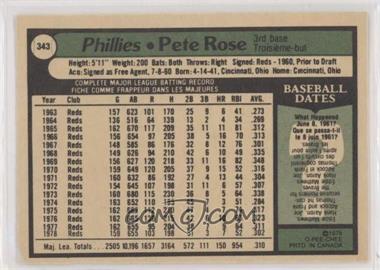 1 Lee May
2 Dick Drago
3 Paul Dade
4 Ross Grimsley
5 Joe Morgan
6 Kevin Kobel
7 Terry Forster
8 Paul Molitor
9 Steve Carlton
10 Dave Goltz
11 Dave Winfield
12 Dave Rozema
13 Ed Figueroa
14 Alan Ashby
15 Dale Murphy
16 Dennis Eckersley
17 Ron Blomberg
18 Wayne Twitchell
19 Al Hrabosky
20 Fred Norman
21 Steve Garvey
22 Willie Stargell
23 John Hale
24 Mickey Rivers
25 Jack Brohamer
26 Tom Underwood
27 Mark Belanger
28 Elliott Maddox
29 John Candelaria
30 Shane Rawley
31 Steve Yeager
32 Warren Cromartie
33 Jason Thompson
34 Roger Erickson
35 Gary Matthews
36 Pete Falcone
37 Dick Tidrow
38 Bob Boone
39 Jim Bibby
40 Len Barker
41 Robin Yount
42 Sam Mejias
43 Ray Burris
44 Tom Seaver
45 Roy Howell
46 Jim Todd
47 Frank Duffy
48 Joel Youngblood
49 Vida Blue
50 Cliff Johnson
51 Nolan Ryan
52 Ozzie Smith
53 Jim Sundberg
54 Mike Paxton
55 Lou Whitaker
56 Dan Schatzeder
57 Rick Burleson
58 Doug Bair
59 Ted Martinez
60 Bob Watson
61 Jim Clancy
62 Rowland Office
63 Bobby Murcer
64 Don Gullett
65 Tom Paciorek
66 Rick Rhoden
67 Duane Kuiper
68 Bruce Boisclair
69 Manny Sarmiento
70 Wayne Cage
71 John Hiller
72 Rick Cerone
73 Dwight Evans
74 Buddy Solomon
75 Roy White
76 Mike Flanagan
77 Tom Johnson
78 Glenn Burke
79 Frank Taveras
80 Don Sutton
81 Leon Roberts
82 George Hendrick
83 Aurelio Rodriguez
84 Ron Reed
85 Alvis Woods
86 Jim Beattie
87 Larry Hisle
88 Mike Garman
89 Tim Johnson
90 Paul Splittorff
91 Darrel Chaney
92 Mike Torrez
93 Eric Soderholm
94 Ron Cey
95 Randy Jones
96 Bill Madlock
97 Steve Kemp
98 Bob Apodaca
99 Johnny Grubb
100 Larry Milbourne
101 Johnny Bench
102 Dave Lemanczyk
103 Reggie Cleveland
104 Larry Bowa
105 Denny Martinez
106 Bill Travers
107 Willie McCovey
108 Wilbur Wood
109 Dennis Leonard
110 Roy Smalley
111 Cesar Geronimo
112 Jesse Jefferson
113 Dave Revering
114 Goose Gossage
115 Steve Stone
116 Doug Flynn
117 Bob Forsch
118 Paul Mitchell
119 Toby Harrah
120 Steve Rogers
121 Checklist 1-125
122 Balor Moore
123 Rick Reuschel
124 Jeff Burroughs
125 Willie Randolph
126 Bob Stinson
127 Rick Wise
128 Luis Gomez
129 Tommy John
130 Richie Zisk
131 Mario Guerrero
132 Oscar Gamble
133 Don Money
134 Joe Rudi
135 Woodie Fryman
136 Butch Hobson
137 Jim Colborn
138 Tom Grieve
139 Andy Messersmith
140 Andre Thornton
141 Ken Kravec
142 Bobby Bonds
143 Jose Cruz
144 Davey Lopes
145 Jerry Garvin
146 Pepe Frias
147 Mitchell Page
148 Ted Sizemore
149 Rich Gale
150 Steve Ontiveros
151 Rod Carew
152 Lary Sorensen
153 Willie Montanez
154 Floyd Bannister
155 Bert Blyleven
156 Ralph Garr
157 Thurman Munson
158 Bob Robertson
159 Jon Matlack
160 Carl Yastrzemski
161 Gaylord Perry
162 Mike Tyson
163 Cecil Cooper
164 Pedro Borbon
165 Art Howe
166 Joe Coleman
167 George Brett
168 Gary Alexander
169 Chet Lemon
170 Craig Swan
171 Chris Chambliss
172 John Montague
173 Ron Jackson
174 Jim Palmer
175 Willie Upshaw
176 Tug McGraw
177 Bill Buckner
178 Doug Rau
179 Andre Dawson
180 Jim Wright
181 Garry Templeton
182 Bill Bonham
183 Lee Mazzilli
184 Alan Trammell
185 Amos Otis
186 Tom Dixon
187 Mike Cubbage
188 Sparky Lyle
189 Juan Bernhardt
190 Bump Wills
191 Dave Kingman
192 Lamar Johnson
193 Lance Rautzhan
194 Ed Herrmann
195 Bill Campbell
196 Gorman Thomas
197 Paul Moskau
198 Dale Murray
199 John Mayberry
200 Phil Garner
201 Dan Ford
202 Gary Thomasson
203 Rollie Fingers
204 Al Oliver
205 Doug Ault
206 Scott McGregor
207 Dave Cash
208 Bill Plummer
209 Ivan DeJesus
210 Jim Rice
211 Ray Knight
212 Paul Hartzell
213 Tim Foli
214 Butch Wynegar
215 Darrell Evans
216 Ken Griffey, Sr.
217 Doug DeCinces
218 Ruppert Jones
219 Bob Montgomery
220 Rick Manning
221 Chris Speier
222 Bobby Valentine
223 Dave Parker
224 Larry Biittner
225 Ken Clay
226 Gene Tenace
227 Frank White
228 Rusty Staub
229 Lee Lacy
230 Doyle Alexander
231 Bruce Bochte
232 Steve Henderson
233 Jim Lonborg
234 Dave Concepcion
235 Jerry Morales
236 Len Randle
237 Bill Lee
238 Bruce Sutter
239 Jim Essian
240 Graig Nettles
241 Otto Velez
242 Checklist 126-250
243 Reggie Smith
244 Stan Bahnsen
245 Garry Maddox
246 Joaquin Andujar
247 Dan Driessen
248 Bob Grich
249 Fred Lynn
250 Skip Lockwood
251 Craig Reynolds
252 Willie Horton
253 Rick Waits
254 Bucky Dent
255 Bob Knepper
256 Miguel Dilone
257 Bob Owchinko
258 Al Cowens
259 Bob Bailor
260 Larry Christenson
261 Tony Perez
262 Blue Jays Team Card - Roy Hartsfield
263 Glenn Abbott
264 Ron Guidry
265 Ed Kranepool
266 Charlie Hough
267 Ted Simmons
268 Jack Clark
269 Enos Cabell
270 Gary Carter
271 Sam Ewing
272 Tom Burgmeier
273 Freddie Patek
274 Frank Tanana
275 Leroy Stanton
276 Ken Forsch
277 Ellis Valentine
278 Greg Luzinski
279 Rick Bosetti
280 John Stearns
281 Enrique Romo
282 Bob Bailey
283 Sal Bando
284 Matt Keough
285 Biff Pocoroba
286 Mike Lum
287 Jay Johnstone
288 John Montefusco
289 Ed Ott
290 Dusty Baker
291 Rico Carty
292 Nino Espinosa
293 Rich Hebner
294 Cesar Cedeno
295 Darrell Porter
296 Rod Gilbreath
297 Jim Kern
298 Claudell Washington
299 Luis Tiant
300 Mike Parrott
301 Pete Broberg
302 Greg Gross
303 Darold Knowles
304 Paul Blair
305 Julio Cruz
306 Hal McRae
307 Ken Reitz
308 Tom Murphy
309 Terry Whitfield
310 J.R. Richard
311 Mike Hargrove
312 Rick Dempsey
313 Phil Niekro
314 Bob Stanley
315 Jim Spencer
316 George Foster
317 Dave LaRoche
318 Rudy May
319 Jeff Newman
320 Rick Monday
321 Omar Moreno
322 Dave McKay
323 Mike Schmidt
324 Ken Singleton
325 Jerry Remy
326 Bert Campaneris
327 Pat Zachry
328 Larry Herndon
329 Mark Fidrych
330 Del Unser
331 Gene Garber
332 Bake McBride
333 Jorge Orta
334 Don Kirkwood
335 Don Baylor
336 Bill Robinson
337 Manny Trillo
338 Eddie Murray
339 Tom Hausman
340 George Scott
341 Rick Sweet
342 Lou Piniella
343 Pete Rose
344 Stan Papi
345 Jerry Koosman
346 Hosken Powell
347 George Medich
348 Ron LeFlore
349 Dick Williams TC
350 Lou Brock
351 Bill North
352 Jim Hunter
353 Checklist 251-374
354 Ed Halicki
355 Tom Hutton
356 Mike Caldwell
357 Larry Parrish
358 Geoff Zahn
359 Derrel Thomas
360 Carlton Fisk
361 John Henry Johnson
362 Dave Chalk
363 Dan Meyer
364 Sixto Lezcano
365 Rennie Stennett
366 Mike Willis
367 Buddy Bell
368 Mickey Stanley
369 Dave Rader
370 Burt Hooton
371 Keith Hernandez
372 Bill Stein
373 Hal Dues
374 Reggie Jackson
O-Pee-Chee
Pre-War Era:
Topps Replication Era:
Original Era:
Upper Deck Era:
---
O-Pee-Chee Premier: