1991 O-Pee-Chee Premier
Description
1991 O-Pee-Chee Premier is a 132-card set produced and distributed exclusively for the Canadian market by the Canadian company of the same name. 1991 would be the first time O-Pee-Chee would release more than one baseball card set, and with this Premier brand, their first complete original set since 1937.
The base set is arranged in alphabetical order by last name and is heavily skewed towards players from the two Canadian teams. As with all OPC sets, all cards feature English and French text.
Distribution
36 packs per box, seven cards per pack.
Reviews
Checklist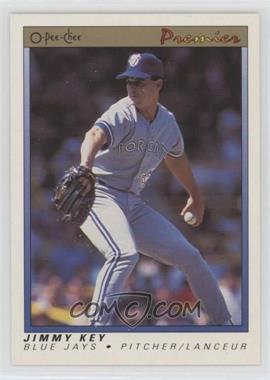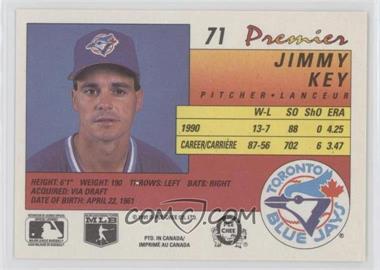 1 Roberto Alomar
2 Sandy Alomar
3 Moises Alou
4 Brian Barnes RC
5 Steve Bedrosian
6 George Bell
7 Juan Bell
8 Albert Belle
9 Bud Black
10 Mike Boddicker
11 Wade Boggs
12 Barry Bonds
13 Denis Boucher
14 George Brett
15 Hubie Brooks
16 Brett Butler
17 Ivan Calderon
18 Jose Canseco
19 Gary Carter
20 Joe Carter
21 Jack Clark
22 Will Clark
23 Roger Clemens
24 Alex Cole
25 Vince Coleman
26 Jeff Conine RC
27 Milt Cuyler
28 Danny Darwin
29 Eric Davis
30 Glenn Davis
31 Andre Dawson
32 Ken Dayley
33 Steve Decker RC
34 Delino DeShields
35 Lance Dickson RC
36 Kirk Dressendorfer RC
37 Shawon Dunston
38 Dennis Eckersley
39 Dwight Evans
40 Howard Farmer
41 Junior Felix
42 Alex Fernandez
43 Tony Fernandez
44 Cecil Fielder
45 Carlton Fisk
46 Willie Fraser
47 Gary Gaetti
48 Andres Galarraga
49 Ron Gant
50 Kirk Gibson
51 Bernard Gilkey
52 Leo Gomez
53 Rene Gonzales
54 Juan Gonzalez
55 Dwight Gooden
56 Ken Griffey, Jr.
57 Kelly Gruber
58 Pedro Guerrero
59 Tony Gwynn
60 Chris Hammond
61 Ron Hassey
62 Rickey Henderson
63 Tom Henke
64 Orel Hershiser
65 Chris Hoiles
66 Todd Hundley
67 Pete Incaviglia
68 Danny Jackson
69 Barry Jones
70 Dave Justice
71 Jimmy Key
72
73 Darren Lewis
74 Kevin Maas
75 Denny Martinez
76 Tino Martinez
77 Don Mattingly
78 Willie McGee
79 Fred McGriff
80 Hensley Meulens
81 Kevin Mitchell
82 Paul Molitor
83 Mickey Morandini
84 Jack Morris
85 Dale Murphy
86 Eddie Murray
87 Chris Nabholz
88 Tim Naehring
89 Otis Nixon
90 Jose Offerman
91 Bob Ojeda
92 John Olerud
93 Gregg Olson
94 Dave Parker
95 Terry Pendleton
96 Kirby Puckett
97 Tim Raines
98 Jeff Reardon
99 Dave Righetti
100 Cal Ripken, Jr.
101 Mel Rojas
102 Nolan Ryan
103 Ryne Sandberg
104 Scott Sanderson
105 Benito Santiago
106 Pete Schourek RC
107 Gary Scott RC
108 Terry Shumpert
109 Ruben Sierra
110 Doug Simons RC
111 Dave Smith
112 Ozzie Smith
113 Cory Snyder
114 Luis Sojo
115 Dave Stewart
116 Dave Stieb
117 Darryl Strawberry
118 Pat Tabler
119 Wade Taylor RC
120 Bobby Thigpen
121 Frank Thomas
122 Mike Timlin RC
123 Alan Trammell
124 Mo Vaughn
125 Tim Wallach
126 Devon White
127 Mark Whiten
128 Bernie Williams
129 Willie Wilson
130 Dave Winfield
131 Robin Yount
132 Checklist 1-132
O-Pee-Chee
Pre-War Era:
Topps Replication Era:
Original Era:
Upper Deck Era:
---
O-Pee-Chee Premier: