1988 Score Rookie/Traded
Description
1988 Score Rookie/Traded is a 110-card Traded Set issued exclusively in factory-set form. The first 65 cards feature traded players with the remaining 45 cards (#66T-#110T) rookies. The cards are distinguishable from the regular Score set by the orange borders and by the fact that the numbering on the back has a T suffix.
Apparently Score's first attempt at a Rookie/Traded set was produced rather conservatively, resulting in a set which is now recognized as more limited than similar "Update" sets from the other major companies of that year -- which, still, isn't exactly saying much since this was the dawn of The Junk Wax Era.
Extended Rookie Cards in this set include Roberto Alomar, Brady Anderson, Craig Biggio, Jay Buhner and Mark Grace.
Distribution
Factory Sets only. Hobby exclusive.
Reviews
Checklist
Base Set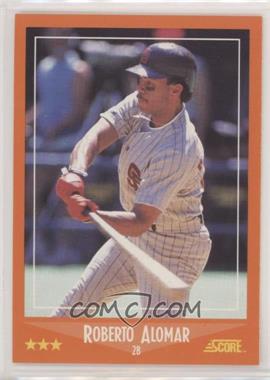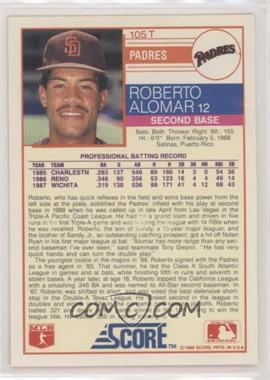 1T Jack Clark
2T Danny Jackson
3T Brett Butler
4T Kurt Stillwell
5T Tom Brunansky
6T Dennis Lamp
7T Jose DeLeon
8T Tom Herr
9T Keith Moreland
10T Kirk Gibson
11T Bud Black
12T Rafael Ramirez
13T Luis Salazar
14T Goose Gossage
15T Bob Welch
16T Vance Law
17T Ray Knight
18T Dan Quisenberry
19T Don Slaught
20T Lee Smith
21T Rick Cerone
22T Pat Tabler
23T Larry McWilliams
24T Ricky Horton
25T Graig Nettles
26T Dan Petry
27T Jose Rijo
28T Chili Davis
29T Dickie Thon
30T Mackey Sasser
31T Mickey Tettleton
32T Rick Dempsey
33T Ron Hassey
34T Phil Bradley
35T Jay Howell
36T Bill Buckner
37T Alfredo Griffin
38T Gary Pettis
39T Calvin Schiraldi
40T John Candelaria
41T Joe Orsulak
42T Willie Upshaw
43T Herm Winningham
44T Ron Kittle
45T Bob Dernier
46T Steve Balboni
47T Steve Shields
48T Henry Cotto
49T Dave Henderson
50T Dave Parker
51T Mike Young
52T Mark Salas
53T Mike Davis
54T Rafael Santana
55T Don Baylor
56T Dan Pasqua
57T Ernest Riles
58T Glenn Hubbard
59T Mike Smithson
60T Rich Dotson
61T Jerry Reuss
62T Mike Jackson
63T Floyd Bannister
64T Jesse Orosco
65T Larry Parrish
66T Jeff Bittiger
67T Ray Hayward
68T Ricky Jordan XRC
69T Tommy Gregg
70T Brady Anderson XRC
71T Jeff Montgomery
72T Darryl Hamilton XRC
73T Cecil Espy XRC
74T Greg Briley XRC
75T Joey Meyer
76T Mike Macfarlane XRC
77T Oswald Peraza
78T Jack Armstrong XRC
79T Don Heinkel
80T Mark Grace XRC
81T Steve Curry
82T Damon Berryhill XRC
83T Steve Ellsworth
84T Pete Smith XRC
85T Jack McDowell XRC
86T Rob Dibble XRC
87T Bryan Harvey XRC
88T John Dopson
89T Dave Gallagher
90T Todd Stottlemyre XRC
91T Mike Schooler
92T Don Gordon
93T Sil Campusano
94T Jeff Pico
95T Jay Buhner XRC
96T Nelson Santovenia
97T Al Leiter XRC
98T Luis Alicea XRC
99T Pat Borders XRC
100T Chris Sabo XRC
101T Tim Belcher
102T Walt Weiss XRC
103T Craig Biggio XRC
104T Don August
105T Roberto Alomar XRC
106T Todd Burns
107T John Costello
108T Melido Perez XRC
109T Darrin Jackson XRC
110T Orestes Destrade
Parallels
Glossy Set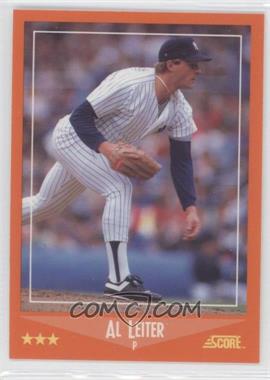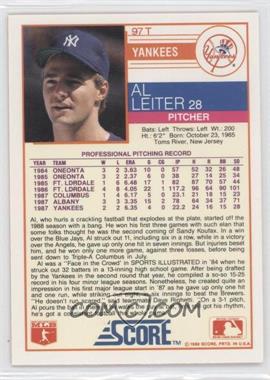 Similar to the Topps Tiffany sets of the era, Score produced 3000 Rookie/Traded "Glossy" sets, exclusive to Hobby outlets. Each card has a glossy coating.
Score
---
Rookie/Traded:
Hottest 100 Sets:
Young Superstars:
Other Score Sets: