1998 Score
Description
1998 Score is a 270-card set that was distributed exclusively to retail outlets, twice, with a suggested retail price of $.99.
The original 1998 Score Baseball set was released in December, 1997. Four months later, Pinnacle Brands re-released '98 Score under the "Score: All-Star Edition" banner. The base cards in All-Star Edition packs are identical to the cards in '98 Score packs -- the only difference is the new inserts.
Distribution
Score: 36 packs per box, ten cards per pack (MSRP: $0.99)
All-Star Edition: 36 packs per box, ten cards per pack (MSRP: $0.99)
Retail box: 6 packs, 10 cards per pack
Reviews
Insertion Ratios
| Cards | Total Cards | Numbered To | Score Odds | All-Star Edition Odds |
| --- | --- | --- | --- | --- |
| Base | 270 | - | ? | ? |
| Showcase Series | 160 | - | 1:7 | 1:7 |
| Showcase Series Artist's Proof | 160 | - | 1:35 | 1:35 |
| All-Score Team | 20 | - | 1:35 | N/A |
| Complete Players | 30 | - | 1:23 | N/A |
| Epix | 24 | - | 1:61 | N/A |
| First Pitch | 20 | - | N/A | 1:11 |
| New Season | 15 | - | N/A | 1:23 |
| Loaded Lineup | 10 | - | N/A | 1:45 |
Checklist
Promos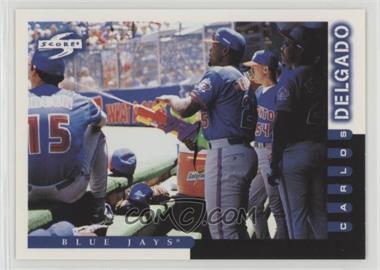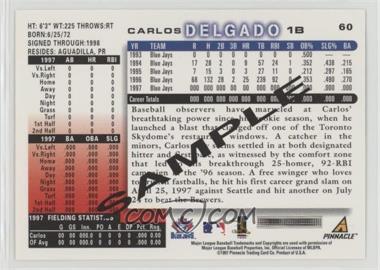 These six cards were distributed to dealers to preview the upcoming 1998 Score baseball release. These samples are parallel to the basic issue cards except for the large, black "SAMPLE" text running diagonally across the back of the card and the lack of any 1997 statistics (all replaced by 000's).
10 Alex Rodriguez
24 Mike Piazza
34 Ken Griffey, Jr.
43 Cal Ripken, Jr.
51 Chipper Jones
60 Carlos Delgado
Base Set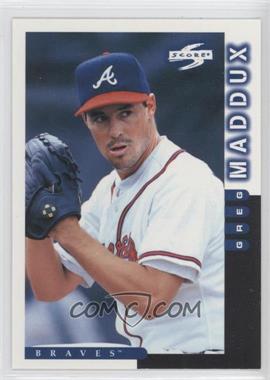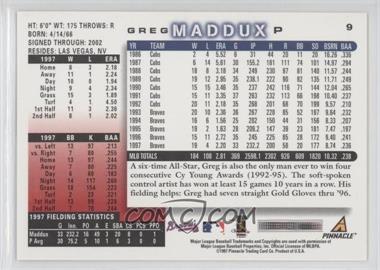 1 Andruw Jones
2 Dan Wilson
3 Hideo Nomo
4 Chuck Carr
5 Barry Bonds
6 Jack McDowell
7 Albert Belle
8 Francisco Cordova
9 Greg Maddux
10 Alex Rodriguez
11 Steve Avery
12 Chuck McElroy
13 Larry Walker
14 Hideki Irabu
15 Roberto Alomar
16 Neifi Perez
17 Jim Thome
18 Rickey Henderson
19 Andres Galarraga
20 Jeff Fassero
21 Kevin Young
22 Derek Jeter
23 Andy Benes
24 Mike Piazza
25 Todd Stottlemyre
26 Michael Tucker
27 Denny Neagle
28 Javy Lopez
29 Aaron Sele
30 Ryan Klesko
31 Dennis Eckersley
32 Quinton McCracken
33 Brian Anderson
34 Ken Griffey, Jr.
35 Shawn Estes
36 Tim Wakefield
37 Jimmy Key
38 Jeff Bagwell
39 Edgardo Alfonzo
40 Mike Cameron
41 Mark McGwire
42 Tino Martinez
43 Cal Ripken, Jr.
44 Curtis Goodwin
45 Bobby Ayala
46 Sandy Alomar
47 Bobby Jones
48 Omar Vizquel
49 Roger Clemens
50 Tony Gwynn
51 Chipper Jones
52 Ron Coomer
53 Dmitri Young
54 Brian Giles
55 Steve Finley
56 David Cone
57 Andy Pettitte
58 Wilton Guerrero
59 Deion Sanders
60 Carlos Delgado
61 Jason Giambi
62 Ozzie Guillen
63 Jay Bell
64 Barry Larkin
65 Sammy Sosa
66 Bernie Williams
67 Terry Steinbach
68 Scott Rolen
69 Melvin Nieves
70 Craig Biggio
71 Todd Greene
72 Greg Gagne
73 Shigetoshi Hasegawa
74 Mark McLemore
75 Darren Bragg
76 Brett Butler
77 Ron Gant
78 Mike DiFelice RC
79 Charles Nagy
80 Scott Hatteberg
81 Brady Anderson
82 Jay Buhner
83 Todd Hollandsworth
84 Geronimo Berroa
85 Jeff Suppan
86 Pedro Martinez
87 Roger Cedeno
88 Ivan Rodriguez
89 Jaime Navarro
90 Chris Hoiles
91 Nomar Garciaparra
92 Rafael Palmeiro
93 Darin Erstad
94 Kenny Lofton
95 Mike Timlin
96 Chris Clemons
97 Vinny Castilla
98 Charlie Hayes
99 Lyle Mouton
100 Jason Dickson
101 Justin Thompson
102 Pat Kelly
103 Chan Ho Park
104 Ray Lankford
105 Frank Thomas
106 Jermaine Allensworth
107 Doug Drabek
108 Todd Hundley
109 Carl Everett
110 Edgar Martinez
111 Robin Ventura
112 John Wetteland
113 Mariano Rivera
114 Jose Rosado
115 Ken Caminiti
116 Paul O'Neill
117 Tim Salmon
118 Eduardo Perez
119 Mike Jackson
120 John Smoltz
121 Brant Brown
122 John Mabry
123 Chuck Knoblauch
124 Reggie Sanders
125 Ken Hill
126 Mike Mussina
127 Chad Curtis
128 Todd Worrell
129 Chris Widger
130 Damon Mashore
131 Kevin Brown
132 Bip Roberts
133 Tim Naehring
134 Dave Martinez
135 Jeff Blauser
136 Dave Justice
137 Dave Hollins
138 Pat Hentgen
139 Darren Daulton
140 Ramon Martinez
141 Raul Casanova
142 Tom Glavine
143 J.T. Snow
144 Tony Graffanino
145 Randy Johnson
146 Orlando Merced
147 Jeff Juden
148 Darryl Kile
149 Ray Durham
150 Alex Fernandez
151 Joey Cora
152 Royce Clayton
153 Randy Myers
154 Charles Johnson
155 Alan Benes
156 Mike Bordick
157 Heathcliff Slocumb
158 Roger Bailey
159 Reggie Jefferson
160 Ricky Bottalico
161 Scott Erickson
162 Matt Williams
163 Robb Nen
164 Matt Stairs
165 Ismael Valdes
166 Lee Stevens
167 Gary DiSarcina
168 Brad Radke
169 Mike Lansing
170 Armando Benitez
171 Mike James
172 Russ Davis
173 Lance Johnson
174 Joey Hamilton
175 John Valentin
176 David Segui
177 David Wells
178 Delino DeShields
179 Eric Karros
180 Jim Leyritz
181 Raul Mondesi
182 Travis Fryman
183 Todd Zeile
184 Brian Jordan
185 Rey Ordonez
186 Jim Edmonds
187 Terrell Wade
188 Marquis Grissom
189 Chris Snopek
190 Shane Reynolds
191 Jeff Frye
192 Paul Sorrento
193 James Baldwin
194 Brian McRae
195 Fred McGriff
196 Troy Percival
197 Rich Amaral
198 Juan Guzman
199 Cecil Fielder
200 Willie Blair
201 Chili Davis
202 Gary Gaetti
203 B.J. Surhoff
204 Steve Cooke
205 Chuck Finley
206 Jeff Kent
207 Ben McDonald
208 Jeffrey Hammonds
209 Tom Goodwin
210 Billy Ashley
211 Wil Cordero
212 Shawon Dunston
213 Tony Phillips
214 Jamie Moyer
215 John Jaha
216 Troy O'Leary
217 Brad Ausmus
218 Garret Anderson
219 Wilson Alvarez
220 Kent Mercker
221 Wade Boggs
222 Mark Wohlers
223 Kevin Appier
224 Tony Fernandez
225 Ugueth Urbina
226 Gregg Jefferies
227 Mo Vaughn
228 Arthur Rhodes
229 Jorge Fabregas
230 Mark Gardner
231 Shane Mack
232 Jorge Posada
Rookies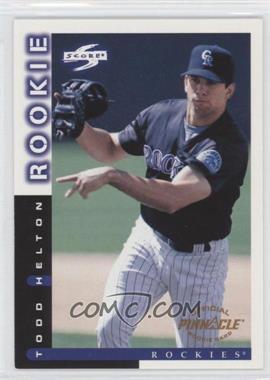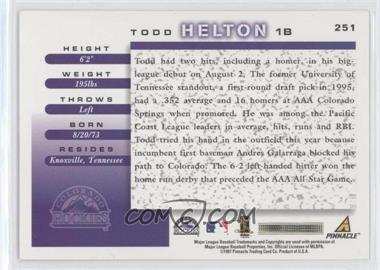 233 Jose Cruz
234 Paul Konerko
235 Derrek Lee
236 Steve Woodard
237 Todd Dunwoody
238 Fernando Tatis
239 Jacob Cruz
240 Pokey Reese
241 Mark Kotsay
242 Matt Morris
243 Antone Williamson
244 Ben Grieve
245 Ryan McGuire
246 Lou Collier
247 Shannon Stewart
248 Brett Tomko
249 Bobby Estalella
250 Livan Hernandez
251 Todd Helton
252 Jaret Wright
Interleague Moments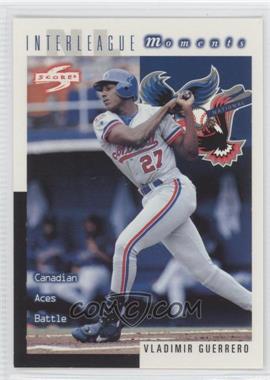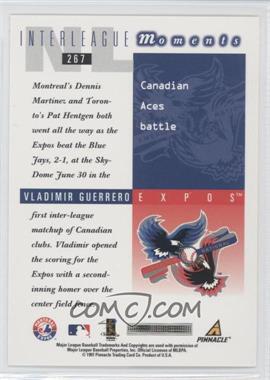 253 Darryl Hamilton
254 Stan Javier
255 Glenallen Hill
256 Mark Gardner
257 Cal Ripken, Jr.
258 Mike Mussina
259 Mike Piazza
260 Sammy Sosa
261 Todd Hundley
262 Eric Karros
263 Denny Neagle
264 Jeromy Burnitz
265 Greg Maddux
266 Tony Clark
267 Vladimir Guerrero
Checklists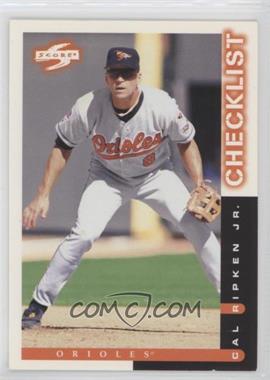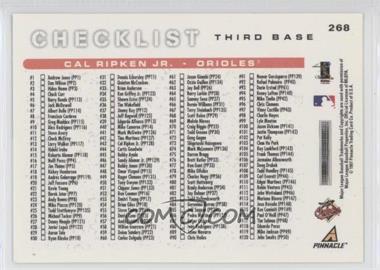 268 Cal Ripken, Jr.
269 Ken Griffey, Jr.
270 Mark McGwire
Parallels
Showcase Series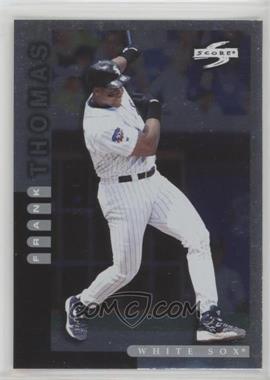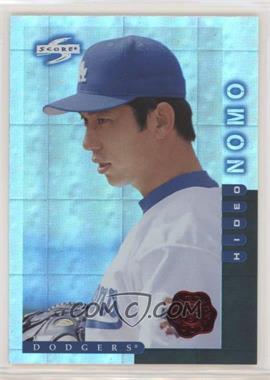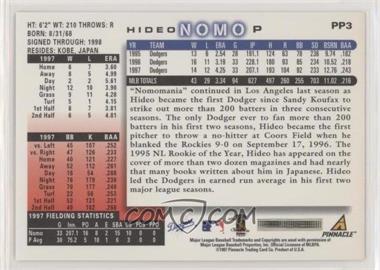 This 160-card set is an all silver-foil partial parallel rendition of the base set. All 160 cards are also available as a prismatic-foil "Artist's Proof" parallel. Each Showcase Series card has a special watermark on the back. The Artist's Proofs, however, do not.
PP1 Andruw Jones
PP2 Dan Wilson
PP3 Hideo Nomo
PP4 Neifi Perez
PP5 Jim Thome
PP6 Jeff Fassero
PP7 Derek Jeter
PP8 Andy Benes
PP9 Michael Tucker
PP10 Ryan Klesko
PP11 Dennis Eckersley
PP12 Jimmy Key
PP13 Edgardo Alfonzo
PP14 Mike Cameron
PP15 Omar Vizquel
PP16 Ron Coomer
PP17 Dmitri Young
PP18 Brian Giles
PP19 Steve Finley
PP20 Andy Pettitte
PP21 Wilton Guerrero
PP22 Deion Sanders
PP23 Carlos Delgado
PP24 Jason Giambi
PP25 David Cone
PP26 Jay Bell
PP27 Sammy Sosa
PP28 Barry Larkin
PP29 Scott Rolen
PP30 Todd Greene
PP31 Bernie Williams
PP32 Brett Butler
PP33 Ron Gant
PP34 Brady Anderson
PP35 Craig Biggio
PP36 Charles Nagy
PP37 Jay Buhner
PP38 Geronimo Berroa
PP39 Jeff Suppan
PP40 Rafael Palmeiro
PP41 Darin Erstad
PP42 Mike Timlin
PP43 Vinny Castilla
PP44 Carl Everett
PP45 Robin Ventura
PP46 John Wetteland
PP47 Paul O'Neill
PP48 Tim Salmon
PP49 Mike Jackson
PP50 John Smoltz
PP51 Brant Brown
PP52 Reggie Sanders
PP53 Ken Hill
PP54 Todd Worrell
PP55 Bip Roberts
PP56 Tim Naehring
PP57 Darren Daulton
PP58 Ramon Martinez
PP59 Raul Casanova
PP60 J.T. Snow
PP61 Jeff Juden
PP62 Royce Clayton
PP63 Charles Johnson
PP64 Alan Benes
PP65 Reggie Jefferson
PP66 Ricky Bottalico
PP67 Scott Erickson
PP68 Matt Williams
PP69 Robb Nen
PP70 Matt Stairs
PP71 Ismael Valdes
PP72 Brad Radke
PP73 Armando Benitez
PP74 Russ Davis
PP75 Lance Johnson
PP76 Joey Hamilton
PP77 John Valentin
PP78 David Segui
PP79 David Wells
PP80 Eric Karros
PP81 Raul Mondesi
PP82 Travis Fryman
PP83 Todd Zeile
PP84 Brian Jordan
PP85 Rey Ordonez
PP86 Jim Edmonds
PP87 Marquis Grissom
PP88 Shane Reynolds
PP89 Paul Sorrento
PP90 Brian McRae
PP91 Fred McGriff
PP92 Troy Percival
PP93 Juan Guzman
PP94 Cecil Fielder
PP95 Chili Davis
PP96 B.J. Surhoff
PP97 Chuck Finley
PP98 Jeff Kent
PP99 Ben McDonald
PP100 Jeffrey Hammonds
PP101 Tom Goodwin
PP102 Wil Cordero
PP103 Tony Phillips
PP104 John Jaha
PP105 Garret Anderson
PP106 Wilson Alvarez
PP107 Wade Boggs
PP108 Mark Wohlers
PP109 Kevin Appier
PP110 Mo Vaughn
PP111 Ray Durham
PP112 Alex Fernandez
PP113 Barry Bonds
PP114 Albert Belle
PP115 Greg Maddux
PP116 Alex Rodriguez
PP117 Larry Walker
PP118 Roberto Alomar
PP119 Andres Galarraga
PP120 Mike Piazza
PP121 Denny Neagle
PP122 Javy Lopez
PP123 Ken Griffey, Jr.
PP124 Shawn Estes
PP125 Jeff Bagwell
PP126 Mark McGwire
PP127 Tino Martinez
PP128 Cal Ripken, Jr.
PP129 Sandy Alomar
PP130 Bobby Jones
PP131 Roger Clemens
PP132 Tony Gwynn
PP133 Chipper Jones
PP134 Orlando Merced
PP135 Todd Stottlemyre
PP136 Delino DeShields
PP137 Pedro Martinez
PP138 Ivan Rodriguez
PP139 Nomar Garciaparra
PP140 Kenny Lofton
PP141 Jason Dickson
PP142 Justin Thompson
PP143 Ray Lankford
PP144 Frank Thomas
PP145 Todd Hundley
PP146 Edgar Martinez
PP147 Mariano Rivera
PP148 Jose Rosado
PP149 Ken Caminiti
PP150 Chuck Knoblauch
PP151 Mike Mussina
PP152 Kevin Brown
PP153 Jeff Blauser
PP154 Dave Justice
PP155 Pat Hentgen
PP156 Tom Glavine
PP157 Randy Johnson
PP158 Darryl Kile
PP159 Joey Cora
PP160 Randy Myers
Inserts
All Score Team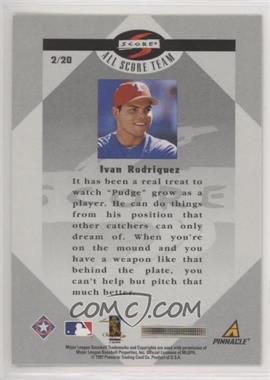 A Gold parallel of this set does exist; however, it is unclear how the Gold cards were distributed.
1 Mike Piazza
2 Ivan Rodriguez
3 Frank Thomas
4 Mark McGwire
5 Ryne Sandberg
6 Roberto Alomar
7 Cal Ripken, Jr.
8 Barry Larkin
9 Paul Molitor
10 Travis Fryman
11 Kirby Puckett
12 Tony Gwynn
13 Ken Griffey, Jr.
14 Juan Gonzalez
15 Barry Bonds
16 Andruw Jones
17 Roger Clemens
18 Randy Johnson
19 Greg Maddux
20 Dennis Eckersley
Complete Players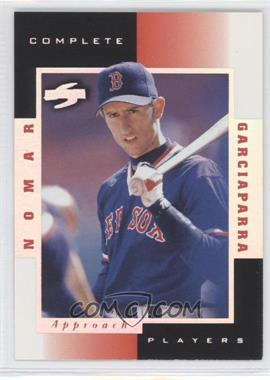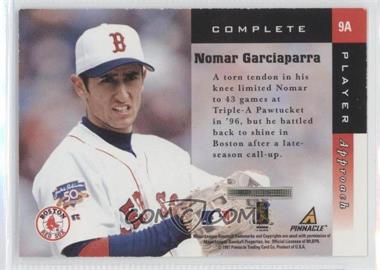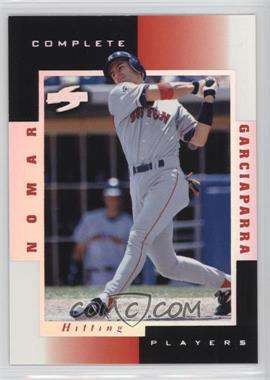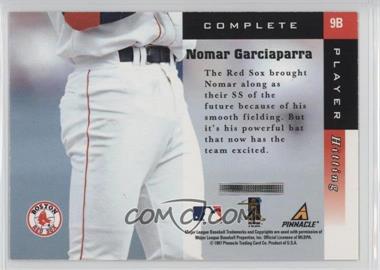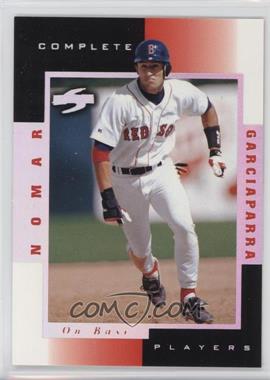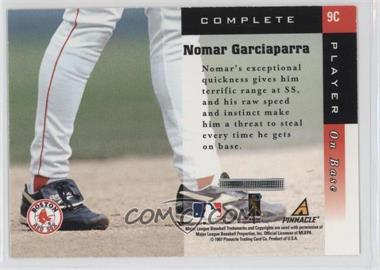 This 30-card set features three photos of each of the ten listed players with full holographic foil stamping. There was also a Gold parallel of each card made; however, the Gold cards were randomly inserted into Score Team Set packs.
Score later produced another batch of Complete Players for the 1998 Score Rookie/Traded set. The Rookie/Traded Complete Players have a 1998 copyright date, while the Score Complete Players have a 1997 copyright.
1A Ken Griffey, Jr.
1B Ken Griffey, Jr.
1C Ken Griffey, Jr.
2A Mark McGwire
2B Mark McGwire
2C Mark McGwire
3A Derek Jeter
3B Derek Jeter
3C Derek Jeter
4A Cal Ripken, Jr.
4B Cal Ripken, Jr.
4C Cal Ripken, Jr.
5A Mike Piazza
5B Mike Piazza
5C Mike Piazza
6A Darin Erstad
6B Darin Erstad
6C Darin Erstad
7A Frank Thomas
7B Frank Thomas
7C Frank Thomas
8A Andruw Jones
8B Andruw Jones
8C Andruw Jones
9A Nomar Garciaparra
9B Nomar Garciaparra
9C Nomar Garciaparra
10A Manny Ramirez
10B Manny Ramirez
10C Manny Ramirez
Epix
Randomly inserted in Score packs at the rate of one in 61, this 24-card set features color photos of top players' most memorable games, plays, seasons and moments on Dot Matrix Hologram cards. Orange, Purple, and Emerald versions of this set were also produced. Printing-plate parallels, four (cyan, magenta, yellow, black) plates for each card also exist.
Additional cards were seeded into 1998 Pinnacle and Zenith packs in a cross-brand promotion.
Please see 1998 Pinnacle Epix for a complete checklist.
First Pitch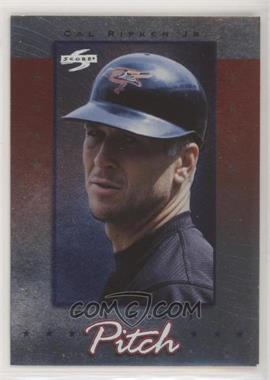 This set is exclusive to All-Star Edition packs.
1 Ken Griffey, Jr.
2 Frank Thomas
3 Alex Rodriguez
4 Cal Ripken, Jr.
5 Chipper Jones
6 Juan Gonzalez
7 Derek Jeter
8 Mike Piazza
9 Andruw Jones
10 Nomar Garciaparra
11 Barry Bonds
12 Jeff Bagwell
13 Scott Rolen
14 Hideo Nomo
15 Roger Clemens
16 Mark McGwire
17 Greg Maddux
18 Albert Belle
19 Ivan Rodriguez
20 Mo Vaughn
Loaded Lineup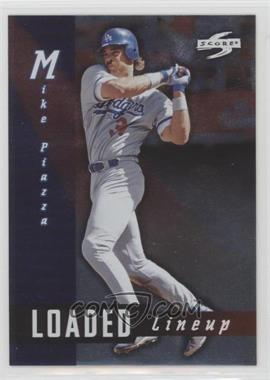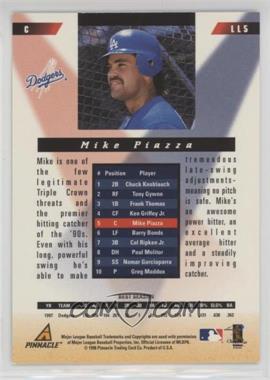 This set is exclusive to All-Star Edition packs.
LL1 Chuck Knoblauch
LL2 Tony Gwynn
LL3 Frank Thomas
LL4 Ken Griffey, Jr.
LL5 Mike Piazza
LL6 Barry Bonds
LL7 Cal Ripken, Jr.
LL8 Paul Molitor
LL9 Nomar Garciaparra
LL10 Greg Maddux
New Season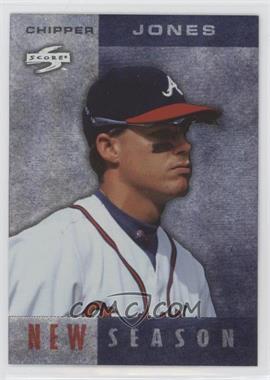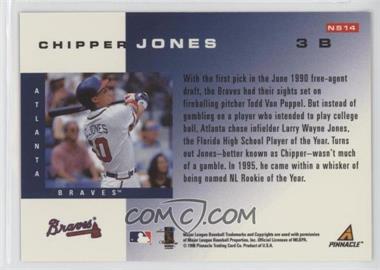 This set is exclusive to All-Star Edition packs.
NS1 Kenny Lofton
NS2 Nomar Garciaparra
NS3 Todd Helton
NS4 Miguel Tejada
NS5 Jaret Wright
NS6 Alex Rodriguez
NS7 Vladimir Guerrero
NS8 Ken Griffey, Jr.
NS9 Ben Grieve
NS10 Travis Lee
NS11 Jose Cruz, Jr.
NS12 Paul Konerko
NS13 Frank Thomas
NS14 Chipper Jones
NS15 Cal Ripken, Jr.
Autographs & Game-Used
Andruw Jones Gold All-Score Team Autograph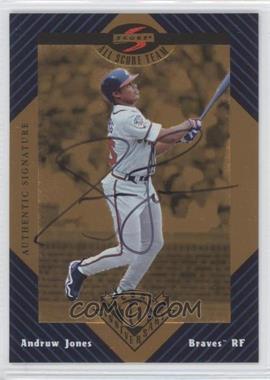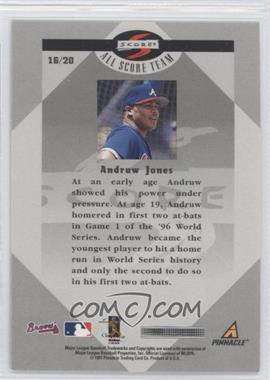 This special autographed card was created as a prize for Pinnacle's 1998 "Score with Score" hobby shop promotion. Dealers that ordered 1998 Score Baseball direct from Pinnacle or through one of their distributors were automatically entered into Pinnacle's hobby shop locator program. In December of 1997, all eligible shops were mailed a "Score with Score" contest ballot box and collector entry forms. Over the next several months, store customers could then fill out and submit forms. In the Spring of 1998, 600 lucky collectors were randomly selected winners. 100 people won actual Interleague game-used baseballs and 500 people won this special Andruw Jones autographed All-Score Team Gold card. The card is easy to differentiate from the more common All-Score Team inserts by it's bold gold (rather than silver) foil front and Jones' black ink signature.
Score
---
Rookie/Traded:
Hottest 100 Sets:
Young Superstars:
Other Score Sets: