1994 Score Rookie/Traded
Description
After a one year hiatus, Pinnacle Brands released 1994 Score Rookie/Traded Baseball in October 1994. The set consists of 165 cards with 80 cards of traded players, 83 of rookies, and a pair of checklists. This is one of the few late-season 1994 sets released without a "true" Alex Rodriguez rookie card -- although it has one of A-Rod's scarcest rookie year cards. The only notable rookies are of Chan Ho Park and a short-print of Jose Lima (see below).
Unlike traditional "traded sets," the design of '94SR/T was radically different than of 1994 Score, with bold red borders and separate designs for the rookies and traded players -- not unlike it's sister product, 1994 Sportflics 2000 Rookie/Traded.
Unfortunately, '94SR/T suffered from a lack of "true" rookies, a horrible design, and most importantly, bad timing. The product went live in October 1994 -- around the time of the canceled World Series would have been played.
The Jose Lima SP and the A-Rod Redemption
Midway through '94SR/T's production run a press plate needed to be replaced. Unfortunately, Pinnacle's computer database accidentally deleted the image of Jose Lima's card (#RT158), thereby making Lima's card a short-print. Rather than leave a hole in the middle of the plate, Pinnacle filled it by double-printing John Mabry's card (#RT130). Towards the end of the production run, the plates had to be replaced again. This time, rather than fill Jose Lima's space with John Mabry, Pinnacle filled it with a redemption good for a card of the first player drafted in 1993 to make his Major League debut -- an obvious reference to Alex Rodriguez, who was the first overall pick in the 1993 draft, and who made his debut in July, 1994.
Of course, this begs the question as to why A-Rod was not on the checklist in the first place.
Distribution
36 packs per box, 10 cards per pack. Hobby and Retail.
Reviews
http://blog.stalegum.com/2009/01/1994-last-great-year-score-rookietraded.html
Insertion Ratios
| Cards | Total Cards | Hobby Odds | Retail Odds |
| --- | --- | --- | --- |
| Base | 165 | ? | ? |
| Gold Rush | 165 | one-per-pack | one-per-pack |
| Changing Places | 10 | 1:36 | 1:36 |
| Super Rookies | 18 | 1:36 | N/A |
| September Call-Up Redemption | 1 | 1:240 | 1:240 |
Checklist
Promos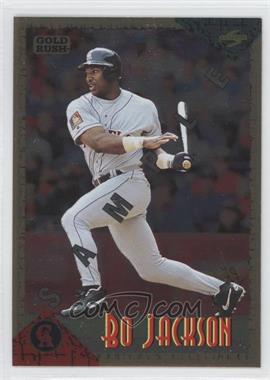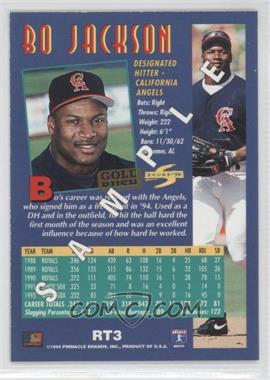 NNO September Call-Up Redemption Sample
CP2 Rafael Palmeiro
RT1 Will Clark
RT2 Lee Smith
RT3 Bo Jackson
RT4 Ellis Burks
RT5 Eddie Murray
RT6 Delino DeShields
RT102 Carlos Delgado
SU2 Manny Ramirez
NNO Title Card
Base Set
Traded Players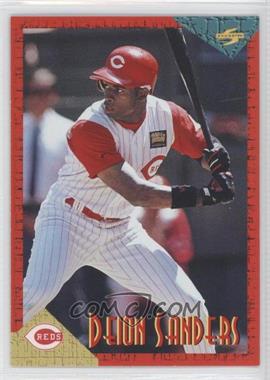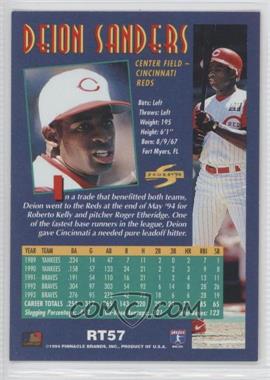 RT1 Will Clark
RT2 Lee Smith
RT3 Bo Jackson
RT4 Ellis Burks
RT5 Eddie Murray
RT6 Delino DeShields
RT7 Erik Hanson
RT8 Rafael Palmeiro
RT9 Luis Polonia
RT10 Omar Vizquel
RT11 Kurt Abbott
RT12 Vince Coleman
RT13 Rickey Henderson
RT14 Terry Mulholland
RT15 Greg Hibbard
RT16 Walt Weiss
RT17 Chris Sabo
RT18 Dave Henderson
RT19 Rick Sutcliffe
RT20 Harold Reynolds
RT21 Jack Morris
RT22 Dan Wilson
RT23 Dave Magadan
RT24 Dennis Martinez
RT25 Wes Chamberlain
RT26 Otis Nixon
RT27 Eric Anthony
RT28 Randy Milligan
RT29 Julio Franco
RT30 Kevin McReynolds
RT31 Anthony Young
RT32 Brian Harper
RT33 Gene Harris
RT34 Eddie Taubensee
RT35 David Segui
RT36 Stan Javier
RT37 Felix Fermin
RT38 Darrin Jackson
RT39 Tony Fernandez
RT40 Jose Vizcaino
RT41 Willie Banks
RT42 Brian Hunter
RT43 Reggie Jefferson
RT44 Junior Felix
RT45 Jack Armstrong
RT46 Bip Roberts
RT47 Jerry Browne
RT48 Marvin Freeman
RT49 Jody Reed
RT50 Alex Cole
RT51 Sid Fernandez
RT52 Pete Smith
RT53 Xavier Hernandez
RT54 Scott Sanderson
RT55 Turner Ward
RT56 Rex Hudler
RT57 Deion Sanders
RT58 Sid Bream
RT59 Tony Pena
RT60 Bret Boone
RT61 Bobby Ayala
RT62 Pedro Martinez
RT63 Howard Johnson
RT64 Mark Portugal
RT65 Roberto Kelly
RT66 Spike Owen
RT67 Jeff Treadway
RT68 Mike Harkey
RT69 Doug Jones
RT70 Steve Farr
Rookies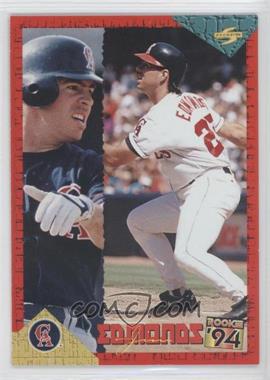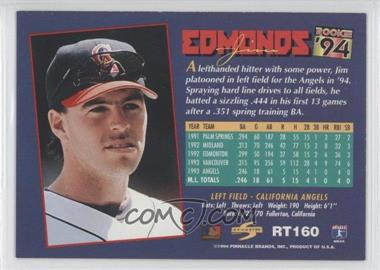 RT71 Billy Taylor
RT72 Manny Ramirez
RT73 Bob Hamelin
RT74 Steve Karsay
RT75 Ryan Klesko
RT76 Cliff Floyd
RT77 Jeffrey Hammonds
RT78 Javy Lopez
RT79 Roger Salkeld
RT80 Hector Carrasco
RT81 Gerald Williams
RT82 Raul Mondesi
RT83 Sterling Hitchcock
RT84 Danny Bautista
RT85 Chris Turner
RT86 Shane Reynolds
RT87 Rondell White
RT88 Salomon Torres
RT89 Turk Wendell
RT90 Tony Tarasco
RT91 Shawn Green
RT92 Greg Colbrunn
RT93 Ed Zambrano
RT94 Rich Becker
RT95 Chris Gomez
RT96 John Patterson
RT97 Derek Parks
RT98 Rich Rowland
RT99 James Mouton
RT100 Tim Hyers
RT101 Jose Valentin
RT102 Carlos Delgado
RT103 Robert Eenhoorn
RT104 John Hudek RC
RT105 Domingo Cedeno
RT106 Denny Hocking
RT107 Greg Pirkl
RT108 Mark Smith
RT109 Paul Shuey
RT110 Jorge Fabregas
RT111 Rikkert Faneyte
RT112 Rob Butler
RT113 Darren Oliver
RT114 Troy O'Leary
RT115 Scott Brow
RT116 Tony Eusebio
RT117 Carlos Reyes RC
RT118 J.R. Phillips
RT119 Alex Diaz
RT120 Charles Johnson
RT121 Nate Minchey
RT122 Scott Sanders
RT123 Daryl Boston
RT124 Joey Hamilton
RT125 Brian Anderson RC
RT126 Dan Miceli
RT127 Tom Brunansky
RT128 Dave Staton
RT129 Mike Oquist
RT130 John Mabry
RT131 Norberto Martin
RT132 Hector Fajardo
RT133 Mark Hutton
RT134 Fernando Vina
RT135 Lee Tinsley
RT136 Chan Ho Park RC
RT137 Paul Spoljaric
RT138 Matias Carrillo
RT139 Mark Kiefer
RT140 Stan Royer
RT141 Bryan Eversgerd RC
RT142 Brian L. Hunter
RT143 Joe Hall RC
RT144 Johnny Ruffin
RT145 Alex Gonzalez
RT146 Keith Lockhart
RT147 Tom Marsh
RT148 Tony Longmire
RT149 Keith Mitchell
RT150 Melvin Nieves
RT151 Kelly Stinnett RC
RT152 Miguel Jimenez
RT153 Jeff Juden
RT154 Matt Walbeck
RT155 Marc Newfield
RT156 Matt Mieske
RT157 Marcus Moore
RT158 Jose Lima SP
RT159 Mike Kelly
RT160 Jim Edmonds
RT161 Steve Trachsel
RT162 Greg Blosser
RT163 Mark Acre RC
Checklists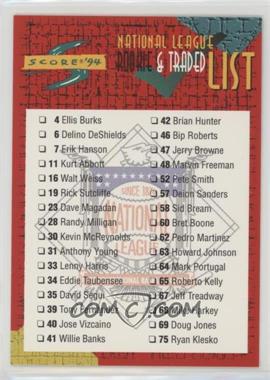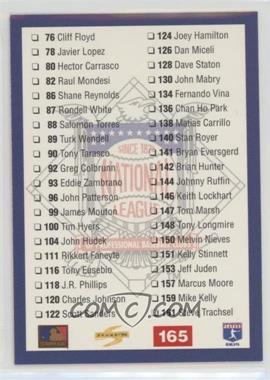 NOTE: The two checklist cards are broken down by League.
RT164 AL Checklist
RT165 NL Checklist
Parallels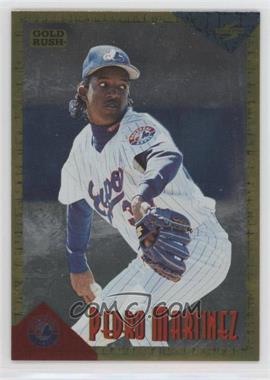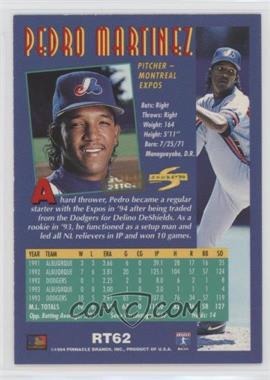 Gold Rush (one-per-pack)
NOTE: It does not appear that the Jose Lima Gold Rush parallel was short-printed.
Inserts
Changing Places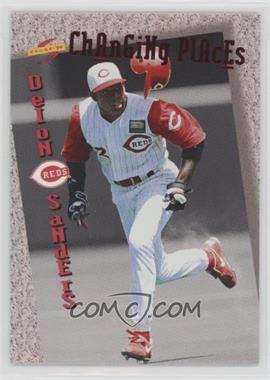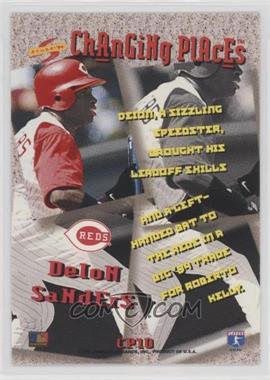 CP1 Will Clark
CP2 Rafael Palmeiro
CP3 Roberto Kelly
CP4 Bo Jackson
CP5 Otis Nixon
CP6 Rickey Henderson
CP7 Ellis Burks
CP8 Lee Smith
CP9 Delino DeShields
CP10 Deion Sanders
Super Rookies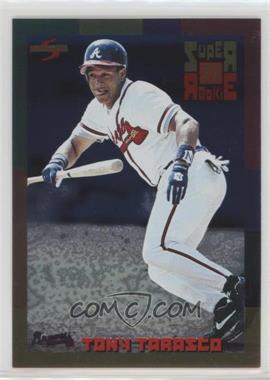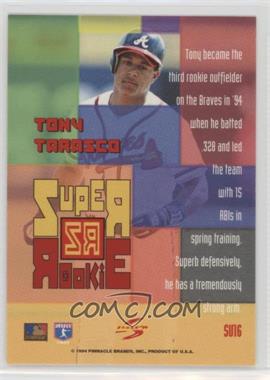 Super Rookies are exclusive to Hobby packs.
SU1 Carlos Delgado
SU2 Manny Ramirez
SU3 Ryan Klesko
SU4 Raul Mondesi
SU5 Bob Hamelin
SU6 Steve Karsay
SU7 Jeffrey Hammonds
SU8 Cliff Floyd
SU9 Kurt Abbott
SU10 Marc Newfield
SU11 Javy Lopez
SU12 Rich Becker
SU13 Greg Pirkl
SU14 Rondell White
SU15 James Mouton
SU16 Tony Tarasco
SU17 Brian Anderson
SU18 Jim Edmonds
September Call-Up Redemption
NOTE: The September Call-Up Redemption card expired January 31st, 1995.
HC1 Alex Rodriguez
NNO September Call-Up Expired Trade Card
Score
---
Rookie/Traded:
Hottest 100 Sets:
Young Superstars:
Other Score Sets: