1994 Stadium Club Members Only
Description
1994 Stadium Club Members Only is a 50-card set available exclusively to members of Topps' Stadium Club. For 1994, Topps changed the Stadium Club Members Only set from a multi-sport set issued in periodic installments, to three different 50-card sets (baseball, football, or hockey). Collectors were given the choice of one set as part of their membership, but could acquire the other two sets, for an additional fee.
For the first time, the design of the Members Only set does not mimic that of the regular Stadium Club set.
The last five cards in the set are part of a "Finest" subset and are printed on chromium stock.
This set is not to be confused with the 1994 Stadium Club Members Only factory set.
Distribution
Checklist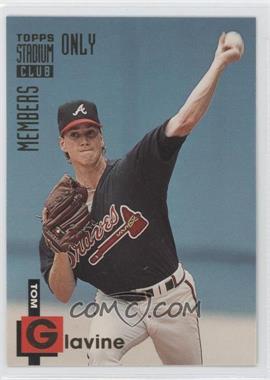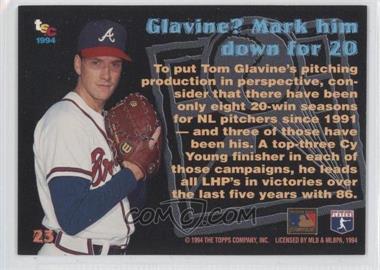 1 Juan Gonzalez
2 Tom Henke
3 John Kruk
4 Paul Molitor
5 Dave Justice
6 Rafael Palmeiro
7 John Smoltz
8 Matt Williams
9 John Olerud
10 Mark Grace
11 Joe Carter
12 Wilson Alvarez
13 Lenny Dykstra
14 Kevin Appier
15 Andres Galarraga
16 Mark Langston
17 Ken Griffey, Jr.
18 Albert Belle
19 Gregg Jefferies
20 Duane Ward
21 Jack McDowell
22 Randy Johnson
23 Tom Glavine
24 Barry Bonds
25 Chuck Carr
26 Ron Gant
27 Kenny Lofton
28 Mike Piazza
29 Frank Thomas
30 Fred McGriff
31 Bryan Harvey
32 John Burkett
33 Roberto Alomar
34 Cecil Fielder
35 Marquis Grissom
36 Randy Myers
37 Tony Phillips
38 Rickey Henderson
39 Luis Polonia
40 Jose Rijo
41 Jeff Montgomery
42 Greg Maddux
43 Tony Gwynn
44 Rod Beck
45 Carlos Baerga
Finest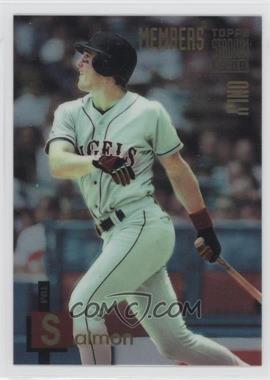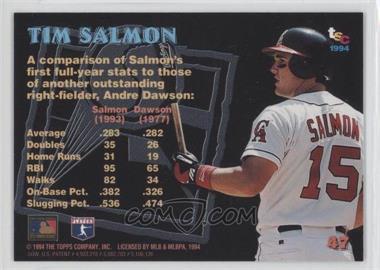 46 Wilfredo Cordero
47 Tim Salmon
48 Mike Lansing
49 J.T. Snow
50 Jeff Conine
Stadium Club
---
Chrome:
Members Only Sets:
Other Stadium Club Related Products: