2001 SP Game Used
Description
SP Game Used Edition is a 90-card set. Each three-card pack contains one game-used jersey card. The last 30 cards in the base set make up a "Super Prospects" subset, with each card serial-numbered to 500 copies.
Distribution
Six packs plus one three-card Joe DiMaggio Pinstripe Exclusive pack per box, three cards per pack (MSRP: $29.99). Hobby only.
Reviews
Insertion Ratios
| Cards | Total Cards | Numbered To | Hobby Odds |
| --- | --- | --- | --- |
| Base | 90 | - | ? |
| short set | 60 | - | 2:1 |
| Super Prospects | 30 | 500 | ? |
| Authentic Fabric | 82 | - | one-per-pack |
| Authentic Fabric Gold | 82 | 25 | ? |
| Authentic Fabric Duos | 14 | 50 | ? |
| Authentic Fabric Trios | 6 | 25 | ? |
| Authentic Fabric Autographs | 21 | 50 | ? |
Checklist
Base Set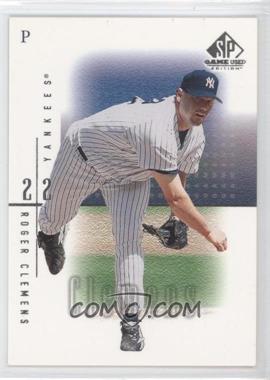 1 Garret Anderson
2 Troy Glaus
3 Darin Erstad
4 Jason Giambi
5 Tim Hudson
6 Johnny Damon
7 Carlos Delgado
8 Greg Vaughn
9 Juan Gonzalez
10 Roberto Alomar
11 Jim Thome
12 Edgar Martinez
13 Cal Ripken, Jr.
14 Andres Galarraga
15 Alex Rodriguez
16 Rafael Palmeiro
17 Ivan Rodriguez
18 Manny Ramirez
19 Nomar Garciaparra
20 Pedro Martinez
21 Jermaine Dye
22 Dean Palmer
23 Matt Lawton
24 Frank Thomas
25 David Wells
26 Magglio Ordonez
27 Derek Jeter
28 Bernie Williams
29 Roger Clemens
30 Jeff Bagwell
31 Richard Hidalgo
32 Chipper Jones
33 Andruw Jones
34 Greg Maddux
35 Jeffrey Hammonds
36 Mark McGwire
37 Jim Edmonds
38 Sammy Sosa
39 Corey Patterson
40 Randy Johnson
41 Luis Gonzalez
42 Gary Sheffield
43 Shawn Green
44 Kevin Brown
45 Vladimir Guerrero
46 Barry Bonds
47 Jeff Kent
48 Preston Wilson
49 Charles Johnson
50 Mike Piazza
51 Edgardo Alfonzo
52 Tony Gwynn
53 Scott Rolen
54 Pat Burrell
55 Brian Giles
56 Jason Kendall
57 Ken Griffey, Jr.
58 Mike Hampton
59 Todd Helton
60 Larry Walker
Super Prospects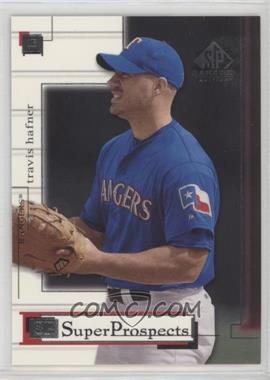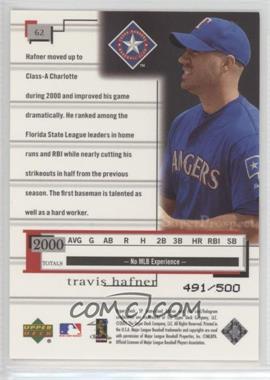 Each Super Prospect is serial-numbered to 500 copies.
61 Wilson Betemit RC
62 Travis Hafner RC
63 Ichiro Suzuki RC
64 Juan Diaz RC
65 Morgan Ensberg RC
66 Horacio Ramirez RC
67 Ricardo Rodriguez RC
68 Sean Douglass RC
69 Brandon Duckworth RC
70 Jackson Melian RC*
71 Adrian Hernandez RC
72 Kyle Kessel RC*
73 Jason Michaels RC
74 Esix Snead RC
75 Jason Smith RC
76 Ty Walker RC
77 Juan Uribe RC
78 Adam Pettyjohn RC
79 Tsuyoshi Shinjo RC
80 Mike Penney RC*
81 Josh Towers RC
82 Erick Almonte RC
83 Ryan Freel RC
84 Juan A. Pena RC*
85 Albert Pujols RC
86 Henry Mateo RC
87 Greg Miller RC*
88 Jose Mieses RC*
89 Jack Wilson RC
90 Carlos Valderrama RC
Inserts
Joe DiMaggio Pinstripe Exclusives
See 2001 Upper Deck Pinstripe Exclusives.
Autographs & Game-Used
Authentic Fabric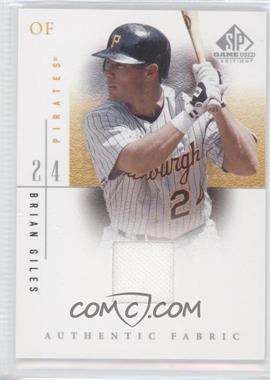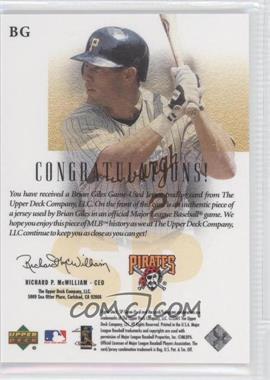 Each Authentic Fabric is also available in a Gold parallel, which is serial-numbered to 25 copies.
NOTE: The Jose Canseco card features a swatch for a jersey worn in the MLBPA's Big League Challenge event and NOT in an MLB game.
AH Aubrey Huff
AJ Andruw Jones
AL Al Leiter
AP Adam Piatt
AR Alex Rodriguez TEX
AR Alex Rodriguez SEA DP
BB Barry Bonds
BG Brian Giles SP
BL Barry Larkin
CD Carlos Delgado SP
CJ Chipper Jones
CJO Charles Johnson
CR Cal Ripken, Jr.
DE Darin Erstad
DW David Wells SP
DY Dmitri Young
EA Edgardo Alfonzo
EC Eric Chavez
EM Edgar Martinez DP
FM Fred McGriff
FTA Fernando Tatis
FTH Frank Thomas
GM Greg Maddux DP
GS Gary Sheffield
GV Greg Vaughn
IR Ivan Rodriguez
JB Jeromy Burnitz
JCB Jose Canseco BLC
JCH Jose Canseco
JCI Jeff Cirillo
JDI Joe DiMaggio SP
JDR J.D. Drew DP
JDY Jermaine Dye SP
JE Jim Edmonds DP
JG Jason Giambi
JI Jason Isringhausen SP
JK Jason Kendall
JO John Olerud
JT Jim Thome
JV Jose Vidro
KB Kevin Brown
KGH Ken Griffey, Jr. CIN home
KGM Ken Griffey, Jr. SEA DP
KGR Ken Griffey, Jr. CIN away
KL Kenny Lofton
KM Kevin Millwood
LG Luis Gonzalez
MG Mark Grace
MH Mike Hampton
MM Mickey Mantle SP
MO Magglio Ordonez
MR Mariano Rivera
MT Miguel Tejada
MW Matt Williams
NR Nolan Ryan TEX SP
NR Nolan Ryan HOU SP
PB Pat Burrell
PN Phil Nevin
PW Preston Wilson
RA Rick Ankiel DP
RAL Roberto Alomar
RC Roger Clemens
RJ Randy Johnson
RM Roger Maris SP
RV Robin Ventura
SG Shawn Green
SR Scott Rolen
SSH Sammy Sosa Home
SSR Sammy Sosa Away
TB Tony Batista SP
TGL Troy Glaus
TGW Tony Gwynn DP
TH Tim Hudson
THE Todd Helton
TL Terrence Long
TM Tino Martinez
TOG Tom Glavine
TRH Trevor Hoffman
TS Tom Seaver NYM SP
TS Tom Seaver CIN SP
TZ Todd Zeile
JK Jeff Kent
Duos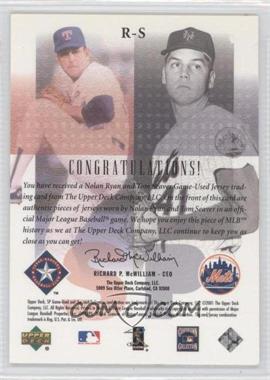 Each Authentic Fabric Duos is serial-numbered to 50 copies.
S-R Sammy Sosa / Alex Rodriguez
H-G Tim Hudson / Jason Giambi
G-R Ken Griffey, Jr. / Alex Rodriguez
B-C Barry Bonds / Jose Canseco
C-W Roger Clemens / Bernie Williams
G-S Ken Griffey, Jr. / Sammy Sosa
J-J Chipper Jones / Andruw Jones
J-R Randy Johnson / Nolan Ryan
M-D Mickey Mantle / Joe DiMaggio
M-M Mickey Mantle / Roger Maris
R-R Alex Rodriguez / Ivan Rodriguez
R-S Nolan Ryan / Tom Seaver
S-G Gary Sheffield / Shawn Green
S-T Sammy Sosa / Frank Thomas
Trios
Each Authentic Fabric Trios is serial-numbered to 25 copies.
J-S-M Randy Johnson / Tom Seaver / Greg Maddux
J-B-S Andruw Jones / Barry Bonds / Sammy Sosa
D-M-M Joe DiMaggio / Mickey Mantle / Roger Maris
D-G-S Joe DiMaggio / Ken Griffey, Jr. / Sammy Sosa
G-R-S Ken Griffey, Jr. / Alex Rodriguez / Sammy Sosa
M-J-J Greg Maddux / Chipper Jones / Andruw Jones
Autographs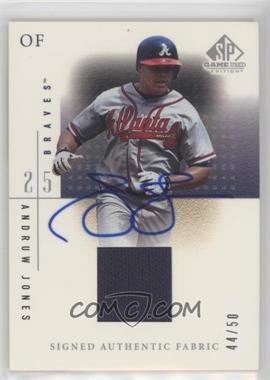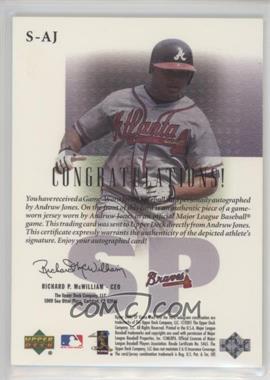 Each Authentic Fabric Autographs is serial-numbered to 50 copies.
NOTE: Alex Rodriguez packed out as an exchange card. There was no expiration date listed on the exchange card; however, it can reasonably be assumed that it has expired.
S-AJ Andruw Jones
S-AR Alex Rodriguez EXCH
S-BB Barry Bonds
S-CD Carlos Delgado
S-CJ Chipper Jones
S-CR Cal Ripken, Jr.
S-DW David Wells
S-EA Edgardo Alfonzo
S-FTH Frank Thomas
S-IR Ivan Rodriguez
S-JC Jose Canseco
S-JDR J.D. Drew
S-JG Jason Giambi
S-KG Ken Griffey, Jr.
S-NR Nolan Ryan
S-RA Rick Ankiel
S-RJ Randy Johnson
S-SS Sammy Sosa
S-TGL Troy Glaus
S-TH Tim Hudson
S-TS Tom Seaver
SP
SP Era:
SP Authentic Era:
---
SP Legendary Cuts:
SP Top Prospects:
Other SP Brands: