2001 SP Legendary Cuts
Description
2001 SP Legendary Cuts is a 90-card set released by Upper Deck in October, 2001. Each 18-pack Hobby box will contain two game-used bat cards and a game-used jersey, and each 14-box case will yield a cut signature card -- hence the name of the product.
The set features exclusively retired players.
Distribution
18 packs per box, four cards per pack (MSRP: $9.99). 14 boxes per case. Hobby only.
Reviews
Insertion Ratios
| Cards | Total Cards | Numbered To | Hobby Odds |
| --- | --- | --- | --- |
| Base | 90 | - | ? |
| Game Bat | 36 | - | 1:18 |
| Debut Game Bat | 35 | - | 1:18 |
| Game Jersey | 35 | - | 1:18 |
| Game Bat Combo | 24 | 25 | ? |
| Autographs | 86 | - | 1:252 |
Checklist
Base Set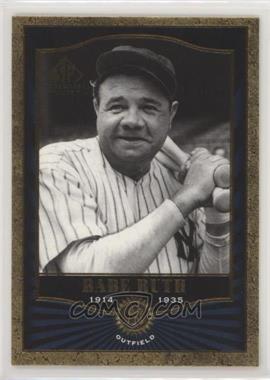 1 Al Simmons
2 Jimmy Foxx
3 Mickey Cochrane
4 Phil Niekro
5 Eddie Mathews
6 Gary Matthews
7 Hank Aaron
8 Joe Adcock
9 Warren Spahn
10 George Sisler
11 Stan Musial
12 Dizzy Dean
13 Frankie Frisch
14 Harvey Haddix
15 Johnny Mize
16 Ken Boyer
17 Roger Hornsby
18 Cap Anson
19 Andre Dawson
20 Billy Williams
21 Billy Herman
22 Hack Wilson
23 Ron Santo
24 Ryne Sandberg
25 Ernie Banks
26 Burleigh Grimes
27 Don Drysdale
28 Gil Hodges
29 Jackie Robinson
30 Tom Lasorda
31 Pee Wee Reese
32 Roy Campanella
33 Tommy Davis
34 Branch Rickey
35 Leo Durocher
36 Walter Alston
37 Bill Terry
38 Carl Hubbell
39 Eddie Stanky
40 George Kelly
41 Mel Ott
42 Juan Marichal
43 Rube Marquard
44 Travis Jackson
45 Bob Feller
46 Earl Averill
47 Elmer Flick
48 Ken Keltner
49 Lou Boudreau
50 Early Wynn
51 Satchel Paige
52 Ron Hunt
53 Tom Seaver
54 Richie Ashburn
55 Mike Schmidt
56 Honus Wagner
57 Lloyd Waner
58 Max Carey
59 Paul Waner
60 Roberto Clemente
61 Nolan Ryan
62 Bobby Doerr
63 Carlton Fisk
64 Joe Cronin
65 Joe Wood
66 Tony Conigliaro
67 Edd Roush
68 Johnny VanderMeer
69 Walter Johnson
70 Charlie Gehringer
71 Al Kaline
72 Ty Cobb
73 Tony Oliva
74 Luke Appling
75 Minnie Minoso
76 Nellie Fox
77 Joe Jackson
78 Babe Ruth
79 Bill Dickey
80 Elston Howard
81 Joe DiMaggio
82 Lefty Gomez
83 Lou Gehrig
84 Mickey Mantle
85 Reggie Jackson
86 Roger Maris
87 Whitey Ford
88 Waite Hoyt
89 Yogi Berra
90 Casey Stengel
Autographs & Game-Used
Game Bat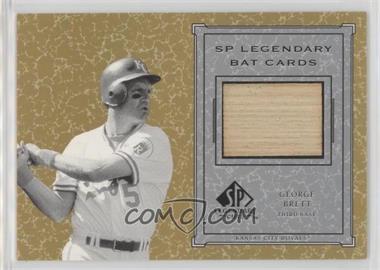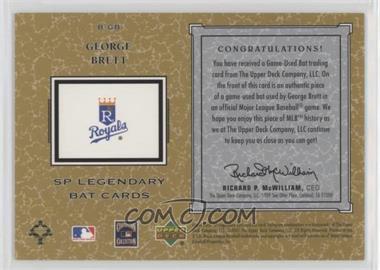 B-MM Mickey Mantle / Manny Mota
B-AD Andre Dawson
B-AS Al Simmons
B-BR Babe Ruth
B-BT Bill Terry
B-CF Carlton Fisk
B-DD Don Drysdale
B-DJ Davey Johnson
B-EM Eddie Mathews
B-GB George Brett
B-GH Gil Hodges
B-HA Hank Aaron
B-JD Joe DiMaggio
B-JF Jimmy Foxx
B-JR Jackie Robinson
B-KC Kiki Cuyler
B-MO Mel Ott
B-MW Maury Wills
B-NF Nellie Fox
B-NR Nolan Ryan
B-PM Paul Molitor
B-RC Rico Carty
B-RCA Roy Campanella
B-RCL Roberto Clemente
B-RJ Reggie Jackson
B-RM Roger Maris
B-RS Ryne Sandberg
B-RY Robin Yount
B-TC Ty Cobb
B-TD Tommy Davis
B-THO Tommy Holmes
B-VP Vada Pinson
B-WB Wade Boggs
B-WMC Willie McCovey
B-YB Yogi Berra
Debut Game Bat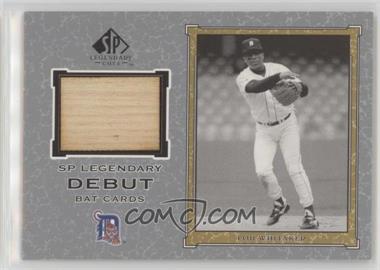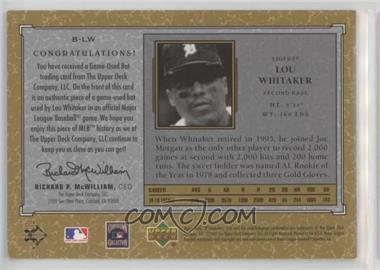 Debut Game Bat features players who had never had an Upper Deck game-used bat card before.
B-AT Alan Trammell
B-BB Bobby Bonds
B-BF Bill Freehan
B-GL Greg Luzinski
B-LW Lou Whitaker
B-SS Steve Sax
B-SY Steve Yeager
B-WH Willie Horton
B-WP Wes Parker
D-BB Bill Buckner
D-BD Bobby Doerr
D-BF Bob Feller
D-BH Billy Herman
D-BM Bill Mazeroski
D-BR Bobby Richardson
D-CG Charlie Gehringer
D-EH Elston Howard
D-ES Eddie Stanky
D-FF Frankie Frisch
D-GM Gary Matthews
D-GS George Sisler
D-HW Hack Wilson
D-JA Joe Adcock
D-JC Joe Cronin
D-JJ Joe Jackson
D-KB Ken Boyer
D-LA Luke Appling
D-LB Lou Boudreau
D-MC Mickey Cochrane
D-MM Minnie Minoso
D-PW Paul Waner
D-RA Richie Ashburn
D-RH Ron Hunt
D-TC Tony Conigliaro
D-TO Tony Oliva
Game Jersey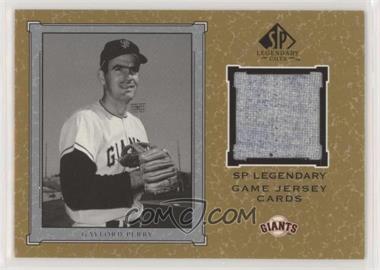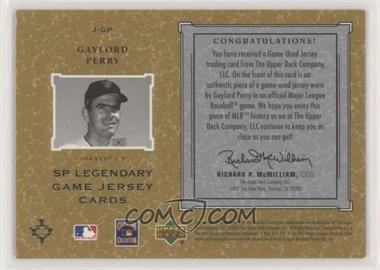 J-TC Tony Conigliaro / Ty Cobb
J-BR Bobby Richardson / Babe Ruth
J-BD Bill Dickey
J-BL Bob Lemon
J-BM Bill Mazeroski
J-BRO Brooks Robinson
J-BT Bobby Thomson
J-BW Billy Williams
J-CS Casey Stengel
J-GH Gil Hodges
J-GP Gaylord Perry
J-HW Honus Wagner
J-JD Joe DiMaggio
J-JF Jim Fregosi
J-JM Juan Marichal
J-JN Joe Nuxhall
J-LD Leo Durocher
J-MM Mickey Mantle
J-MW Maury Wills
J-NF Nellie Fox
J-NR Nolan Ryan
J-RC Roberto Clemente
J-RJ Reggie Jackson
J-RM Roger Maris
J-RY Robin Yount
J-THO Tommy Holmes
J-TK Ted Kluszewski
J-TS Tom Seaver
J-VL Vic Lombardi
J-WB Wade Boggs
J-WF Whitey Ford
J-WM Willie McCovey
J-YB Yogi Berra
Game Bat Combo
Each Game Bat Combo is serial-numbered to 25 copies.
YBEH Yogi Berra / Elston Howard
TORC Tony Oliva / Roberto Clemente
TDDD Tommy Davis / Don Drysdale
TCCG Ty Cobb / Charlie Gehringer
SJPW Joe Jackson / Paul Waner
RJMM Reggie Jackson / Mickey Mantle
NRBF Nolan Ryan / Bob Feller
MOJD Mel Ott / Joe DiMaggio
MOBT Mel Ott / Bill Terry
MMNF Minnie Minoso / Nellie Fox
JFBR Jimmy Foxx / Babe Ruth
JFAS Jimmy Foxx / Al Simmons
JCBD Joe Cronin / Bobby Doerr
HWBH Hack Wilson / Billy Herman
HABR Hank Aaron / Babe Ruth
GSBT George Sisler / Bill Terry
BM-RC Bill Mazeroski / Roberto Clemente
BMRC Bill Mazeroski / Roberto Clemente
BRMM Babe Ruth / Mickey Mantle
JDMM Joe DiMaggio / Mickey Mantle
JRRC Jackie Robinson / Roy Campanella
LBBF Lou Boudreau / Bob Feller
RMMM Roger Maris / Mickey Mantle
RSAD Ryne Sandberg / Andre Dawson
TCBR Ty Cobb / Babe Ruth
Autographs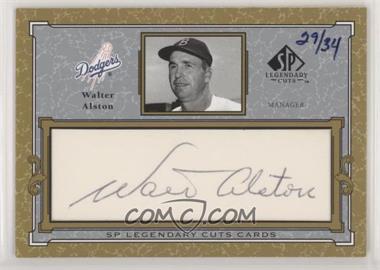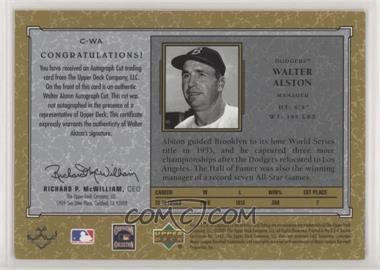 Each Autograph is a cut signature and is hand-numbered to the production figures listed below.
C-JC Jocko Conlan / Joe Cronin
C-HW Honus Wagner / Hack Wilson
C-HH Harry Hooper / Harvey Haddix
C-GS George Selkirk / George Sisler
C-GH Gabby Hartnett / Gil Hodges
C-FF Ford Frick / Frankie Frisch
C-BD Bill Dickey
C-BG Burleigh Grimes
C-BHA Bucky Harris
C-BHE Billy Herman
C-BL Bob Lemon
C-BM Bob Meusel
C-BRI Branch Rickey
C-BRU Babe Ruth
C-BS Bob Shawkey
C-BT Bill Terry
C-BW Bucky Walters
C-CA Cap Anson
C-CH Carl Hubbell
C-CK Charlie Keller
C-CS Casey Stengel
C-DDE Dizzy Dean
C-DDR Don Drysdale
C-EA Earl Averill
C-EB Ed Barrow
C-EF Elmer Flick
C-ER Edd Roush
C-FL Freddy Lindstrom
C-GA Grover Alexander
C-GK George Kelly
C-HM Heinie Manush
C-JD1 Joe DiMaggio
C-JD2 Joe DiMaggio
C-JD3 Joe DiMaggio
C-JD4 Joe DiMaggio
C-JF Jimmy Foxx
C-JJ Judy Johnson
C-JM Joe Medwick
C-JMC Joe McCarthy
C-JMI Johnny Mize
C-JR Jackie Robinson
C-JS Joe Sewell
C-JW Joe Wood
C-KC Kiki Cuyler
C-KK Ken Keltner
C-KL Kenesaw Landis
C-LA Luke Appling
C-LD Leo Durocher
C-LG Lefty Grove
C-LGE Lou Gehrig
C-LGO Lefty Gomez
C-LW Lloyd Waner
C-MC Max Carey
C-MK Mark Koenig
C-MM Mickey Mantle
C-MO Mel Ott
C-NF Nellie Fox
C-PW Paul Waner
C-RC Roberto Clemente
C-RF Rick Ferrell
C-RH Roger Hornsby
C-ROM Roger Maris
C-RP Roger Peckinpaugh
C-RR Red Ruffing
C-RS Rip Sewell
C-RUM Rube Marquard
C-SC Stanley Coveleski
C-SM Sal Maglie
C-SP Satchel Paige
C-TC Ty Cobb
C-TJ Travis Jackson
C-TL1 Ted Lyons
C-TL2 Ted Lyons
C-VM Johnny VanderMeer
C-VR Vic Raschi
C-WA Walter Alston
C-WG Warren Giles
C-WH Waite Hoyt
C-WJ Walter Johnson
C-EL Eddie Lopat
SP
SP Era:
SP Authentic Era:
---
SP Legendary Cuts:
SP Top Prospects:
Other SP Brands: